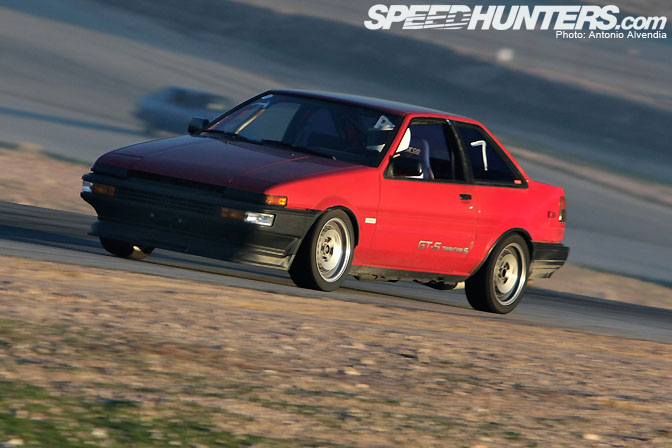 Last week, the key members of Drift Association (Naoki, Taka, Yoshie, Hiro, etc) and staffers consisting of several Club4AG members held their very first "Grip Day" at Willow Springs International Raceway.
This was started as a spinoff from their extremely popular Drift Day events, because they thought it would be fun to hone their "driving-the-line" skills and smoothness-of-input by practicing with timed circuit laps (which everyone now calls time attack).  While there were certainly tons of cool and interesting cars present, I thought I'd put a little spotlight on the most interesting run group (at least in my eyes!), which was filled with different types of 4AG powered cars, like AE86s and AW11 MR2s. There were also some similar displacement "non-4AG" cars in the group, like Miatas and Vitzes! (Yaris? I dunno what to call em. I think it's supposed to be Yaris, but I always think of them as Vitz cause fo the Vitz cup that runs in Japan.)
Anyway, the 4AG-powered group ran open practice on Saturday, with a timed "4AG Challenge" competition on Sunday. I heard that more and more people are beginning to take an interest in running an all AE86 class, so Naoki from Drift Association decided to do 4AG Challenge events during the professional drifting "off-season." I know there are a few AE86ers who regularly read Speedhunters… what do you guys think about doing more of these 4AG Challenge events? Naoki was saying that he could do these events several times a year if there were a lot of people interested in driving. If not, he would probably only do it once a year. If you 4AG drivers in California are interested, please chime in and make your voice known!
I was driving the track that day also, so I couldn't take photos of every single car out there (I wanted to though!), but here's a random selection of pics just so you guys can see some of the cars…
Above, Geoff Wise, a friend from the early Drift Day events, accelerates hard into an uphill corner in his kouki AE86 coupe, which incidentally, used to be Naoki's car! I dig those wheels!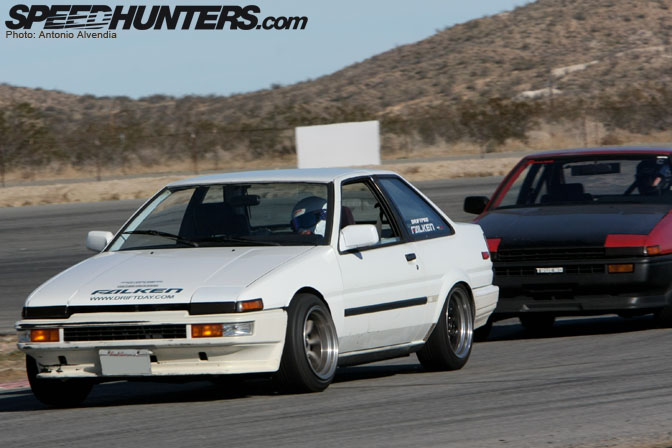 Yoshie Shuyama was driving her super mean looking kouki coupe, which was rocking super wide Watanabe Rs up front, and Dori Dori mesh in the back. Notice anything different about the front fender? The fender arch has been cut off. Maybe this fender had overfender flares previously. (Or maybe it will have them in the near future?) Anyway, I love the way this kouki coupe looks… and I think the key to making a good looking 86 coupe is making it LOW ENOUGH! Yoshie and Taka obviously come from the same school of thought. Love it.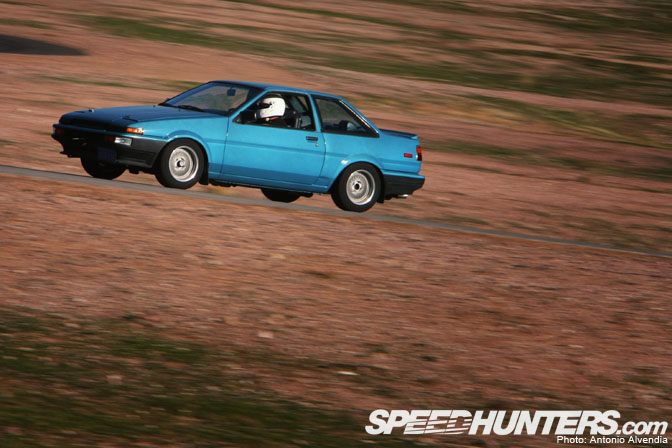 My good friend Jay Serrano (hit him up if you need Toyota or TRD parts, he knows all about 4AGs and works at Glendora Toyota in the parts department) was out driving the track in his blue kouki coupe as well. This photo was snapped just a few minutes before Jay's car went off course due to a mis-shift that had his car spinning violently into the dirt! Damn, be careful Jay!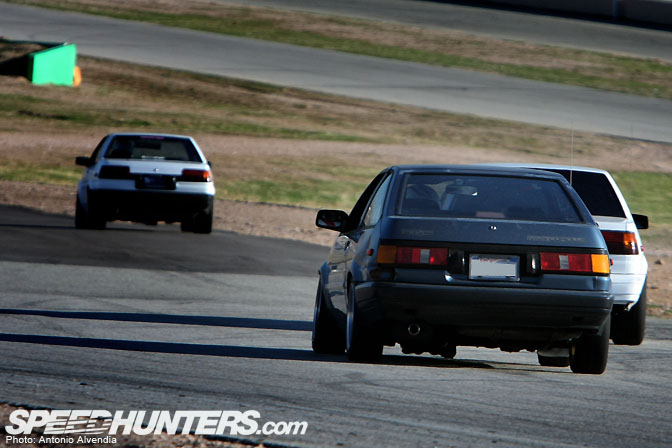 AE86s chasing each other downhill at Streets of Willow – super cool!
Also cool is the fact that Taka Aono was out at Willow Springs, driving his supercharged backup car and giving advice to people who needed help on setup and/or driving tips. Taka is one super nice, super down to earth, professional AE86 driver, and obviously one of my favorite drivers from the Formula D series! Let's show our support of super cool 86ers like Taka Aono and Hiro Sumida! Can't wait to see what they have in store for next year's competition season.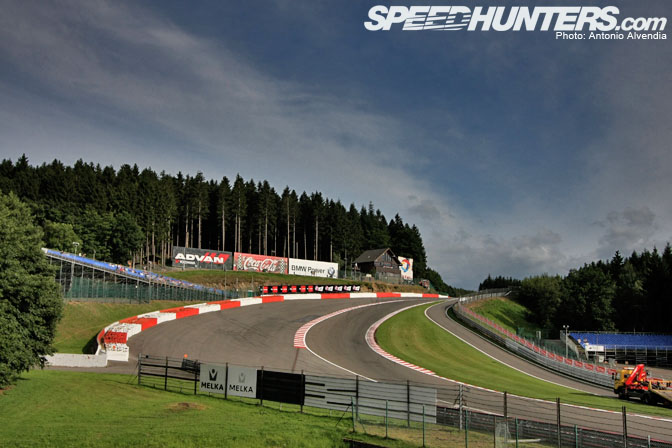 Mike Sanchez, the owner of this blue kouki coupe (wow, lots of kouki coupes at this event!), is an avid autocrosser who also owns a wide body turbo AE86. It just goes to show, most AE86ers own more than one. Once you get bitten by the 86 bug, it's an addiction…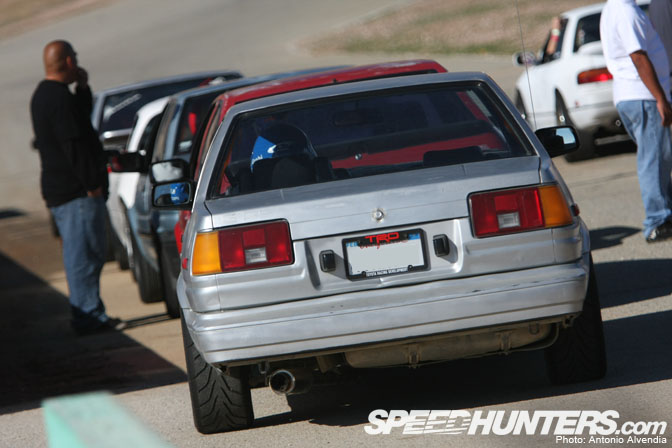 Cool lineup of 86s on the grid getting ready to hit the track!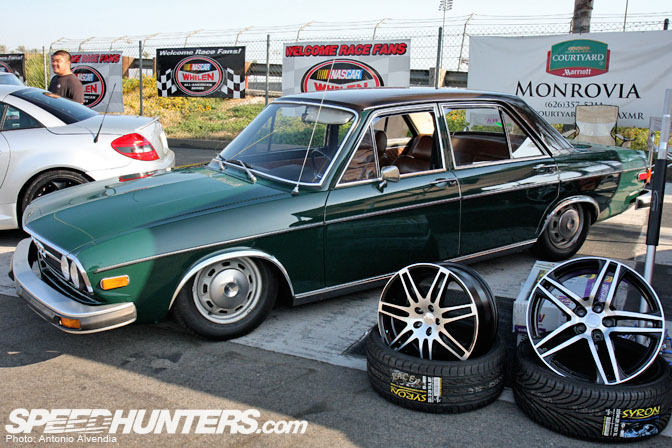 This satin black painted AE86 Levin 3-door had a lot of presence out on the track – it's Mitsu from Mitsu's Garage in San Gabriel area! More on this car later!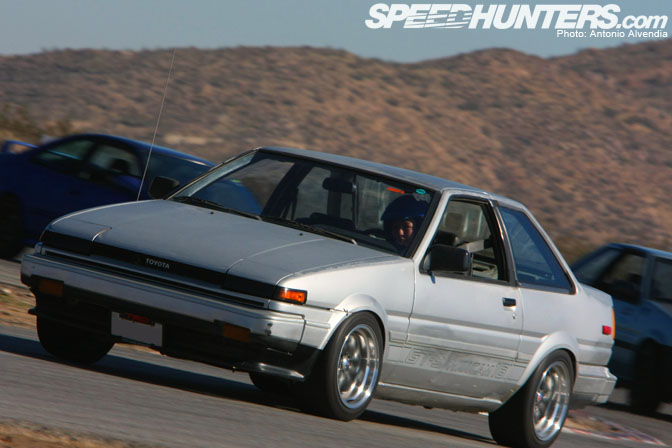 This silver 1985 GTS coupe (zenki coupe with a kouki facelift) was running Streets hard all weekend – at times, I saw Kenshiro Gushi's dad, Tsukasa Gushi (but most people refer to him as Gushi san, or Papa Gushi) driving it, but most of the time, I saw another driver behind the steering wheel!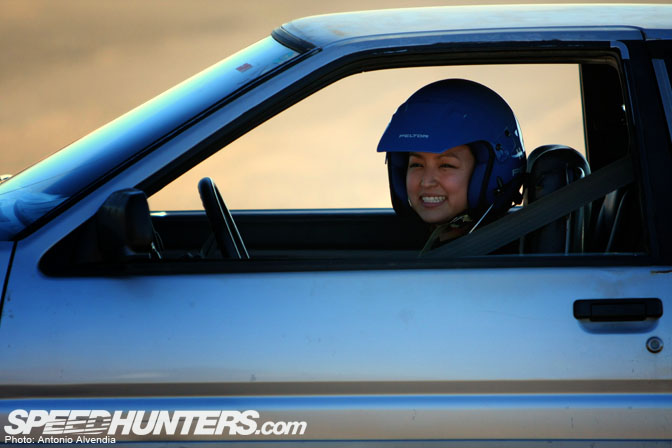 I was surprised to find out that the car was mostly being driven by this girl?! Uh oh! An AE86 girl! Prepare for all the internet stalkers, peeps are gonna be hollerin!!! LOL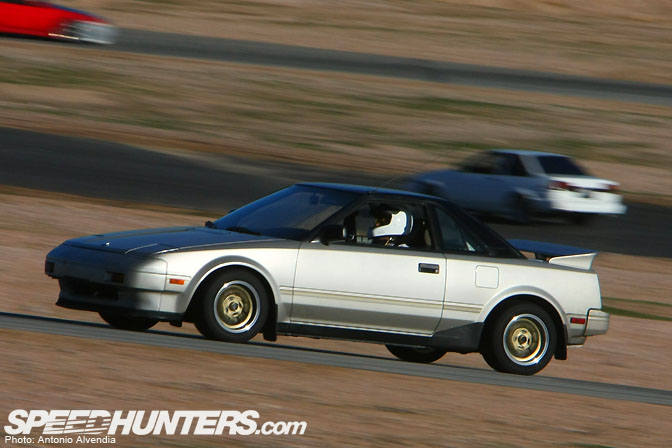 Just when you thought this post was going to be all about AE86s, I gotta give props to the guys driving the AW11s out there on the track! Sorry, since I was running around from track to track, I didn't get photos of all my friends out there (Sorry Gus and Ronny!), but I wanted to show a photo of this champagne colored AW11. This guy's car was loud!!! I'm not quite sure what his engine setup was like, but I remember seeing electric fans mounted on top of his NA engine lid!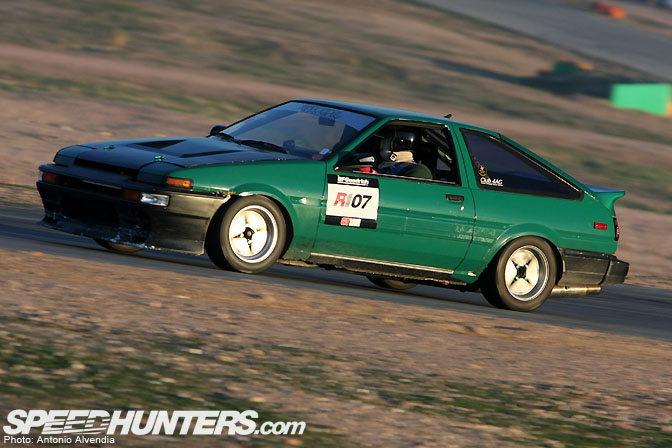 Steve Choh aka Chohdog from Club 4AG was running his green AE86 hatchback on the track. Hmmm… nice hood, I wonder if that's a B-tune hood? Probably. He has Impul Hoshino G5 wheels on his car, which certainly look very cool… even though Hoshinos are meant for Nissans! Oh well, nm Steve, I'll be nice. Yeah, well they look cool, hehe!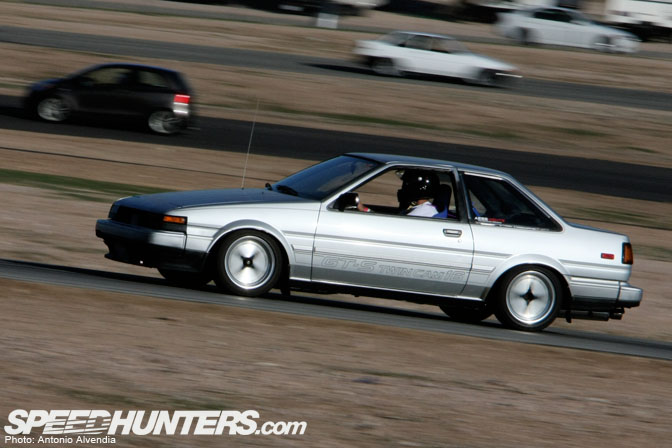 This zenki GTS coupe looked very clean out on the track (lemme know if you need help painting those window moldings, homie!) and he was rocking Hoshinos too!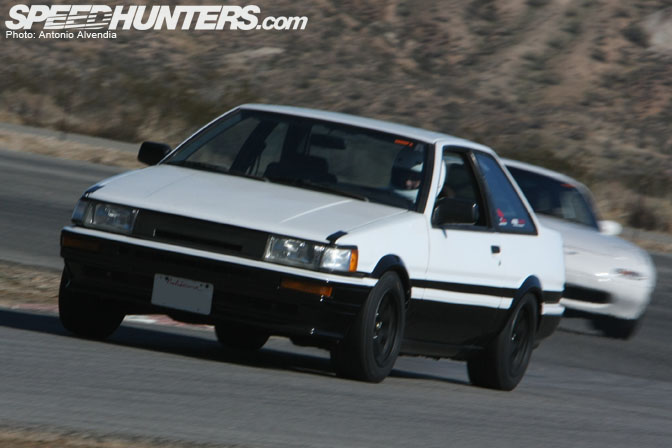 Kouki panda levin coupe FTW! I'm imagining this car with super wide Watanabe Rs – awesome! Very clean looking car!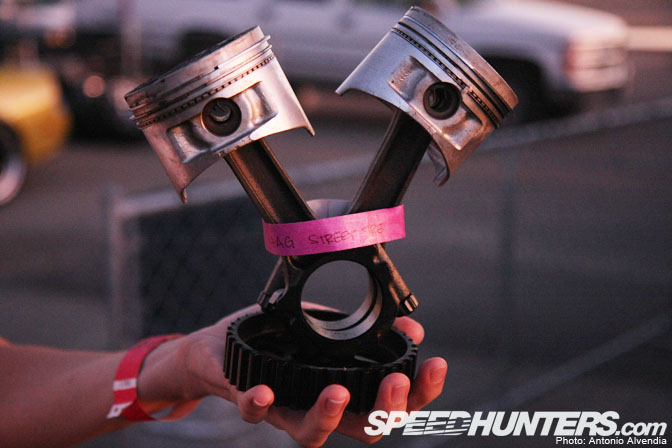 Check out one of the 4AG Challenge trophies! Very interesting usage of the spare 4AG parts that most of us have laying around in the garage! Cool!
That's it for the pics, Live The 86 Life!
-Antonio Alvendia
For more 4AG Challenge info, visit: Drift Day and Grip Day Events