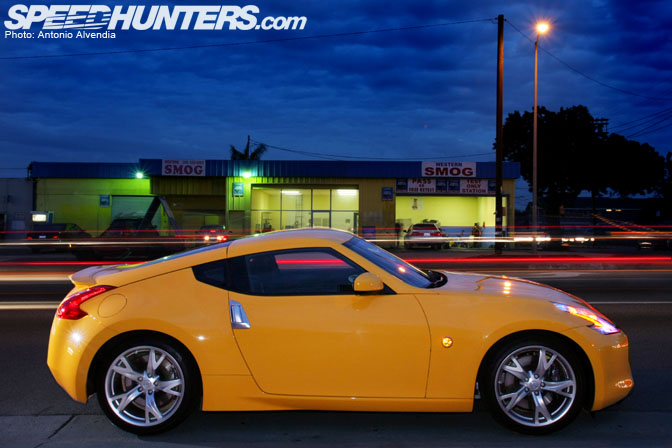 As many of you know, the all-new Nissan 370Z was unveiled about a week-and-a-half ago at the LA Auto Show. The unveiling of the new Z's body style was a big deal for Nissan and Z lovers alike, with lots of industry events and parties celebrating the car's launch. This week, scores of America's top automotive journalists will be traveling to Las Vegas to drive the new 370Z for the first time, at the official Nissan press event. It was awfully nice of Nissan to loan us the car before all their press stuff went down, so we could get our photography and driving impression published right away! Thank you Nissan!
As you can see in the side profile above, Nissan's goal was to bring their newest Z back to its original DNA; they wanted a car that would have top class performance, a timeless design, and great value for the Z buyer. When I asked why it was important to put "value" into the concept of the new Z (BTW, I wasn't complaining about it, I was just wondering why), our contacts at Nissan told me that they were trying to elevate the Z's sports car greatness while still remaining within reach of the average consumer. Finally, a car company that gets what we've been asking for all along!
Even though I personally think the new 370Z looks very similar to the Z33 350Z when looking at it dead-on from the front and rear, the side view of the 370 definitely reveals its lineage from the 240Zs of the 1970s. Compared to the Z33 350Z, the new 370 is shorter (awesome, so it will look lower), over an inch wider (make sure to fill those fenders with wide, deep offset wheels!), almost 3 inches shorter from nose to tail, with a shorter wheelbase (almost 4 inches!) than the previous Z. The rear track has been widened by 2.2 inches (no wonder it has such improved high speed stability!) and a slightly wider front track as well.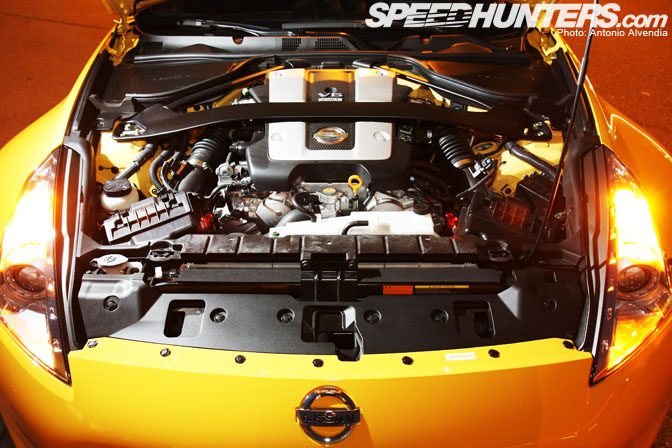 Here's the reason for the new name – the engine bay has been fitted with the new 3.7 liter VQ37VHR V6 engine. Just so you don't think I just stomped my fist on the keyboard to type out all those letters, let's explain the codes. VQ is the engine series (the 350Z came with a VQ35 engine, the 370Z and G37 come with VQ37 engines), 37 signifies the 3.7 liter displacement, and HR refers to high response.
Nissan's media preview package says the engine is comprised of 35% all new parts. Wait – so do they mean the remaining 65% of the internals are made up of used parts? Just kidding, Nissan! (PS: The marketing department should have worded it as "35% newly upgraded parts") The new VQ also has a taller engine block height because the VQ37 has more stroke. The VQ37 engine has VVEL (variable valve event and lift, to maximize both high rpm and low rpm performance), which helps you feel the 332 horsepower it achieves when the needle hits the 7000 mark. (Redline is at 7500, make sure to shift immediately when the red indicator on the tach lights up!)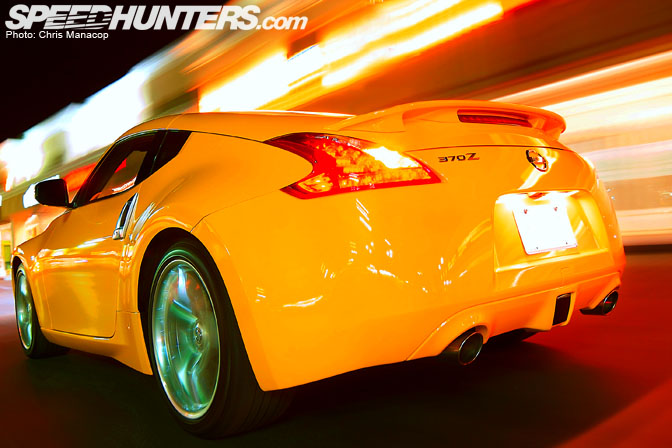 I like the 370's rear end alot! I also like the fact that it's about 88 lbs lighter than the previous Z33 350Z, which, combined with the addition of 36 more horsepower (332hp total) definitely makes the 370 feel faster than the 350.
The whole time I was driving this 370Z, just about everyone who walked around the car, checking it out asked me, "hey what's that black box on the lower part of the bumper?" Being the knowledgeable car guy that I am, I usually responded with "I don't know" or "I haven't read the manual yet" or "some sort of sensor" or "the new Nismo oil slick sprayer." There were several people who even offered suggestions as to what it might be, the most humorous suggestion being (in a Midwest accent) "hey is that there thing where you put the tow hitch or what?" LOL
Since nobody knew what the heck it was, including me, I decided to shoot an email to one of my good friends at Nissan. He tells me it's a spot for the rear fog lights for the European 370Zs. Ohhhh. I see. I hope someone makes flashing red strobes for the 370, so it looks like an F1 car!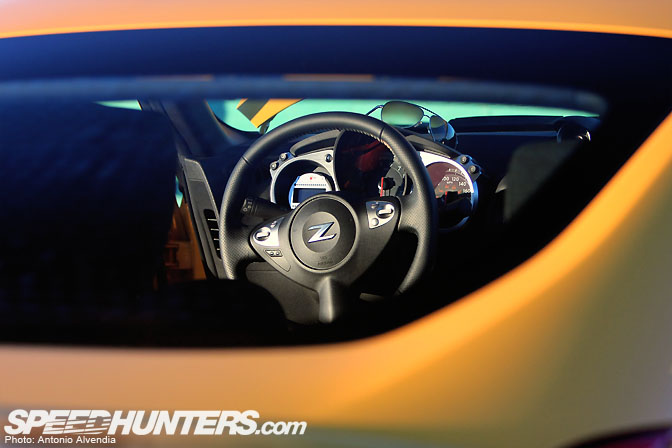 Here's a shot of the redesigned, leather wrapped Z steering wheel, just minutes after I returned to the pits after running Streets of Willow this past weekend. I don't know why, but looking at this photo just makes me think, Top Gun. This is one hot car.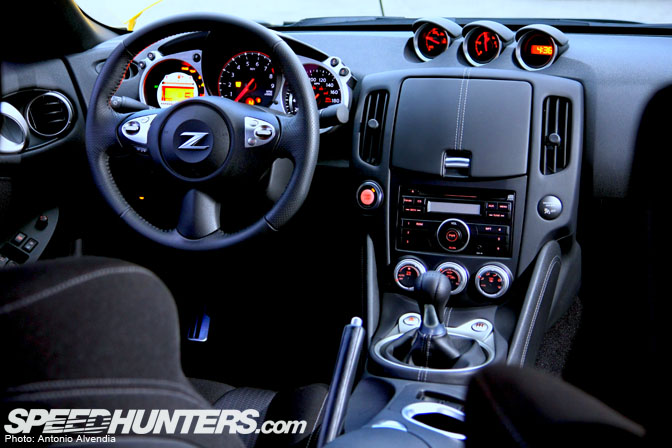 Let's check out an expanded view of the cockpit. The 370Z's interior is a dramatic improvement from the previous 350Z! Nissan apparently redesigned it ergonomically to make the driver and car feel more like one.
The A-pillar was minimized, which improves outward vision (although, to be honest, it would have been nice to have more rearward vision to make it easier to check for cops behind you while you're flying down the freeway). The seats, which have stronger seat bolsters to hold you in place under extreme cornering, have been covered in a new anti-slip seat material. The instrumentation is bigger also, so it's easier to see what's going on with the car.
I also like the fact that Nissan finally added "Intelligent Key" technology to the Z, so you don't need to fumble around with old school keys anymore, simply walk up to the car, open the door, get in, step on the clutch, and hit the "Start" button. Easy! I love it.
However, my favorite thing isn't the seats, nor the leather wrapped steering wheel (although both were an improvement from the previous model 350)… my absolute favorite thing about the cockpit is Nissan's new 6-speed manual transmission, which has a unique feature – "Synchro Rev Match." This feature is soooo cool! To be honest, I didn't read any of the supplied information about the 370 before I got in and drove it (perhaps I was just a little bit too excited to get in there and drive), so when I exited the freeway to go home and downshifted into third gear, I was completely shocked to hear the car rev! I thought, wait a minute… did I just heel-toe downshift without realizing it? Nope, not me. It was the transmission – it blipped the throttle for me to smooth out the downshift! Crazy!
Other noticeable improvements to the new Z include the padded, leather wrapped knee braces (L and R), nice sport seats, leather wrapped storage door on the dashboard, and highly stylish gauge cluster, center gauge pods. and of course, the steering wheel. Apparently, you can order the Z without the luxurious looking leather-wrapped storage door in the dashboard, which probably only fits your cell phone anyway. For an extra charge you can have a Nissan Navi unit in there instead, with real-time XM NavTraffic and an 8-speaker Bose audio system. If I were to buy a 370Z, I'd definitely go this route, as a navi unit and better stereo is alot more useful than a tiny pocket in the dash… and because the base model stereo isn't clear or powerful (loud) enough to play music at my preferred volume level; I was getting distortion to static all day, and I'm not talking about the Roots' first single. Nissan also offers a Bluetooth hands free phone system (a definite must!) and iPod interface. Not bad!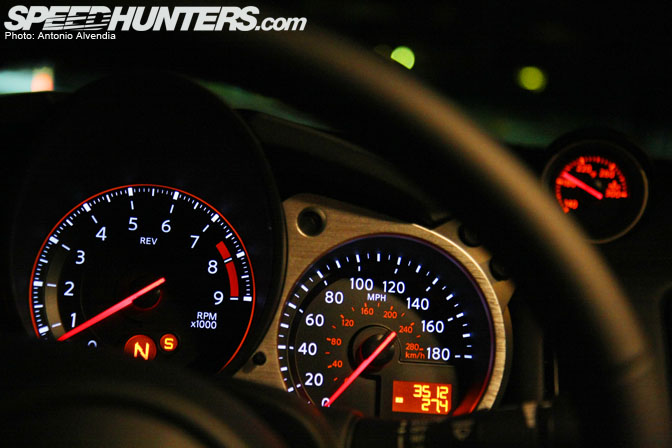 Focusing in on the gauge cluster, I like how it has a little indicator display to tell you what gear you're in (in this case, neutral) and if Sport Mode is on or off. The aluminum speedo surround is also a nice touch.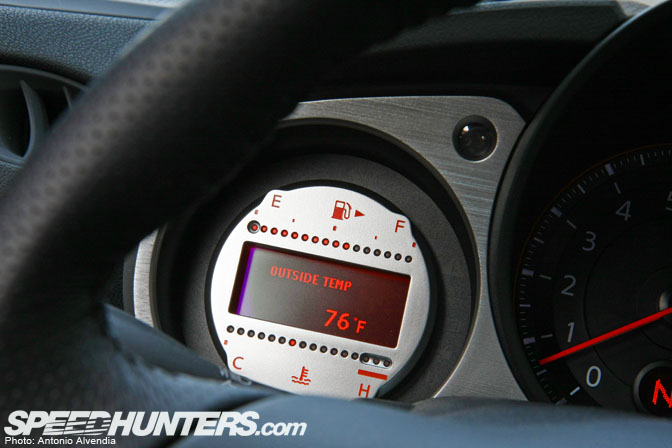 The gas gauge/thermometer/multimeter looks cool with its aluminum surround as well, but to be honest, I found it hard to sell how much fuel I had left when the sun was shining directly onto the aluminum bezel. I was hoping they could have thought up a better/more accurate display (normal dial gauge, maybe?) than LED lights.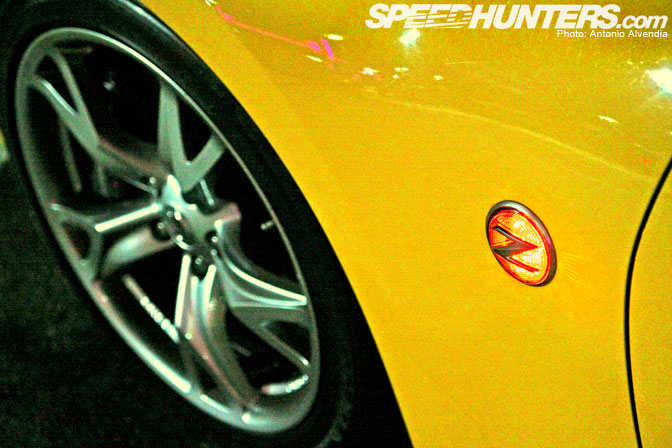 I was surprised to find out that the Z emblem on the front fender wasn't just an emblem; it lights up to double as a sidemarker as well! This looks cool, and matches the Z emblem location on the Z33.
I think it would be also cool to put this Z emblem on the rear quarter pillar to match the emblem location of the S30 240Z… but then I suppose it wouldn't have the dual function as a sidemarker anymore. (It would be lame to have a lit up Z emblem on the rear pillar.)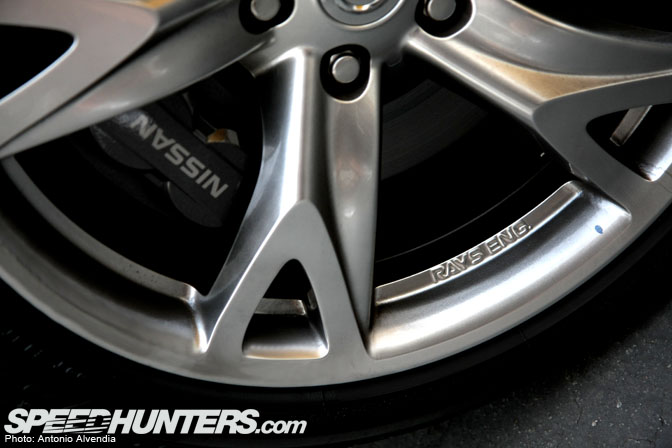 Turning our attention to the wheels, the 370Z comes standard with 19 inch lightweight Rays Engineering wheels! The brakes are also ridiculously big; At 14 inches, they allow the 370Z to stop on a dime, and pick it up too. I heard a rumor that these Nissan sports brakes were made by Brembo, but after checking with my direct link at Nissan North America, I was told that it wasn't true… so I can only imagine the insane braking performance out of a Brembo-equipped 370Z in the future! I'm only speculating here, but I'm assuming (hoping) that we might see a future Nismo version 370Z maybe?
The 370Z that I test drove had Bridgestone RE050A tires mounted on it – they were extremely grippy during my tests at Willow Springs International Raceway (and *ahem* on my favorite driving roads in Southern California), but I've heard that some lower end 370Z models come with 18 inch wheels and Yokohama Advan tires. It would have been great to try these ones out as well!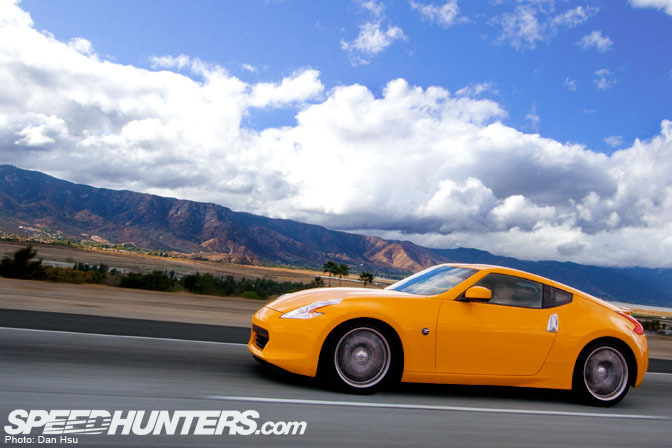 Driving this bright "chicane yellow" 370Z on Southern California freeways, I sure got a lot of crazy stares from other drivers, especially drivers of 350Zs! More fun than that, I had a ton of fun dicing my way through the LA traffic, and powering through freeway connectors. The new 370Z somehow feels like it has better high speed handling and stability than the 350Z. 
Looking into this further, I found out it's because Nissan upped the stiffness of the body 30% up front and 22% in the rear. The front suspension now uses a new double-wishbone design, with a lighter, more rigid aluminum suspension cradle. The 4-link rear is stiffer and lighter, and the shocks have improved "high response" dampening. All this, and the 370 still retains the 350Z's ideal 54/46 front-to-rear weight balance ratio.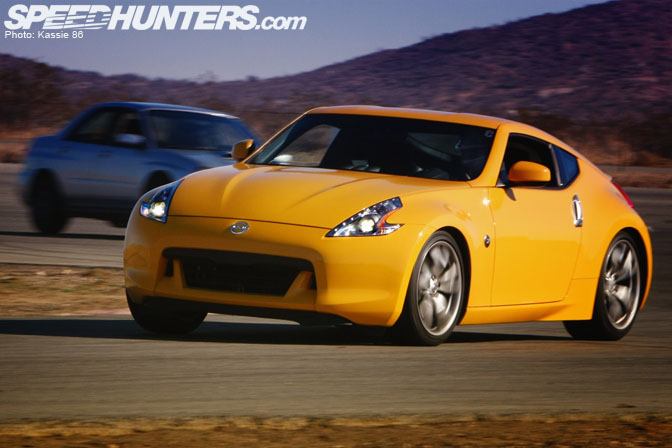 This past weekend, I drove this 370Z at Grip Day 1 at Willow Springs. (Thanks to Naoki from Drift Association!) I already knew that the 370 was stable at high speeds, but taking it out on the track to really test it at its limits just proved the point.
The 370Z handles sooo well! It has a lot to do with the wider wheel track (front and rear), but the car's agility is also helped by the fact that it has a shorter wheelbase than the 350; the new adaptive steering system also gives improved steering response when compared to the 350Z. I wasn't shy. I turned off VDC, put the tranny in Sport mode, and then spent much of the morning getting used to the dynamics of the car. By the afternoon, I was already very comfortable in driving this car pretty fast; to the limits of the tires in fact. The more and more I drove it, I just became more and more impressed at how nimble it was when powering through the corners!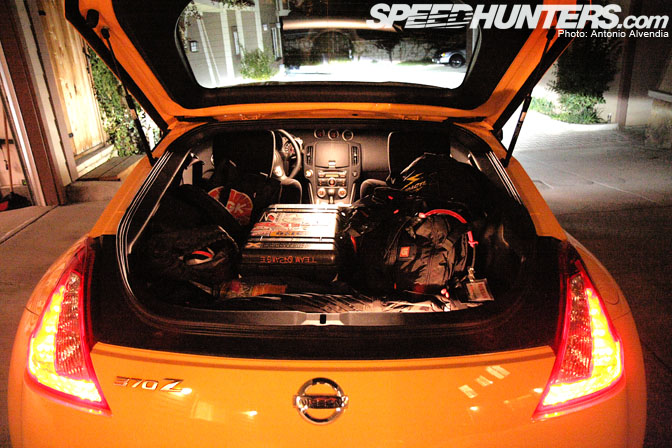 Even though there isn't a huge amount of space in the hatch area, I was able to fit just about everything I needed for a typical day at the racetrack – Pelican 1510 camera hardcase, Burton camera backpack, two lawnchairs courtesy of Speedlounge.com, fabric NGK bag from SEMA with my Speedwell driving shoes, tire pressure gauge, and Bridgestone Motorsports jacket inside, Nitto giveaway backpack thing to keep my Dunks clean, Impact Racing helmet and bag, Apex'i driving gloves, compressed air tank, tripod, light stand, umbrella, sunglasses, Canon SD camera, Gatorade bottles, and my favorite new mix CDs.
I can't believe I was able to squeeze all that into the trunk of the 370!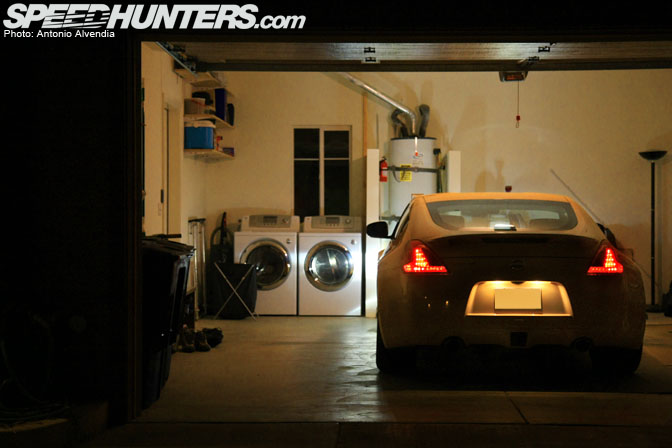 Right before I end this story, I just thought I'd show you a little mental image. Here's the new 370Z sitting inside my garage at home. Now just imagine it sitting inside yours.
Starting price is only $29K USD. Head to a Nissan dealer asap and handle it!
-Antonio Alvendia