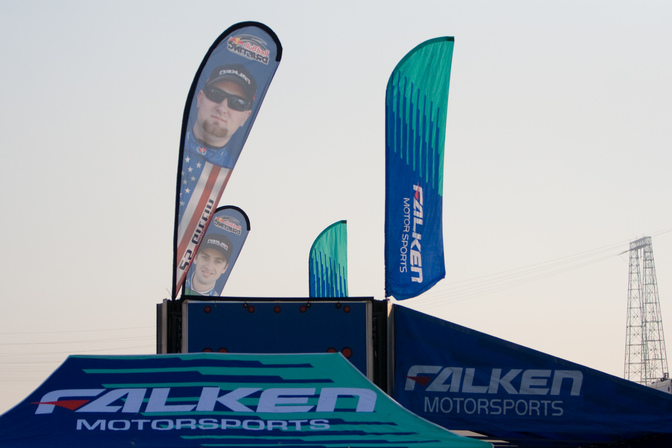 I know everyone has already seen all the pictures and read all the coverage of the Red Bull World Championship, but I just wanted to touch on it from my point of view. My brain analyzes nonstop; sometimes I love it, sometimes I want it to turn off. At this event I had the realization of just how far our sport has come, especially in America. I mean I obviously have realized it to a certain degree, but this event was just like "WOW…we are doing it."
I think some of this came from the overall production of the event, especially the video production (there was real film cameras, helicopters overhead, and the ultimate arm), but I think mainly my realization came from the overseas drivers. To some of the guys coming to America to compete with us was a dream come true, not only driving competitively against us, but having fun on the track during practice and being part of the sport we love on such a huge level. I got the impression we are a lot farther with regards to how our events are run and the sponsor support and presence than other countries.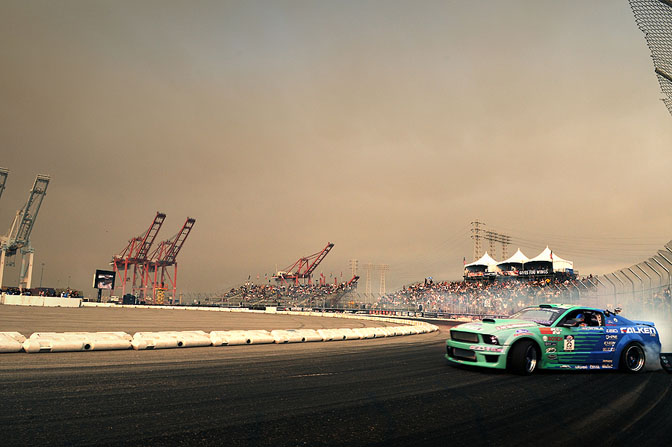 Some of these things I see other FD drivers taking for granted and even talking down about are the very things these drivers dream about. I learned a lot of things about how drifting works in other countries, like something as simple as having a track to practice on. The guys from the Netherlands have to wet the track before they go drifting due to noise restrictions and they can only do it at certain times (the tires are louder then the allowed noise level). I am one of many drivers still competing that have been involved from the beginning, and we have kept pushing and chasing the dream while doing the best we could to pave the way for the upcoming generations through bad times and good.
I must say that all of the sacrifice and dedication from everyone that has went above and beyond to make this sport live and grow has been well worth it when you sit back and look at what has been built. Especially the event organizers all over the country – like Matt Petty, The US Drift crew and the Just Drift crew just to name a few – that have continued to run local events for everyone to have a safe/fun place to drive simply because they love the sport. More and more people are trying to hold local events as the sport is growing so fast; these guys are true selfless heroes and are a huge reason for the sport being where it is today.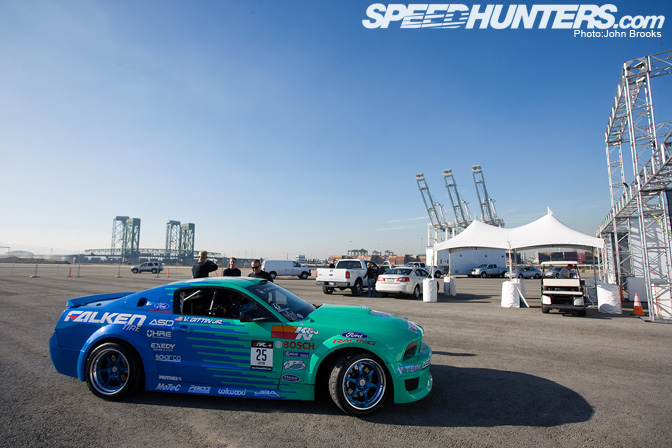 I mean, when I first started drifting, some tracks wouldn't even let us on their actual tracks; they only let us drift in their parking lots. And now, most tracks are begging to get a drift event at their venue. Sponsors and people outside of the scene had no idea what drifting was, and now everyone seems to know. From movies and manufacturers commercials to video games, drifting is everywhere and it is amazing!!! If it's not official by now that drifting is here to stay, I have no idea what else could happen to make it. You might not be the biggest fan, but you cannot deny the skill of the drivers and the excitement drifting offers.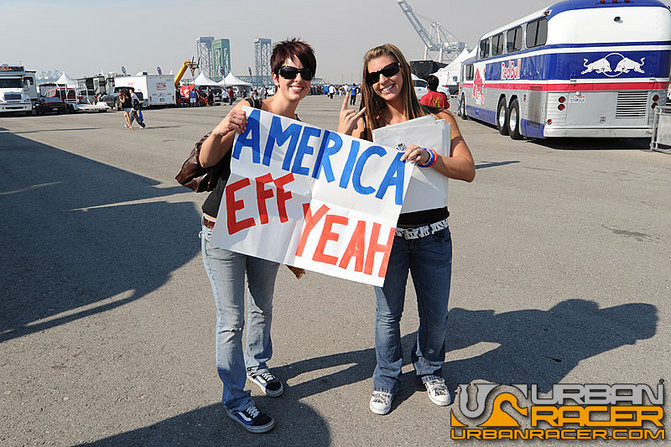 To the everlasting naysayers… I tell you to GET SERIOUS!!! To think I just saw a thread somewhere and people constantly posting BS such as "America is ruining drifting". It makes me sick and literally hurts me and I'm sure a lot of the other people that continue to dedicate and sacrifice so much for the love and passion of the sport. To hear that crap, and to know that every driver I talked to after Red Bull wanted to run the FD series next year, just goes to show how a lot of people don't realize how fortunate we are to have the infrastructure that has been built to support drifting here in the States. I look forward to what we have built here in the States starting a trend in other countries to give opportunity to the drivers and bring a ton of excitement to spectators all over the world. Now that I'm done getting all sentimental…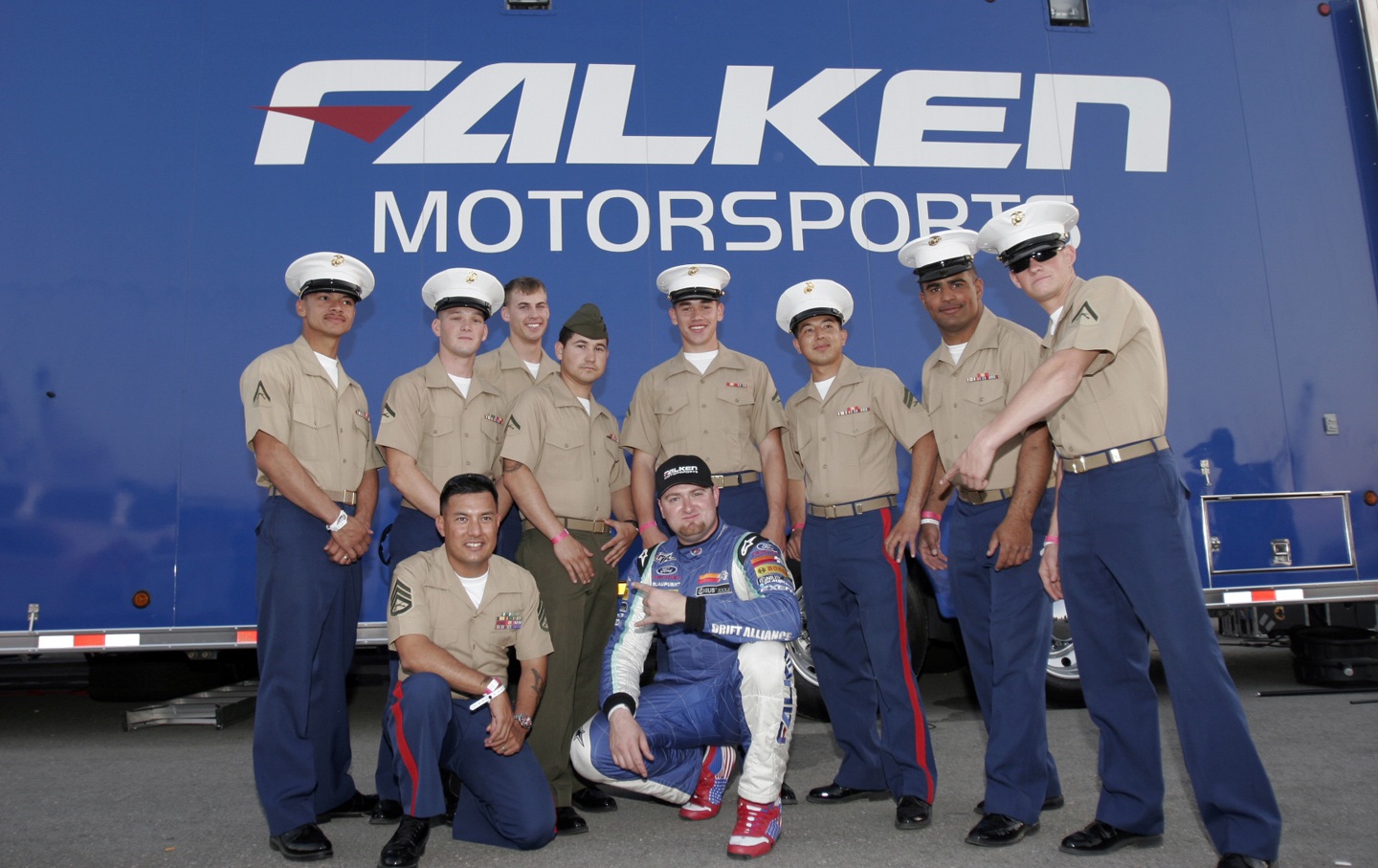 Coming to the Red Bull Drifting World Championship I was really looking to battle and defend my title as a World Champion. You'd think this would be a lot of pressure but halfway though the weekend I started to realize how relaxed and calm I was. I just wanted to get out there and put on a good show for the crowd. In my mind I really didn't have anything to prove; I just wanted to have a good time and meet these drivers from other parts of the world that I hadn't met yet. Not to mention this was last "hurrah" for good old Betsy – my 2005 Falken Tire Ford Mustang that I have had so much success with. Everything about the event was incredible – from the course layout and the backdrop of the docks, to the 100 mph plus entry – it was just a great vision that the guys at Red Bull and Formula D saw and made happen. Big high five to them for making it happen!
Being out there with the guys from other parts of the world was incredible. A lot of these guys really have no money/sponsors and to be over here spending every dollar they had was really cool. It just exclamated how strong drifting has become by everyone involved from around the world united at this one event. I was very disappointed that D1 did not let any of there drivers out here to participate in the event. For me personally, it didn't really matter because I've run most of those guys before, but it would have been cool to see Japan represented better.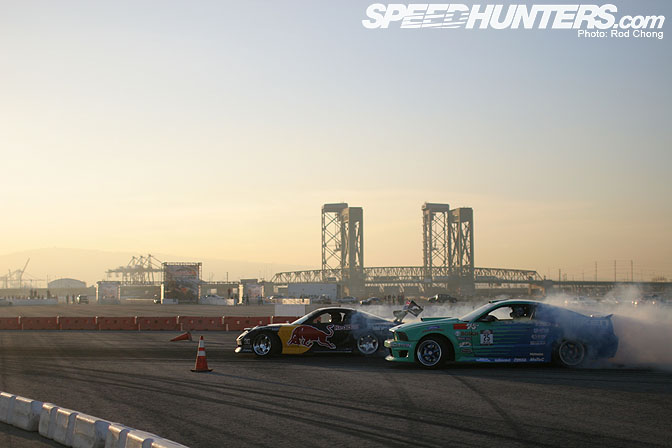 It was awesome to run practice with the non-FD guys. Mad Mike and Luke Fink stick out in my mind as guys who have a driving style I really like and respect. One reason I love drifting is that there is so much personality and style that comes along with each driver. This fact was even more proved by watching the drivers from all over the world. Every driver had his own style, but at the same time, each country was similar in the way the cars were set up, the way the cars worked on the track, and the way the drivers attacked the course. It was obvious that since they are driving together all the time, they are also learning from each other.
A couple other guys were extremely consistent and calculated, but not very exciting to watch. Also, some drivers were a little slower and not necessarily on the level of most drivers. For example, one of the guys out there was left-foot-braking the entire time. For a driver like me, that's my worst nightmare to go up against. When I enter the course at 100 plus mph with a guy in front of me left-foot-breaking, going 40 mph slower, it is extremely hard for me to follow him. It could almost be a dangerous situation if I was to smash his car.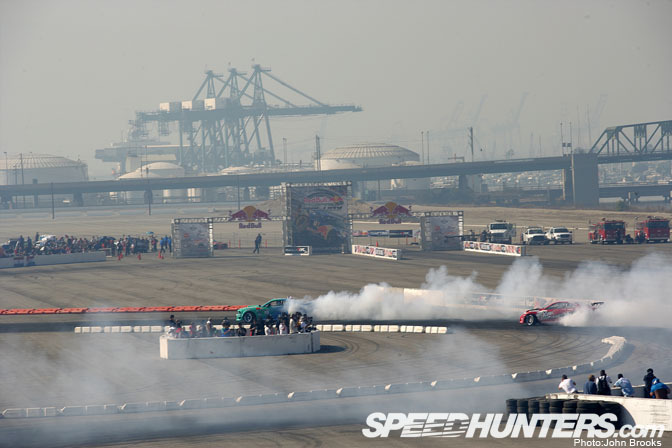 After practice I knew that it was going to be tricky to learn to drive with drivers not as fast as I am used to running. In Formula D, I'm used to running with these guys and seeing their styles since I've been driving with most of them a few years. Getting used to the different styles from all over the world was the hardest thing I knew I was going to be faced with. So I studied all of my opponents and knew what I need to do if and when I faced them in the main event.
I lined up with some guys at practice and would give them 6 car lengths on the entry and by the first apex I was already sucked to them struggling to not straighten up and hit them. It was hard just finding the balance. If I gave them too much room, I wouldn't catch up, but if I gave them not enough, I would be sucked up to them and have to slow down and choke myself up. This was simply due to car setup, NOT horsepower as many might think, but I refuse to slow my car down just to run with slower drivers. I lined up with a lot of slower guys so I could practice with them. Some of these guys are in a series where not everyone drives fast. Some are driving cars that a little looser and a little more forgiving. Whereas in Formula D, we are all driving cars that take extreme commitment and they work very well, but if you don't commit and throw it in lazy, they'll bite you pretty hard. That was for sure the hardest part this event.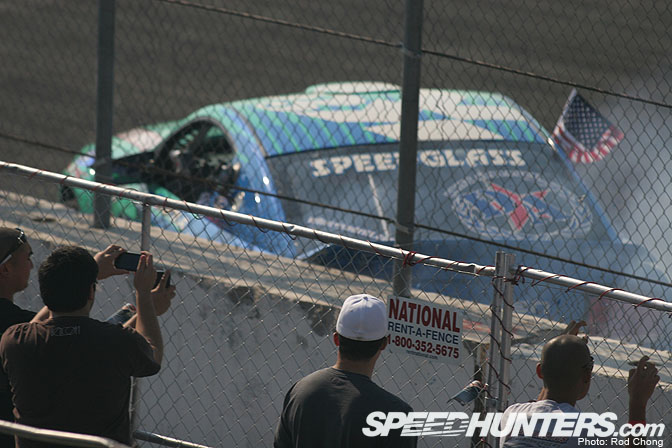 During qualifying I went out there and blasted out two decent runs. I finished up qualifying 6th out of the 32 drivers when all was said and done. My victory in the top 32 was against Marco Santos who was a lot slower than me. Fortunately, I ran a lot of practice with him. In fact, when I ran him in practice I got choked up and kissed the rear quarter panel into the wall twice. That's when I decided that for every run from then on I was just going to give the wall a little kiss with the rear quarter panel.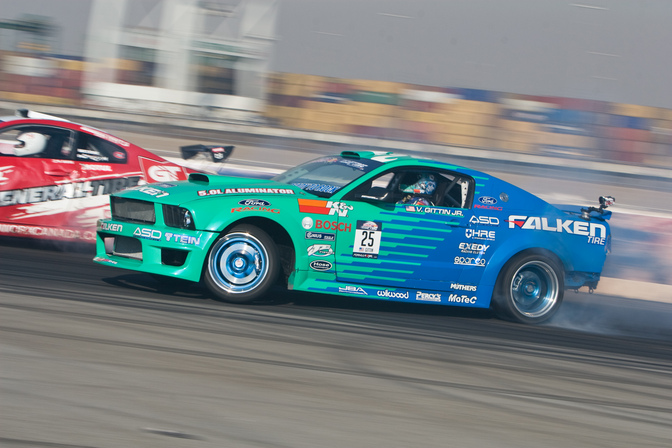 Marcos is a great driver, but his car setup is holding him back from going to the next level. I gave him some advice so we will see next year if he takes it!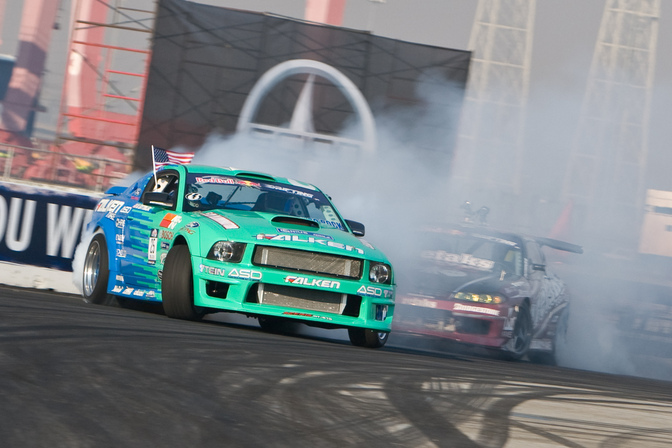 I moved on to battle Bill Sherman in the top 16. Bill has been on fire all year, but I beat him at Irwindale for round seven, and I was pretty confident this battle would end the same way. After the first battle, the judges took us to a one more time.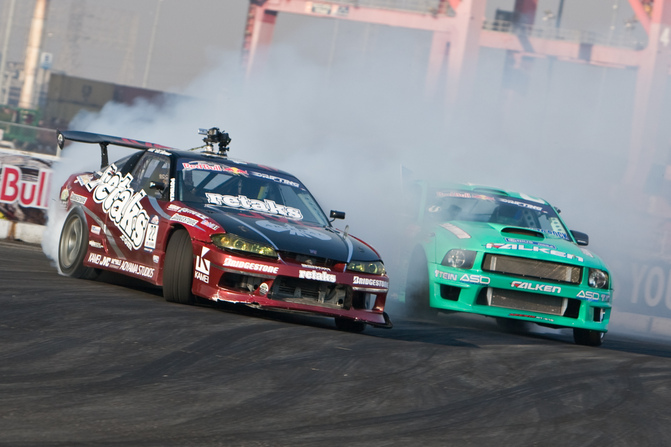 And then in the second round, I turned it up a notch and was able to move on.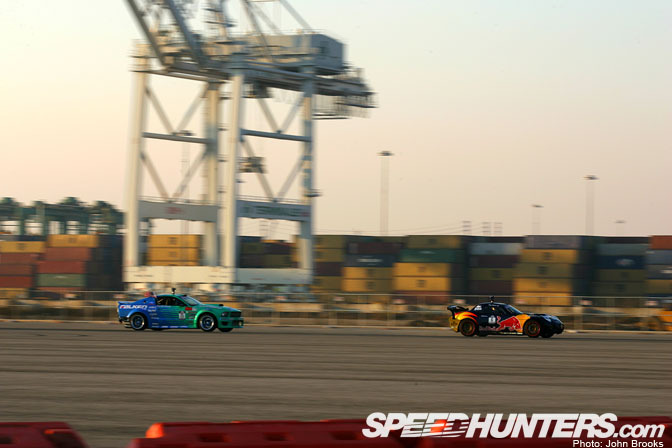 In the top 8 I was up against Rhys Millen who had qualified first and was killing it all weekend. Rhys is also the only Formula D Champion I have never beat in a tandem battle. I was looking forward to making that happen finally at this event. Before the first run where he was leading and I would be following, I called up to my crew chief Ian because I knew in order to beat Rhys, I would have to go in just as fast as him. He had been entering at 103 mph, and then 105 mph proved to be a little too fast for him when he crashed. I'd been running at 102 mph and I was pretty confident it would work out. We made the call to just go for it that it was all or nothing. I told my guys: "Look… this is it. We are not gonna beat him unless I follow him all the way in. We are just gonna hope I slow her down enough before the turn. Checker or wrecker."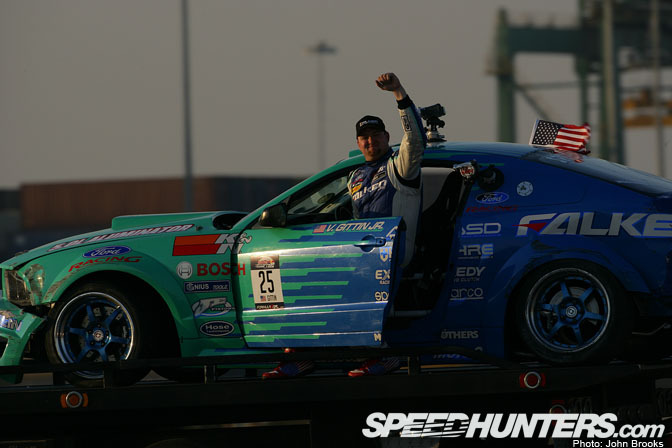 Sure enough, I followed Rhys in at 103.7 mph; it was a little too much as I hit the rear left corner at the wrong angle. I thought I had it. All I needed was another one to two feet of space or one mph hour less and I would have had the turn. But… it is what it is. You go hard or go home. I went hard, and then went home.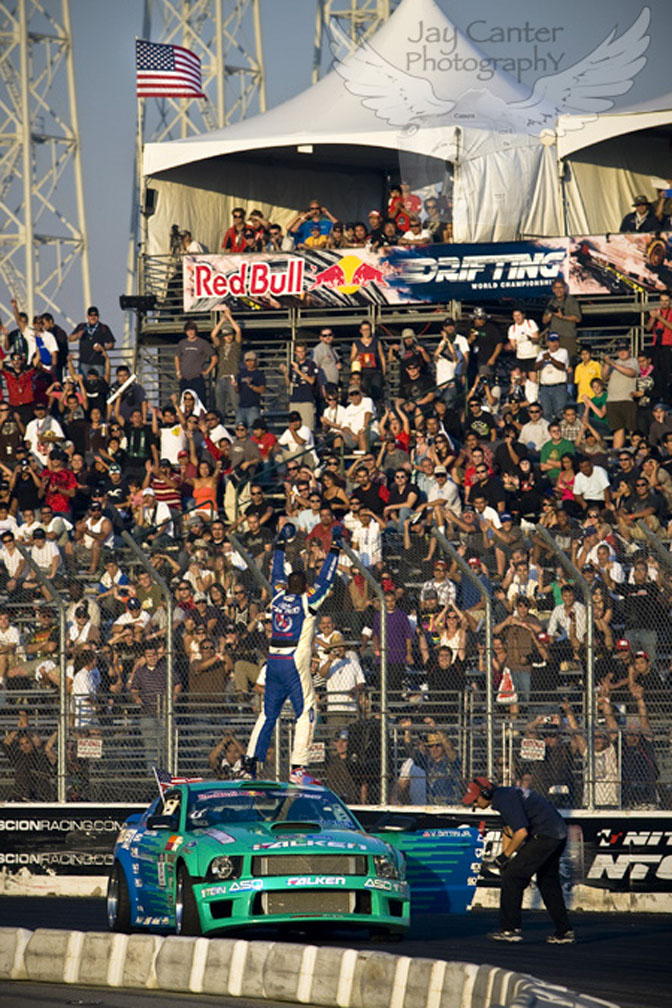 After getting the car off the wall, I jumped out and gave the crowd a wave. My girl Betsy, my loyal 2005 Ford Mustang, was taken off the track for her last time in competition and she was beaten and battered. I couldn't think of a better way to bid Betsy farewell in front of such an amazing crowd. It happened and I have no regrets. Hats off to Rhys for winning the event. Later on he confessed to me that he knew I would be his hardest opponent. And the only way to beat me was to drive me in hard. And what he wanted to happen, happened. He played it smart. It is what it is. I didn't need another World Championship anyhow……well, ok maybe I did.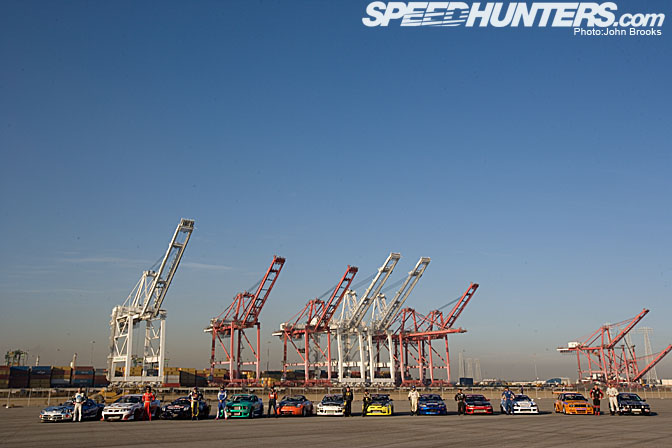 All in all, this event was just incredible and I am very proud of Formula D and everyone that has helped build drifting to what it is today worldwide. I hope we have more World Championships in the future. I want to thank everyone for their support. To everyone behind the scenes in this awesome sport that has worked so hard, this is just of the beginning of what is going to come. I am so excited for 2009; my new fighter jet, the Falken Tire 2010 Ford Mustang, is preparing for battle. It's about 2550 lbs and is simply a nasty machine. I am excited to chase the FD Championship next year! I want to wish everyone a Happy Holiday season! Stay Warm! (It is getting so cold over here in Maryland!)
-Vaughn Gittin Jr.