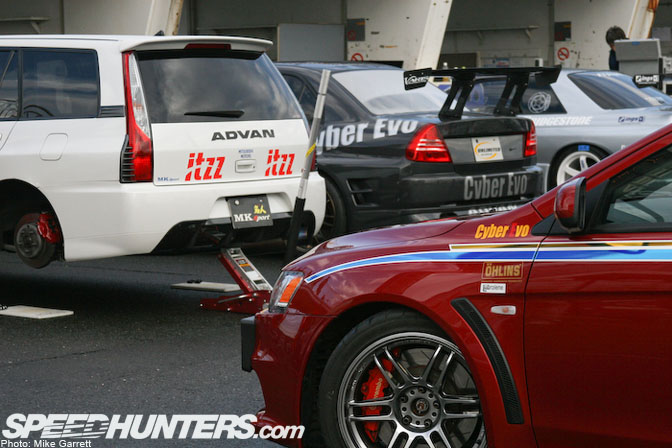 You probably saw last week's post where I covered the 10 fastest cars from the 2008 Rev Speed Tsukuba Super Battle, and now it's time to take a look at some of the other notable cars from this year's event. One of the best things about the Rev Speed Time Attack is the variety of cars that come out to run. Whether its Evos and Imprezas, GT-R's. Hondas, compact cars, or rotaries, every part of Japan's tuning scene is represented at this event.
Here's some of the interesting machines from this year's event in no particular order.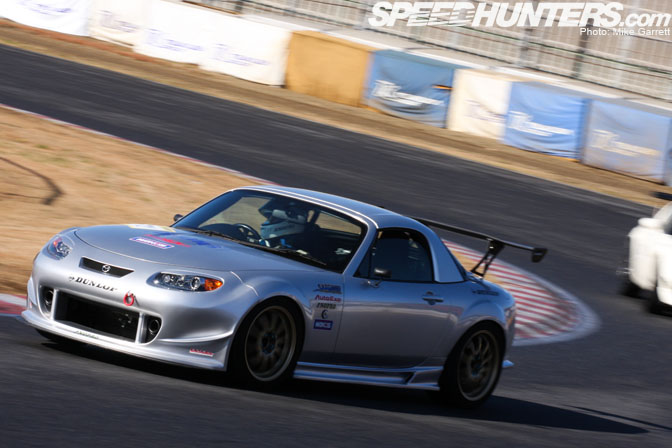 Although the Mazda Roadster has always been an extremely popular car for tuning, they don't really have the reputation of being a time attack weapon like Honda's S2000 does. This year two tuners came out with NC chassis Roadsters to show what the car is capable of. This silver car is from Roadster specialist NOPRO and it has a naturally aspirated 2,3L MZR swap that makes 200ps. The car was able to run an impressive time of 1:06.718.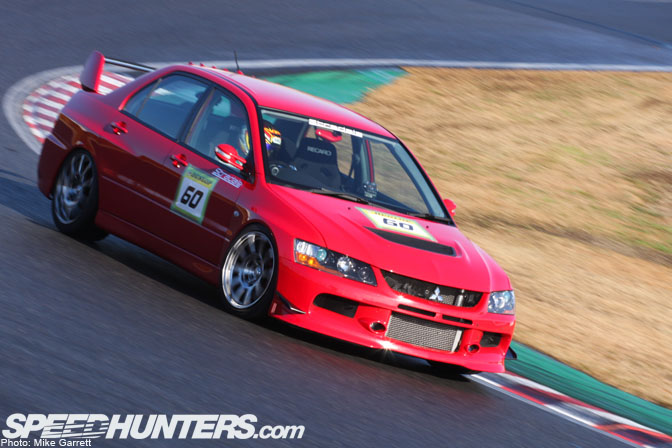 The Stradale Evo9 MR is a perfect example of a well-balanced street car that turns in awesome numbers at the track. The car's spec sheet includes moderate power upgrades, big brakes, suspension and drivetrain parts. As you can see, the body remains stock with the exception of the canards on the front bumper. The car finished the day with a best lap time of 1:03.024. Also, check out the staggered Racing Hart wheels sized 18×10 in the front and 18×9 in the rear. I have seen this type of stagger on a lot of the fast Evos at Tsukuba so it must produce good results.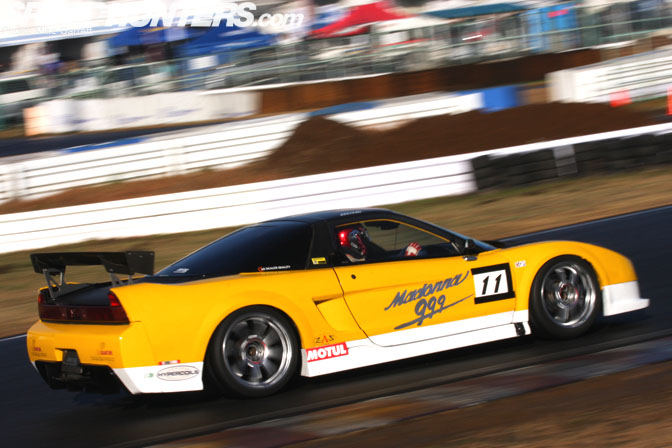 The NSX maniacs at Route KS just missed breaking the one minute barrier in their "Super Madonna" NA2 NSX with a lap time of 1:00.460. I suppose the weather conditions can be blamed as this car has ran 59 second laps in the past. As I said earlier, this car has one of the best sounding V6 engines I have ever heard. Check out one of the Hot Version VTEC Club DVD's to see what I mean.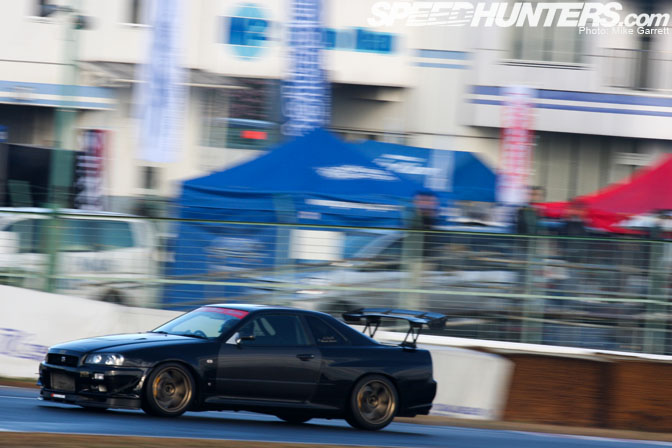 You can't go wrong with the "classic" Skyline GT-R's like Hosaka Tuning Factory's black BNR34  which delivered a best lap time of 59.594. This was good enough to be the 11th overall fastest car of the day, finishing just behind the Outer Plus Lotus Exige. This is just one of several badass GT-R's tuned by Hosaka.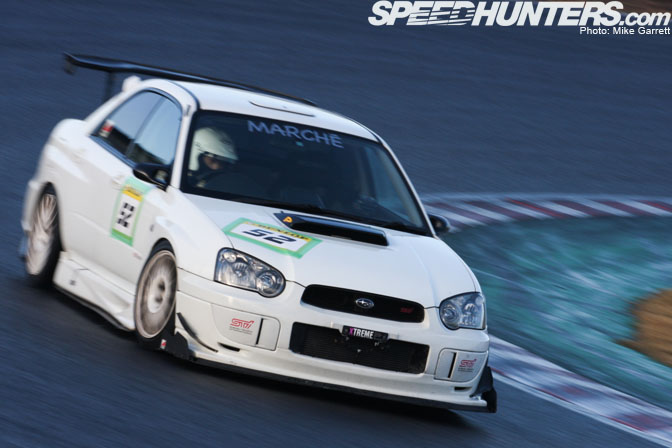 This year's event seemed to have a pretty low turnout of tuned Subarus with just a handful on the roster. This white GDB Impreza belongs to belongs to Car Station Marche and ran a best lap of 1:01.986. Besides traditional circuit racing, Marche is also active in Japan's rally scene.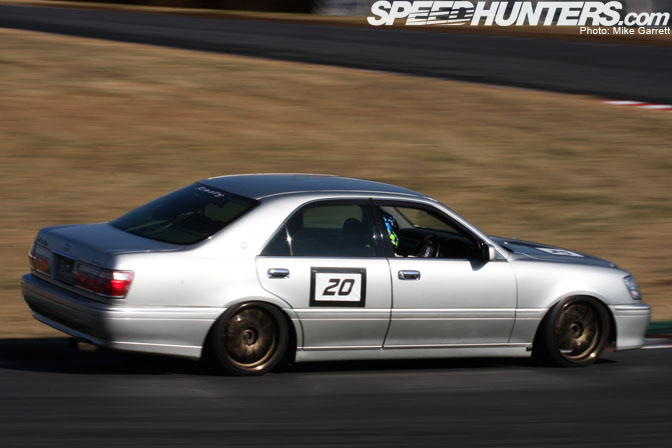 Car Make Rasty brought out their JZS171 Toyota Crown Athlete which was probably the most unique car at the event. Seeing the "old man's" Crown out there amongst the winged Evos and RX7's was pretty strange, but the car got down to business running a best lap of 1:04.683. This Crown has also seen drift action, just like Rasty's other drift and grip demo car, the JZX100 Mark II I featured earlier this year.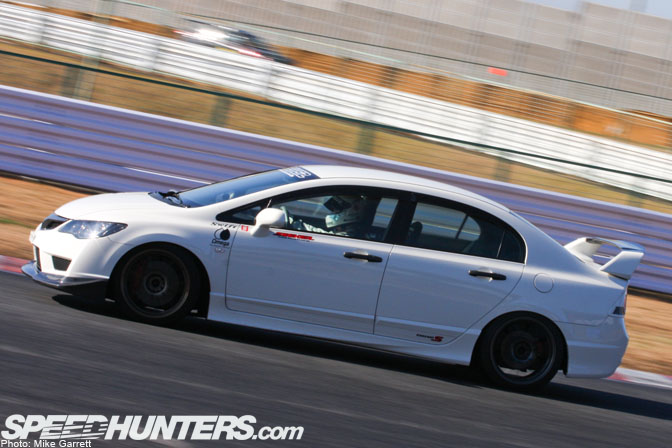 The FD2 Civic Type R continues to be one of the most popular new models among Japan's tuners and there several examples at this year's Rev Speed event. This particular car is tuned by Honda specialist Seeker and ran a best lap of 1:07.072. The parts on this car include your standard intake and exhaust, coilovers, a Cusco diff, Ray's RE30 wheels and other simple upgrades.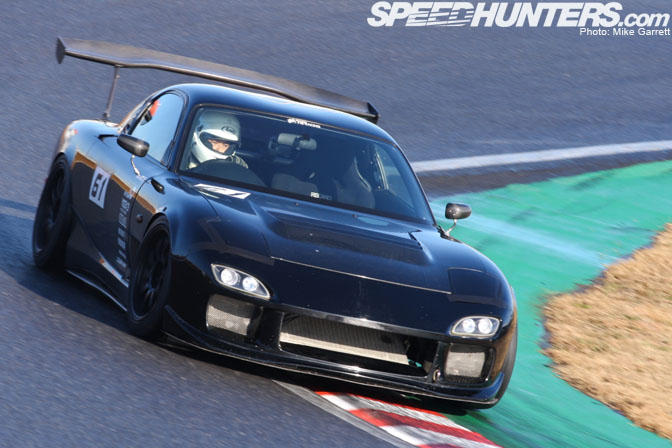 While some of the time attack-tuned RX7's in Japan are monster machines like the Pan Speed and Revolution cars, the FD3S from TiRacing is much simpler. Despite the car's relatively mild state of tune, it still delivered a solid lap time of 1:01.298 after running consistently quick all day. I dig the black on black style of this car.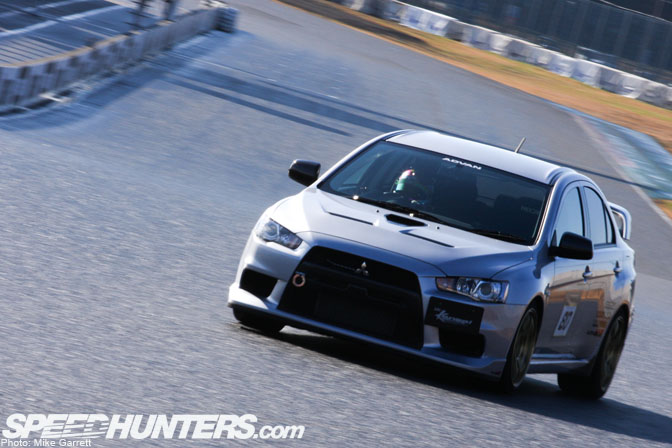 There were several tuned Evo X's out on the track, including HKS Kansai's SST-equipped car which ran a 1:04.901 despite the wet surface of the course. This wasn't the fastest of the Evo X's though. I'll cover some some of the other Evo X tuner cars next time.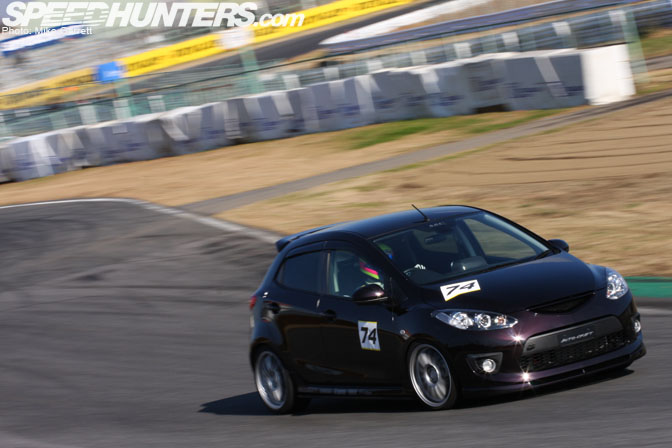 The Mazda Demio is one of the coolest compact cars for sale in Japan, and this tuned version from Auto Craft Kyoto is one of the best tuner versions I have seen yet. It ran a best lap of 1:13.948. Mazda, please send this car to the USA! Actually, the new Ford Fiesta shares a platform with the Demio and Ford plans to bring it to the states soon. If it's anything like the Euro market Fiesta or the Demio, it should be a nice car.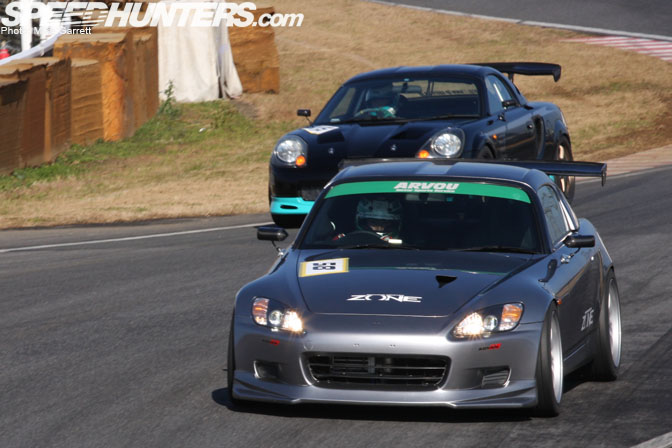 The Arvou AP1 S2000 is one of the fastest naturally aspirated Street Class machines around and this year it delivered a best lap of 1:02.911. The S2000 has proven itself time and time again as a car that can deliver awesome results with the right combination of tuning parts car settings, and this car is a perfect example of that.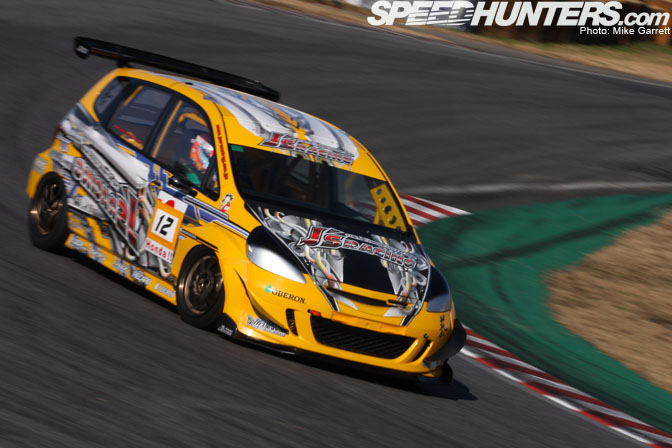 J's Racing brought a few cars to the Tsukuba Super Battle, including their K series-powered GD3 Honda Fit. The high-powered Fit was able to run a best lap of 1:00.836, easily making it the fastest "compact" car at the event. Then again there isn't a whole lot in common between this car and standard Fit or other compact cars.
That's all for now. I'll continue this soon.
-Mike Garrett