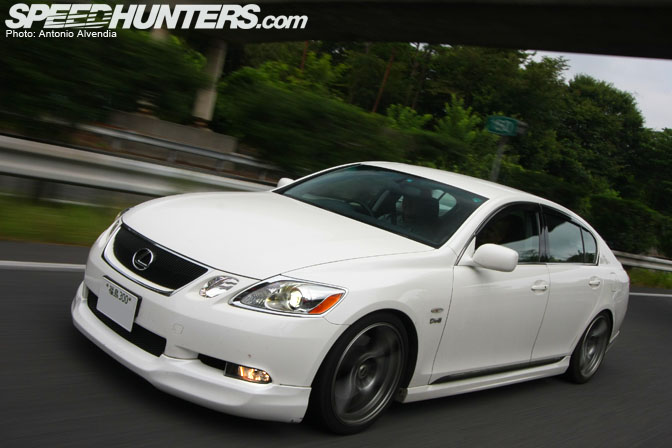 Since there aren't really a lot of events going on right now, I thought I'd look through my external hard drive to find some photos of interesting cars. Even though we've done a bunch of photos and stories (and videos) dealing with Nobushige Kumakubo and Team Orange, the cars you always see in magazines and videos are always the Team Orange competition cars, which are used in D1 Grand Prix competition, or the Team Orange backup cars that you might have seen in Greece or in the UK. Anyway, we thought it might be interesting to show you some snapshots of the daily driver street cars that Kumakubo uses on a daily basis. So if you're in or around the area of Fukushima Japan, you just might see him cruising around in these cars.
Here's the first… I remember when Kumakubo got this Lexus GS450h – it was near the beginning of 2007. Prior to that, he had a JZS161 Aristo and a Nissan Cima, and those were pretty luxurious. When he was about to order the GS450h, he definitely wanted something luxurious as well, but he was also excited about getting a Toyota Hybrid vehicle… not just because Toyota makes the best hybrid system, but because he wanted to try something different, and save gas at the same time. Of course, being Kumakubo, and having relationships with all sorts of aftermarket parts manufacturers, once people found out that he was getting a hybrid Lexus for daily driving, some companies offered up parts for it. They knew full well that these cars wouldn't be used for drifting competition purposes, but since they wanted to keep a good relationship with Kumakubo, I guess they hooked him up with some parts! (It must be nice!)
I forget what kind of suspension is in the GS450h exactly, but I seem to think Kumakubo said they were Cusco coilovers. That would certainly make sense anyway, since his other cars are outfitted with Cusco. You can't really see them while the wheels are spinning, but the car sits on Enkei RP03 wheels with Yokohama Advan tires mounted on them. The aero kit is from Ings… I don't think I like the front chin spoiler that much, but I like the sideskirts; those are pretty clean looking.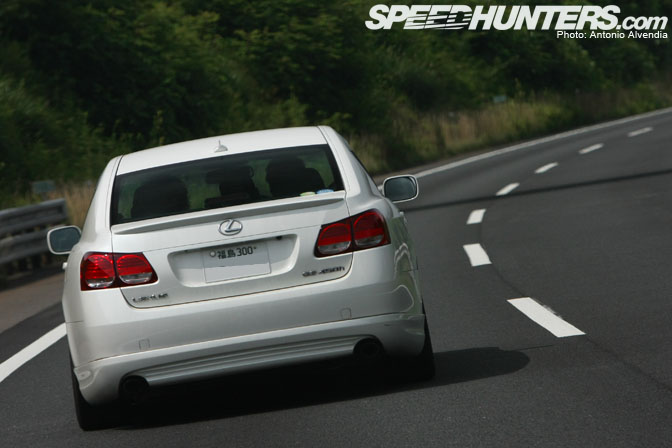 Here's the rear of the car. I took these photos as we were driving down to Utsunomiya/Tochigi area to visit a vintage Japan/samurai themed park (Edomura) and Ikki Ikki Gyoza, our favorite gyoza restaurant, which features over 500 different types of gyoza – garlic gyoza, deep fried gyoza, shrimp gyoza, dolphin gyoza (for real!), chocolate gyoza, kimchi gyoza soup, etc… Kumakubo had our friends Chris and Jody Manacop in the car with him (good friends who went to Ebisu's Summer Drift Festival as part of their Japanese honeymoon), and our friend Giannis, our funny, troublemaking friend/tour guide from Athens, Greece. (Malaka!) Since there was no more room in the GS, Rod and I had to ride in the Nissan X-Trail (Kumakubo's snow vehicle) with our boy Naoto.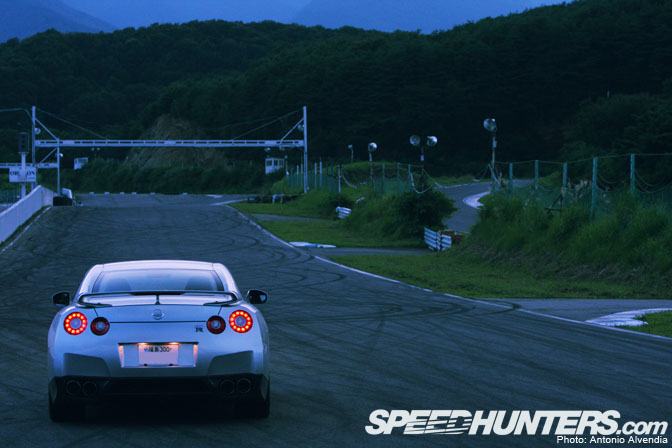 Oh yeah… check out Kumakubo's other street car – an R35 Nissan GTR, sitting here at Ebisu West Course (backwards orientation for the photo).
I remember when I was in Japan just this past January, Kumakubo was looking at some R35 GTRs at Tokyo Auto Salon, and reading a bunch of Japanese car magazines that featured the GTR… and he asked me if I wanted to go look at a GTR at the Nissan dealership. Hell yea! Of course I was down. So Kumakubo and I got all bundled up (it was snowing/raining during that time) and drove down to the Fukushima Nissan dealership with our good friend Igusa, the manager at Car Shop K-Style. I remember taking all sorts of pictures of the GTR while Kumakubo was chatting with the sales guy, when, all of a sudden, he broke out with a big smile and blurted out.. "Ok!"
I couldn't believe he just bought a freaking R35 GTR that easily, like he was deciding what to eat for lunch or something!!! Check out the photos on my previously featured story on Speedhunters.
I also recall being super jealous as I was sitting at Car Shop K-Style, working on a Speedhunters blog while I was in Japan… when all of a sudden, my friend Chris opened up the sliding glass door with a ridiculous ear-to-ear grin and, giggling like a little girl, said "duuuuude… Kumakubo just let me drive the GTR, dude!" WTF??? I was pretty jealous, I gotta admit! Here I was working on my laptop, and Chris was out on Nihonmatsu streets, driving the GTR!!! haha it's all good though…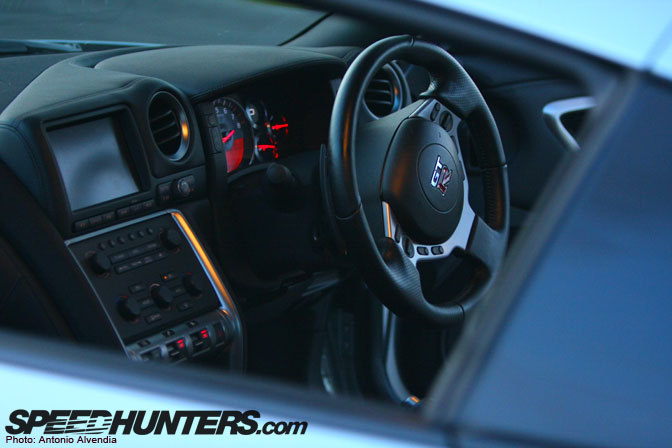 A day or two after Chris and Jody returned to Tokyo, Kumakubo asked me if I wanted to test drive the GTR also! (Uhmmm… obviously the answer was yes!) Check out the interior… it was my first time ever driving an R35 GTR, so of course this was a momentous occasion for me. My first time driving the GTR, and Kumakubo let me drive it around Ebisu West?! Hell yeah!! The car is pretty much all stock (for the time being) in the photos. Still, even a bone stock R35 GTR is pretty impressive, if you ask me. For more info, check out my R35 GTR Driving Impression story.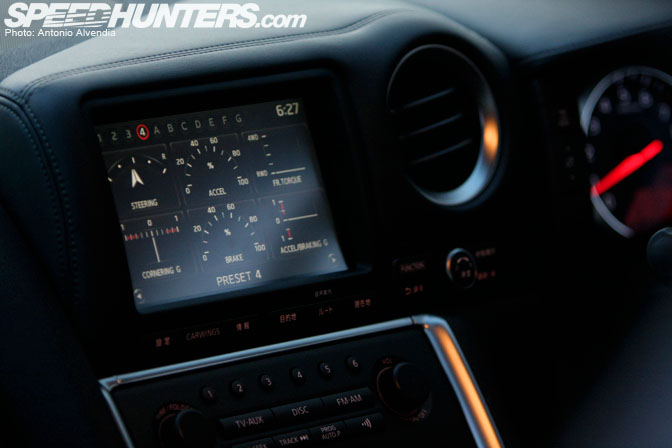 One thing that is super impressive about the R35, no matter what country you live in, is the digital gauge cluster, which was made by Polyphony Digital, the same people who make that other extremely popular driving game. hehe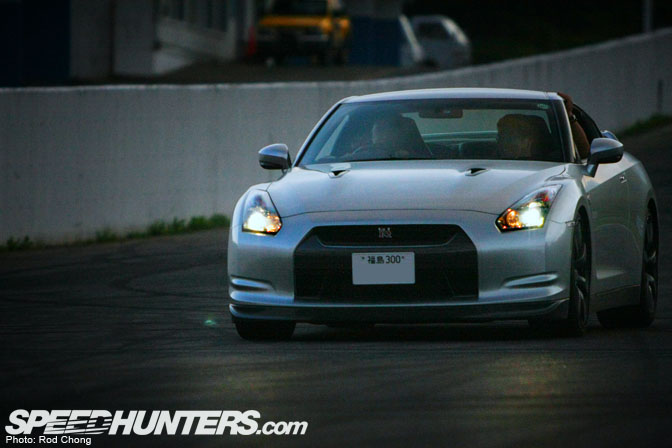 Here's a photo Rod snapped of me and Kumakubo in the GTR during my test drive. In this photo, I was saying "hooooolllllllyyyyyyyyyyyy shhhhhhhhhhh———" as I was blasting through the straight, and Kumakubo was just looking at me, laughing! I suppose I did sound kinda funny driving that thing. Must be nice to have an R35 GTR for street driving. Whew.
-Antonio Alvendia