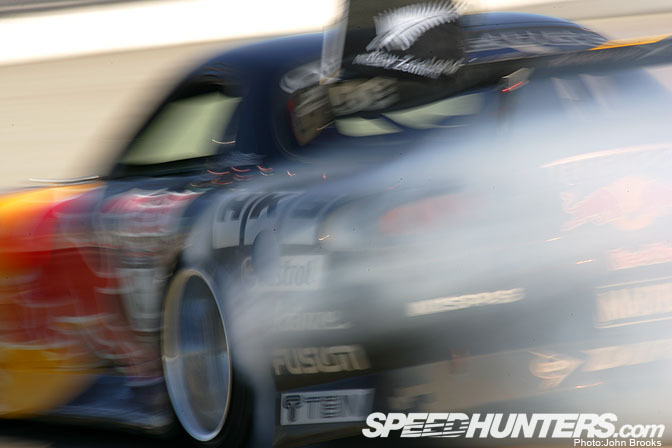 While the majority of western countries on the planet are bracing themselves for the cold of winter, today was a hot, sweaty day at in Southern California. I regretted my choice of skinny jeans today… they may be fashionable, but they sure as hell are uncomfortable in hot weather… Anyway blah, blah, blah… Let's look at the day's action from Long Beach. It was a day of hope for some competitors, but a day of frustration and carnage for many others.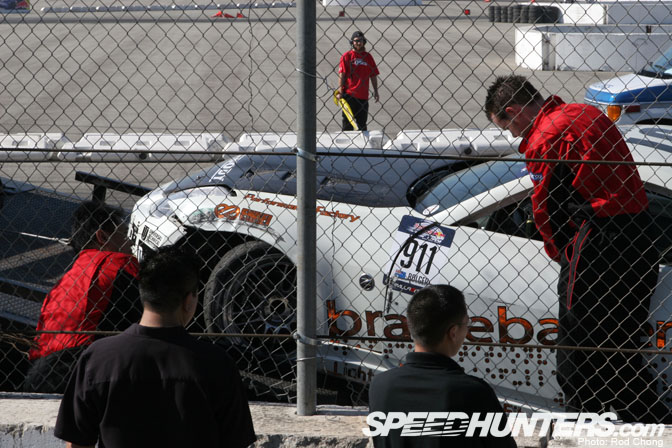 One of the first things I saw at the track today, was Robbie Bolger stuffing his borrowed 350Z into the wall. I was under the impression he was going to be flying in his monstrous V8 powered Holden Commodore to Long Beach. I'm a bit disappointed to not see this car run in the flesh.
This accident was a sign of things to come unfortunately.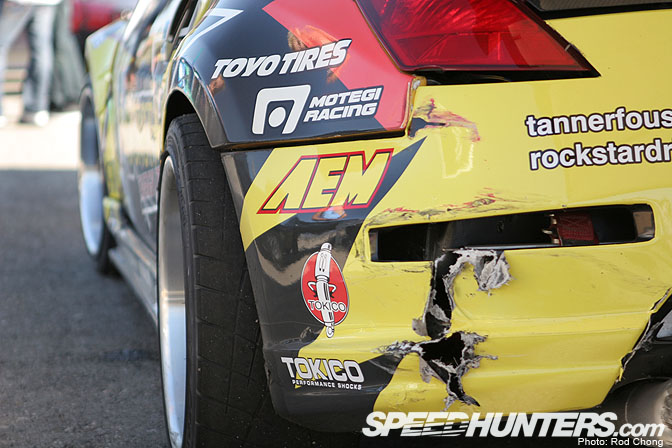 Although I didn't see it, Tanner also stuffed his car into the wall. He told me later that he chose the correct outer-line the judges wanted to see but found himself skating on a layer of dust without any traction… He now realizes that he was the first person to try this line!
The track has now rubbered in so this is no longer an issue.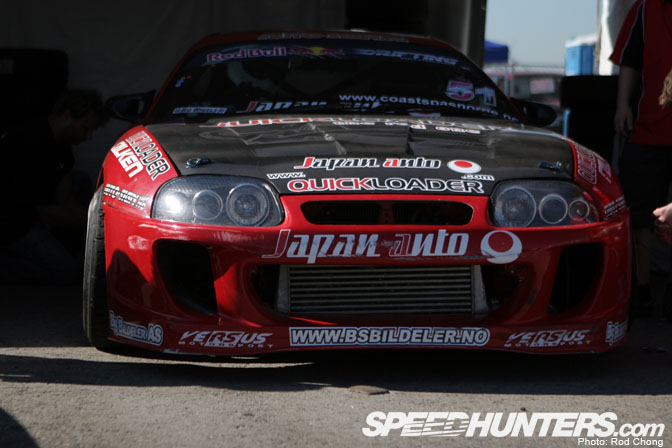 After shooting a bit of practice, I decided to wander around the pits to catch the latest news and shoot some images.
This is Fredric Asabo's Supra.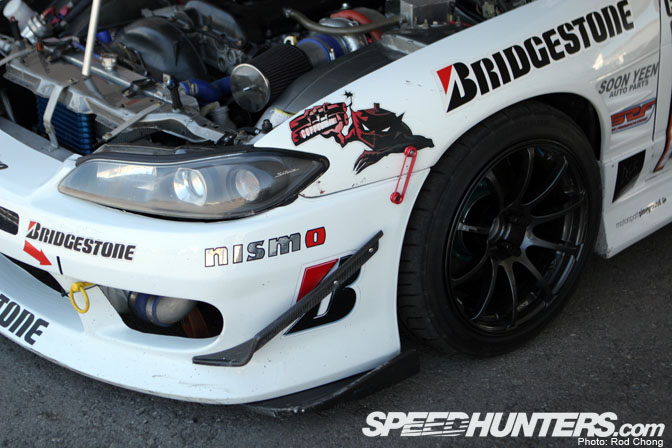 A few people wanted to see Tengku Djan Ley's Nissan 180SX. Here it is.
I remember seeing him go up against Imamura at D1GP Irwindale 2006. He more than held his own then. We'll keep an eye on his progress tomorrow.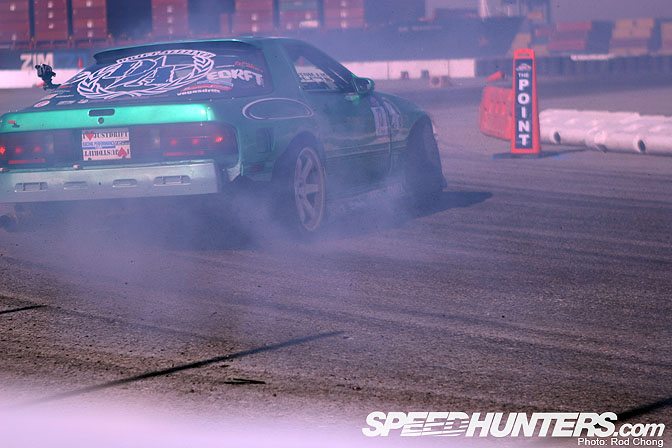 Justin Pawlak has reverted to the traditional green paint on his FC… has more of a street flavour which I quite like.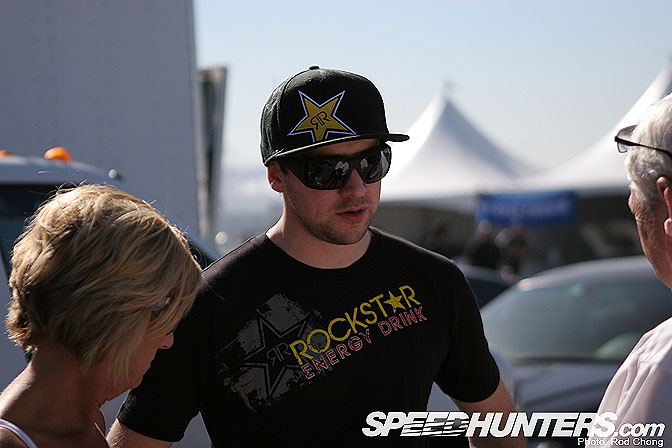 Eric O'Sullivan from Ireland.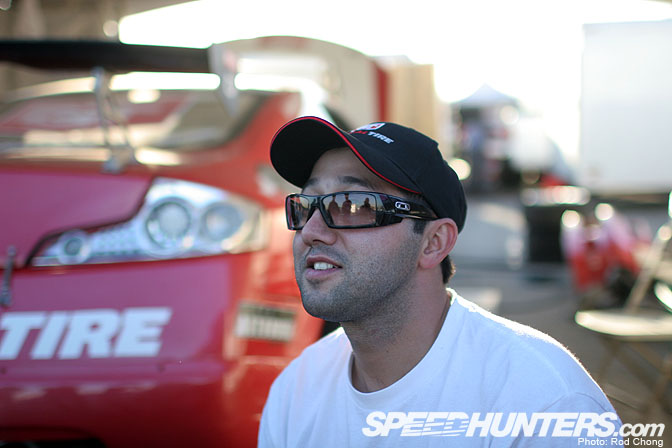 Canadian Marcos Santos. He mashed up his car pretty badly today. His team had to spend most of the day repairing it.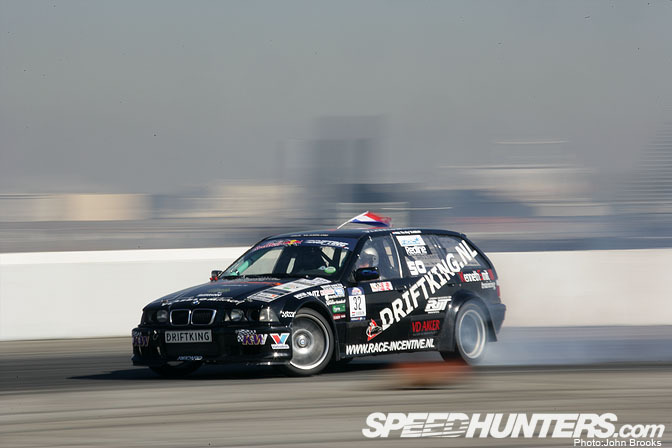 Paul Vlasblom's weekend has started well. He is probably one of the most impressive invitees so far and is hitting his clipping points very consistently. Paul told me that he is feeling a little down on power for the size and speed of the track layout, so has to make sure the throttle is mashed 100% for the entire course.
A few people have commented they are impressed with him.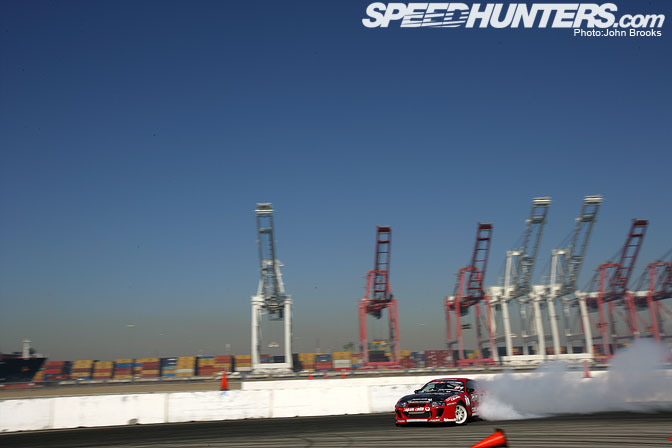 I am less sure that Fredric Asabo has the wheels under him to advance through the competition.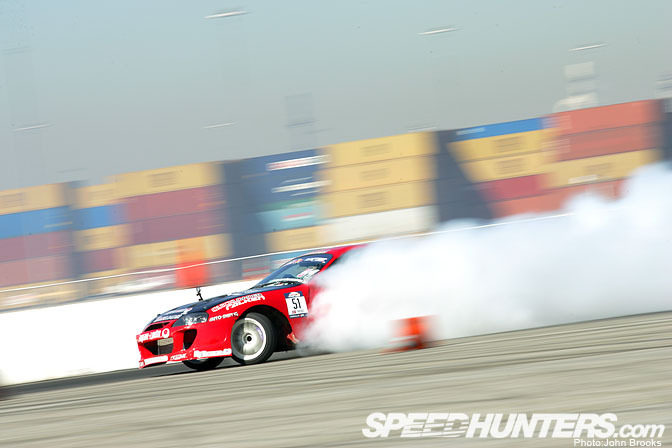 He is making huge amounts of smoke, but currently seems to be lacking speed and traction. I'll be quite interested to see how the top Formula D guys do when they have to follow this car.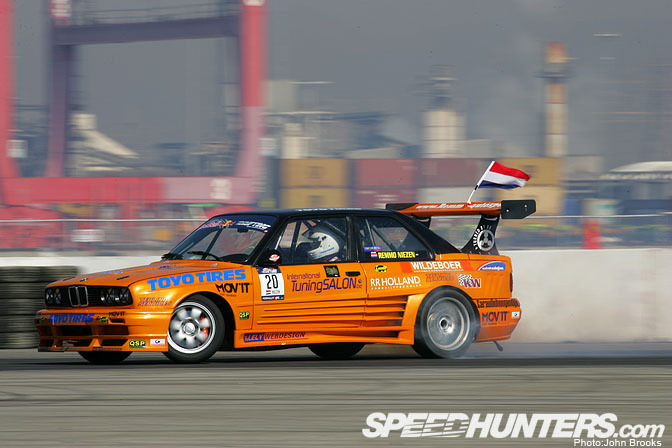 It's a similar situation with Remmo Niezen's E30….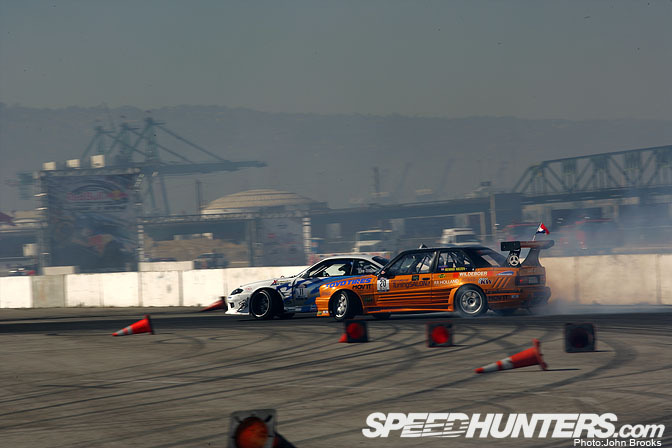 He is doing a lot of of left foot braking around the first turn which is causing him to lose momentum and speed. Again there may be some issues when the faster cars try and follow him in tandem battle.
There are some unknown factors as many of these drivers don't know each other. There will likely be drama come Sunday.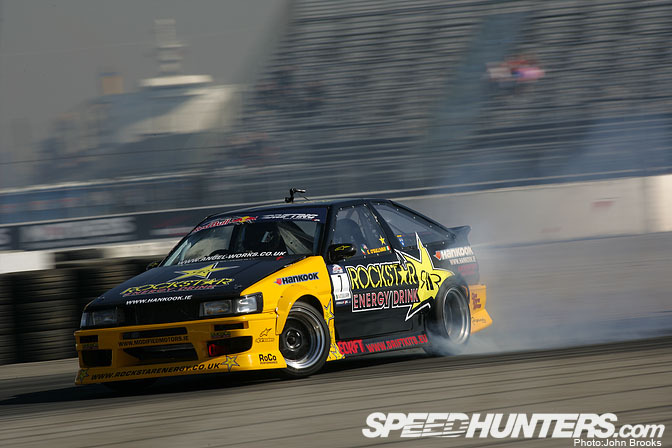 I'm very glad there is at least one AE86 in the field… ok so the purists will complain it has a S2000 engine, but still, it is the only chassis of its type in the competition.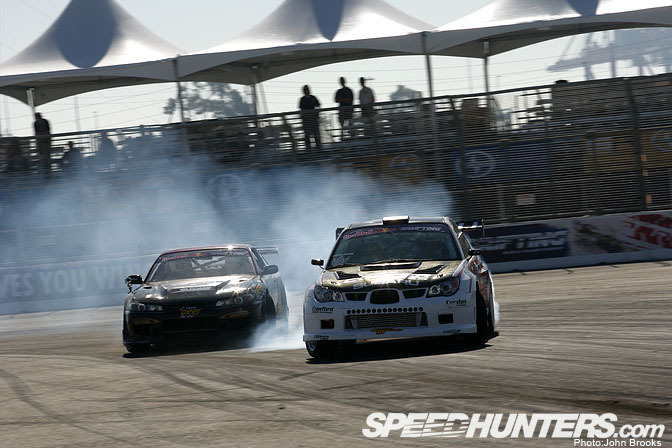 BTW 2008 Drift Australia Champion Leighton Fine is not here in his regular Toyo Tires S13.4. He's driving the S15 on the left….. so far he doesn't look particularly comfortable in the car.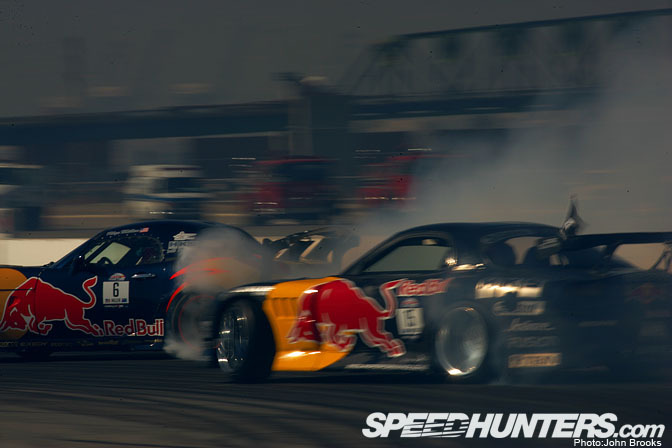 Mad Mike seemed to be able to live with Millen during their practice tandem runs…. All the signs are on for a strong showing from him. We'll see though….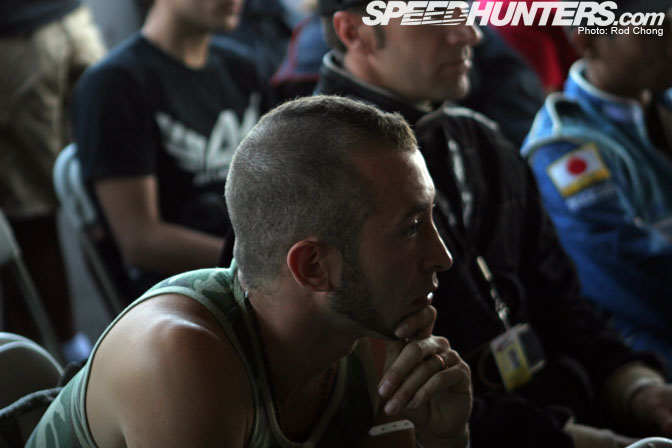 With the World Championship practice sessions over we decided to attend the Pro-Am driver's meeting with fellow Speedhunter, Christian Rado.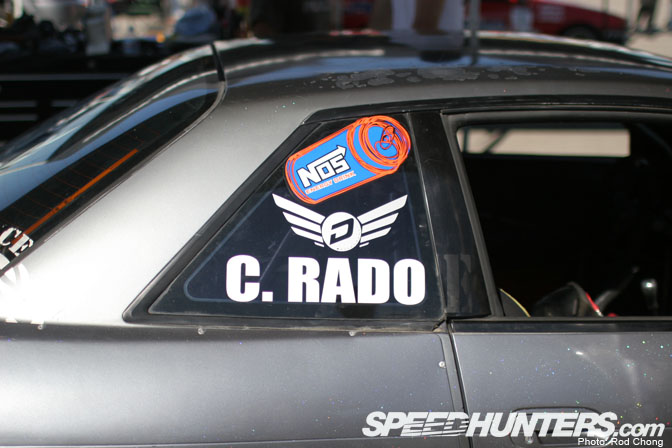 The Rado name on a drift car….. a new, exciting combination. I have no doubt Christian will eventually find success in this field.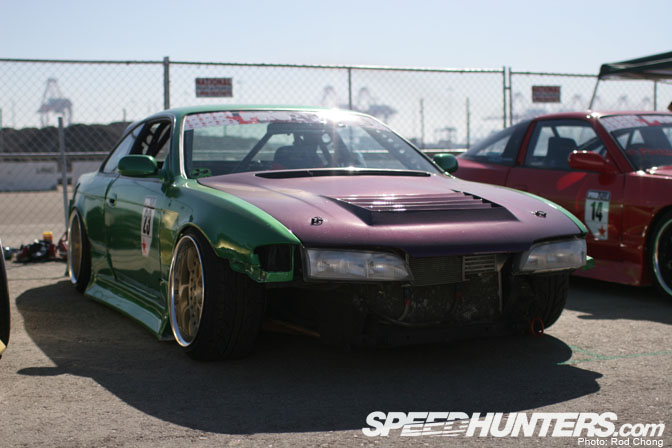 Wow now this is what it's all about. Proper street drift style at a Formula Drift event. Yes!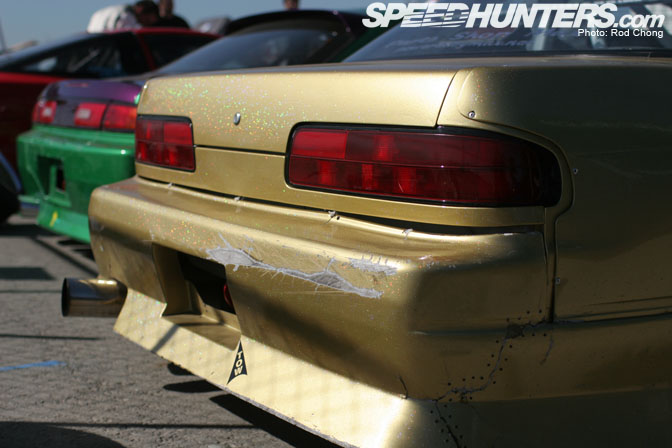 I was very excited to see these cars in the flesh for the first time.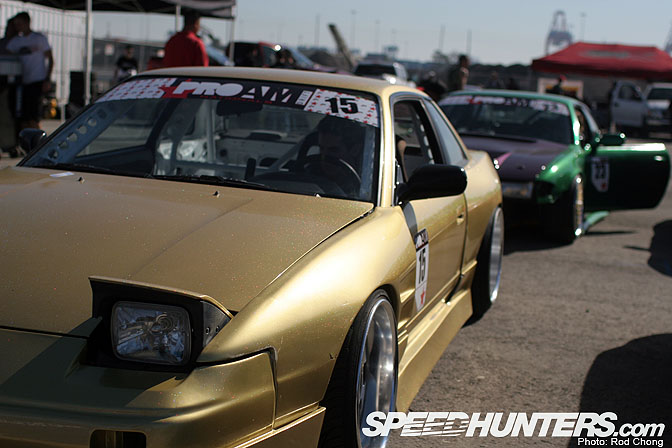 Soon the Pro AM cars started to line up to go on track… It was time for practice and qualifying.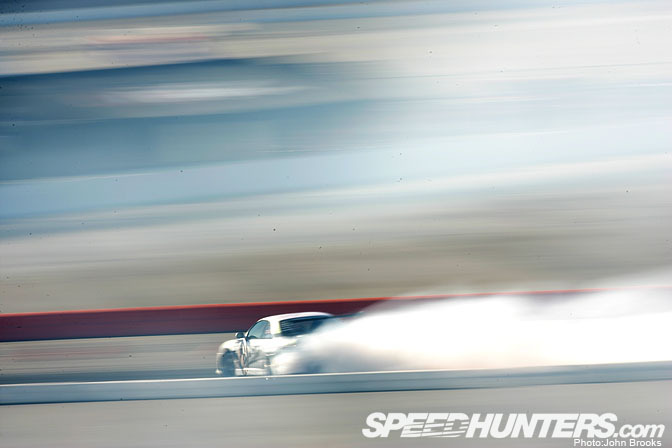 A select few of the cars did some great practice and qualifying runs…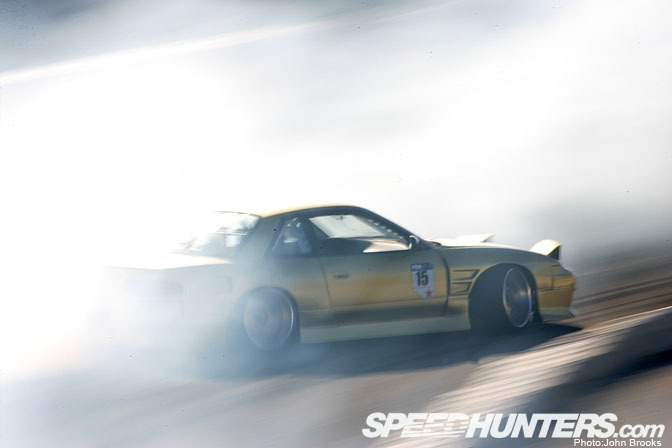 This S13 belongs to Tommy Roberts. Such a stylish car.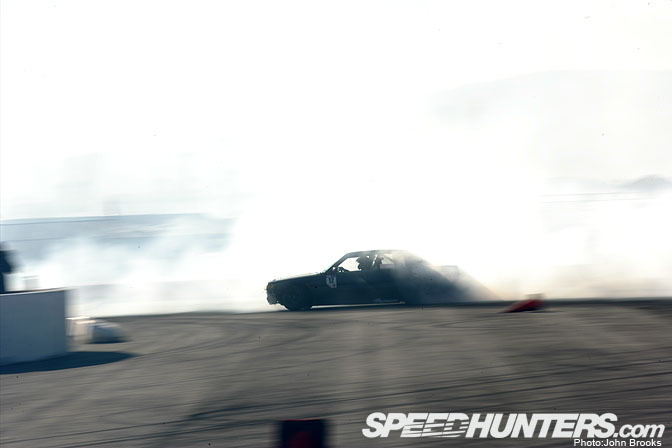 John Brooks in Art Attack mode again… I kept asking him to shoot the Cressidas.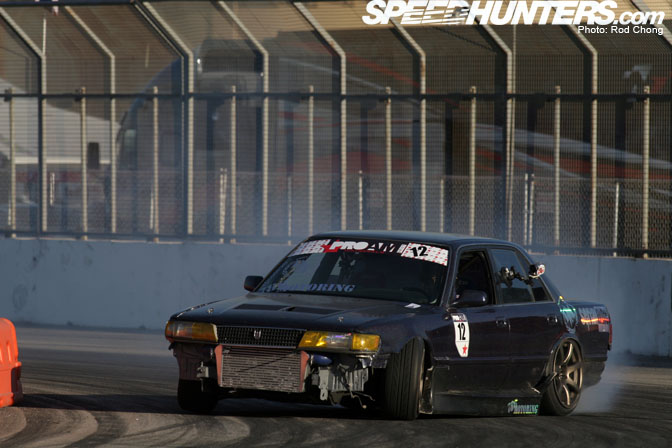 You'll notice this car is part of the Drift Alliance… I'm very pleased to see some hardcore drift sedans in the US.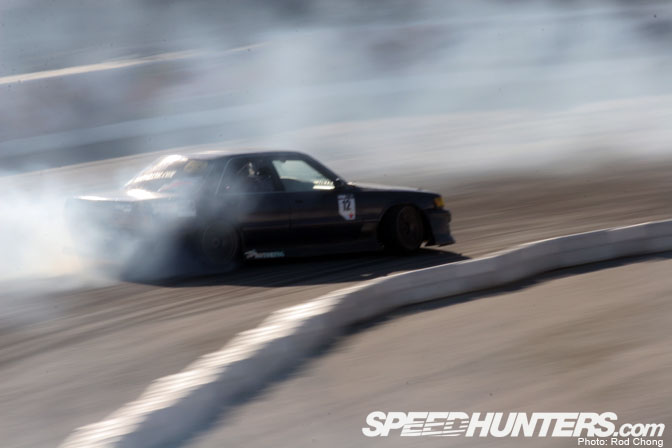 One more… with each day I'm getting better at shooting pro still cameras…It also helps that John has been letting me try some of his monster lenses.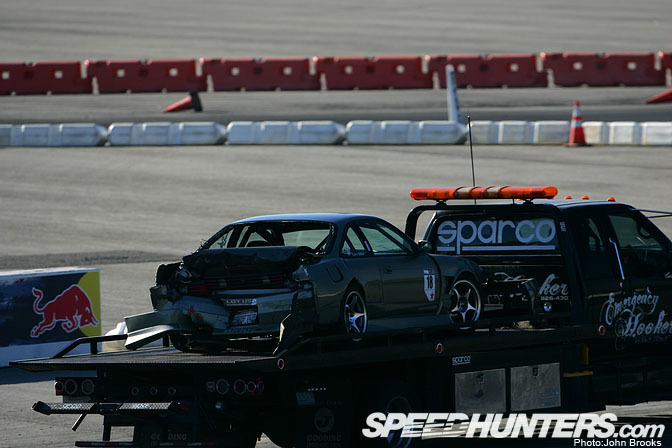 Unfortunately the Pro Am practice and qualifying session started to go very wrong, very quickly.
This is a big hit.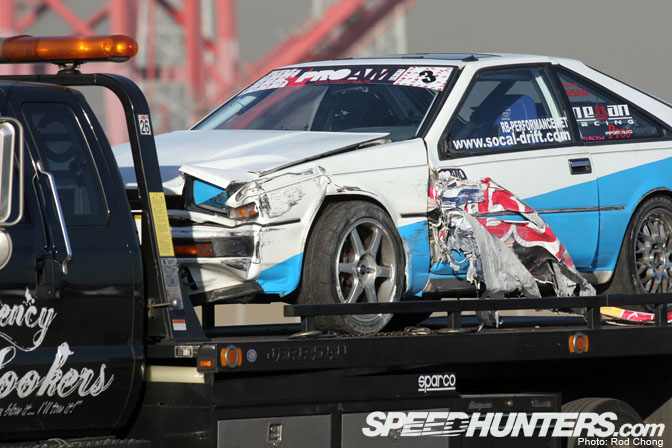 Car after car started to go into the wall. Perhaps some of these drifters were not ready for the challenge of the high speed, wall lined course.
Note the Red Bull Banner stuck in the door frame.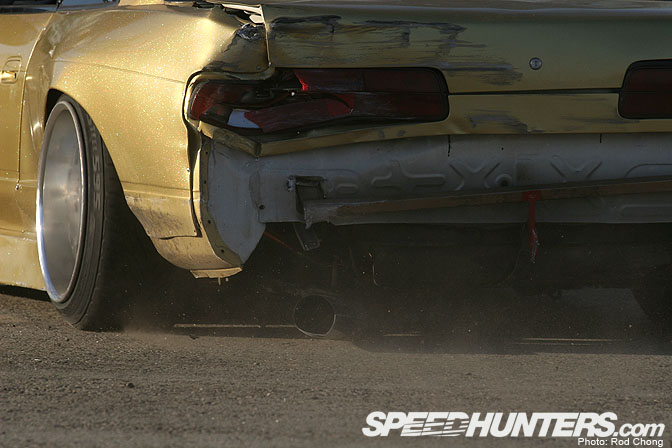 Argh noooo!!!!… I wanted to shoot a car feature with this S13…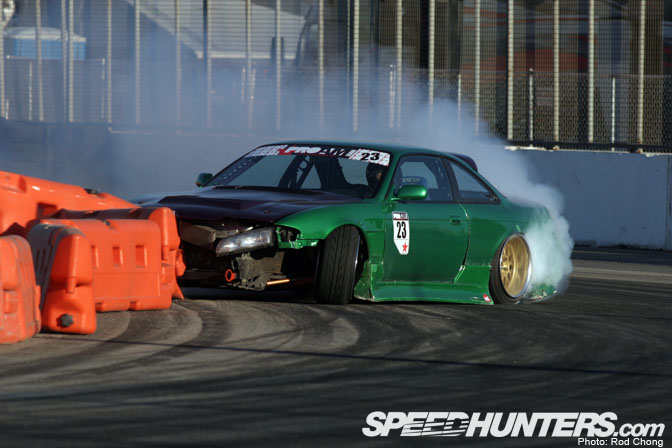 Matt Powers stuffs his S14 into the barriers….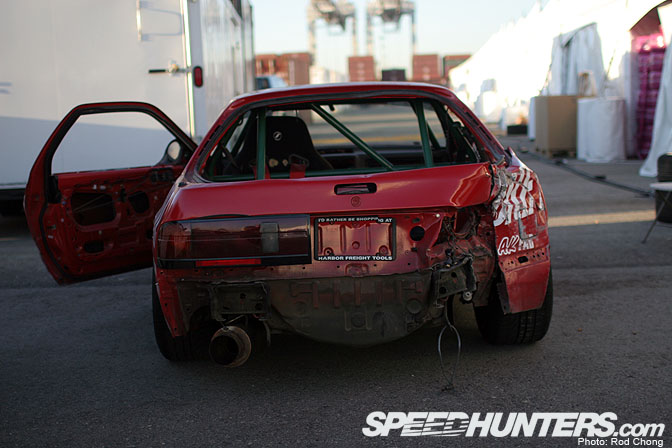 I decided to have a look in the Pro Am paddock to assess the damage… it was pretty tough going over there. Around half the field had mashed their cars up… This FC took a big hit. out of the 31 cars present, only 14 qualified.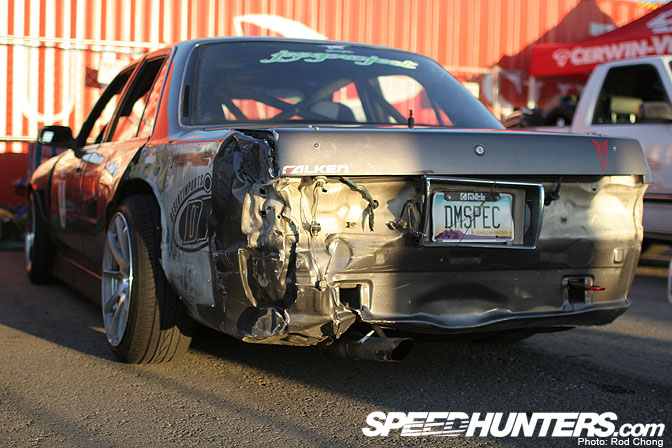 One of my fav cars was looking a bit worse for wear…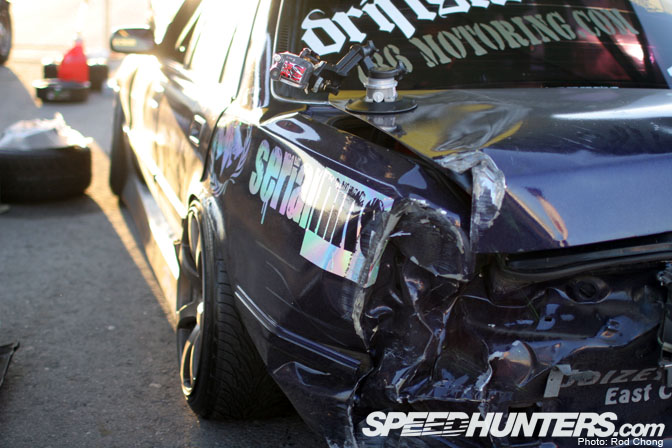 But seeing this damage caused me pain…. I suppose, if you drift a car then you need to expect to crash it. Probably one reason I have no inclination to drift…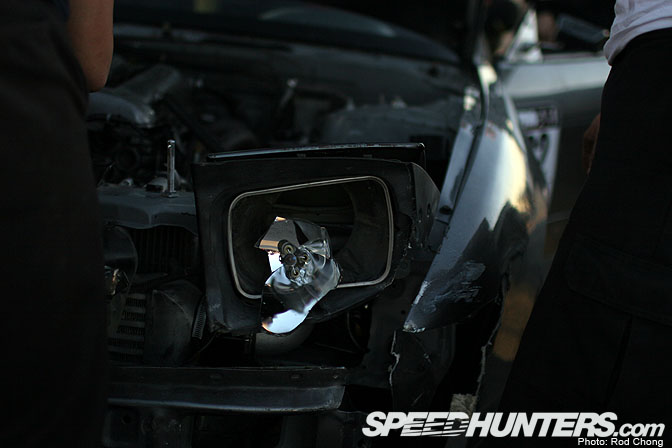 Rado was also a victim of the wall.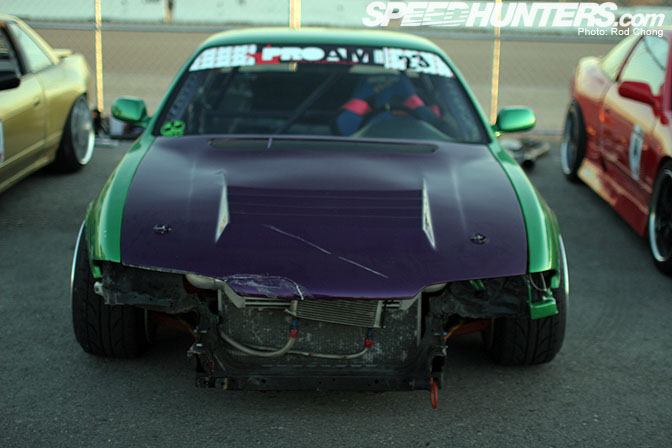 Matt Powers' S14 didn't seem too badly damaged… at any rate we won't be able to feature his car just yet. It looks a bit nasty with no lights huh?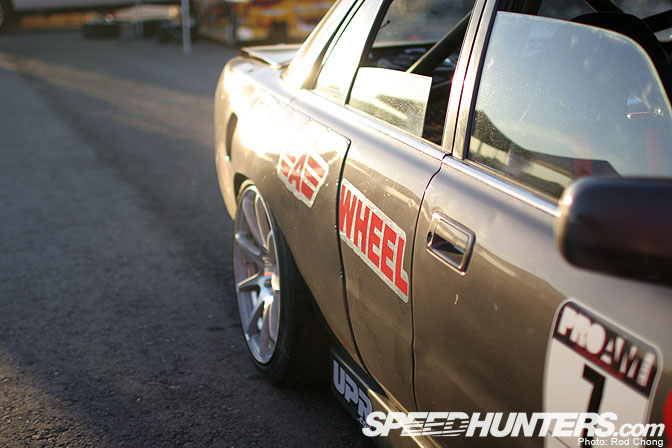 I like the novel approach to a wide body setup on a 4 door saloon hahaha. Bolt the door shut!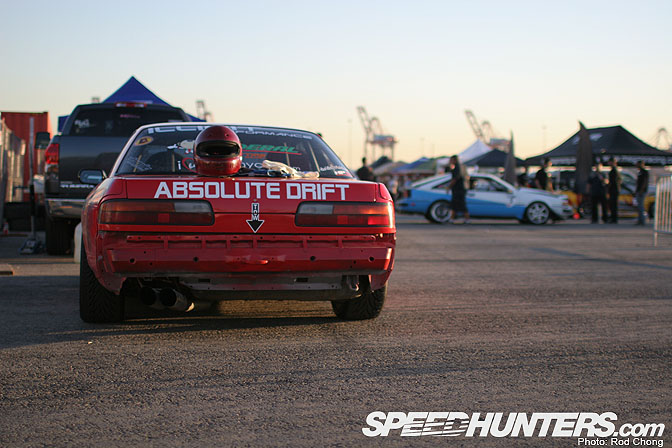 Ok that's it for me… Let's hope the carnage from Pro Am today settles down for the tandem bouts tomorrow. Somehow I doubt it.
:Rod
 Red Bull Drifting World Championship coverage on Speedhunters