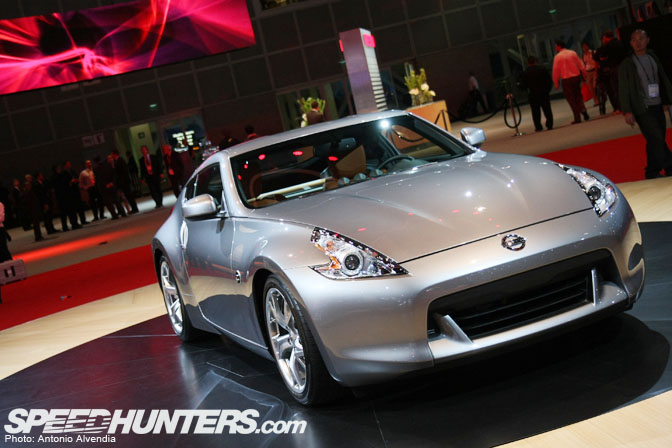 Last night, I attended the Nissan 370Z launch party at J-Lounge in Downtown LA. Very fun, but after scoping out the scene, I decided I didn't really want to lug around my camera equipment in such a crowded atmosphere – especially since it was open bar. Drunk people spilling drinks on camera stuff isn't the best idea! However, prior to that, I did manage to snap a few photos at the LA Auto Show.
There were tons of new cars and concepts, but I'll keep this short and sweet, and just post a few photos of cars that I think might be interesting to our readership. Above, we have the brandf new Nissan 370Z, in the flesh. It has been about 6 months since I first laid my eyes on this car; however, at that time, I signed paperwork that said I wasn't allowed to take any photos of the car, or else I would be going to jail and owe Nissan millions of dollars that I didn't have. Needless to say, I didn't take any photos or leak any info on the car. I'm so glad the car is released officially now, so we can talk about it!
From the opening in the front bumper, and the headlights, I think it somewhat resembles a cross between a shark and an Aston Martin. Be prepared to see much, much more on the 370Z very soon on Speedhunters.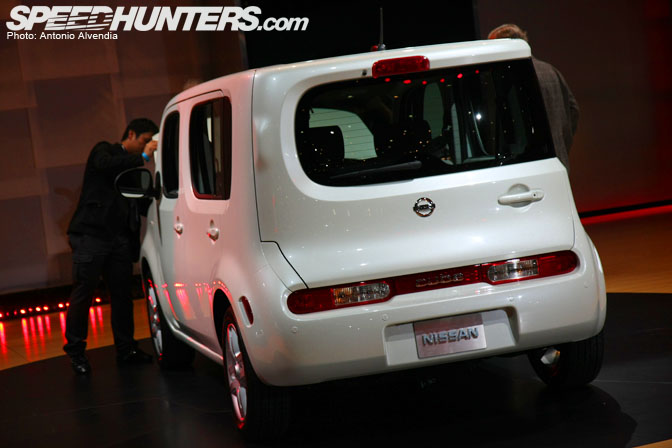 Even though some of you may have read Mike Garrett's announcement that the Nissan Cube would finally be coming out in the USA, I thought I'd post a photo of an actual USDM Cube. Cool huh! They redid the whole rear window section of the car to remove the blind spot. On Japanese versions of the Cube, the rear pillar is on the opposite side. I'm glad to see this car too! I heard news about it last year from Nissan reps, and even saw one at a special Nissan party at SEMA 2007. Glad it's finally here!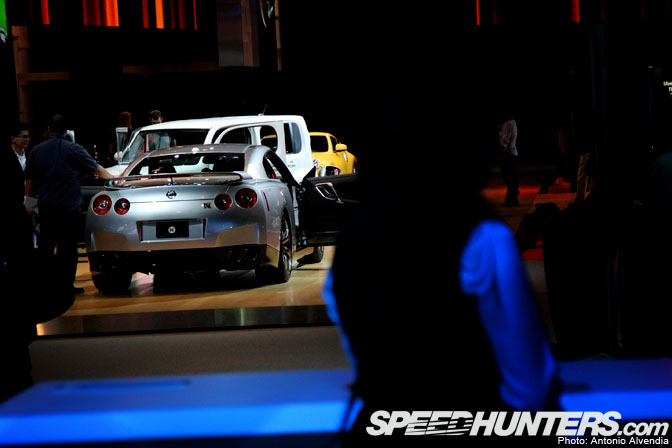 Even from far across the room, the R35 GTR still stands out from the crowd. I love it.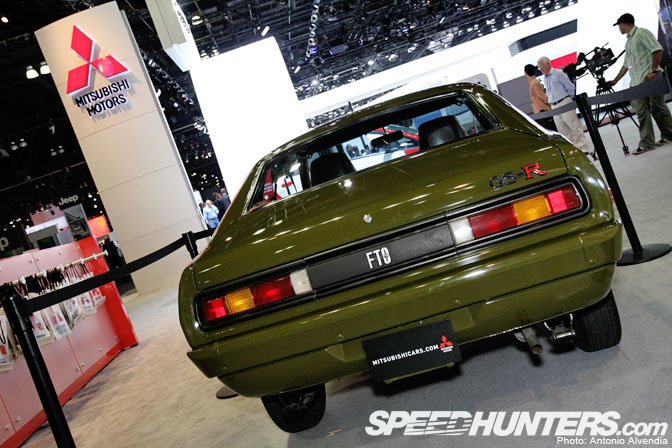 1973 Mitsubishi FTO anyone? I have a bunch of photos of this car, but I wasn't sure if our Speedhunters readers would be interested in seeing them, since it's an old car. So I suppose if enough people comment and request more pics of the car, I can show them… if you want.1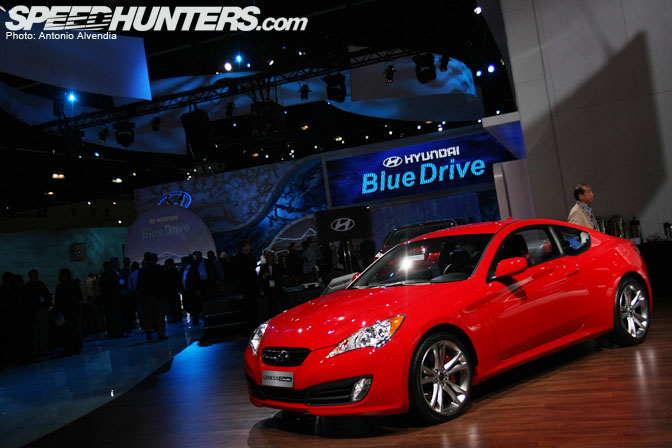 I can't wait to test drive the new Hyundai Genesis Coupe! It looks a lot different than the red HKS car. Man that HKS Genesis Coupe has a night and day improvement on the factory styling, don't you think?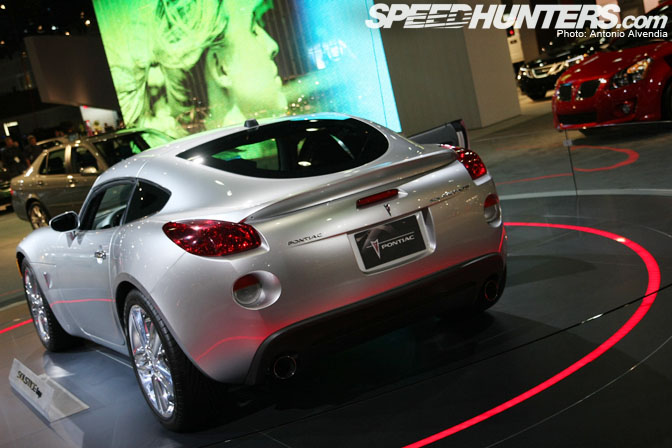 I was surprised to see a new Coupe version of the Pontiac Solstice! Very nice! Now it doesn't look so feminine. I'd love to try one of these out! Look at that odd shaped rear window, kinda weird. I wonder if there's a huge blind spot because of the rear pillars…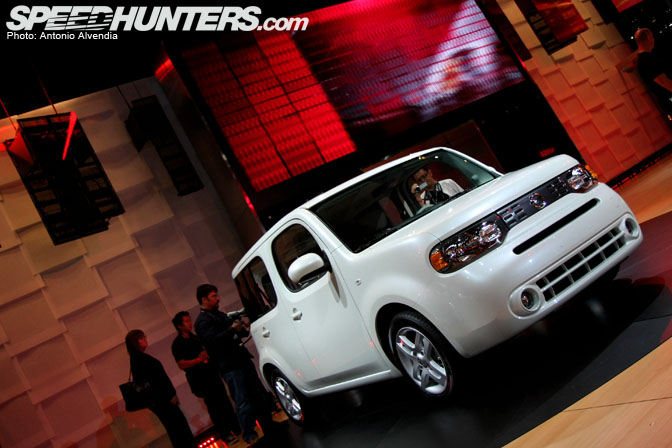 Here's the face of the left hand drive USDM Cube, in case anyone's curious!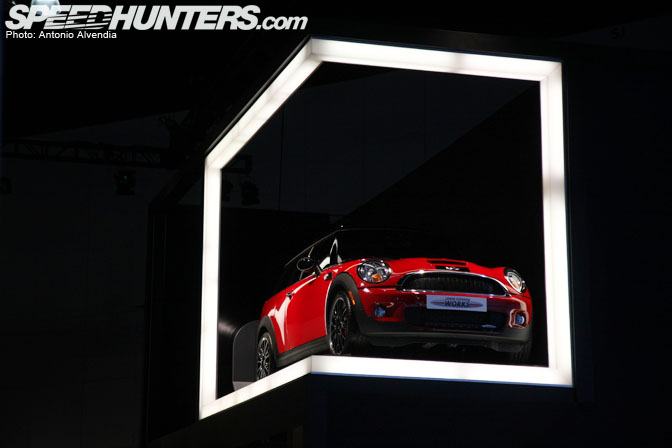 I thought this Works Mini presentation in the BMW booth was super cool!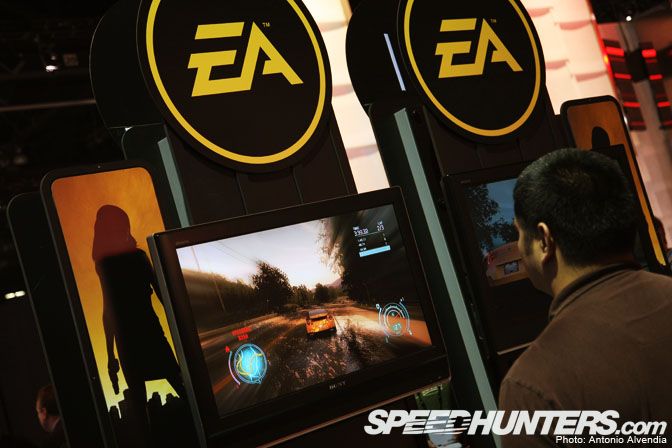 On the side of the Nissan booth, I saw some familiar imagery… the EA Games Need for Speed crew from Vancouver was on hand with collaborative Nissan/EA gaming stations that allowed people to test drive cars such as R35 GTRs in the newly released Need for Speed Undercover game. I think it drops at stores tomorrow! Check it out!
-Antonio Alvendia