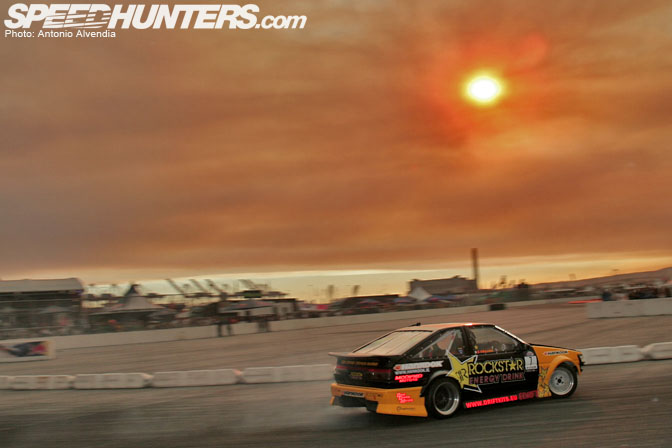 This is sort of an alternative-styled post for Speedhunters. It's not necessarily focused on a car, and not necessarily lifestyle either. I just wanted to point this out to our loyal Speedhunters readers in other parts of the world – this past week, Southern California has been on alert because of several wildfires spreading throughout  all ovdry brush and foliage-covered mountainser Southern California, coming dangerously close to many residential areas near the Red Bull World Drift Championship in Long Beach.
Long Beach, as its name implies, is a coastal city… it's one of the largest shipping ports in California; that's why you see big shipping cranes and overseas containers stacked up in the background of many of the Red Bull/Long Beach drifting photos. However, one aspect of the event that just wasn't talked about too much in the play-by-play coverage you've been seeing on Speedhunters is the super dark, polluted sky. Gross.
Check out this photo of Ireland's own Eric O'Sullivan drifting past the photo pits as the sun set over the Long Beach dockyards, making the gray sky look deep red. That looked crazy!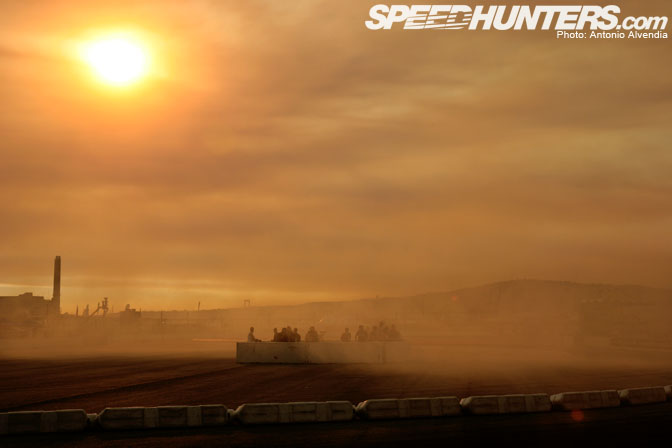 The sky and atmosphere at this event was filled with dirt, debris, and
ash from all the fire smoke, and mixed in with the smell of burning
rubber from the tire smoke. It lingered low in the atmosphere, so we had to breathe it all in; the charred smell, ash, and burnt rubber smells all mixed together to stick to your
clothes, get into your hair, become embedded into the crevasses of your
ears, and stick to the paint of your cars. Horrible! In fact, the
breathing conditions trackside were getting so bad for many
photographers, that people began using bandanas, scarves, and even
filtered gardener's masks (aka "Sars Masks") while walking around the
track on the following day. It may have looked weird, but if you had as
much ash and rubber particles in your ears and nose as we did, you
would understand.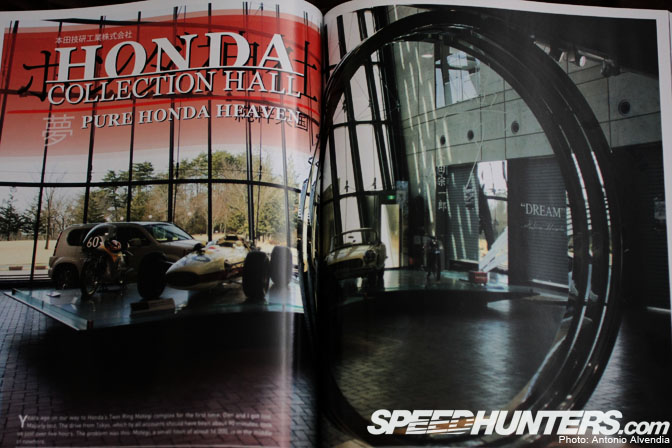 As the sun set some more and the event ended on Saturday, I was able to capture the last fleeting moments of brilliant red sunlight as the sun set over the stacks of tires positioned around the track.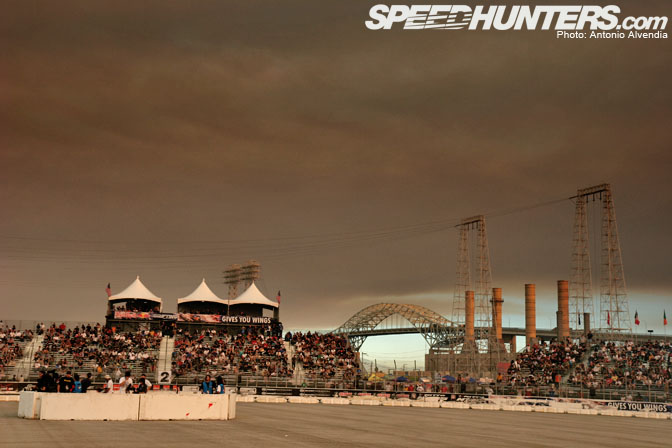 And even though I showed you the dusk photos first, here's a photo of the nasty looking sky during the middle of the afternoon! If this doesnt convince people to go green, I don't know what will! Okay, I'm going to recycle this Gatorade bottle now… more car photos later today!
Before that though, please post up your reaction to the sky in these photos! I want to see what you guys think – these photos are legit! The sky really looked like this!
-Antonio Alvendia