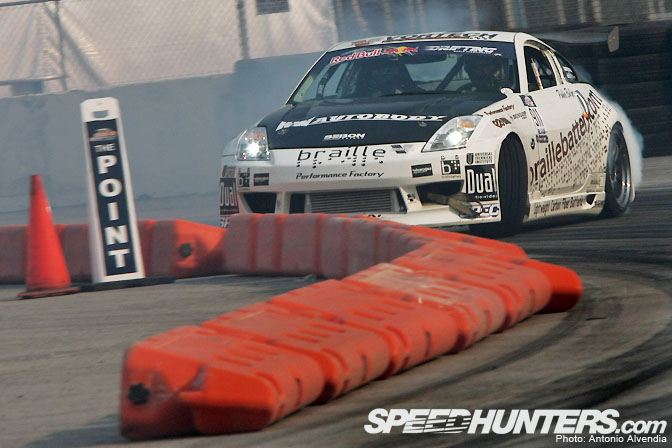 I'll keep this short and sweet, since you guys have been seeing a play by play from the other Speedhunters posts… I'm pretty sure we've written/published more about the Red Bull drift event than most other media outlets thus far, and the event isn't even over yet… I just woke up, and am about to get ready to drive back out from Irwindale area to Long Beach…
Up top, that's Robbie Bolger driving Blake Fuller's Braille 350Z. Pretty nice of Blake to let Robbie drive his car – I remember when this 350Z was still stock; seems like light years ago…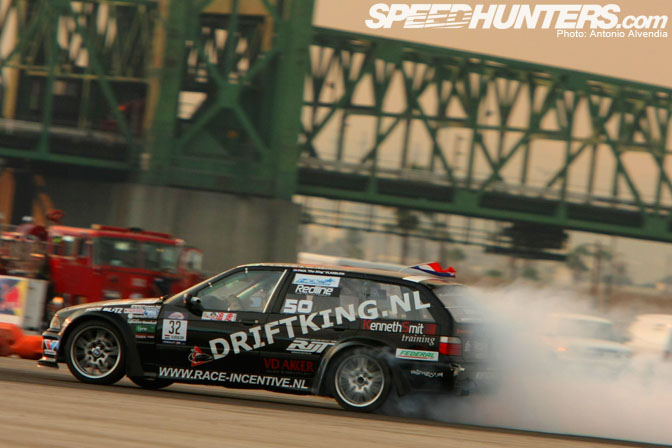 IDC driver Paul Vlasblom was running hard all weekend, revving the hell out of his E36 wagon. I really loved hearing his high rpm style as he passed through the course… for a guy with this much skill and great driving style, I would hope that they sort out a decent racing livery for the upcoming season. The E36's current style, with stickers placed wherever they can fit them, doesn't project the professional image that I think a driver of Vlasblom's caliber should project. Anyway, at least he has the driving part on lock… redoing graphics on a car is easy!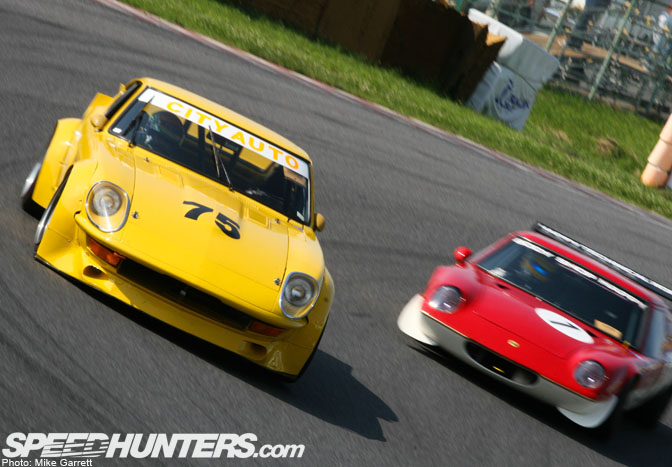 EDC driver Bonbon was telling me that he was having car problems, and he was extremely frustrated by them all weekend… but I still think his JZX81 looked cool as hell. It's a shame they couldn't get the car sorted out well enough for him to be driving at his full 100%.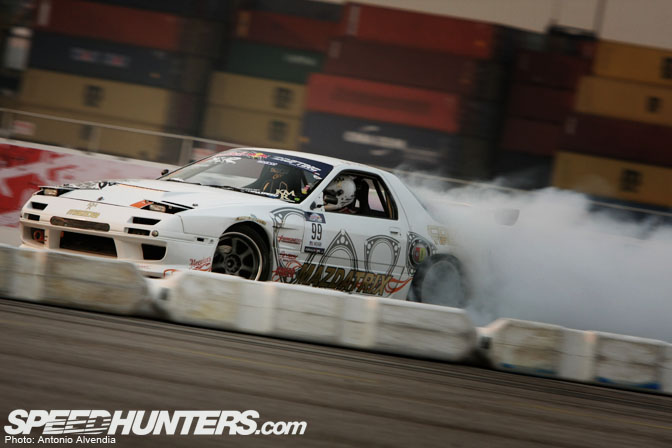 Kyle Mohan has come a long, long way. I remember seeing him out at Drift Days in his first gen RX7, and now he has really stepped up his game to be pretty consistent with the big boys in Formula D! Rotary fans stand up!
Again, Kyle Mohan, with the Canadian G35 following not too far behind… you can see the bridge going from Downtown Long Beach into the LB ports in the background; pretty cool to think that all this is going down at a shipping port that is normally filled with huge shipping containers and such… but today, Pier T is the home of international drifting action!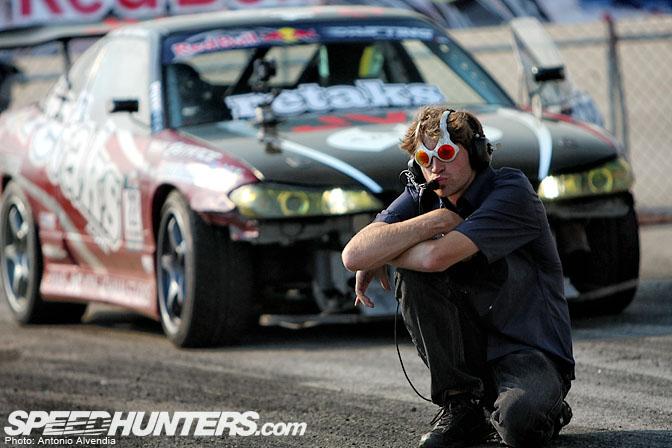 This is Doug. Everyone trips out on his crazy Oakley glasses at all the events; he's been rocking those glasses for years, I hope he has some sort of Oakley sponsorship by now. Doug's in charge of starting the cars at the starting grid, and he takes his job very seriously. I think that S13 in the background would look completely different with a more cohesive graphics scheme and wheels that fit well. I know some of you are sick of me always mentioning this, and I'm sick of saying it. Wish more US people would get the picture and make their drift cars cool like the WSC crew and Pink Godzira and Risky Devil!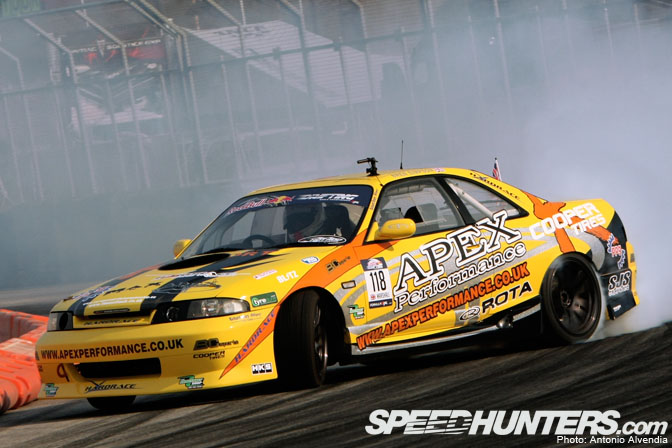 Apex Performance, representing the EDC drivers from the UK. Not to be confused with Apex Integration, the sponsor of Ryuji Miki.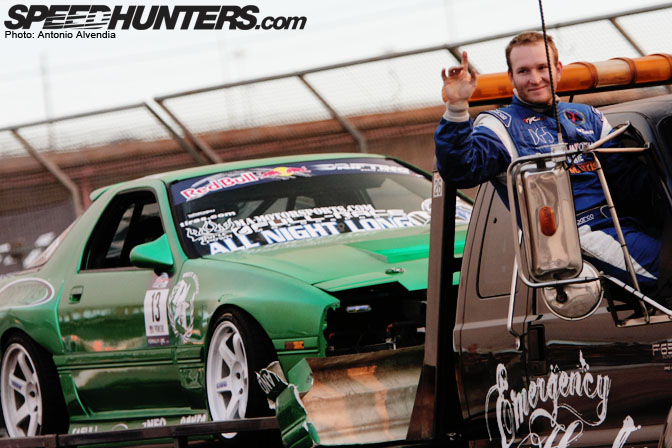 Here's my boy Justin Pawlak waving to the crowd and media people, right after his full throttle collision into the spectator wall. The course is very slippery from all the tire dust all over the track, and a LOT of people crashed in the same spot… respect to Justin. I'm sure a lot of people get inspired to build FCs after looking at his car…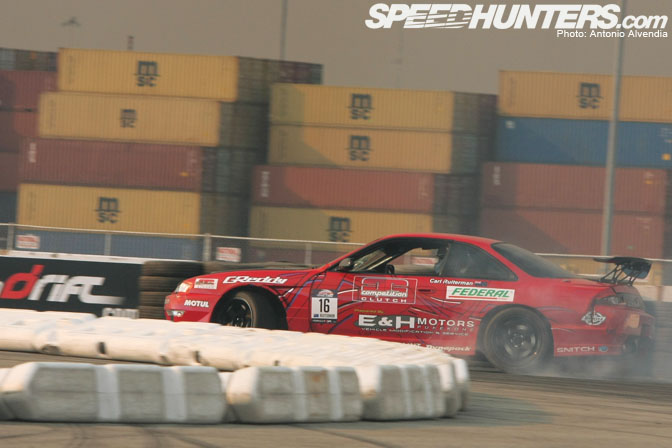 Another S14, driven by Carl Ruiterman, rounding the back area of the course. I think all those shipping containers in the background are a very cool backdrop for this event!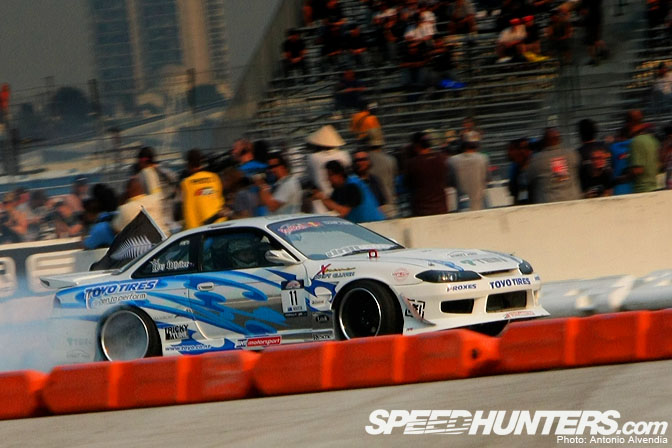 Representing Team Toyo New Zealand…!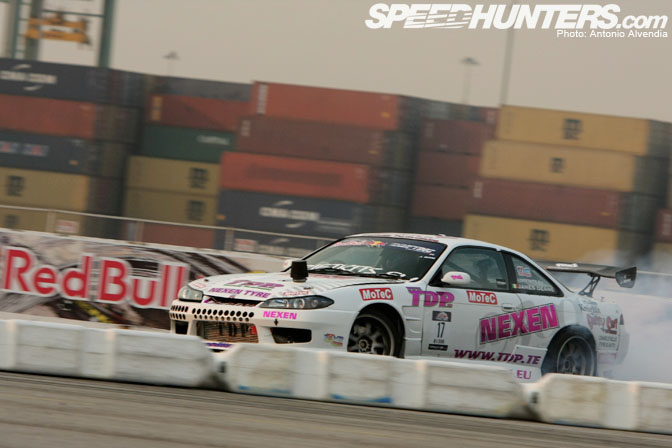 Here's James Deane from Ireland, driving a strawberry faced S14 with a huge intake filter sticking out of the hood (From a performance standpoint, I think the positioning of this filter might actually hinder the air intake, rather than help it though… anyone care to comment on this?), sponsored by… wow, Nexen Tire?! I stopped by Nexen's booth at SEMA, and the marketing guys I spoke to didn't seem to know about any drifting support that Nexen was doing in other countries, and didn't seem too interested in it either. However, I think they should get into the market and support a team in the USA! After all, they have an office in Southern California, and it could help the sales of their tires! Supporting drifting seemed to do well for Federal and Hankook and Falken…
-Antonio Alvendia