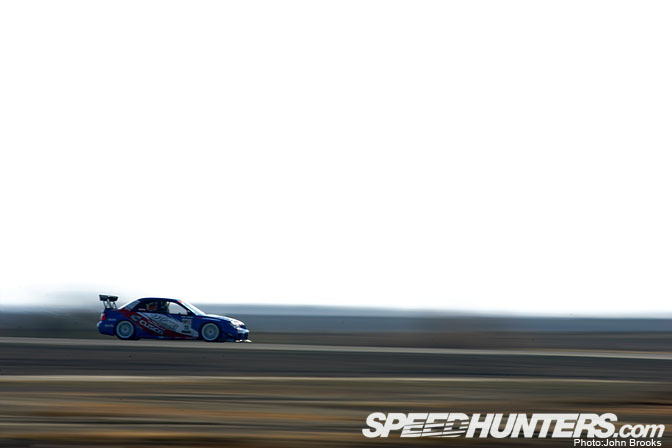 This year is going by quickly isn't it? I've had the Superlap Battle on my travel calendar since the start of the year and it's always seemed like something far down the road… so I'm finding it somewhat hard to believe the event has come and gone, and now it's already time to move to our coverage of the Red Bull Drifting World Championship.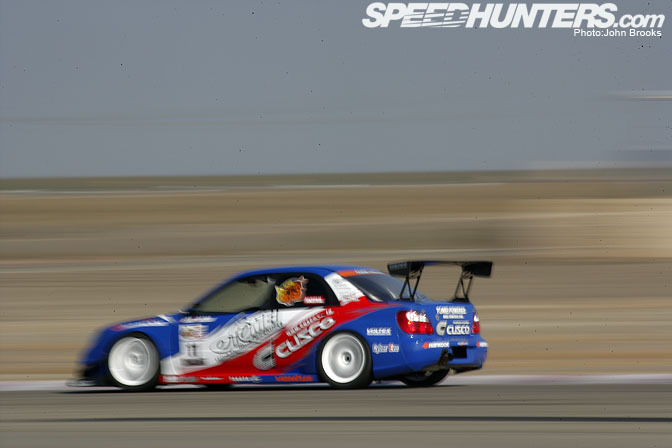 But before we start to submerge ourselves in this upcoming Long Beach mega-event, we'll try and do our best to communicate to you what it was like to attend the Superlap Battle at Buttonwillow. We have a ton of photography to sift through and also need to wait for Super Street Magazine to announce the official results, so we'll break up the stories a little bit.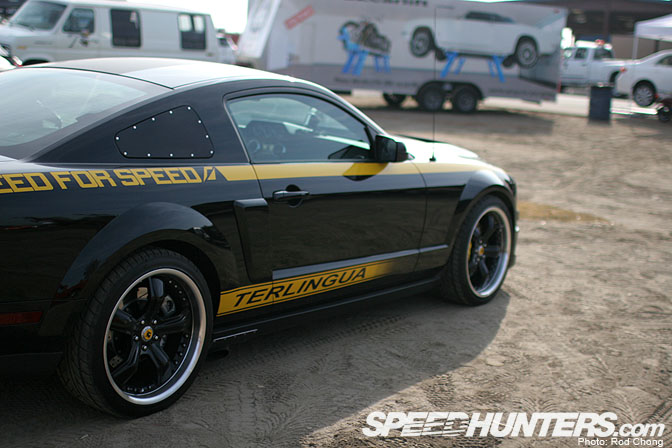 John and I pulled in around 07:30 this morning to the track with our thundering beast-car. I am perhaps getting a little bit too used to the NFS Terlingua now… I just love it…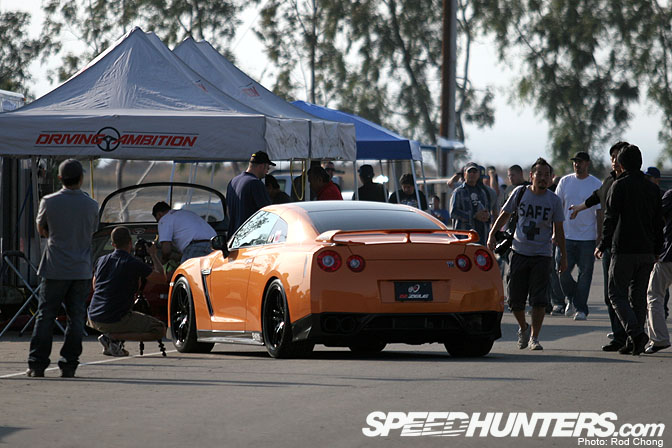 We found the paddock area to be filled with activity, street machines, and a wide variety of time attack cars. I heard there were almost 100 cars entered….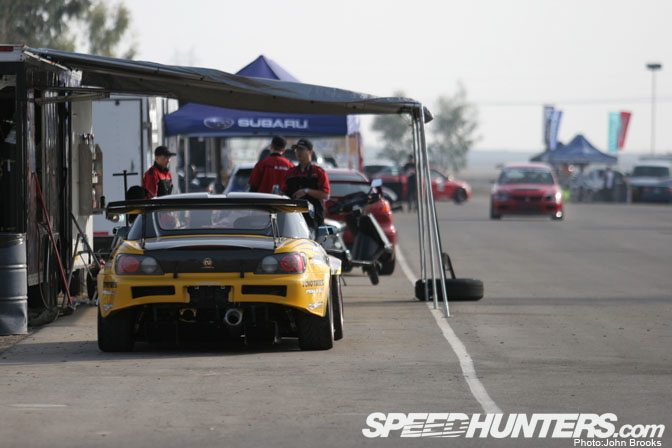 Remember this ex-J's Racing S2000 car from SEMA last week?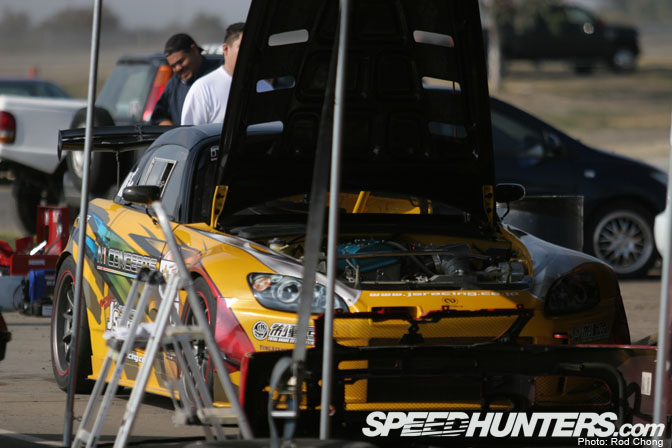 Well there it was….you guys were exactly right about the back story with this car.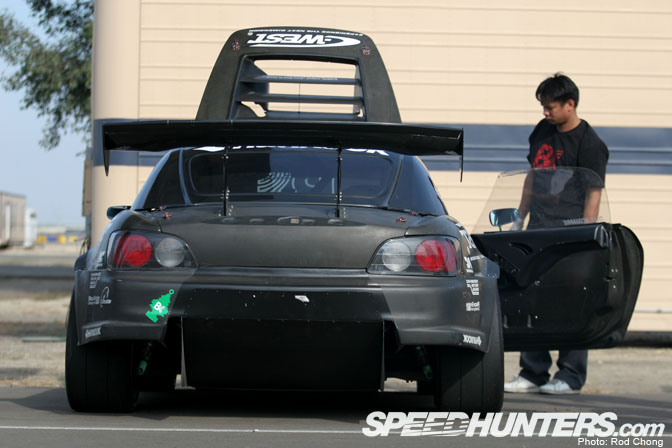 Speaking of S2000s, the updated C-West Honda was getting geared up to head out on track. The car is now running wider tires and a larger turbo and apparently power is up now to the 400 bhp range. The car is driven by new Falken drift team signee Tyler McQuarrie, and the team was feeling bullish about their prospects of being the fastest US-based Time Attack car and setting a new FR record at Buttonwillow.
Look at how tall the rear diffuser is!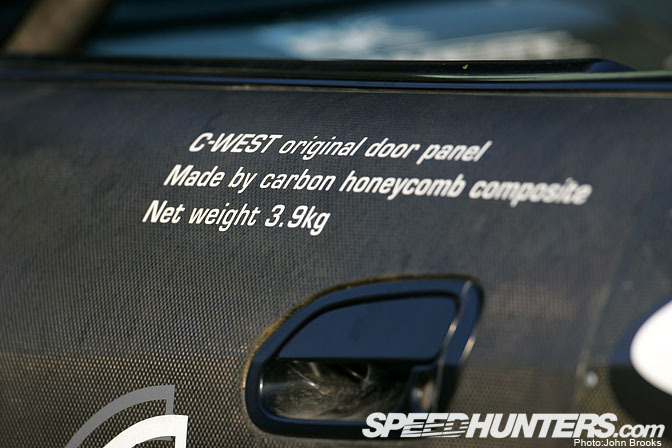 The original concept for the C-West S2000 was to find speed through weight savings, aero and balance. This has all changed this year though as the team is reaching for new power levels from the engine and going after more mechanical grip.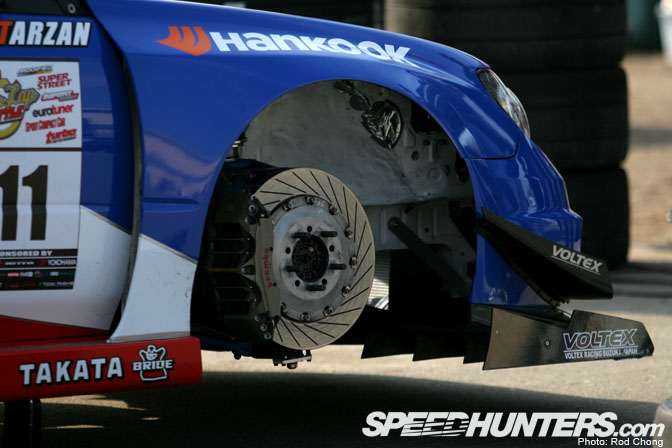 Across the paddock this morning, all the talk was about the Team Tarzan Cusco Subaru. I was told in no uncertain terms that this car shares some parts in common with the Cusco GT300 Super GT Race car. Many people were whispering that just perhaps it could set a new record.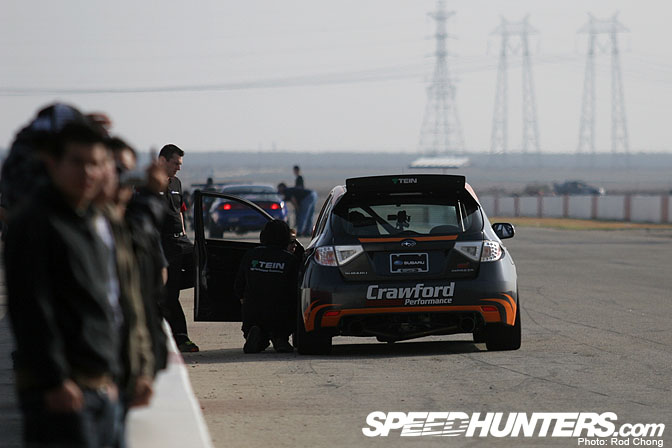 Tanner Foust and the Crawford Subaru looked on good form. The more I see this car, the more I like it. The Crawford crew know how to build a very tidy car.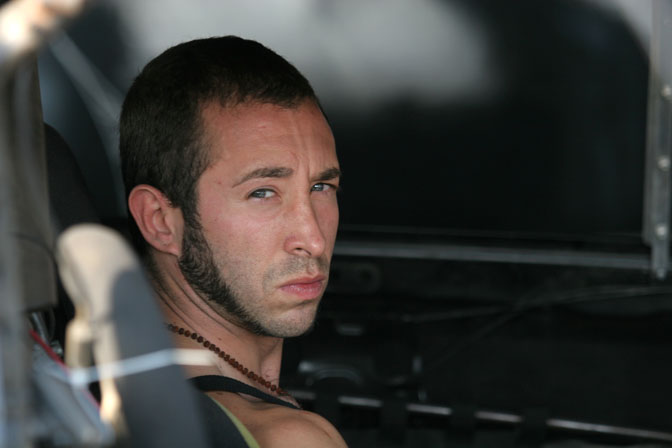 Chris Rado seemed to have a full plate to deal with. The team were playing with a new racing differential, but niggling mechanical problems were dampening their day.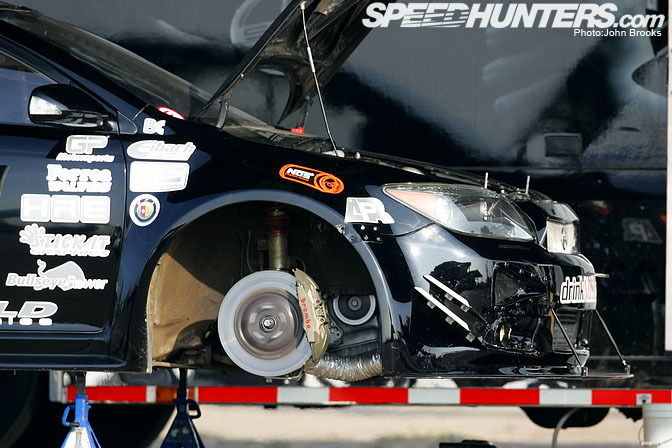 This is my fav tC out there…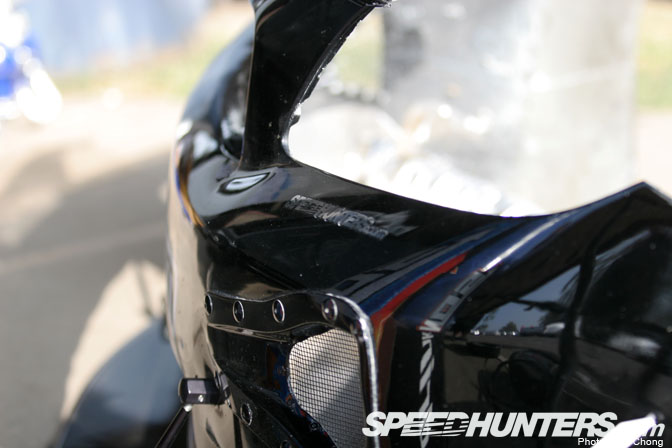 Unfortunately a few off-track excursions meant the Speedhunters sticker on the Scion's front bumper was a little less pristine. Mind you that was the least of Chris' worries…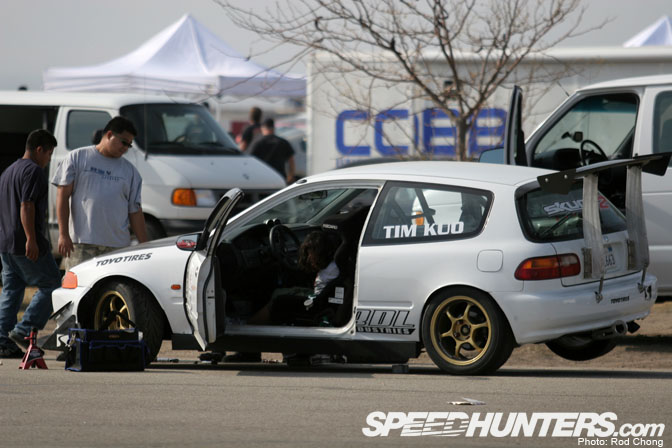 The proliferation of time attack Hondas is one area which separates the US scene from others…..
I have a real soft spot for EG's. It was the first new car I ever purchased..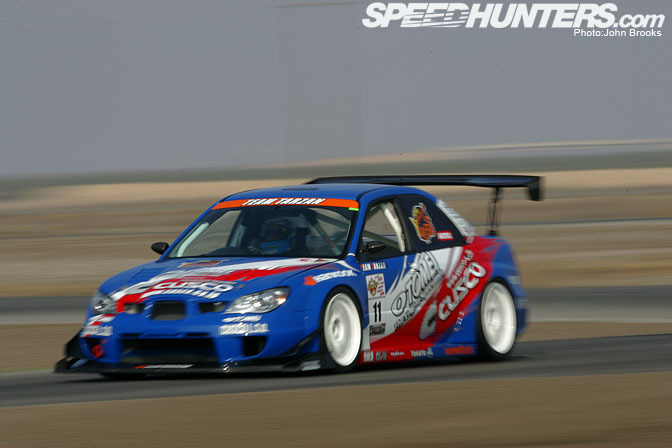 The Cusco Subaru looked amazing on track. Very smooth and fast in a no-nonsense sort of way. Stay tuned for more details….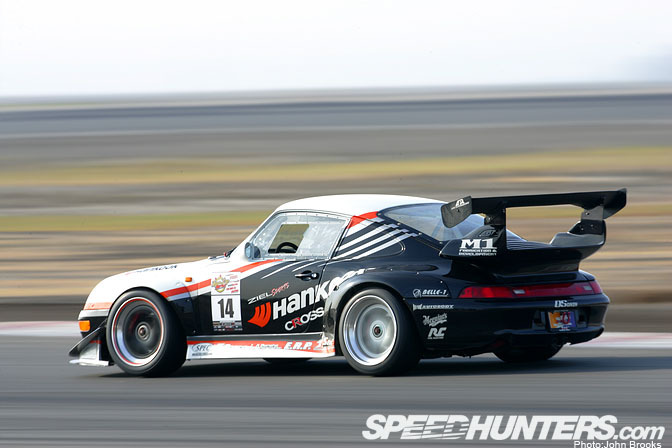 The JIC Magic Porsche 993 was tearing up the track and it was almost hard to remember this machine was until recently, a drift car.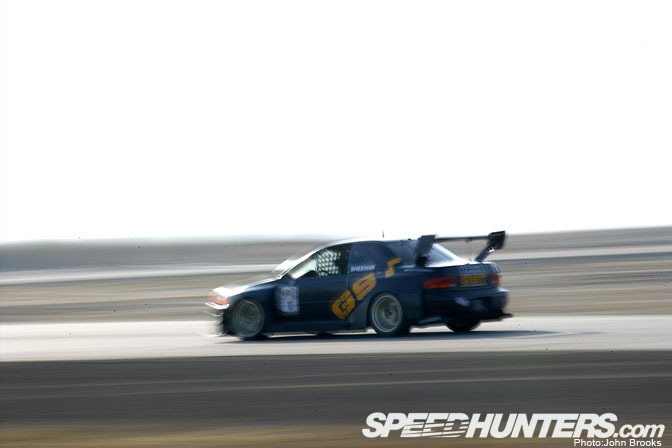 Also making a good show of things was the GST Motorsports Impreza. Although this car is little bit ghetto, it certainly goes like a rocketship.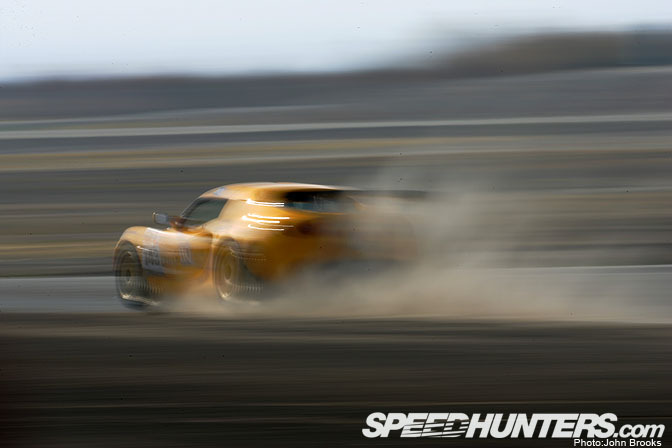 Ever seen American Time Attack photographed like this before? John Brooks makes his mark….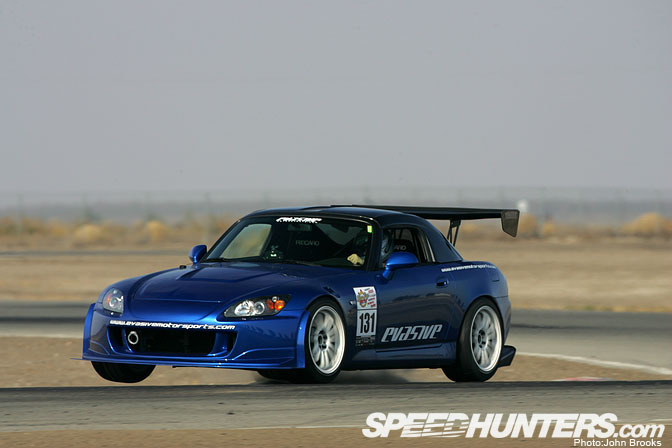 Although there was no real attempt made to make this a spectator-oriented event (how about an announcer next time guys!), it was particularly entertaining to see the cars being pushed right to the edge of their limits, lap after lap.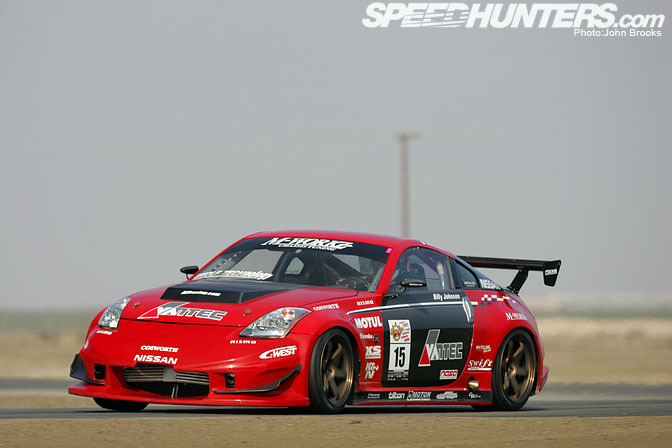 Note the the opposite lock on the M-Work Z. This car is right on the ragged edge.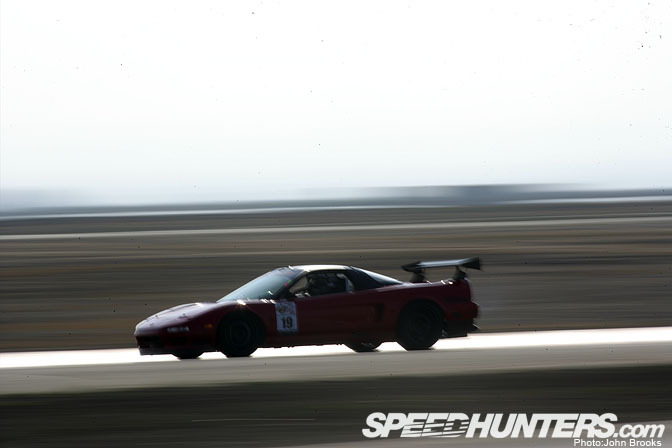 John Brooks in Art Attack mode as he calls it :>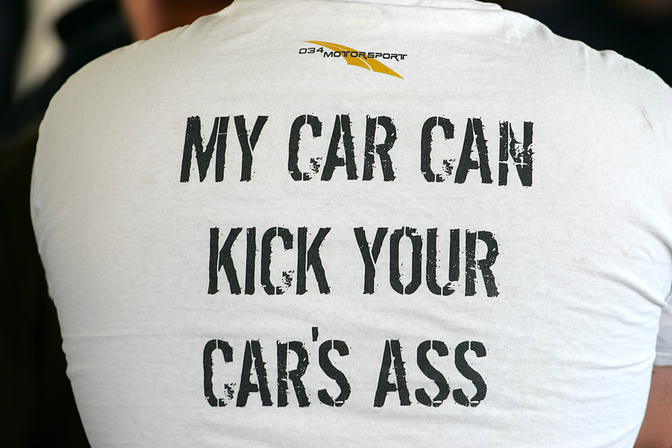 heh heh heh… nice one…
More tomorrow!
:Rod