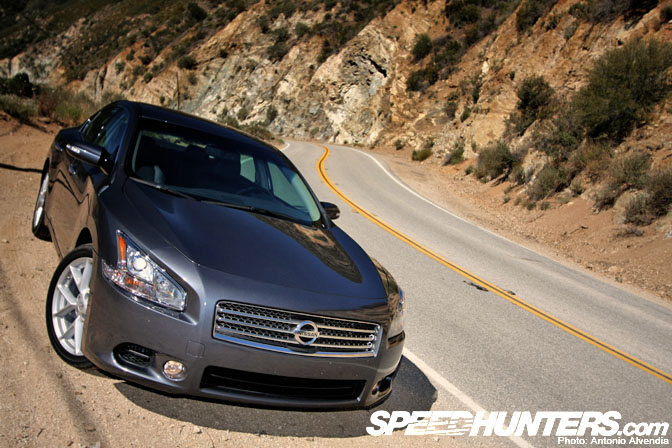 I was fortunate enough to be invited to a
special Nissan media event featuring the all new Nissan Maxima at the
luxuriously redeveloped Thompson Hotel in Beverly Hills. To be very honest, I was kind of skeptical when I heard Nissan marketing it as a revival of their "4
door Sportscar" at first, but that skepticism was very short lived.
After an all day drive through a mixture of freeways and winding mountain roads on the way to Ojai, CA, I was able to thoroughly test out all 290
horsepower this sedan offers. The first thing I want to say is that this
4-door sedan feels surprisingly FAST!!!  The
power comes from the 3.5 liter VQ engine shared with many other Nissan
platforms (most notably the 350Z).
Combining front wheel drive and high
output of torque usually results in torque
steer – I expected lots of it when I was accelerating through the mountain roads, especially when I learned
that this new front wheel drive Maxima had a V6. However, I was pleasantly surprised
to find that torque steer was nearly nonexistent.  Not only is there a good amount of
thrust when you're on the throttle, but the big brakes stop or slow the car very quickly when needed (I used them a few times when I noticed cops parked on the side of the road).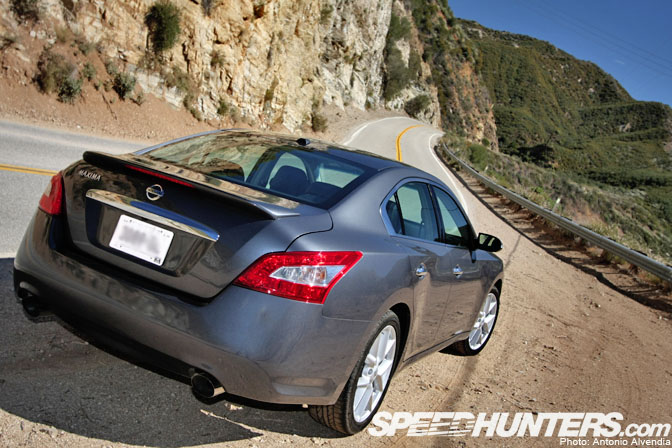 The "bark" of the aggressive looks of the extra large
exhaust tips are definitely backed up by the "bite" of how much power this
unassuming sedan has. I never throught I'd be running a 4-door front wheel drive sedan in the mountains – crazy, right?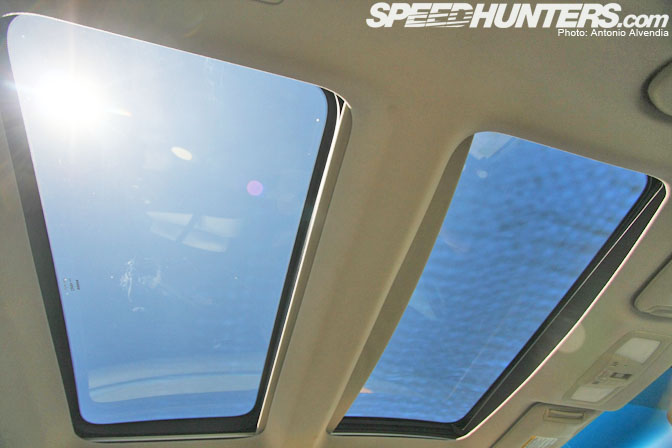 Some models come with dual sunroofs which
I find very cool, but imagine how dope it would be to combine those two
sunroofs into one gigantic one!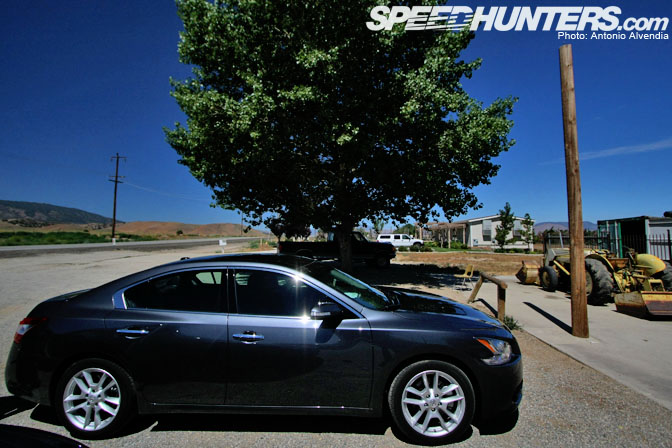 If I never had the opportunity to test drive this car, I probably would have said, "No thanks" to someone offering to sell me a new Maxima, with
its MSRP about $32,000. However, I didn't feel this way after I got the
chance to meet and experience the new Maxima for the first time – The new Maxima's interior has vastly improved over
the previous model's.  The fit and
feel of everything is very similar to an Infiniti, and it also comes with
an awesome head unit with mp3 capability, Ipod integration, satellite
radio, navi, etc.  My only gripe was
the clumsy center dial that controls the navi unit.  Unlike the touch screen systems that I'm used to using on other
cars, I think the center dial system is awkward and too time consuming to operate, especially when I'm trying to operate it while driving.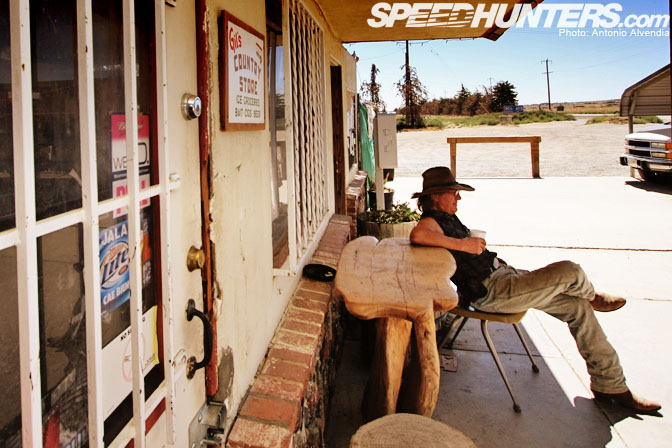 On the way up to Ojai, we stopped off at a "Country Store" as a "checkpoint" to meet up with other Nissan staffers before heading to lunch. We ended up parking our new Maxima in front of one of those "anchor-type" things that people used to tie horses to back in the day. We even ran into this guy, hanging out, looking like he had nothing better to do at 1:30pm on a weekday. Looks like the wild west to me.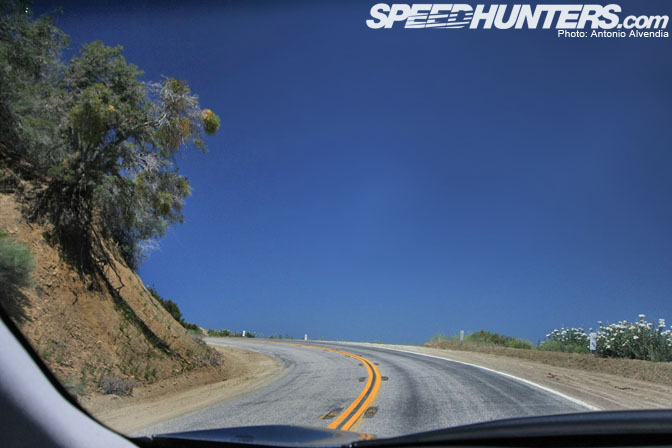 I was able to do some spirited driving
(aka: speeding through the mountain roads with the other journalists, *cough*cough*)
through parts of Los Padres National Forest on the way to Ojai, and this
was where the revised steering really shined.  Feedback through the steering wheel was
excellent and the metal paddle shifters behind the steering wheel added to
the fun of my driving experience. By the way, I know it's normally unsafe to take photos while driving, but I'm a professional. Don't try this at home, kids…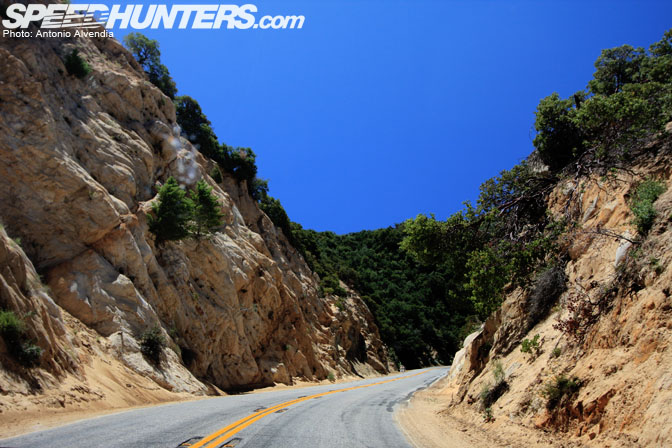 These mountain roads were certainly
beautiful, and they passed by at a very fast pace due to how well this car
behaves under high and low speed cornering.  The car was nimble enough able to
provide a lot of fun while being comfortable enough to suit 4 adults as we
overtook cars with ease on the highway.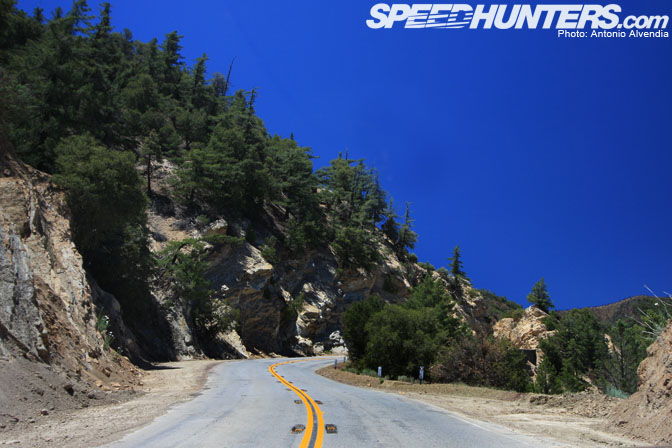 I left this test drive pondering about how
convenient it would be to own a quick, good handling, 4-door sedan like this, which was pretty surprising to
me, since I can't recall ever feeling giddy over driving a Nissan
Maxima! 
As I look back on flying
through roads such as these I made my decision; Ok Nissan, you've changed my mind and made me
a believer. "4 door Sportscar" it is… with the speed, handling, great stereo, and luxurious interior the new Maxima offers, I think it would be an awesome daily driver.
-Antonio Alvendia