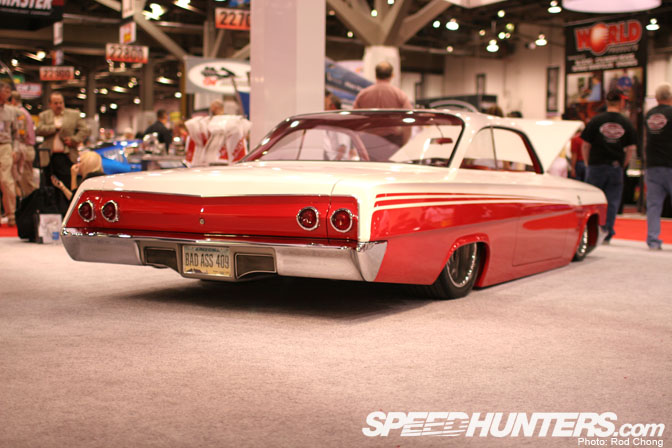 I first noticed this Chevolet Impala at SEMA 2007, where it was parked up in front of the Las Vega Convention Center.  I took the opportunity, to take a pile of photos of the car, but at the time didn't really have an outlet, other than my personal Facebook page.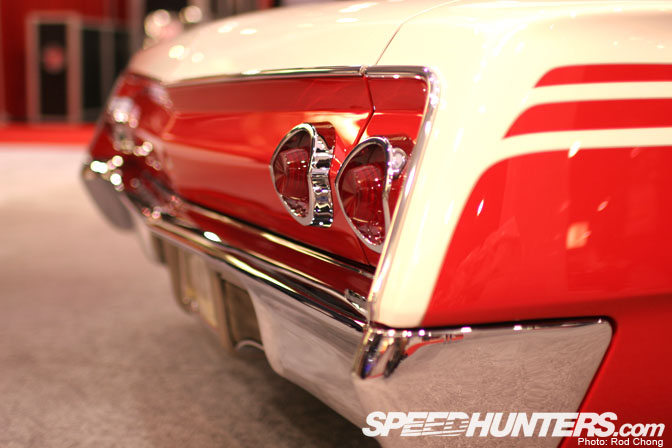 As you can imagine, I was very delighted to see the Impala on display at the Mother's Wax booth at SEMA this year.  Unfortunatley, there was no info board on display so I can't tell you any details about the build or the people behind it.
None-the-less, we can enjoy a quick look at this stylish and elegant machine.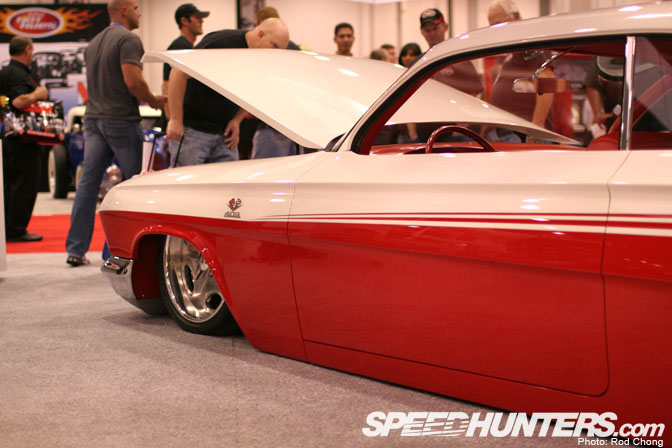 The one logo on display with the car was that of Air Ride Technologies….  This would make sense as the car is "laying frame" on the ground.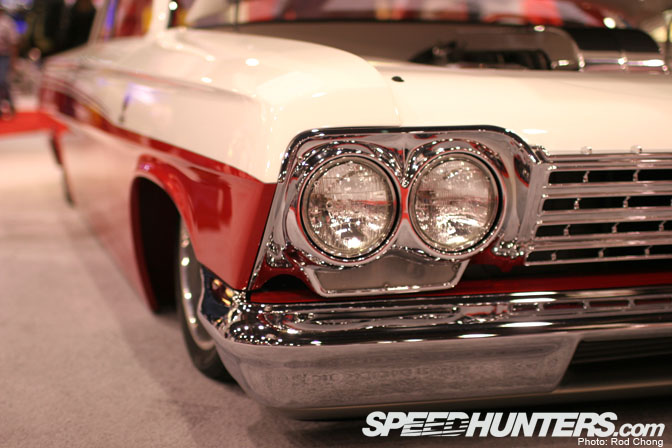 It's pretty clear that no expense has been spared with this build. A lot of the time, I find these big budget cars to be overdone; without a sense of restraint or design balance…. It's a bit like dumping an entire container of sugar into your tea because you like the taste of sweet.
More is not always more….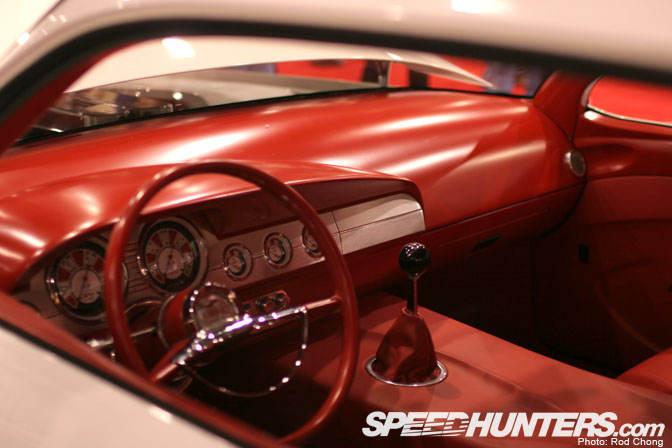 The designers of this car have more than a great eye;  they have managed to achieve a fine balance between traditional style and modern influence. Not an easy thing to do, but I think this Impala has found something close to perfection.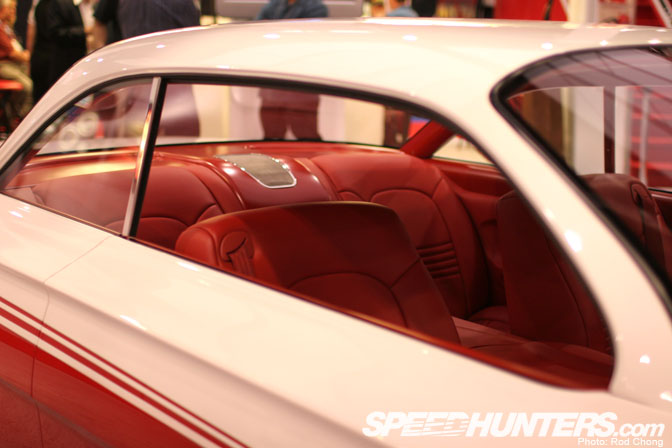 You can see that window frames have been smoothed and molded in: a modernization.  At the same time though, the seats carry the style of 1960s buckets: period look.
Also notice how the belts have been integrated to the seats.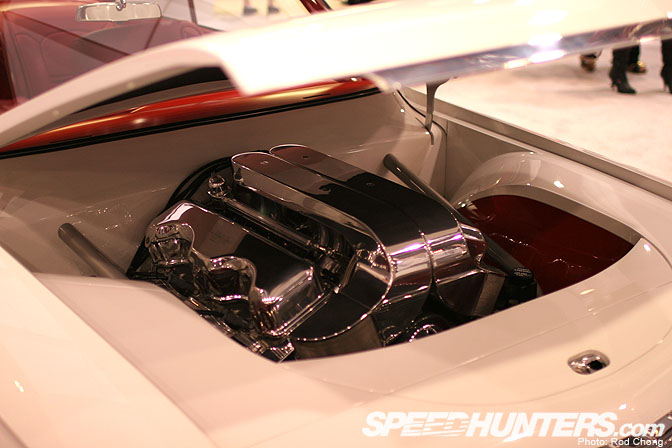 The engine itself is a work of art.  All surfaces have been smoothed out,  the majority of the wires hidden from view. Looks a bit like an Art Nouveau sculpture to me!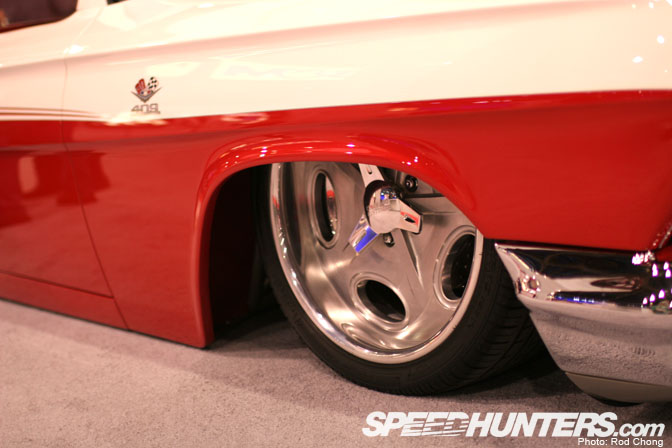 The classic wheel styles are just perfect on the Impala.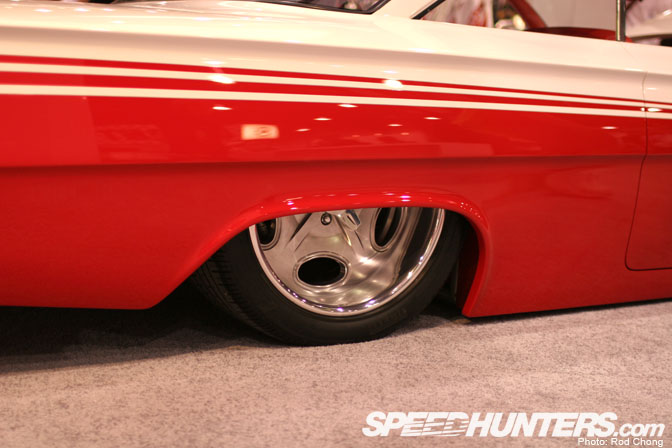 Some people think that low profile tires have no business being on  anything older than say a car from 1978… I think this application is just fine though. The wheels are also a reasonable size.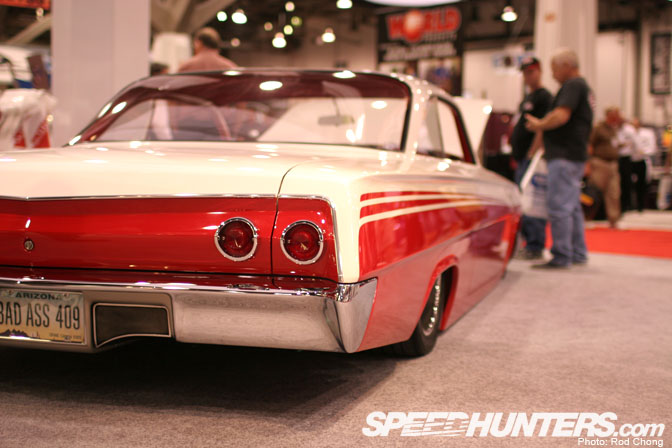 The license plate says "Bad Ass 409"…… that says it all no?
Does any one know more about this car?
:Rod Chong