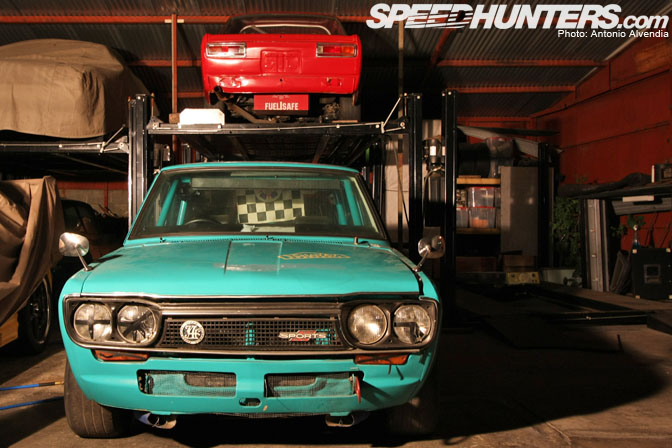 When I first moved to Southern California about 10 years ago, I remember flipping out with excitement when I first laid eyes on this old teal and white Datsun 510. The first time I saw it was either at an event at Pomona Fairplex or at the Los Angeles Grand Prix; I don't remember exactly. I remember seeing the car for the first time, and excitedly blurting out expletives, because I had never seen such a cool historic Japanese race car with my own eyes. I was walking with my good friend, Herbrock One from Cipher Garage, and he told me he was friends with the owner, Gwan from a race shop called TRS Group 4 in Culver City, CA. The first thing I said to Gwan after meeting him, was "damn, I lovvve your 510!!! It's helllllla cool!" with my typical Bay Area lingo. Gwan just laughed and said, "actually it's a Nissan Bluebird. It's kind of like the Japanese version of the 510." Wow.
This was my first experience seeing an actual Bluebird in person, and Gwan seemed to have a whole fleet of them. Some were Bluebirds, some were 510s, and he even had other different makes of 1970s rear wheel drive cars hanging around his shop. I had never seen anything like this before, and although I was (and still am) a hardcore fan of old school Toyotas, I also loved the Datsun 510s that I would see in my hometown of the SF Bay Area – from watching well known 510s at autocross events (Pinky from Duel at DeAnza) to seeing them out at the illegal street races (my old friends Jan Trondsen with his orange 510 and Danny Youngs, with his super clean white 510 with 15 inch Panas).
Back to the car in the photos, this is Gwan's 1971 Nissan Bluebird Coupe Sports model. From what I've been told, the dash is a bit different than other Bluebird models, apparently it's been stripped down a bit. I won't pretend to know much about 510s, so this feature is more of a "big up" to this cool old car I've admired for over 10 years. Apparently, Gwan imported two of these Bluebirds from Yokohama Japan, over 20 years ago! Now that's being a JDM OG! One was a race car (which hit a curb and rolled (aka: got wrecked) several years back at the Tecate Grand Prix in Mexico) and one was a street car. After the original race car was wrecked, Gwan decided to take the parts and convert his "street Bluebird" to a race car as well.
This car isn't just a show car to parade at JCCS. It has actual racing history with logbook and tech stickers from its days of driving at the Los Angeles Grand Prix, VARA events at Willow Springs, Palm Springs street races, and even Tustin Thunder. (long time ago!)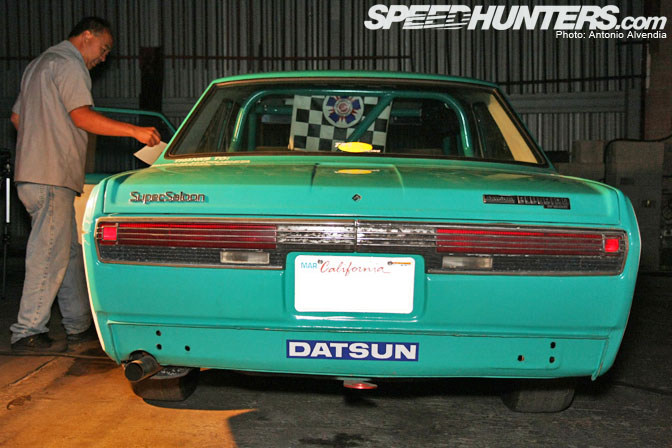 Here's Gwan pulling some crusty old tech forms out of the car. I noticed the matching painted rollcage inside the car, which Gwan says was purchased from a shop named Kameari in Yokohama. (I've been there – very cool shop if you have old Japanese cars! Expensive as hell though.)
Check out the long sweeping taillights, don't they look cool? This is one of the distinguishing factors that separate a Bluebird from a 510. In case you couldn't read the badges, ya know.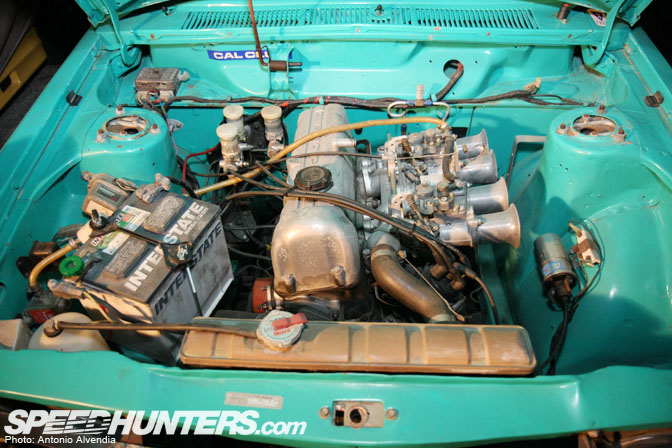 Super clean engine bay! So glad it doesn't have an SR20DET, Gwan's car is period correct and fresh to death. Even though the polished aluminum on the valve cover is a bit oxidized, the heart of this Bluebird is a built-up L16 engine – complete with pistons, rods, cams, and alot more internals that were sourced from Gwan's friend, the owner of a shop called Refresh 60 in Yokohama. I just love that name! So dope. See those camber plates? They aren't Cusco… they were actually part of the super rare, Japan-only Nismo circuit racing suspension setup that was purposely designed for the Bluebird. Try finding that for sale on the forums.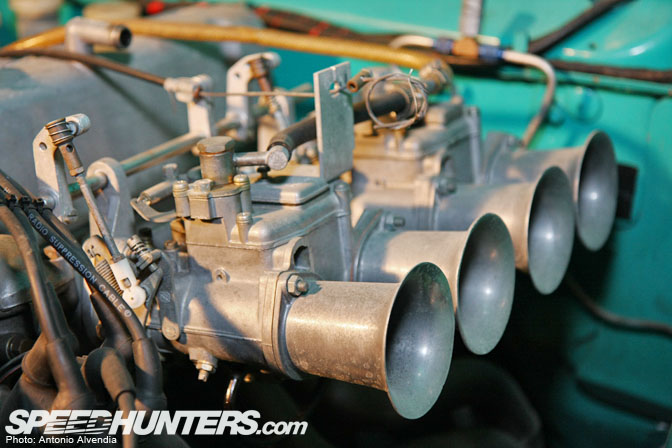 When I asked him on the phone, Gwan couldn't remember if the carbs were Mikuni 44s or a larger size… but here's a close up of them anyway, with the bar-type throttle linkage, which always looks cool.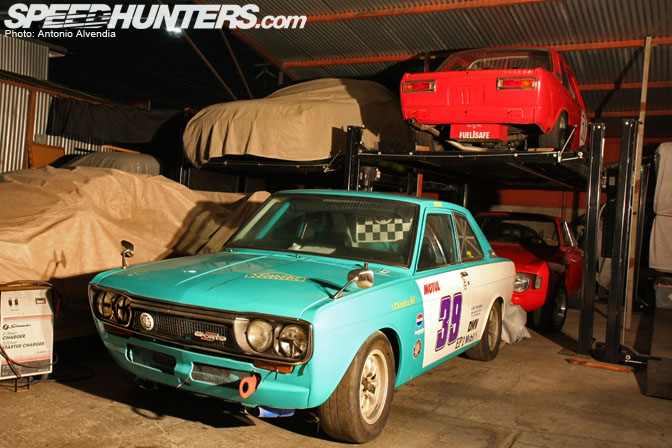 Gwan tells me his Bluebird also has a close ratio transmission, and an upgraded 4.3:1 final drive gear ratio – the car normally comes with either a 3.9 or 3.7 according to Gwan. See the red 510 above the Bluebird? I think it's so cool that he has both cars in his garage… and who can spot the car behind the Bluebird? Anyone know what that is? (AWESOME collection this guy has!)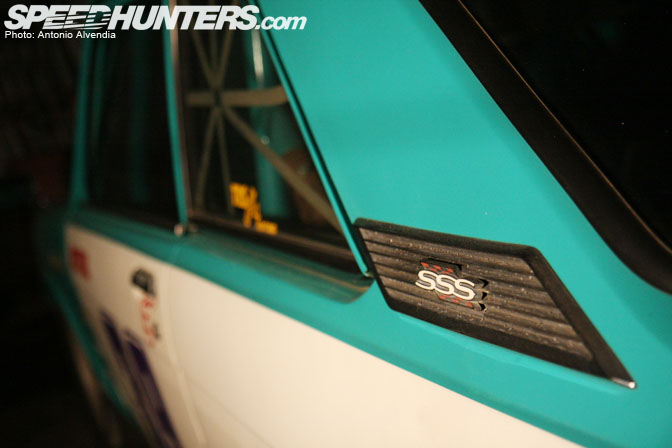 Yeahhhh… SSS.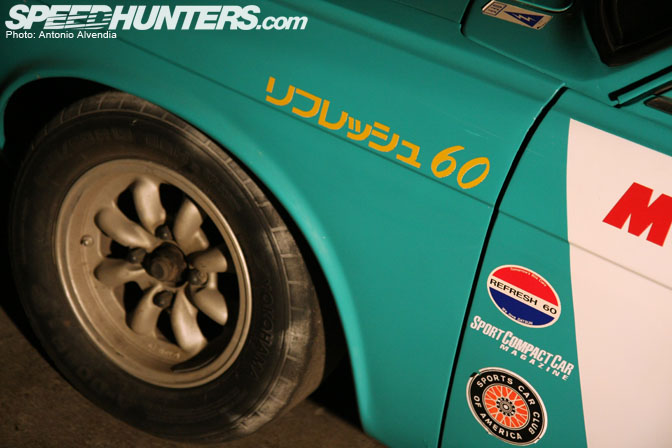 Super rare 13×6 inch Mag Road wheels with Yokohama A008R tires! We were laughing when we looked at the old Yokohama slicks – haven't seen those tires on the racetrck in quite a while! BTW, I reeeeeealllllllllly dig the Refresh 60 stickers on this car! Sooooooo damn cool!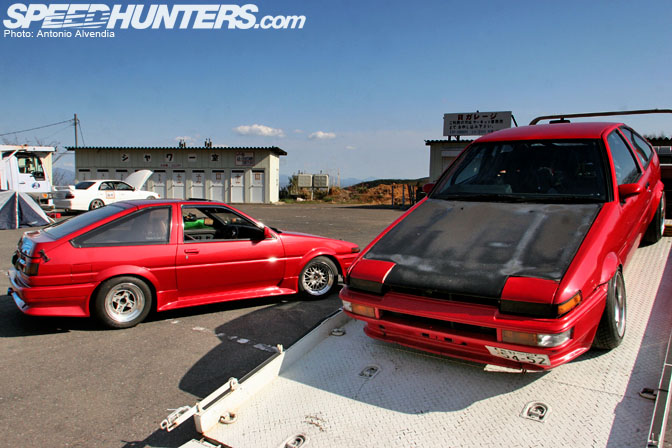 See the rear roofline of the Bluebird? It's different than the 510; the Bluebird has a longer, more slanted, sweeping rear pillar, whereas the 510 is more upright.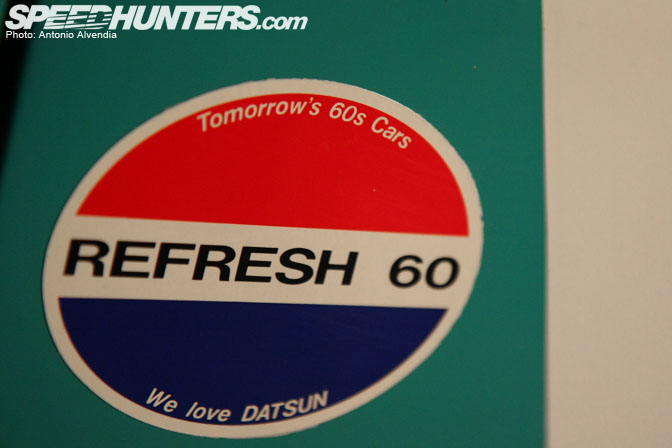 Oh man, I love the logo. Love this car!
-Antonio Alvendia