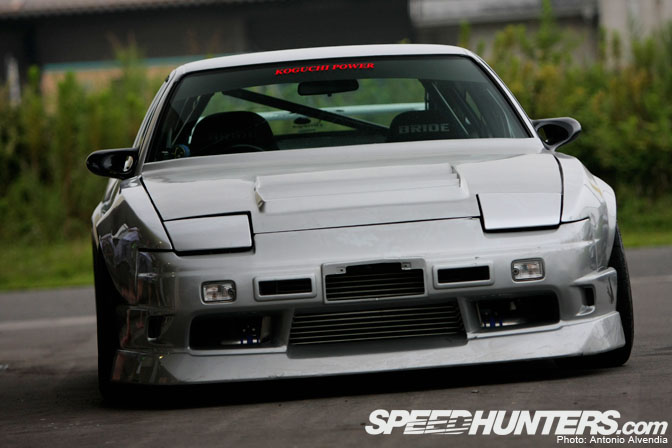 Damn, just look at how mean and how cool this 180SX looks in this photo!!! I'm not even an S13 guy, but it makes me drool! This is definitely the type of car that would inspire someone to buy an S13!!! Damn, I love it!!! So dope.
I know that some Speedhunters readers have been waiting for this feature for quite some time! Sorry for the wait guys, we were saving this one for Nissan month! How could we have Nissan month without Koguchi's RPS13 180SX? Come on!
This past summer, we posted a few photos of Koguchi drifting this car at Ebisu Circuit, having fun doing triple tandem with Naoto Suenaga and Kumakubo on Ebisu's Touge Course. I tried to shoot the car while it was still at Ebisu, but Koguchi had the front bumper off cause it was all jacked up. Several days later, the car was all good, and back in the parking lot of his shop, Koguchi Power in Tochigi Japan. So I hit him up on the phone and asked if we could roll through!
Koguchi Power isn't exactly easy to get to via train or bus. Good thing we had our fellow Speedhunters Mike Garrett and his wife Kaori (aka Team Garrett, according to Rod) to drive us in their light blue metallic Honda Fit! Thanks! We would have been lost otherwise..!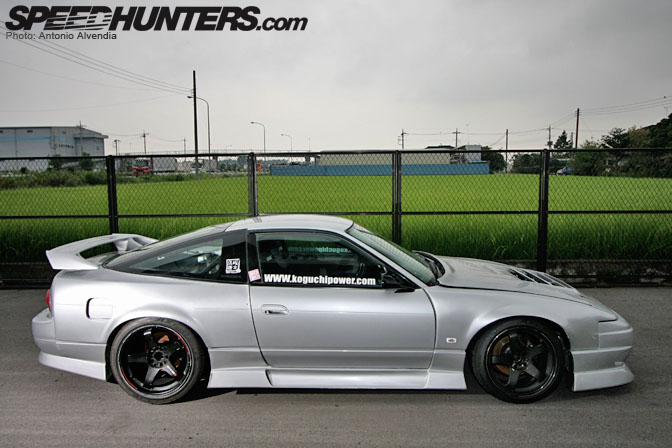 I love how this RPS13 looks from all angles! Just as I began asking Koguchi questions about his car, he corrected me. He clarified things, telling me that it's actually his girlfriend's car! Wow! His girlfriend, Yuko Wakabayashi, is the points leader in the mid-level class of the Nikko Queen (all-women's) Drifting Championship series. Even though this car started out as her daily street car, it's a track-only car now. While Koguchi openly admitted that they still take it up to their local touge occasionally, his girlfriend normally just practices driving at Ebisu Circuit – up to three times a month, because the Tochigi prefecture isn't that far from Fukushima, where Ebisu is located.
While I was busy taking photos of the car overall, I heard Rod say "those black wheels are fantastic!" Although I personally think they would look better if they were white or silver (I personally don't usually prefer black wheels on silver/light colored cars too much), I have to agree with the wheel choice. Those Nismo LMGT4 wheels do look great, especially since they have manly sizes. 17×9.5 (+15 offset) up front and 18×10.5 (+12 offset) in the rear, with 235/40/17 tires stretched over the fronts, and 275/35/18 tires on the rears. Just FYI, Koguchi did put spacers on the wheels because of the wider front and rear fenders, so he could definitely fit wider wheels under the fenders. The aforementioned wheel sizes would be great for OEM steel fender S13s with pulled fenders though!
Drifting at high speeds, it's definitely important to have strong brakes. Koguchi swapped out the small standard S13 brakes with a bigger brake system from an R32 Skyline up front, and in the rear, he said he just used Nissan factory brakes with big rotors.
I didn't quite understand what he meant by that, and wasn't able to clarify… can any S13 experts out there help clue us in? Do you think he means he used different S13 brakes with bigger rotors? Or just sourced them from a different Nissan altogether. I don't think they're from an R32, because he explicitly said only the fronts were from an R32. I dunno.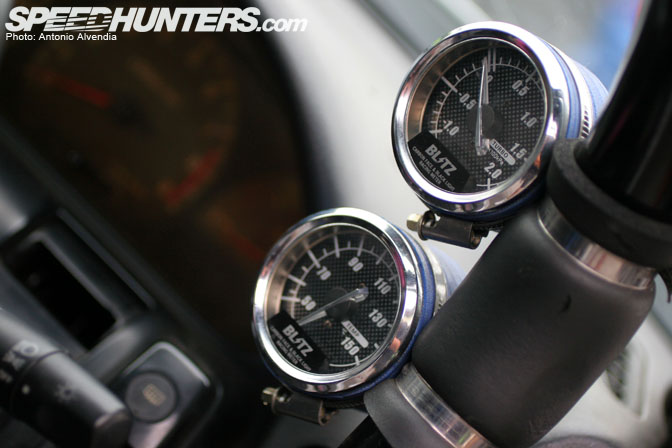 No need for fancy aftermarket A-pillar gauge pods. Koguchi just hose clamped the Blitz gauges to the rollcage.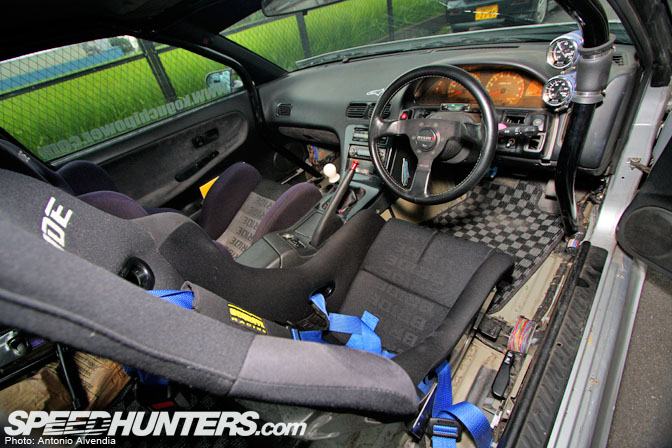 Here's the cockpit. The sound deadening is removed, and the only carpet visible is the one from the fake Karo floormats on the floor. True to Japanese drifting style, the driver seat is a Bride full bucket seat, while the passenger seat is a Bride reclinable. Safety 21 rollcage, Nismo/Personal wheel, Nismo shift knob, spin turn knob, Schroth harnesses, what else can you spot that I've missed?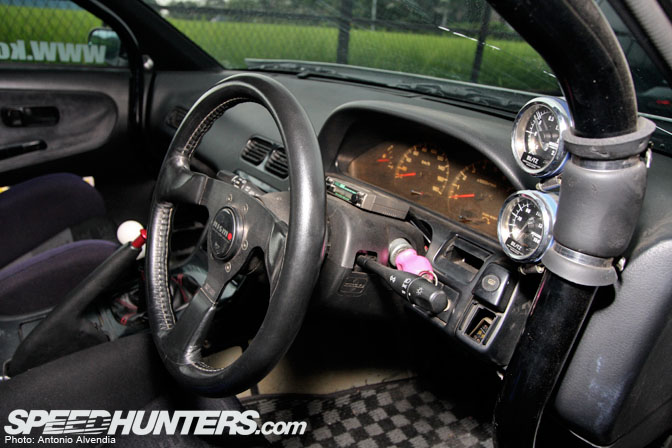 Oh yeah, let's not forget the Snap-On key holder. And it's pink, so you know it's a woman's car. (Maybe our friend Andy Barnes from Sumo Power needs to get one of these, hehe)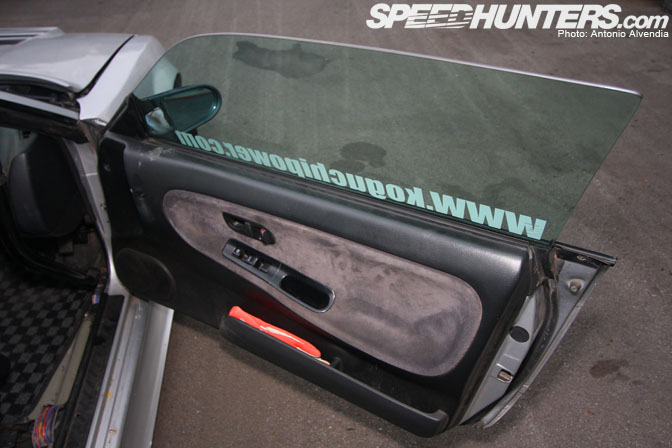 Clean interior doorpanels. No need to run without doorpanels! Stay classy! Nice mirrors BTW.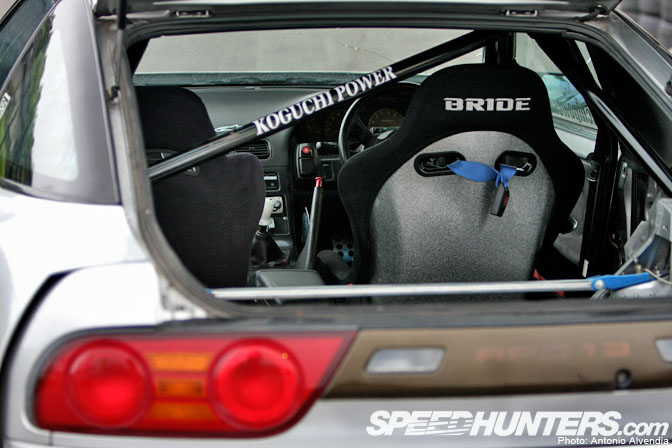 Just so people following the car know what's up, there's a strategically placed Koguchi Power sticker on the rollcage. I don't know why the seatbelts were disconnected – maybe they needed to access the area behind the bucket seat? Other than that, Cusco strut bar, 180SX kouki taillights, and the super cool/expensive RPS13 center garnish.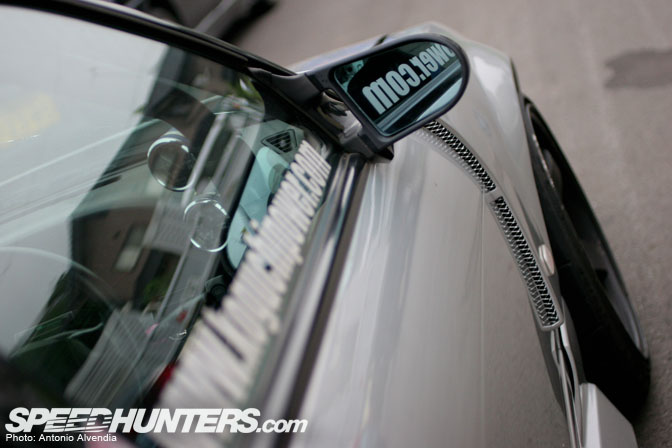 I dig the way the wider Koguchi Power front fenders just have vents in the rear. Pretty cool and different. Again, cool aero mirror too.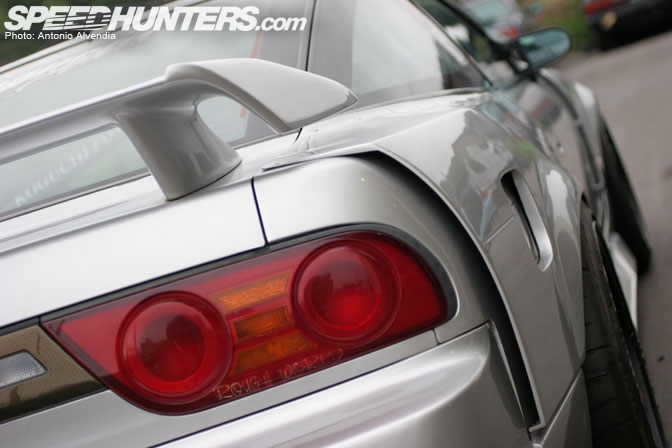 Dig the old school Rough World sticker, placed correctly on the right rear taillight. This is how they do it. Nice Koguchi Power rear fenders too, don't you think? I love them!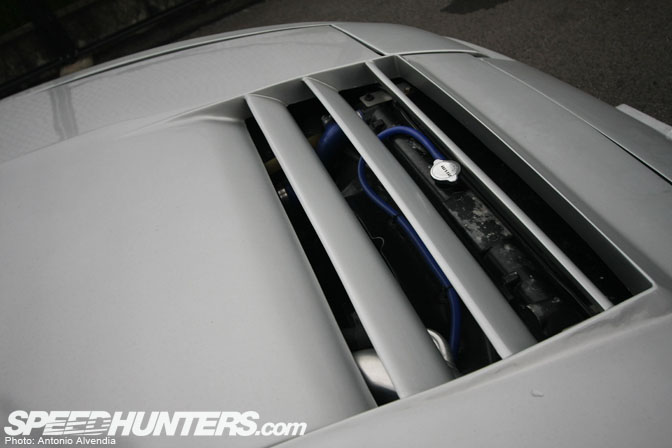 Nice vented hood too. This car is all style, all the way. Got a little shine on that Nismo radiator cap too.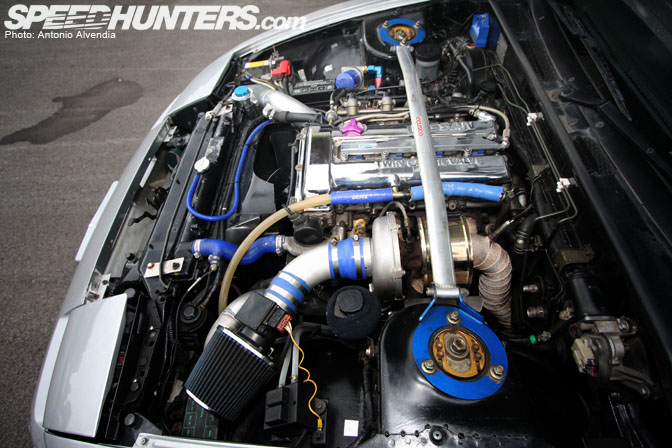 Let's turn our attention to this clean engine bay now. This isn't your everyday SR! While we don't have every single detailed spec on the engine, Koguchi said he originally wanted to build a mild, easy, reliable engine for his girlfriend to learn with. Now that he feels she has progressed in her driving skill, and can handle all the power this engine produces, he is thinking to build her another engine with higher horsepower, so she can progress her skills again to the next stage. The engine currently in her RPS13 is actually an SR22 (with a Tomei 2.2 liter stroker kit). It has a 1.2mm metal head gasket, and mild 260 duration (intake and exhaust) cams.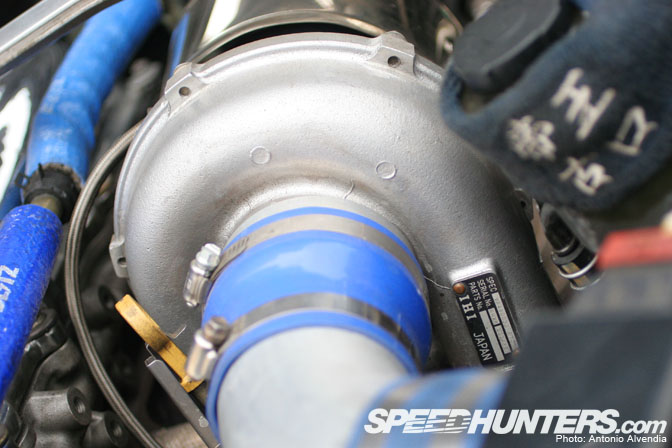 Koguchi also mentioned that the car uses an IHI RX6 turbo and Blitz twin core intercooler. The transmission is a close ratio 5-speed box from OS Giken, which is matched up to an ORC twin plate clutch. Obviously, competitive drift cars need to have better-than-normal rear ends. Koguchi told us he chose a Nismo 2-way LSD for this 180SX, and changed the final drive gear ratio to 4.3:1.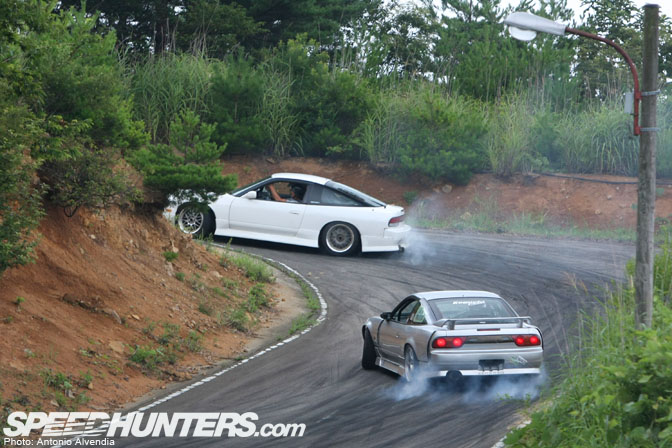 Rod thought it would be a good idea for me to add some photos of this silver Koguchi Power RPS13 drifting, so here's some photos of Koguchi chasing Naoto Suenaga up Ebisu's touge course.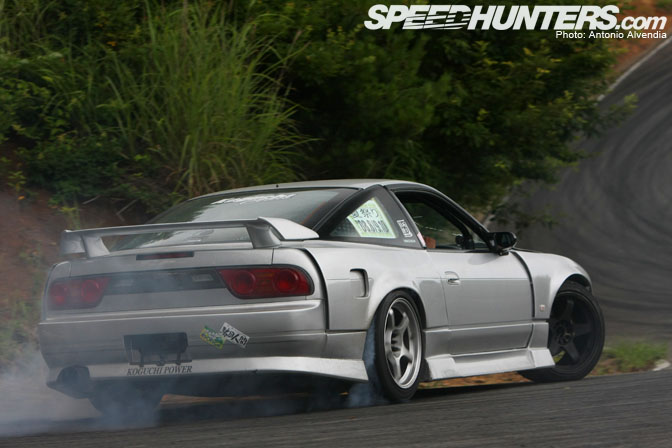 Koguchi eventually popped his rear tires on the Nismo wheels, and had to use these older wheels to continue drifting the rest of the day.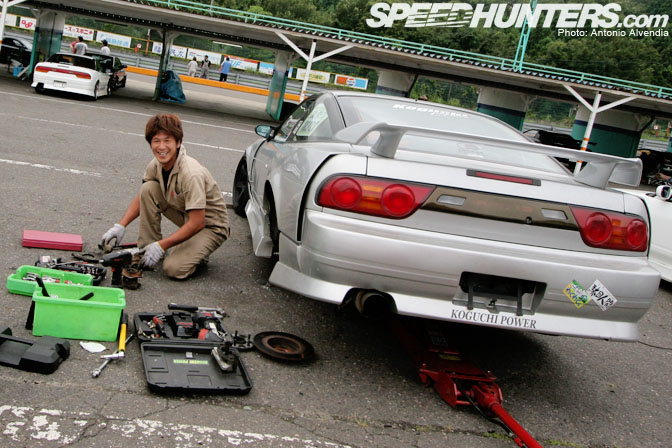 Here he is, swapping out a broken axle at Ebisu's East Course parking lot!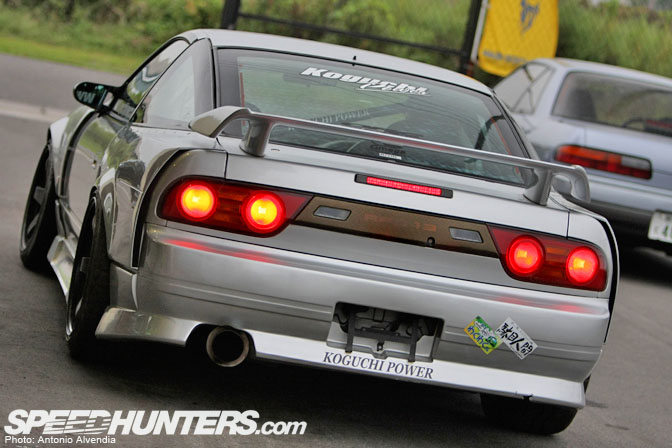 I really like the clean exterior look of this car, with the Koguchi Power GT1 bumpers and wide body! Bad ass! All the way down to the sticker placement. The tomodachi stickers on the rear bumper, in case you didn't know, are Yasuyuki KAzama's "Waku waku san" D1 sticker, and Hideo Hiraoka's "dame ningen" sticker. Super dope.
What do you guys think? Like this car?
-Antonio Alvendia