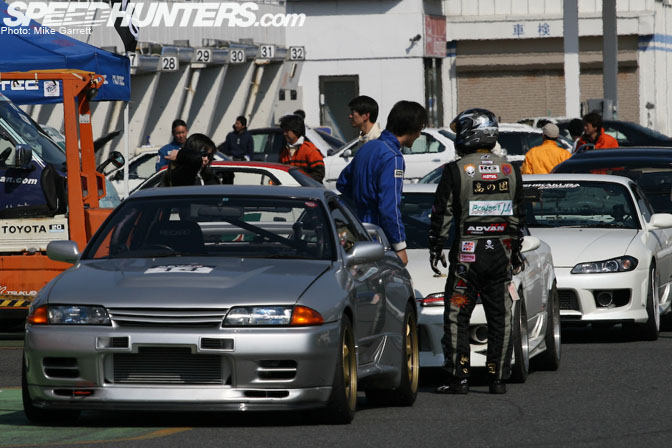 Time for a little more Nissan goodness from the archive as I post up a few of the track-tuned Skyline GT-R's I've spotted at Tsukuba Circuit over the past year. There is no place where a GT-R is more at home than running around a track like Tsukuba. It is surely one of the best places in Japan to see tuned GT-R's at their best. The car has stood the test of time and even the oldest BNR32 GT-R models are still found in abundance at Japan's racing circuits. Nearly seven years after they disappeared from the market, the original RB26-powered GT-R is still one of the quintessential Japanese performance cars.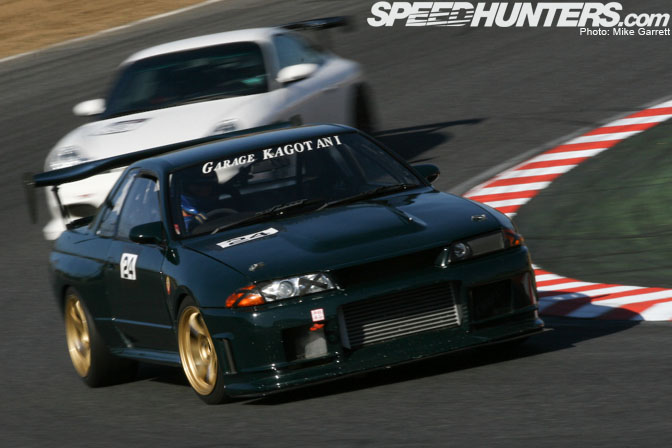 Garage Kagotani has put together some pretty tough Skylines of both the GT-R and GT-S variety. Here is their dark green BNR32 trying to run away from a Porsche at one the Power House Amuse Tsukuba track days. Check out the passenger headlight which has been converted into an air duct, a modification I have been noticing more often latley. Kind of gives the cars a "Terminator" look don't you think?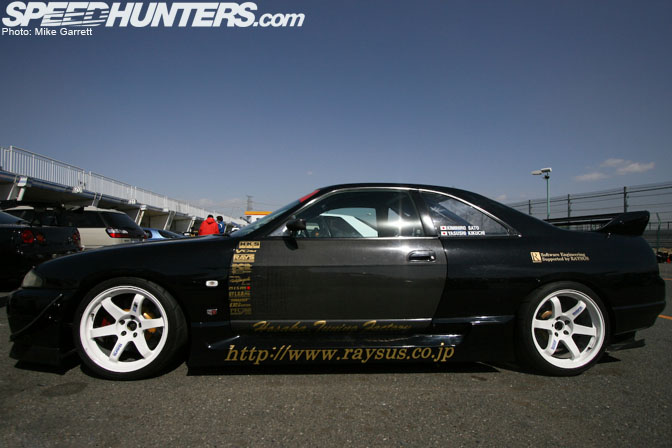 Another master GT-R tuning shop is Tokyo-based Hosaka Tuning Factory. Hosaka TF's cars are well known on both the circuit and the street in Japan and their cars are featured often in privateer magazines like Autoworks/G-Works. Here is one of their R33 GT-R's in the paddock at Tsukuba last winter. This is one of my favorite R33's ever. White TE37's in proper GT-R sizing, CF doors, and gold decals on black paint. I love everything about this car. Also interesting is the lack of a GT wing here.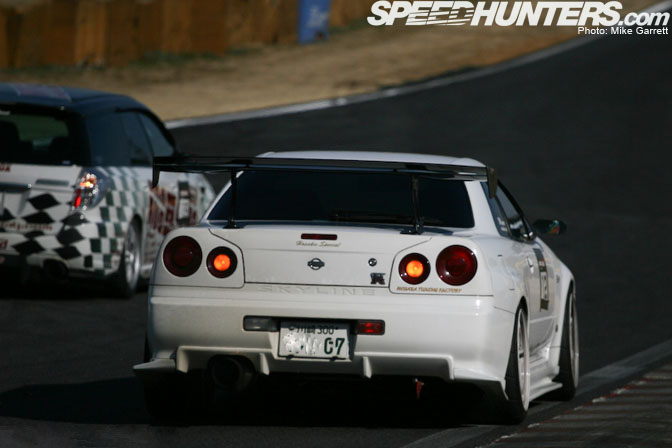 Another Hosaka-tuned GT-R, this one a BNR34 model. The car had just finished up an attack session and was on its cool-down lap when I took this shot. Deciding between a Hosaka-tuned R33 or R34 would be a tough choice for me.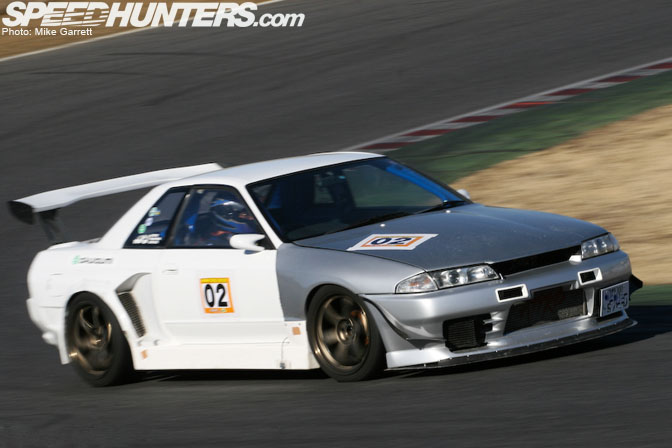 This Autech Tsukada's time attack BNR32 with its functional body work with giant vents that feed air through the rear fenders. This car routinely runs deep into the 57 second range and is one of the top runners in the BE time attack events held at Tsukuba every winter. The car's specs include a 630hp  2.8L RB with a pair of GT2530 turbines and a Holinger 6-speed sequential transmission.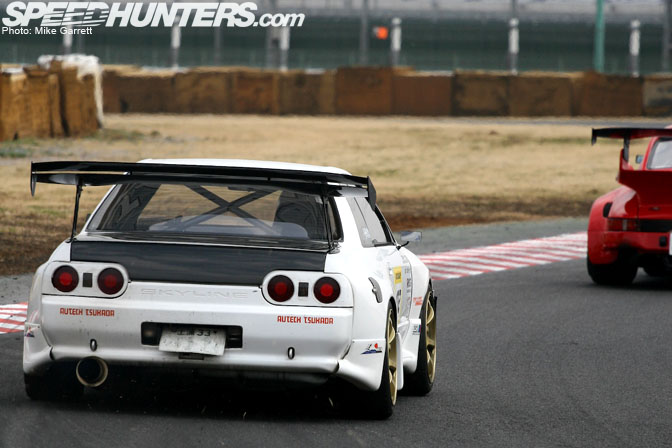 The wide body Seya MAX R32 GT-R is another monster machine. Unlike a lot of the tuned GT-R's which are primarily focused on time attack, this car competes in head-to-head races like the Super Cup at the Idlers Meeting. It's always great fun to watch this car do battle with the Rauh Welt Porsches. GT-R vs. 911…a great rivalry isn't it?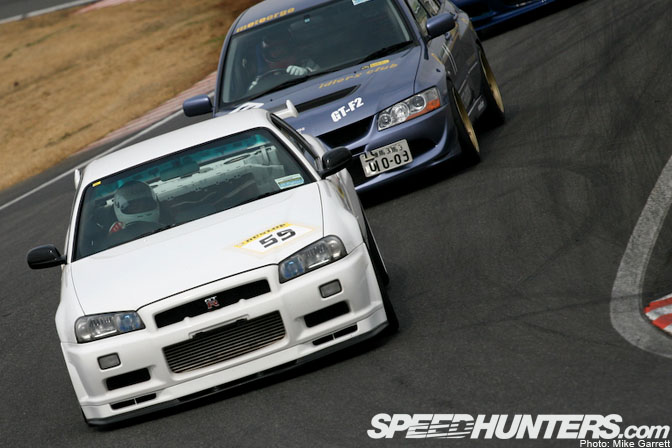 Another shot from the Idlers Meeting as a gutted BNR34 GT-R tries to outrun a Mitsubishi Evo 8 during the GT Fighters race. I don't think too many will disagree when say the R34 has one of the best looking front ends of any Japanese car ever. I suppose that's why the BNR34 front end conversion is so popular for other cars like the R32 Skyline and Nissan Stagea. That reminds me, I think I should post a photo of the MASA Stagea with GT-R face conversion.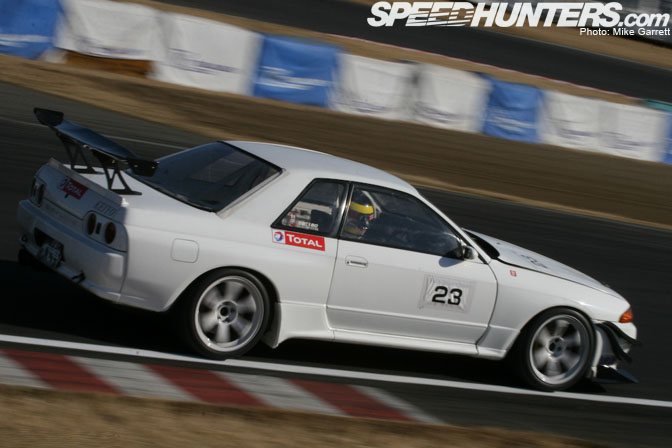 Just another circuit-tuned BNR32 from Keiyo Jiko. Hmm…I wonder if the "ni san" number placard on the door is just a coincidence? This car has dipped into the 55 second range at the Rev Speed Tsukuba Super Battle in the past. Don't you think this car actually looks pretty simple for being capable of 55 second lap times? It even has number plates!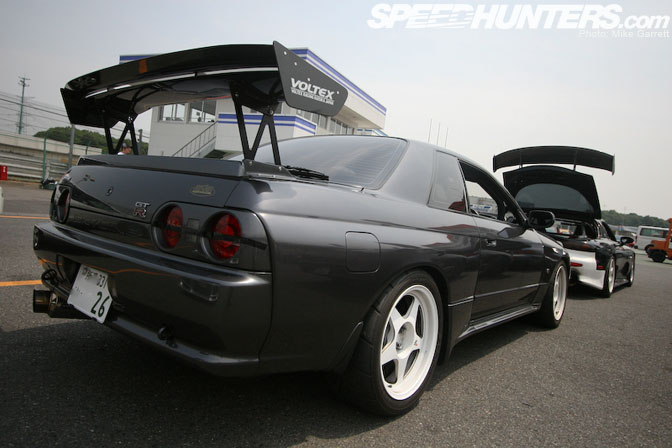 A slightly more mild BNR32 seen in the paddock following a track session. I like the Voltex GT wing and the fairly uncommon Desmond Regamaster wheels. This gunmetal gray color is the signature color for BNR32 GT-R's. I think when most people think "R32 GT-R", this is the color that's in their head. At least that's waht I picture…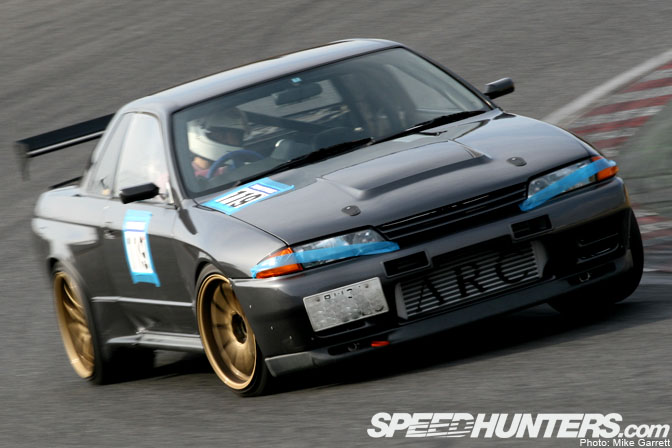 And lastly, another gunmetal BNR32 using its all wheel drive turbo power to pull out of Tsukuba's first hairpin.
Now I'm in the mood into go to the circuit and watch more of these high powered GT-R's fly around the corners. Hurry up time attack season!
-Mike Garrett