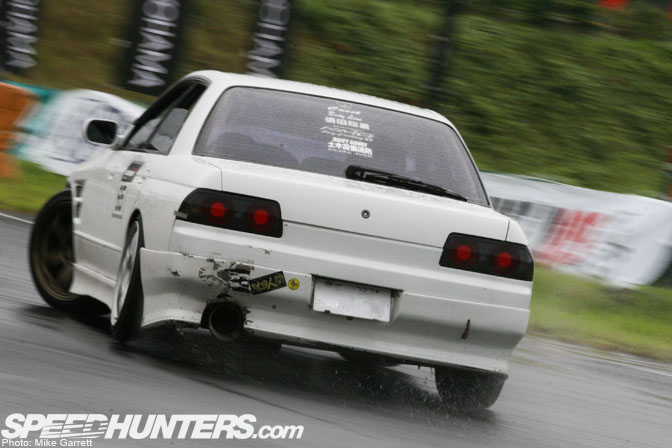 4-door sedans are favored by drifters all around the world, and they are especially big here in Japan where Toyota's JZX cars are favorites among both pro an grassroots drifters. Nissan's primary contribution to the drift world might be the Silvia and 180SX, but they also offer plenty of turbocharged four door sedans that can be bought on the cheap and built into some pretty radical drift machines. I wanted to take a quick look at a few of Nissan's coolest four-door drift cars here. For example, how about the R32 Skyline sedan pictured above as it drifts the wet course at Honjo Circuit?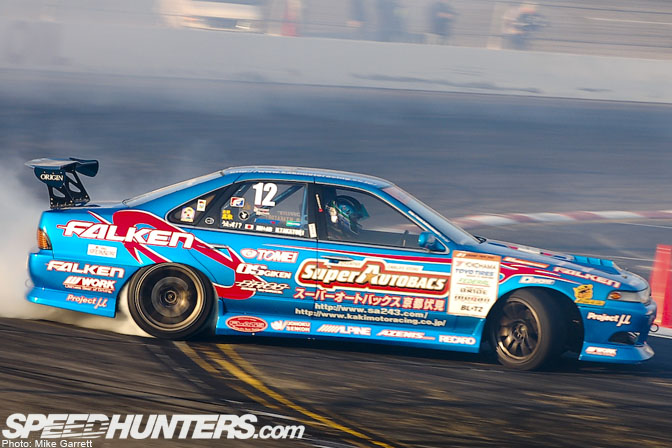 The A31 Nissan Cefiro is another popular Nissan sedan and is about the closest you can get to having a four-door S13. They come from the factory with RB motors, but it's also very common to see Cefiros rocking SR20 swaps. The car in the photo is Michihiro Takatori's A31 seen at last year's D1GP All Star event at Irwindale Speedway. D1 driver Haruyama also used a Cefiro before switching to his current C35 Nissan Laurel.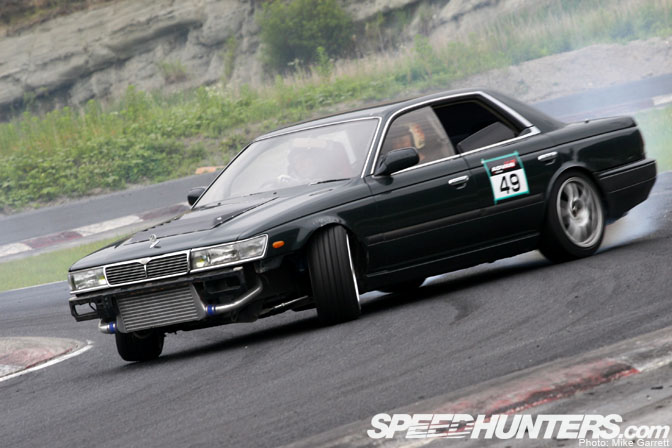 Speaking of Laurels,  that car also makes for a great drift car. The earlier C33 models with their four-door hardtop styling can be very stylish. Cars like this are also some of the most inexpensive drift cars to buy here in Japan where S-chassis and JZX prices remain high. The C33, C34, and C35 Laurels are all popular among drifters, but I'd say the C33 model like the one seen above at Nikko Circuit is the most popular.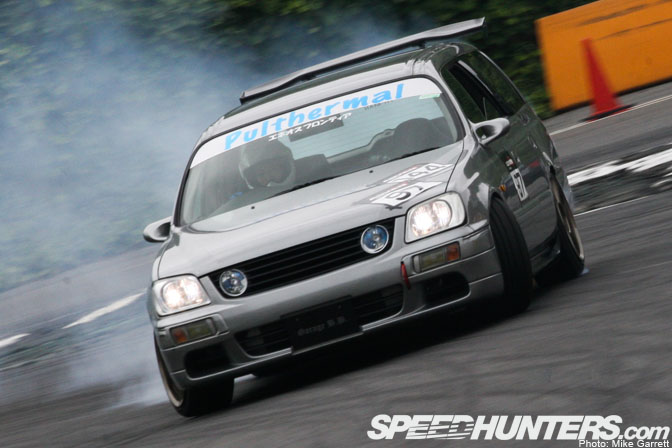 Hmm. I the title of this post does say "sedans", but what about wagons? I have seen a handful of guys sliding around in Nissan Stageas like this one that was competing in the MSC event at Honjo Circuit. Stageas are a great choice for those looking for a drift car that stands out. Not to mention you can also carry a full day's worth of extra tires in the back with plenty of room to spare. These cars can also be picked up for dirt cheap on the used car market in Japan.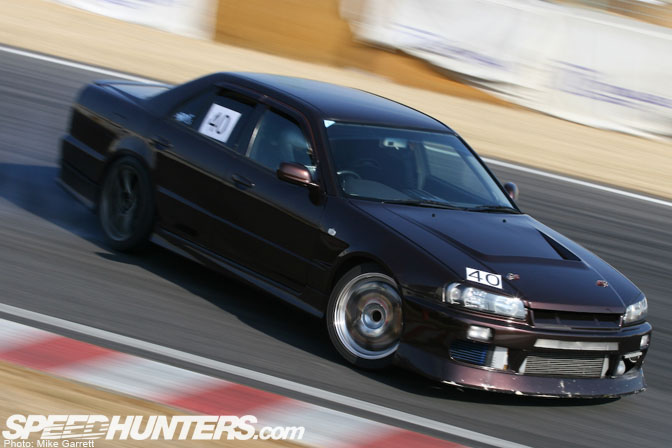 The most famous ER34 Skyline sedan by far is Ken Nomura's D1 car, but a number of R34 four-doors are also used by privateer drivers. I spotted this one drifting at Tsukuba Circuit earlier this year. The RB35 Neo that comes stock in the car offers plenty of potential, but those who are looking for more power can always swap in a GT-R-sourced RB26. I really dig the paint color on this particular car.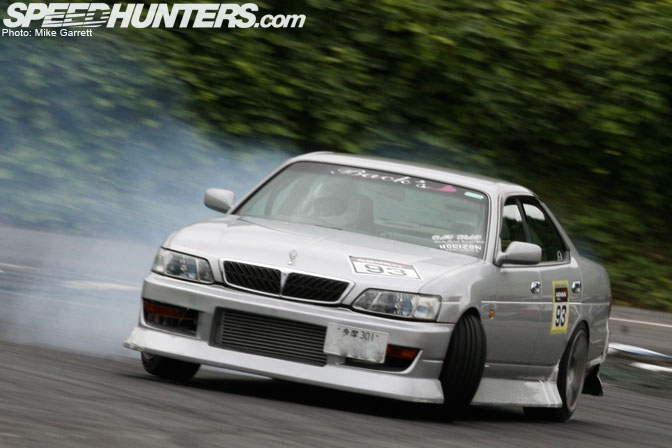 One of my favorite Nssan's is the C35 Laurel. In my view, one of these cars done up right can rival even the coolest Toyota Chaser or Mark II. Like the other Laurels, C35's come from the factory with RB's, but SR20 swaps are not all that uncommon. I don't know if I'm the only one, but when looking at the styling of the C35, I can't help but see some S15 Silvia in there.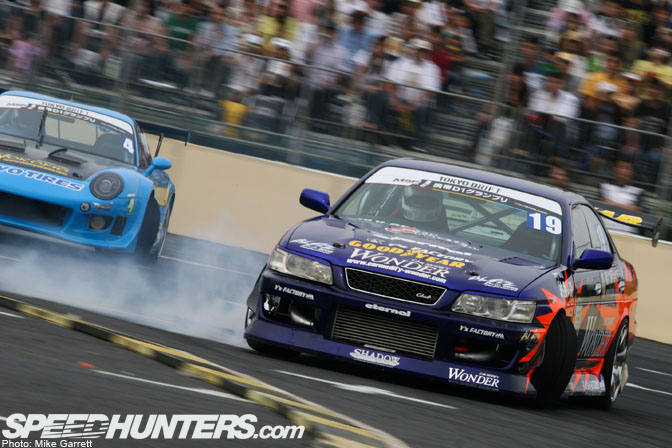 Of course I couldn't go without adding a photo of Takashi Haruyama's RB26-powered D1 spec C35 monster machine. Haruyama is nuts about four-door Nissans and his Saitama-based tuning shop, Car Modify Wonder, offers a lot of parts for Nissan sedans including the Shadow line of original aero parts. Both his D1 car and the C35 in the previous photo are sporting kits from Car Modify Wonder.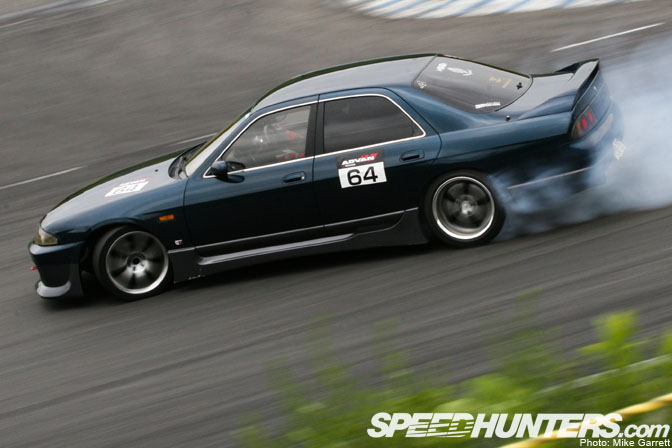 This rather understated R33 Skyline sedan can be seen competing in a lot of the Kanto area MSC events and grassroots drift competitions…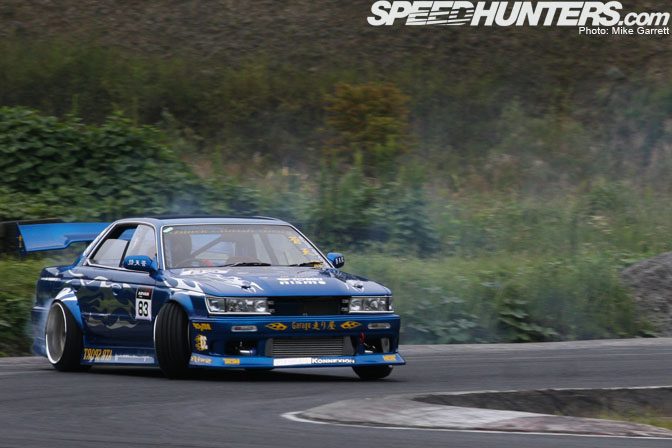 …as can this C33 Laurel which is ANYTHING but understated and pushes the boundaries of aggressive drift car style. I posted a little more about this car a while back.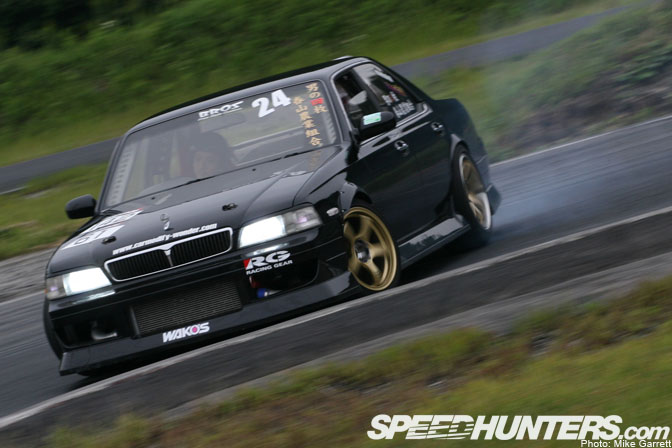 The C34 model Laurels are actually pretty rare in the drift world, but they do pop up from to time. This one was competing in the MSC event at Nikko Circuit back in September. This one is also sporting aero parts from Car Modify Wonder's "Shadow" line. I love the front overfenders on this car and the black paint and gold wheel combination looks perfect here.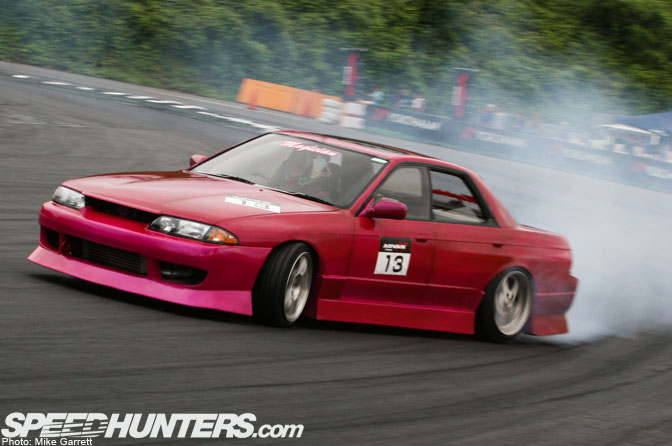 And to finish things off, a shot of the R32 Skyline sedan from Team Magician drifting at Honjo Circuit. Just awesome.
Long live the Nissan sedan!
-Mike Garrett