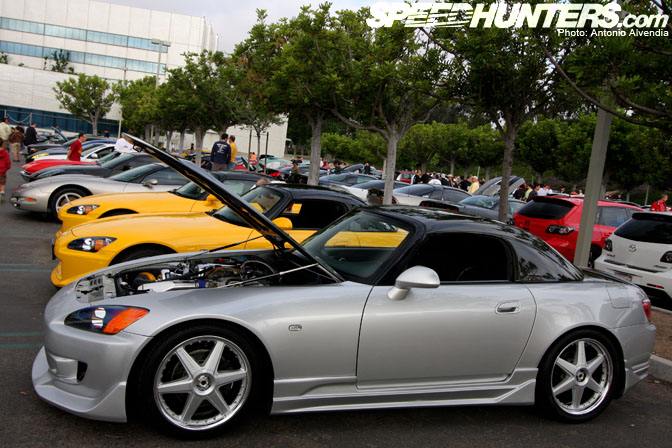 One of the things I like about living in Southern Cali is the car life we have here. There are plenty of reasons that people find themselves involved with cars – some people are just hardcore driving enthusiasts, and want to do nothing more than to drive anything hard on a race track or a winding road. That's cool, that is what modifying cars and buying performance parts is all about.
Some guys prefer to meet up with their friends in the middle of the night on weeknights, so they can hit up winding roads like Glendora Mountain Road, Route 74/Ortega Highway, Turnbull Canyon, Azusa Canyon, Angeles Crest, Mount Wilson, Trabuco Canyon, Malibu, and Southern Cali's many other winding roads.
There's also the drag racing contingent; these are the guys who hit up deserted industrial areas in the Valley/Sylmar 818 area, Ontario, Compton/Maria Street, Terminal Island, City of Industry, and other spots to feel the excitement of drag racing.
However, in my years of living in Southern Cali, I've also come to learn that there are plenty of people out there who are into cars for entirely different reasons. Some people just enjoy wrenching on their cars and driving stylish looking cars on the street. That's cool, there's certainly nothing wrong with that. That's why the customized car scene in Southern Cali spans so many different genres and types… and it seems like each one of those different sects has their own car meet. Let's see, we have VIP meets, Honda meets, Scion meets, MR2 meets in Orange County, AE86 nights in San Gabriel Valley, Euro meets off Grand and Valley, Muscle car meets on Grand Ave in Covina, Supercar Sundays in the Valley, Exotic cars at Cars & Coffee in Orange County, JDM inspired 626 style cars at Tab Tuesdays, and sooooo many more. The list just goes on and on…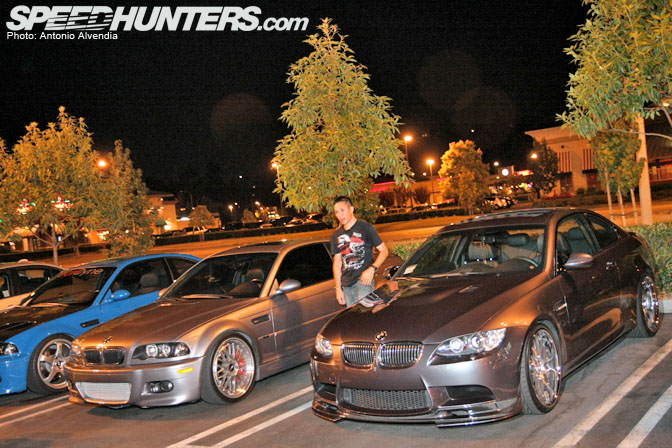 Here's a photo from the Euro meet that happens on Wednesdays in Walnut.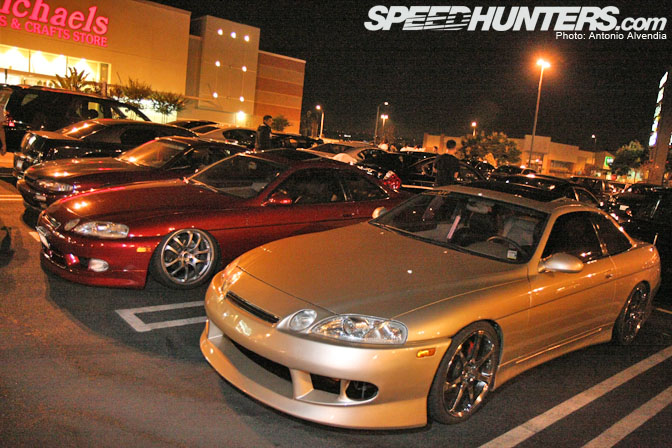 Here's another pic from a Club Lexus gathering – again, in Walnut, on Grand and Valley.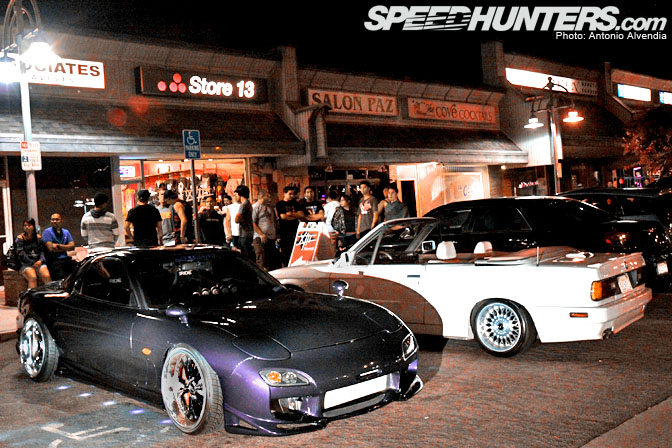 Can't forget Tab Tuesdays, which has been running strong for like 5 years in the West Covina/626 area.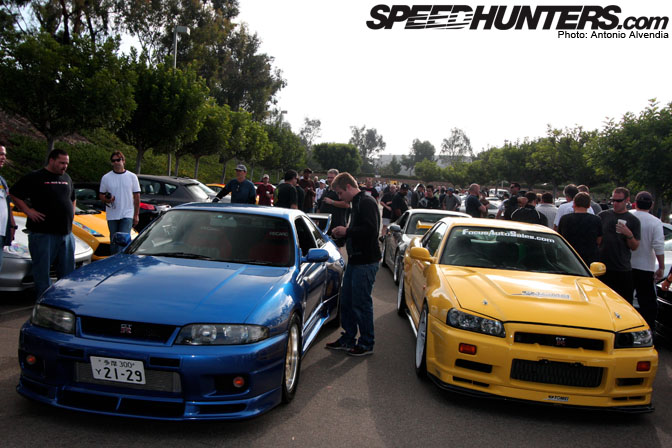 Early birds can get up to go to Cars & Coffee in Irvine on Saturday mornings; I'm surprised that people can wake up that early on a weekend! I guess they don't go out on Friday nights..?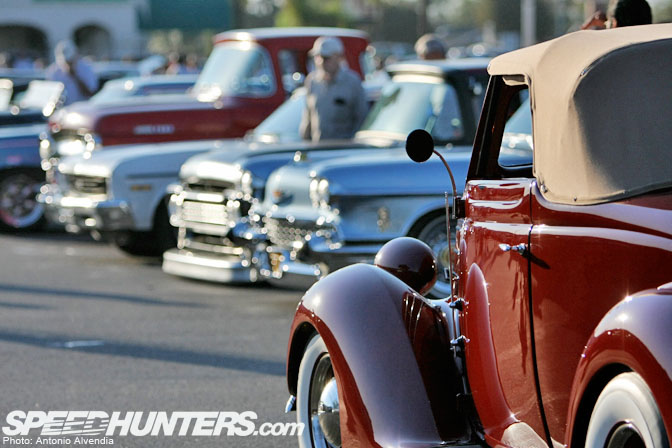 Don't think Southern California car culture is only Japanese or Euro vehicles. It's the classic car scene, muscle car guys and hot rodders that started it all, way back when. Even though I don't own one of these cars, I think it's super cool to see them driving around randomly on the street, or parked at meets, such as Donut Derelicts in Huntington Beach. Damn, this one is even earlier than Cars & Coffee! These guys show up at 6 freaking AM to get a good parking spot at this meet! Now that's hardcore! (and I'm guessing most of these car owners get to bed by like 8 or 9pm, if ya know what I'm saying…)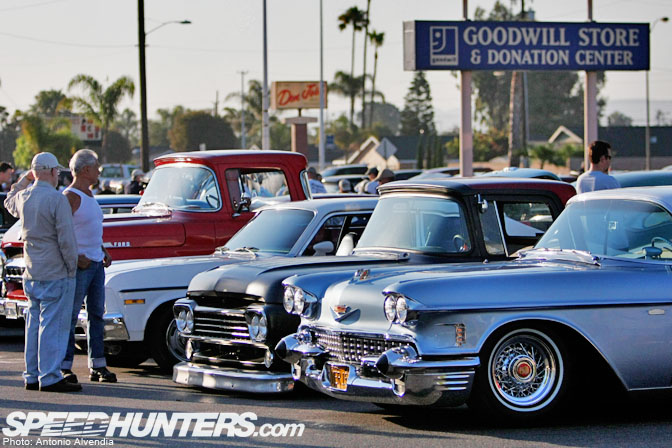 ..
Just goes to show, it's not only "young kids" that are into fixing up their cars… although, if you think about it, these guys were young outlaw punk kids at one point in their lives… and these were probably the cars that were cool when they were in high school, or maybe these were the cars they always wanted back when they were younger.
I think we'll see this trend continue 10, 20, and 30 years from now, when we take the place of the "old geezers" that come out of the woodworks early in the morning… but it will be with pristine condition JDM-styled EF, EG and EK Civics, AE86s, MR2s, S13s, S14s, etc for meets.
These cars will be super incredibly rare in 10 and 20 years, because currently, many of the people who own these cars are trying to "keep it real" by setting lap records in the canyons or drifting their junkyard spec cars into walls and such. Nothing wrong with that; that's what cars are for, I suppose. However I think that people with enough money, vision, and dedication should try to preserve some clean examples of these cars so future generations can enjoy them too. Just think how cool it would be to see a glass roof CRX slammed with Mugen wheels and a built up B16A cruising down the street, let's say, 20 years from now.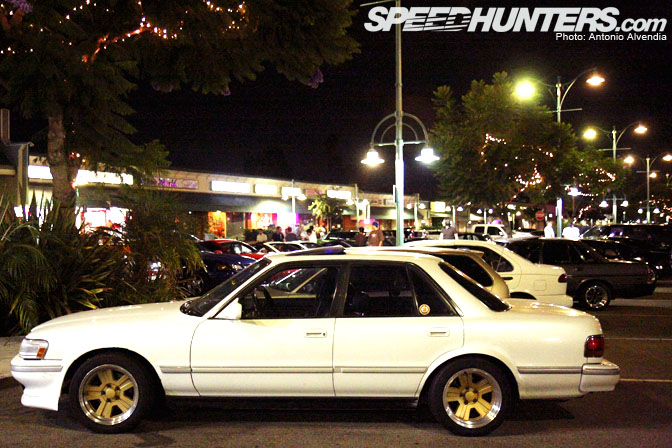 One thing I like about car meets is the variety of cars you get to see, all in one spot. Here's a Toyota Cressida (a micro-trend in the FR/drifting scene), which has been built up with Mitsubishi Starion stock wheels and a customized front bumper lip (I didn't get to see it up close). A lot of Southern Cali guys like these front engine, RWD cars because of the resemblance to the Toyota JZX81 MarkII/Cresta/Chaser platform in Japan – there are quite a few of these Cressidas popping up in the San Fernando Valley and San Gabriel Valley areas…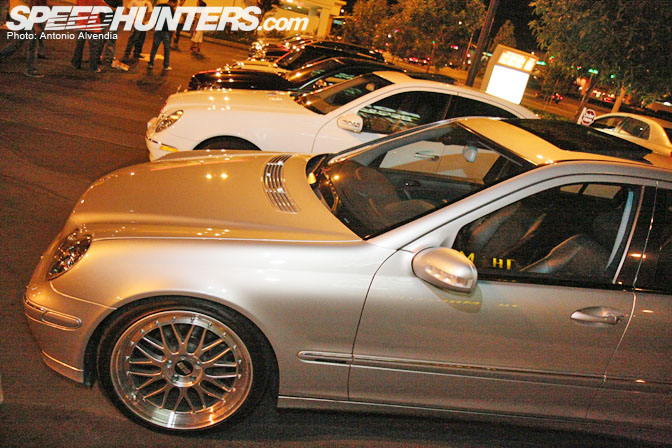 Of course, you can't forget the Benzos… another photo from the Euro meet in Walnut.
You know, when Rod asked me to do a "101" article on the different car meets
happening in Southern California, I was kind of confused to be honest.
To me, the title "The 101" implies that I'll be schooling the readers
on something or dropping some sort of knowledge I suppose… but that's
not really my intent here. After all, am I an expert on Southern Cali
car meets?! No. I don't even know how one would get to the point where
they were considered an "expert" or guru on "car meets." Doesn't that
sound funny? "Hey guys, let me introduce you to ________, he's a car
meet expert." LOL that sounds ridiculous!
Anyway, these are only some of the car meets that I've been to… I'm sure other Speedhunters readers from Southern Cali know of a lot more meets than I do! What meets do you guys go to? Leave us a comment and let us know the time/place/location!
I know, for instance, there's a big Scion meet going down at Knott's Scary farm this Thursday, October 23. What else do you guys know of? Post up your favorite meets! Location and Time and Day and all that!
-Antonio Alvendia