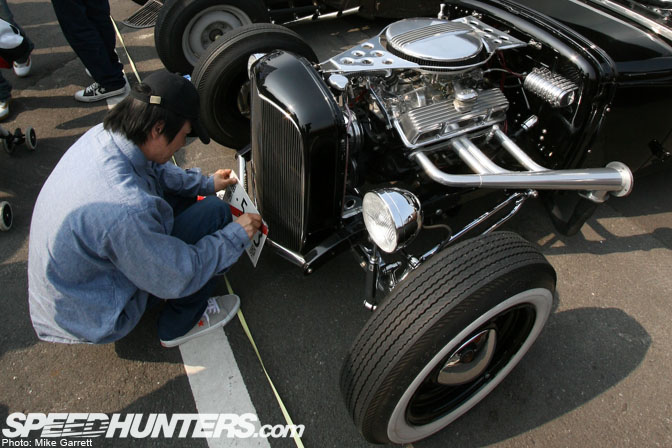 Way back when Speedhunters launched, I wrote a brief introduction about car culture in Japan and the the diverse automotive styles that can be found here. One of my goals has been to show that there is much more to Japanese car life than just the "JDM" stuff you hear about most often in the auto media. Obviously, a large part of our audience are primarily interested in the traditional sort of Japanese tuning, but I hope showing some of these other "sub-cultures" iwill expand people's appreciation of cars in general and help them grow as enthusiasts. And that brings us to a look at the world of traditional kustom car building and hot rodding in Japan.
Instead of trying to explain how the history of Japan's kustom scene, I will leave that to a pair of news features that my friend Leeroy from the Japan Times sent me. They can be found here and here and I highly recommend reading them to anyone who has even remote interest in Japanese automotive style. Both of the stories were written by Michael McCabe, the author of the book Kustom Japan, which I posted about here a while back. McCabe traveled all over Japan examining the kustom and hot rod movements here and documented his findings in the book.
The articles talk about how the kustom movement started in Japan and how American hot rod and lowrider culture influenced a new generation of young Japanese people to go against societal norms, just as the original American rodders did in the early days. Japanese people are known for taking outside things and making it their own, and the Japanese kustom world is no different with its original building techniques and also the use of domestic vehicles in addition to imported American examples.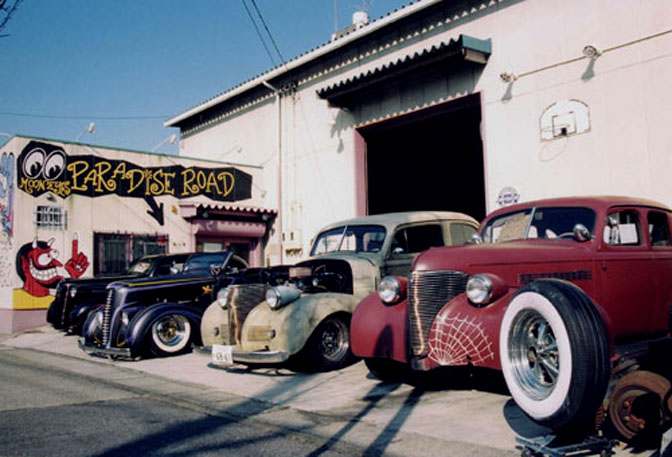 One of the shops featured in the above articles is Paradise Road , located in the industrial city of Nagoya in central Japan.This shop photo from their website just hints at the kind of stuff they do. They are one of Japan's original kustom car shops and their builds have received praise both in Japan and abroad. Their '31 Ford sedan "Rod"riguez" (photos found in Rik Hoving's archive) in particular is a world-class rod.  According to the McCabe's articles, the Japanese kustom scene first started in the Nagoya area and from there spread to larger cities like Tokyo and Osaka.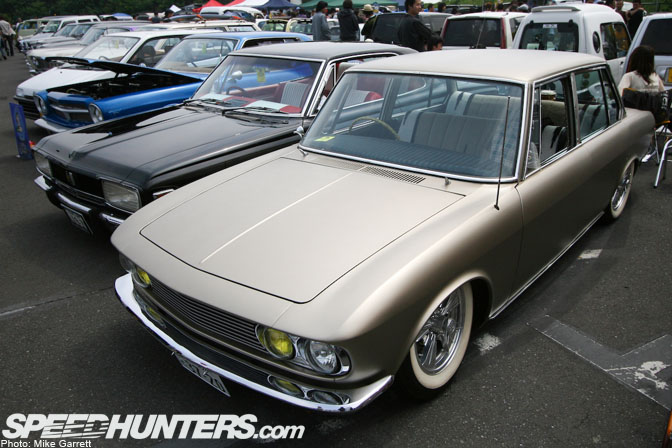 The biggest player in the Japanese kustom scene would have to be Mooneyes. After expanding from its Southern California roots, Moon has become Japan's largest organizer and promoter American-inspired car culture. One of Mooneyes' biggest events is the yearly Street Car Nationals which have been happening in Japan since the late 1980's. I attended this year's event in Odaiba, and seeing the wide variety of customized cars was a totally different experience from other Japanese car events. In fact, I really can't think of another car gathering like it anywhere.
Here are just a few examples I found at this year's show-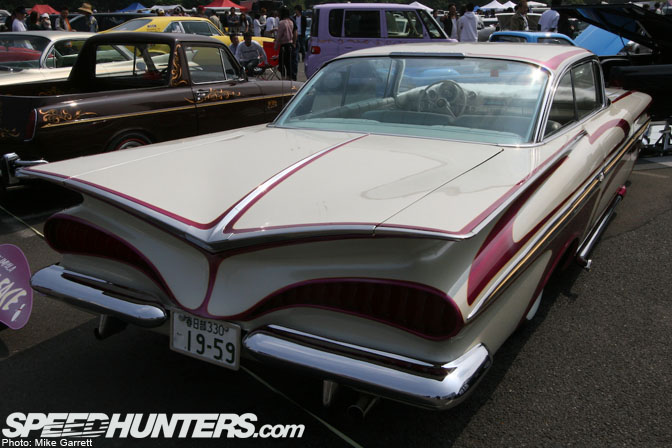 The "Two Face" '59 Impala might look familiar as it's the same car featured in the issue of Cruisin' Magazine that I profiled last week. This a perfect example of a traditional late '50s-early '60s kustom with its completely transformed rear tail panel, overt paintwork and period correct customized interior. In my opinion, I think it would be cooler cruise around Tokyo in this car than a Lambo or Ferrari!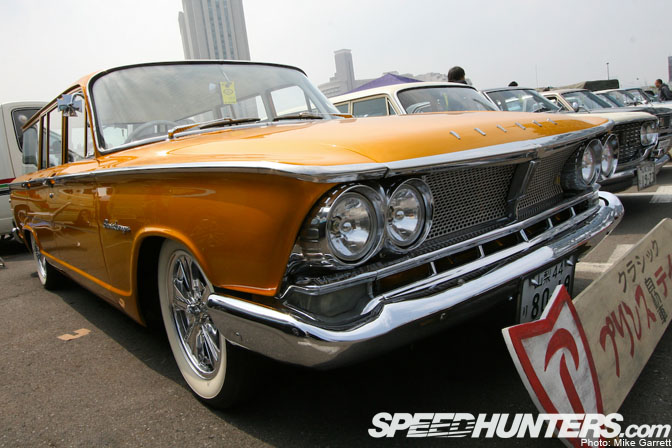 The styling of '60s and '70s Japanese cars borrowed a lot from their American counterparts, and dmoestic kustoms have become quite popular in Japan. The most common would have to be the '60s and '70s Toyota Crowns, but this second generation Prince (Nissan) Gloria wagon I saw at the Street Car Nats was so awesome! You could take this car to a stateside classic car show and the only things that might give away its foreign origin would be its smaller body size and the fact that it's right hand drive.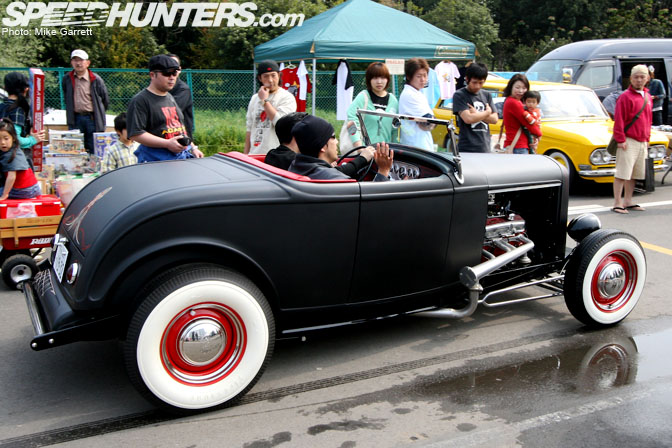 Ah yes the iconic Ford Roadster. It's no surprise that a good number of these have found their way across the Pacific and into the hands of Japanese rodders over the years. In the photo above you can see all of the people pausing to check out the car as it rolls past them. That's what I call presence!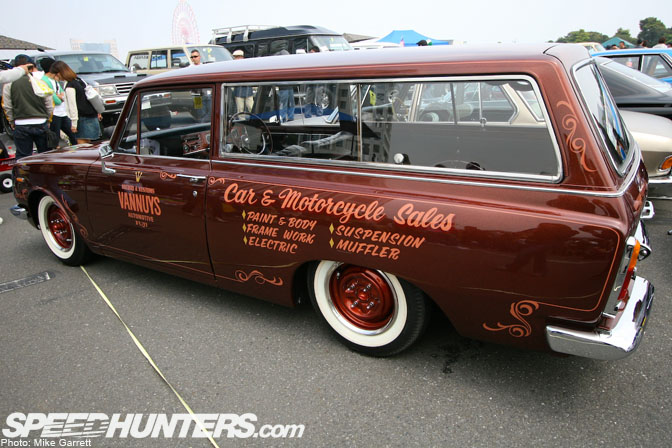 Another fine example of Japanese domestic kustom style is this Toyota Corona two-door wagon built by a well known shop called VANNUYS in Fuji City. The two-door Corona wagon is very rare car in itself, and with the traditional pinstriping, wide whitewalls, and door logos it gets even cooler. This car is basically a smaller, Japanese version of the iconic Chevy Nomad wagons.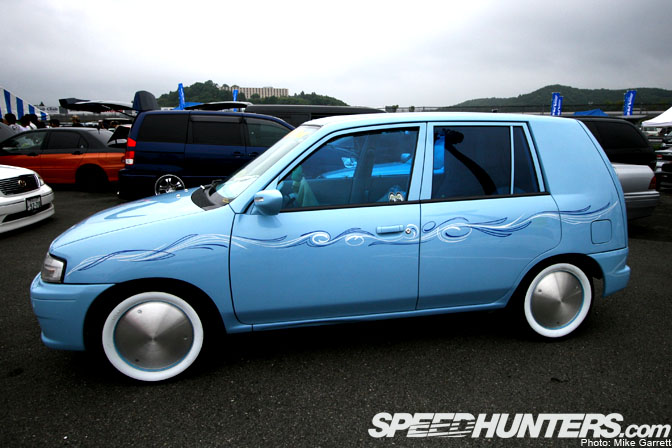 Taking the theme even further are late model Japanese compact cars modified in traditional kustom style. These offer a much more affordable and practical alternative to real vintage kustom cars. Some purists might think that seeing traditional styling elements on a modern Japanese compact might be blasphemy, but personally I think it's pretty cool. It also shows just how far the kustom influence has spread in Japan.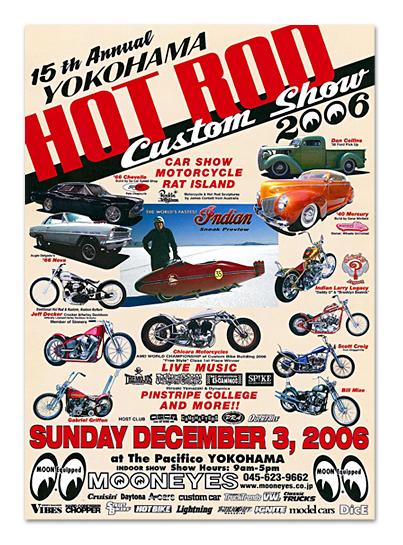 One of the biggest events in the Japanese rodding and kustom scene is the annual Yokohama Hot Rod Custom Show which is held every December. The show not only draws cars and bikes from all over Japan, but from the United States as well. Besides the cars and bikes, there are all of the other kustom kulture elements you would expect like art, music, and fashion. I am really looking forward to experiencing this year's show!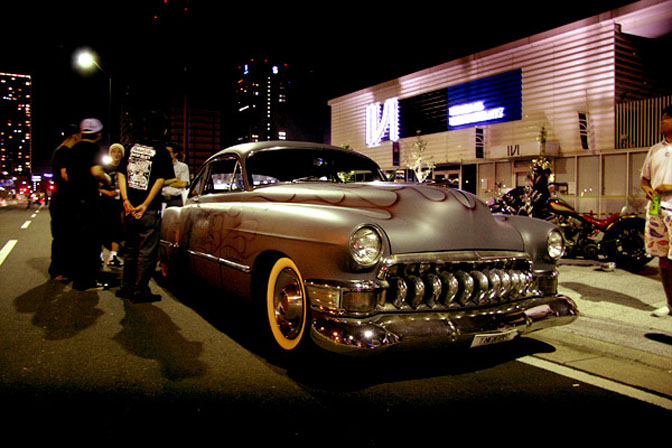 Another of of the regular events that Mooneyes hosts are the "Hot Rod Nite" cruises held several times per year in their home neighborhood of Honmoku in Yokohama. During these casual gatherings, tons of vintage cars and bikes fill the streets for a night of cruising and hanging out, just like in the states. These photos were found in Snapshot section on the official Moon site. This is rodding at its purest!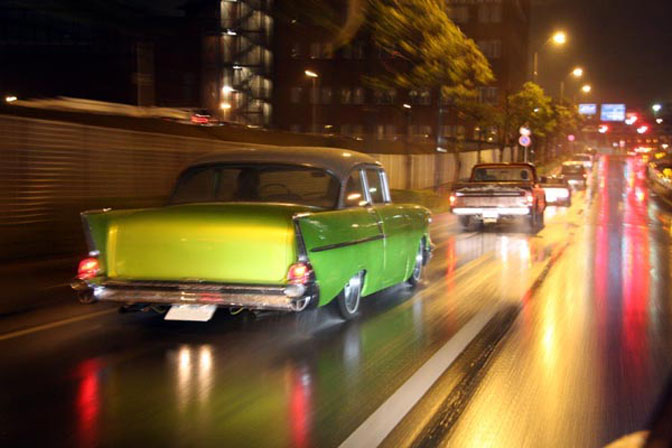 And to wrap things up, another really cool shot from the Yokohama Hot Rod Nite. Vintage machines cruising down a rain-soaked Japanese street makes for quite a cool scene, don't you think?
-Mike Garrett