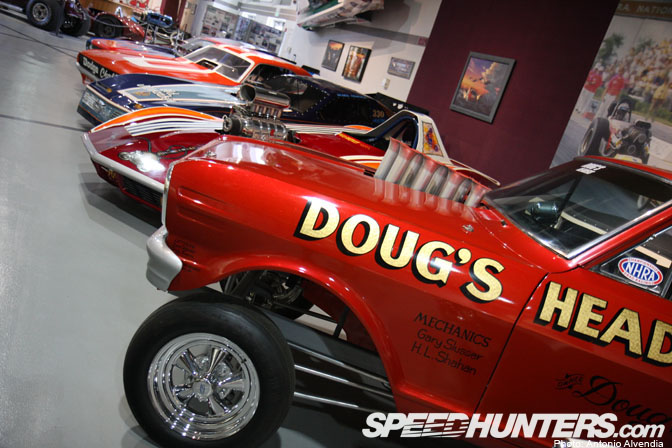 Wow, where exactly has the time gone? It seems like it was only a moment ago that we were announcing Porsche month for September and then SoCal month for October and now… November has arrived!
So this is my last SoCal-themed story. I'm very busy right now prepping for SEMA, Super Street Super Lap Battle, the Red Bull World Drifting Championship and our upcoming Nissan Month. I'm also working on two other big projects which are taking up a lot of my time and energy. We'll be taking the wraps off one of these projects soon which I'm quite excited about……. Anyway… must keep focused on writing this blog posting!….
Question: what happens to old race cars when they are no longer competitive?
Well, some are sold off to regional or overseas series and usually end up getting lost or junked. Some are retired and boxed up by collectors… and others are kept by their original teams… Others are never retired and just keep racing.
Many a famous racing car from the 1950s and 1960s have gone missing. This is especially true in American scenes such as early NHRA and early NASCAR. I've read that older race cars from this period that were no longer competitive were thought to be of no value or use, and were sold on and continued to race in local areas until it was time to re-body or completely scrap them. For example, very few of the NASCAR championship-winning cars from the 1950s or 60s still exist.
As a result, there's now an active scene of car builders taking the time and money to recreate exact replica race cars. This is happening all over the world. In some instances it's too risky to thrash a million-dollar car at a vintage racing event, so why not just build a new car from the ground up? I wonder if someone in 30-40 years time will make an exact replica of the Papadakis/Rock Start/Foust 350Z for vintage-style drifting demonstrations?
Will there be a museum of drift?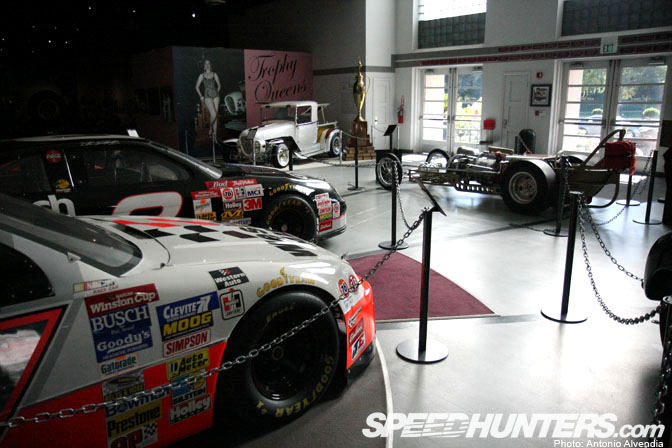 Let's look at another type of museum: the NHRA Wally Parks Motorsports museum in Sonoma California. For me, it's always a bit of a "pinch me" moment when I go to a racing museums. I just love to see in the flesh, the cars I've been worshiping for decades….
At the museum we discovered a NASCAR retrospective. The two cars on the left are 1990s era machines. But,  my eye was drawn to the two cars near the entrance…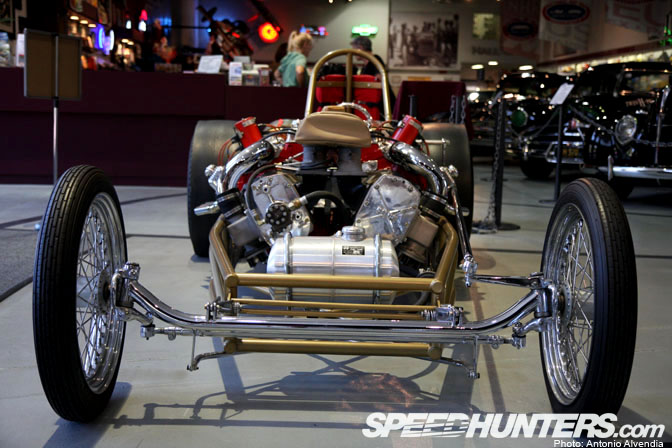 This recreation dragster is aptly named "Two Thing" for its twin engine setup. It's an exact replica of a rail what was built in 1960. Back in this period, the NHRA banned the use of Nitro, so some teams experimented with twin engine set ups as a way to claw back the lost power.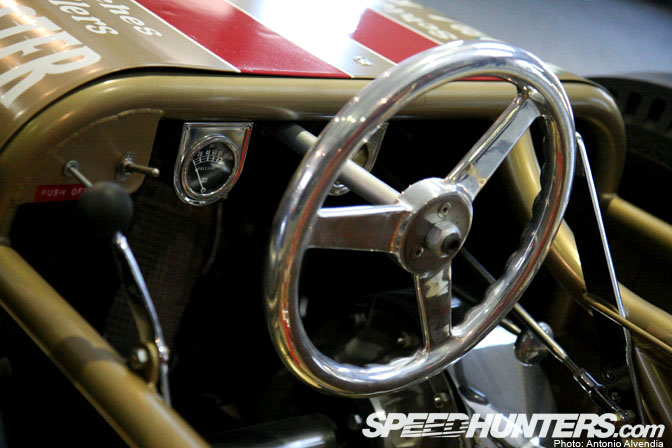 I just love the utilitarian, mechanical purity of old race car cockpits. I've never seen a fully metal steering wheel before!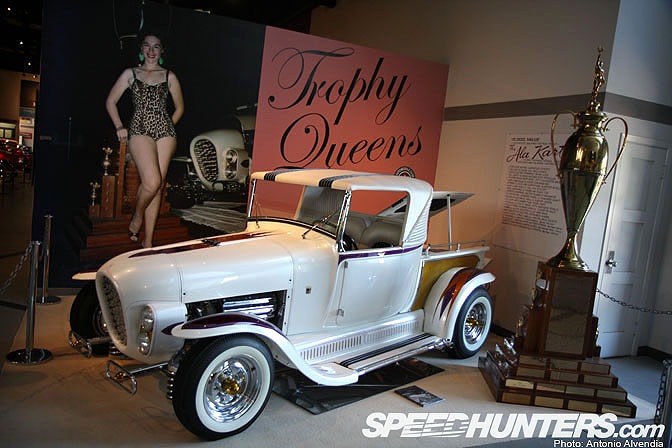 This is a piece of living history… the famous A La Carte built by Barris. It's a great example of a hot rod built up in custom style.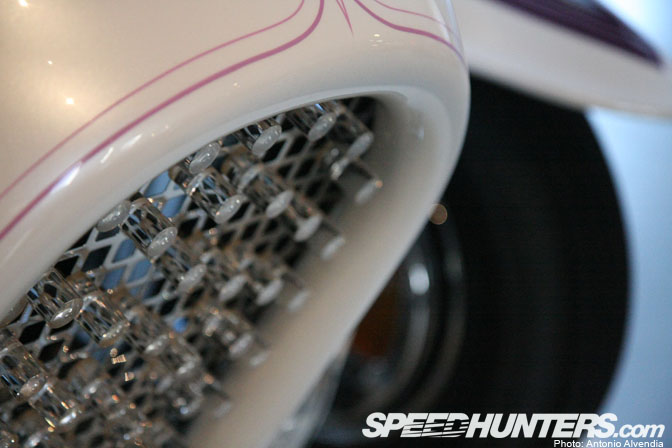 Amazing photo of the plexiglass grill details.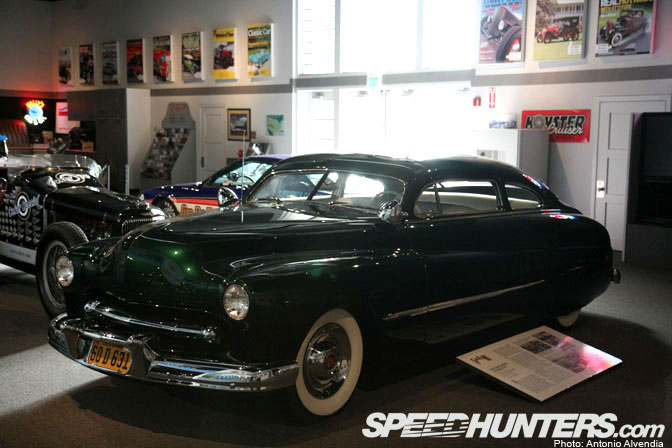 Ground zero.
This is Sam Barris' original 1949 Mercury — thought to be one of the first '49s to ever receive a roof chop. It's a truly trend setting car and likely one of the most important customs ever.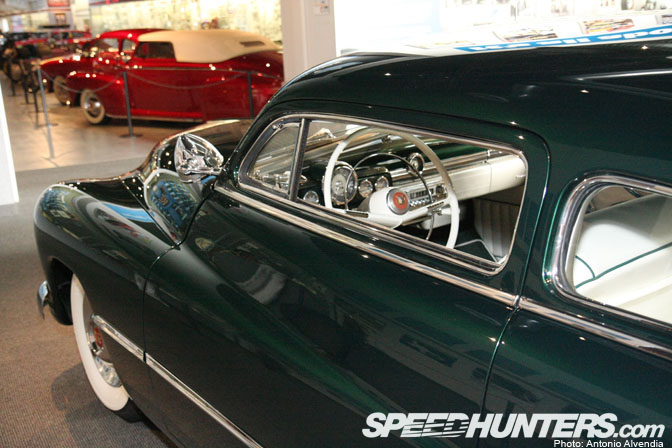 A moment of silence please. Let us to observe the classy lines of this important piece of custom car history.
Early
1950s custom cars were designed to be improvements on the original
designs. Most builders designed their updates to make the car look more
expensive, smoother and modern than the originals. It's thought that
many of the cars from this era influenced the styles of Detroit's
design studios through the 1950s.
By the late 50s customizing had
lost this sense of subtlety and moved into a more perhaps, baroque and
fantastical direction. You can see the parallels in what some people
now call SpoCom, VIP and JDM style. When car style goes into the
ridiculous, it generally has nowhere to go but back to functionality
and principles of good design.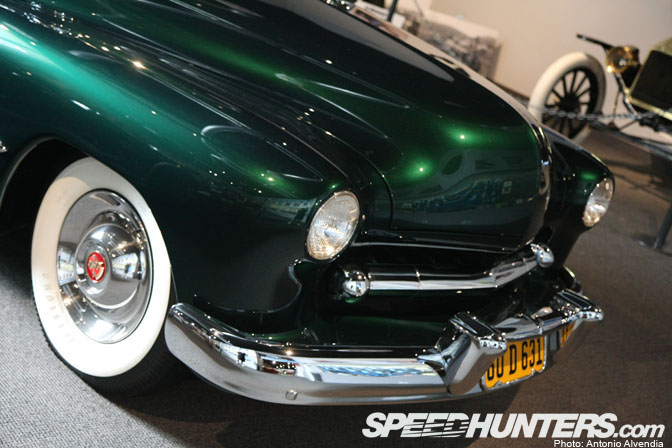 I will call this photo: purity of style.
I could write an essay about the history and importance of this car… maybe we'll save that for another day though!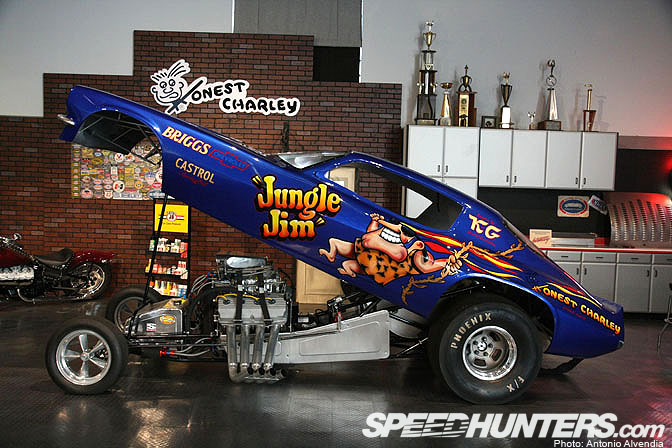 Across from the Merc was other piece of history: a Jungle Jim Camaro Funny car. Stellar.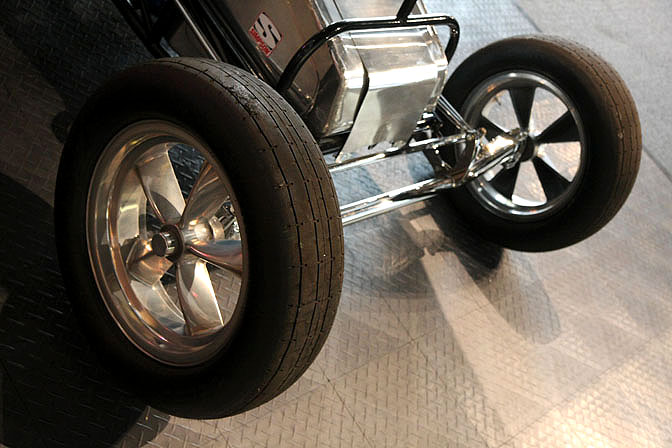 I love vintage racing wheels….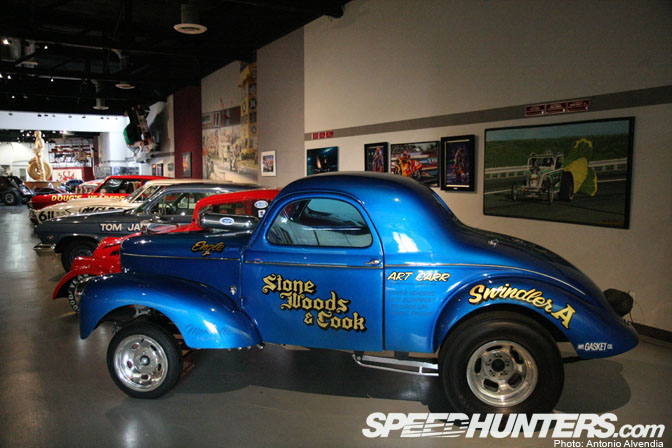 OK, a religious moment…. here is another iconic machine from drag racing history: the Stone, Woods & Cook "Swindler A"1941 Willys Gasser. For the young children reading this story; there was a time in the early to mid 1960s when it was the Gassers that drew the crowds to drag strips around the country. Back then, it was relatively cheap to pull an old Willys coupe from a junk yard, strip it out, work on the suspension, strap in a blown Hemi and go racing.
This car used to run into the 8s if you can believe that.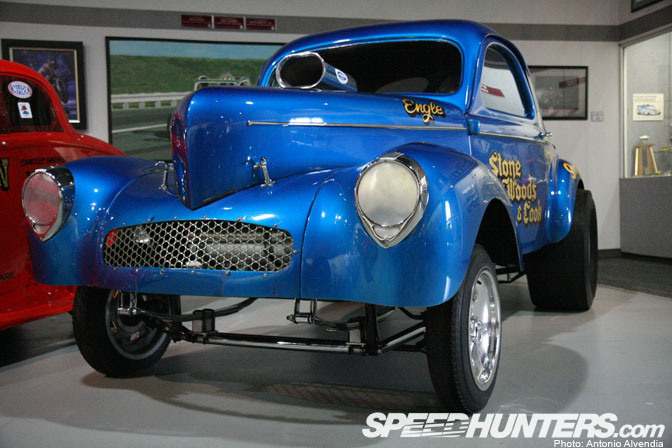 The idea behind the high front end was to transfer as much weight onto the rear wheels as possible during a drag launch.
Back in the day it was common for cars to be built as both show and strip cars… evident by the chrome on this Willys.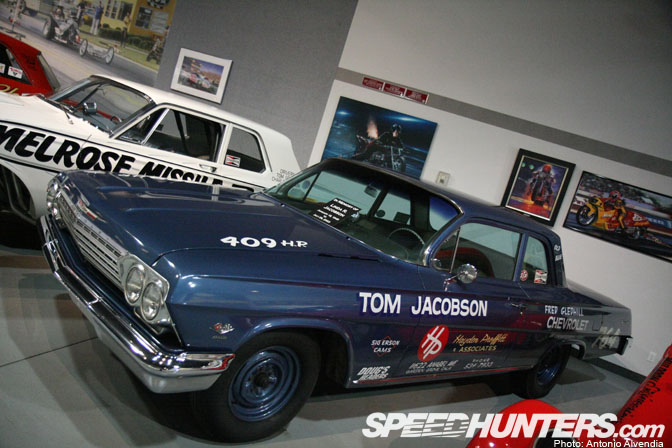 Here's a great example of a well-preserved Super Stock Biscayne. These cars were light-weight, high powered factory specials built specifically for drag racing. It's a perfect expression of the "Win on Sunday, Sell on Monday" ethos.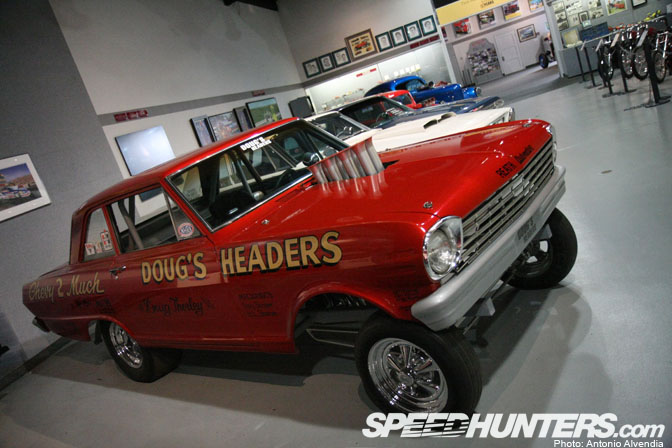 An example of the type of car that caused the death of the Gassers. This car is known as a A/FX machine or Factory Experimental. This type of car evolved from Super Stocks that had taken their modifications to extreme levels; well beyond that the class definitions.
For a while, these cars ran in exhibition match races only; outside of any known class. The modifications became increasingly extreme; engines were set back, practically into the cockpits, wheel bases were completely altered to gain better weight transfer into the rear tires and body panels were replaced by fibreglass.
The cars looked so crazy that people started to call them "Funny Cars"…
This 1962 Chevy Nova "Chevy 2 Much" is a great example of an early Funny Car circa 1966. It is a period perfect recreation from the original builder and owner of the car.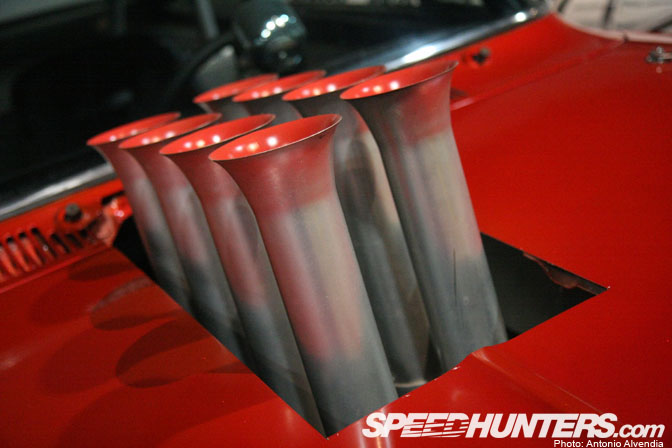 Cool faded paint on the injector stacks.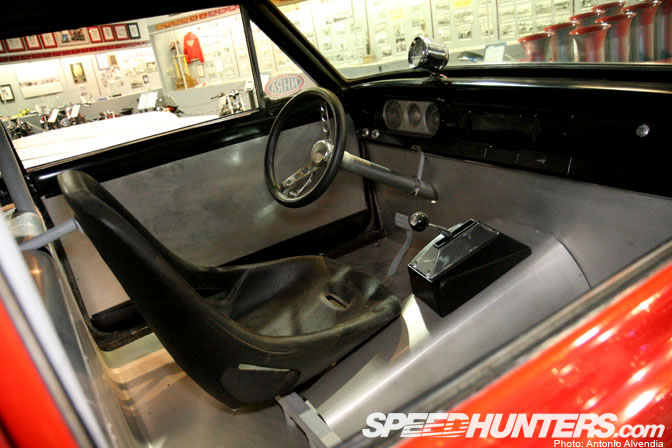 Look at how Spartan the cockpit is. Not much in the way of safety equipment on this car…
The Nova's best pass was a 9.04 pass at 152 mph.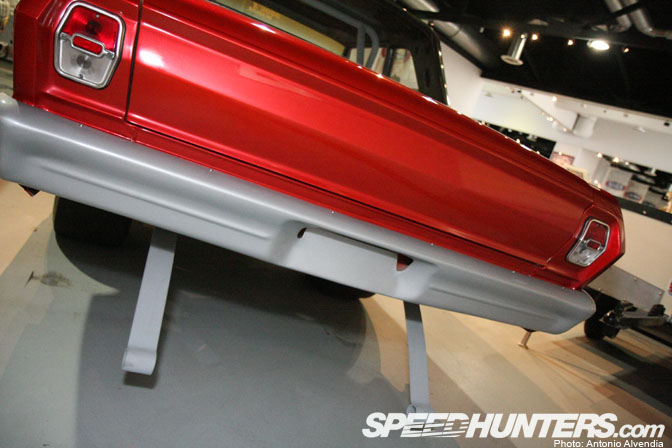 You can see the rear bumpers have been replaced with fibreglass units…. The wheelie bars must have made some nice sparks huh?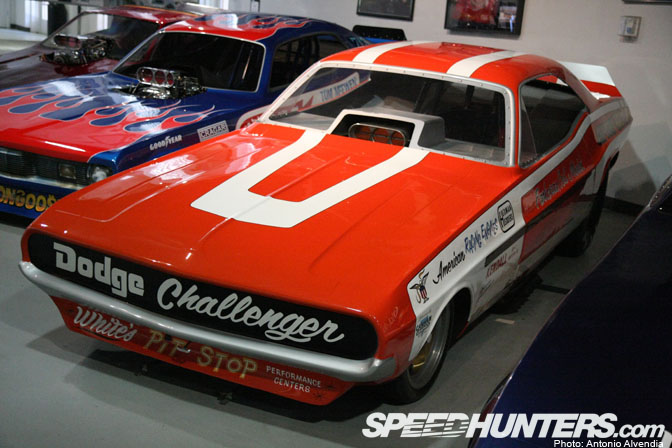 This 1971 Challenger Funny car is all original. It was built 5 years after the AF/X Nova but you can see that the technology and build style has completely changed. Although the basic form layout of this flopper is still carried on in today's funny cars I do prefer that the shape of the car still looks fairly close to an original production car.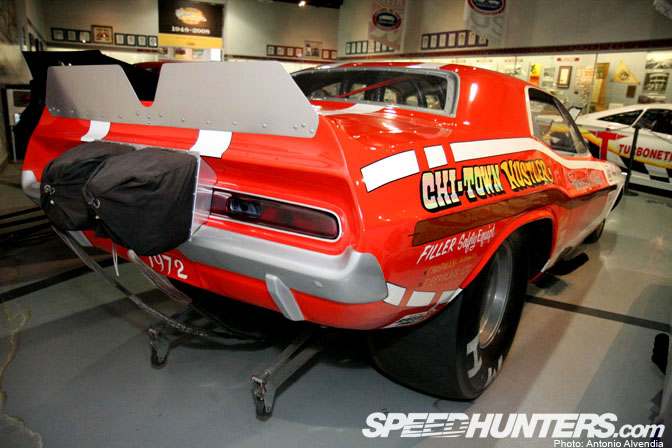 Ahhh sigh……. I am 4 years old all over again!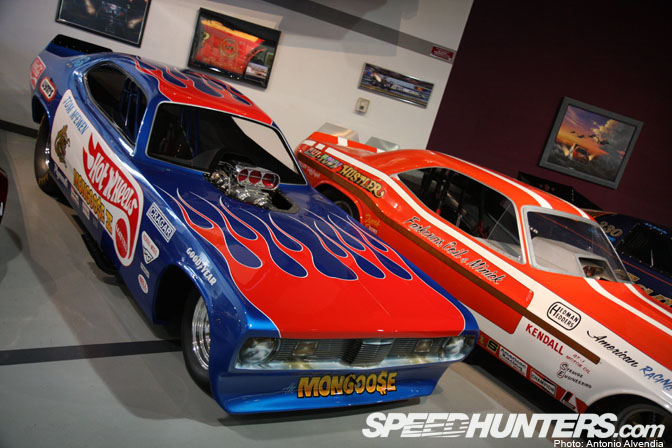 Next to the "Chi Town Hustler" Challenger is this Tom McEwen Hot Wheels sponsored "Mongoose" funny car. I think this is a Duster if memory serves me correctly.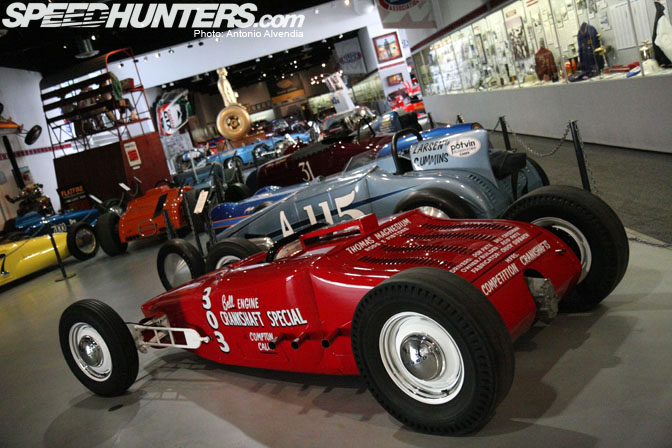 There was also a complete wing in the museum for land speed record dry lakes racers. I'm not that well-versed on this type of racing it has to be said….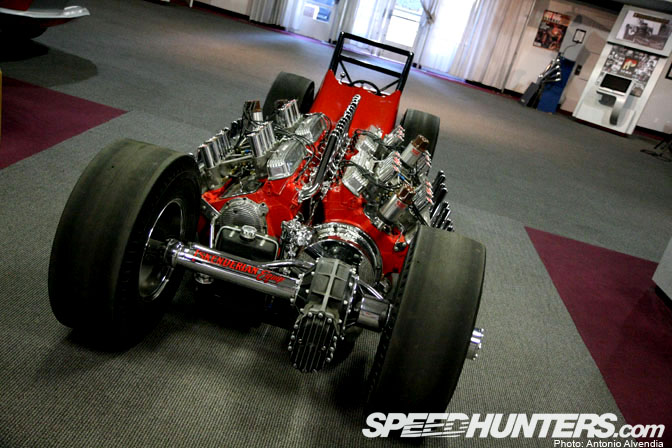 Just being loaded back into the museum from a weekend out at the California Hot Rod Reunion, was this absolutely mad AWD four engine dragster build and piloted by "TV" Tommy Ivo. The NHRA made sure this car was regulated to doing exhibition passes back in the day…
Its AWD burnouts are now the stuff of legends.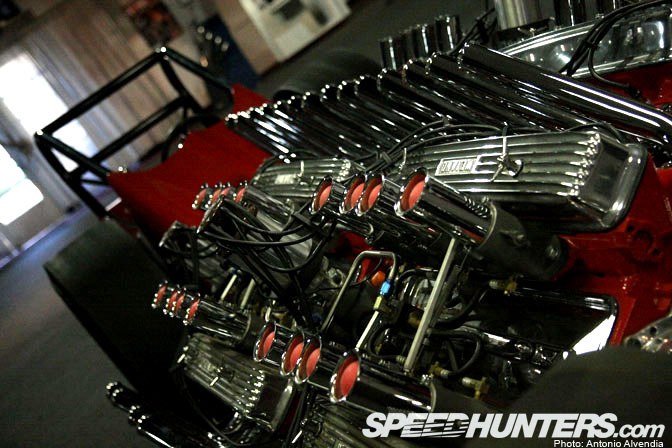 In its later life, the car ran with a stretched-out station wagon body. This original car still exists in this form. The car in the museum is a recreation of the first iteration.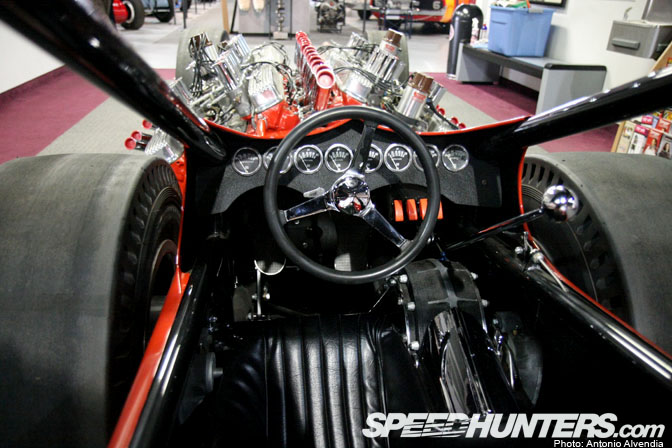 Try and put yourself into the driver's seat here. You have eight open pipes blowing straight over your head. The open rear tires are right next to your body and you are practically sitting on the rear axle..
Pure madness!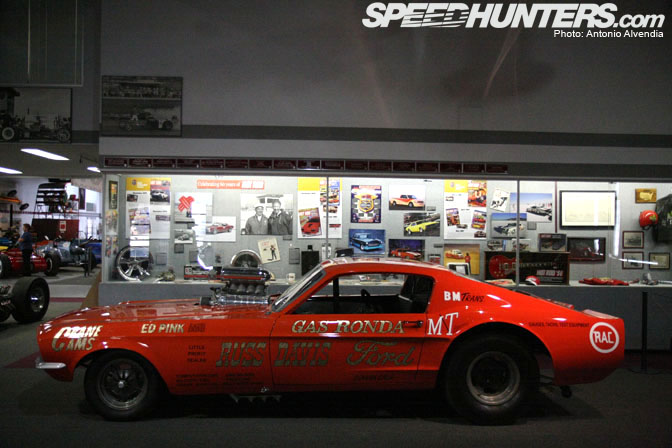 This is a great example of an early funny car which is taking the last step between the jacked up AF/X monsters and the tube chassis one piece flip tops. This car looks similar to a normal Funny, but if you look closely you'll see it has functioning doors and a separate front clip.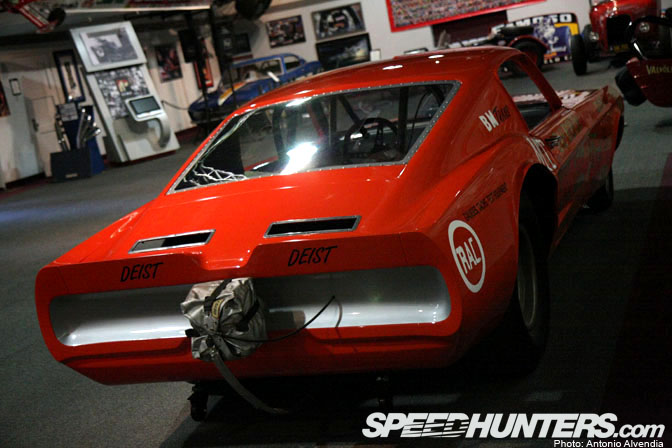 They don't make them like this anymore, huh? This car makes an attempt to appear like a production car, although, you can be sure the only production component is perhaps the name "Mustang."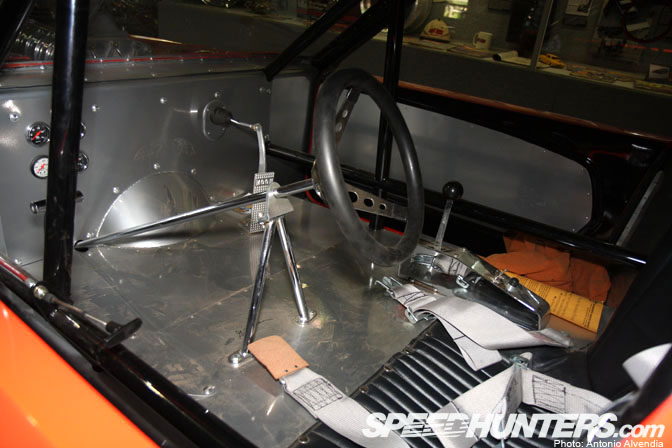 Look at that throttle pedal….
And the driver appears to be lying on a big sheet of aluminium…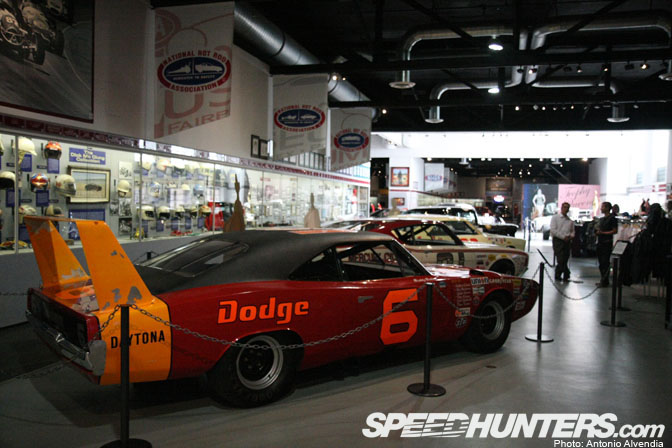 The current special exhibition at the museum looks at the history of NASCAR.
This 1970 Dodge Charger is an exact replica of the car that Buddy Baker raced in the 1970 NASCAR season. The Dodge Charger was the first car to break the 200 mph barrier at Daytona with a 200.47 lap on March 24th 1970.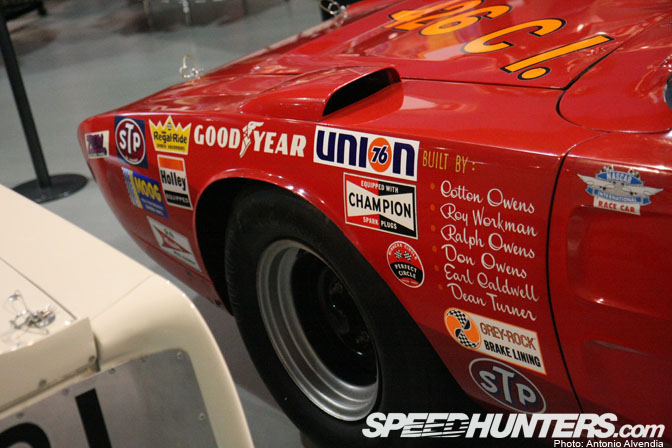 I'd love to see a vintage NASCAR race series. Wouldn't that be cool?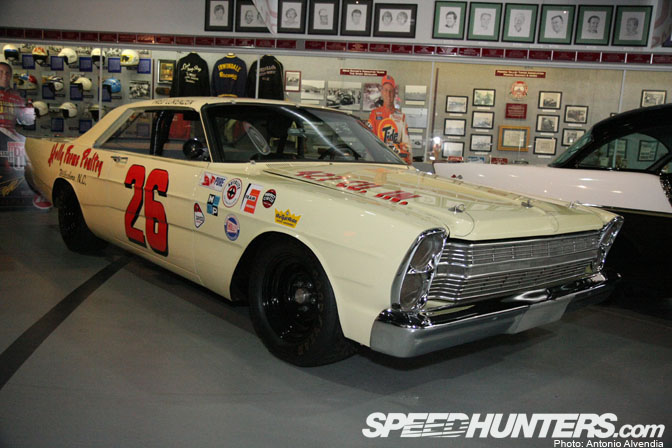 There is a subculture in Muscle car circles in which people build up street cars carrying the visual style of 1960s Stock Cars. One cool alternative to the Pro Touring style for those that like to find period specific inspirations. I could see this car driving down the road, looking tough and purposeful… or do you think it would be better with 22 inch rear wheels? Hahaha… will be interesting to see if Pro Touring-style cars are out in force at SEMA next week.
We hope you've enjoyed our SoCal themed stories. Antonio remarked the other day that it seems like we could keep writing about this stuff for the rest of the year! Indeed, we have only scratched the surface of the different car scenes in the greater LA area.
I'm amazed at how many different car tribes co-exist in this part of the world. I don't think there is a car culture hot spot so diverse elsewhere.
Ok that's it for me.
Best,
:Rod