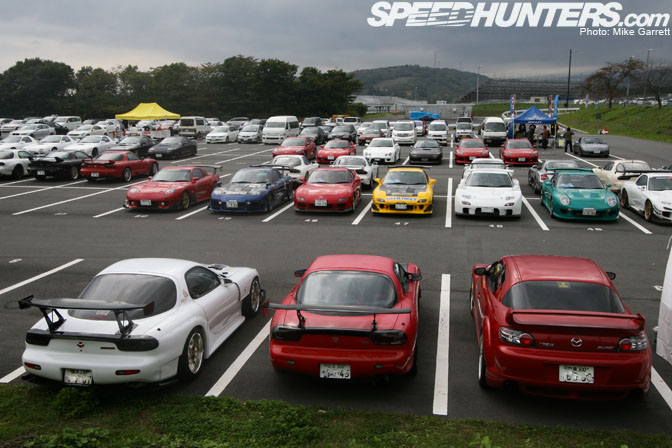 Before I move on to the rest of my D1GP Fuji coverage, I wanted to take a quick break and post up a few photos from the all-rotary meeting that was held at Fuji Speedway alongside the D1 event. I was pretty occupied with shooting D1 itself, so I didn't have time to look at all the sexy FD's and RX8's very closely, but I was able to go for a quick walk around the meet and snap a few pictures along the way. Japan's big rotary tuners like RE Amemiya and R Magic had a big presence there and their parts could be seen on a number of the cars packed into one of Fuji Speedway's many parking lots.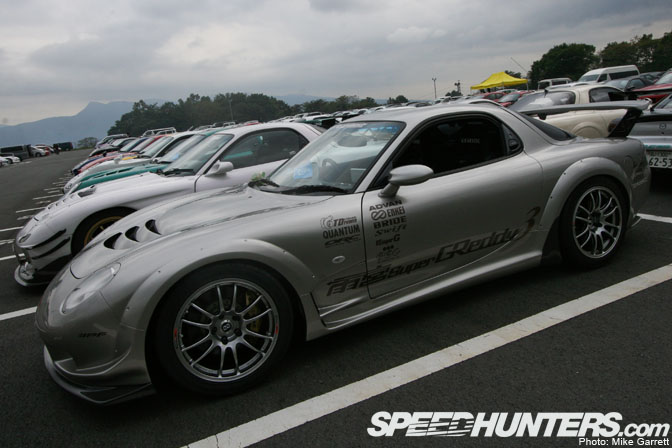 It's no secret that Ama-san likes to use Enkei wheels on all of his demo cars. These particular wheels are called the GTC01 and although I didn't really care for them at first, they have really started to grow on me lately. Actually, the majority of the RX7's at the meeting seemed to be wearing Enkeis of some sort.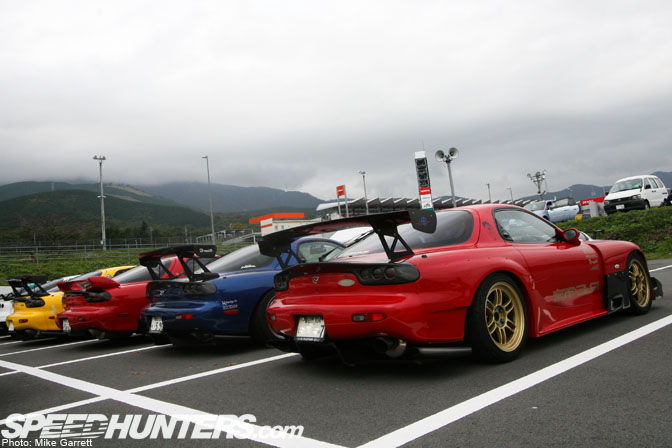 You can't go wrong with a red FD3S, especially one loaded it up with Amemiya parts and a set of RPF1's. Six years after leaving production, the FD is still one of the most popular tuning platforms in Japan by far.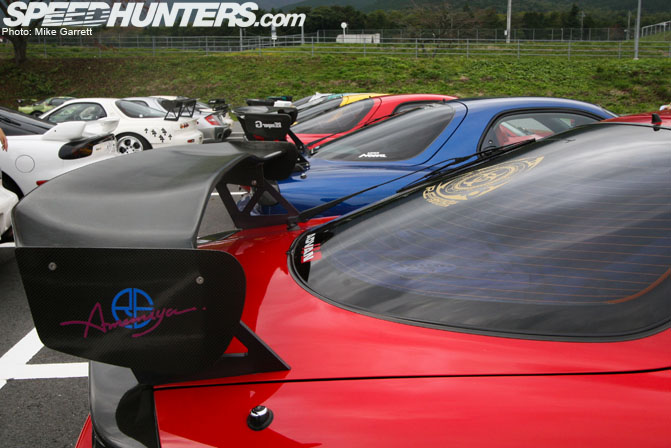 I also dig the old style Amemiya logo on the GT wing of the red car.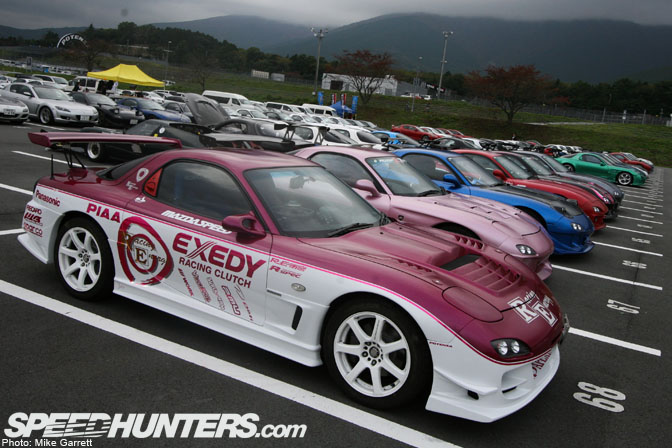 Another FD3S done up in R-Magic's signature purple and white livery.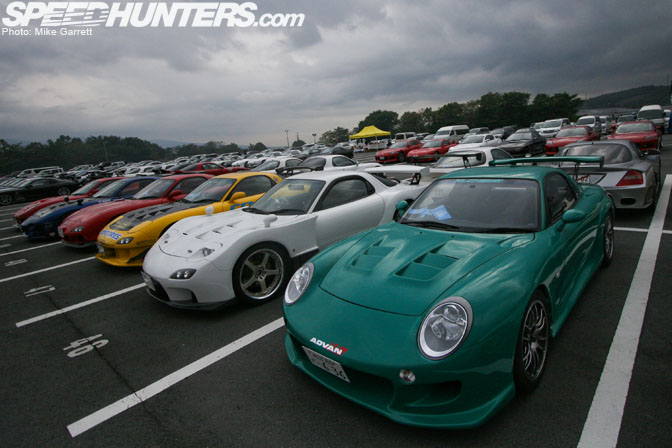 This green car is rocking the same RE Amemiya Porsche-inspired front end conversion as Masao Suenaga's D1GP car.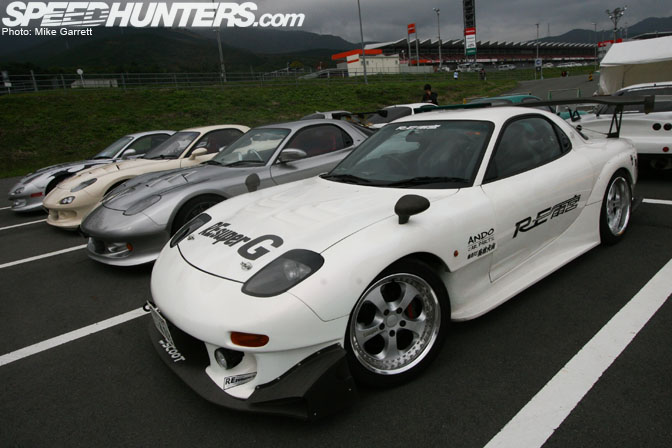 I think the old school RE Amemiya wheels look cool to this day.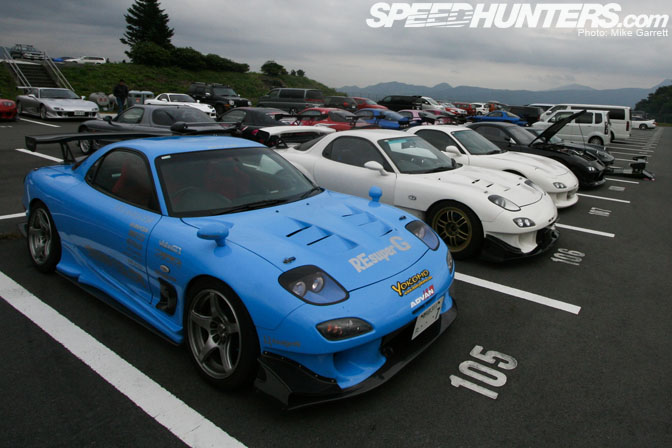 Amemiya's signature color. I'd say this is pretty close to what I'd end up with and FD chassis and unlimited budget.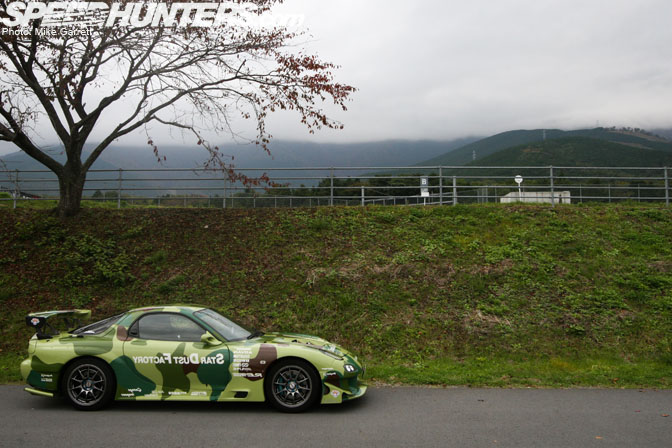 If you look at this photo REALLY closely you can see Star Dust Factory's camo'd FD parked in front of the hill. Ready for combat I guess?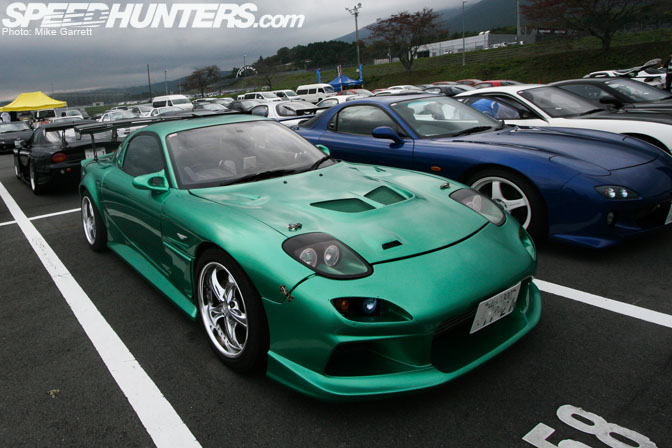 Just some more FD goodness here.
I wish I had more time to look at these cars closer, but there was so much going on at D1 over the weekend. I did, however, spot one more pretty unique machine at the rotary meeting and I'll be posting a little more about that one soon.
-Mike Garrett