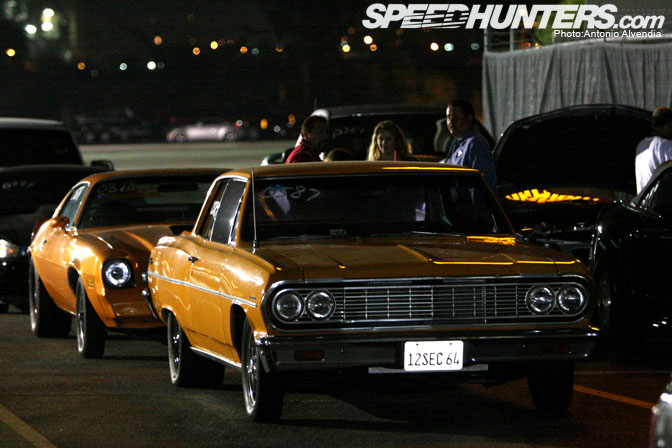 For the vast majority of the Speedhunters' readership, Irwindale Speedway is the House of Drift. It is considered by most people to be the epicenter of the US drift scene; the place that has seen the evolution from amateurs making smoke in the parking lot, to the professional, multi-car, factory supported teams we see today.
However, for an entirely different group of people, Irwindale Speedway is the place to be on Thursday nights…. and not for drifting… no not at all… it's the home of a group of people who like to call themselves "Street Legal Drag Racers".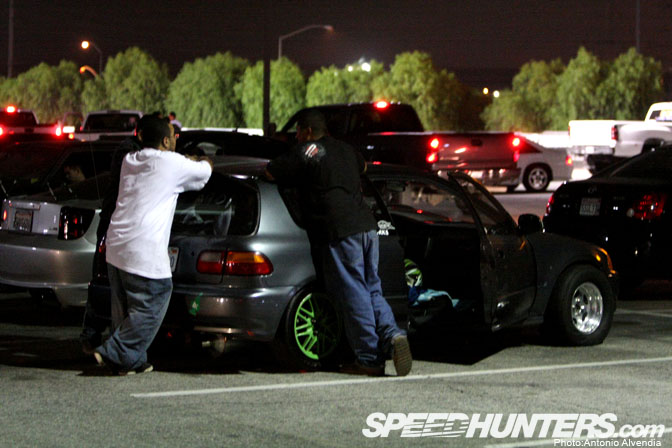 A few years back, Irwindale Speedway added a 1/8th mile drag strip to their oval track, and started to work with the local police department to get local street racers to move their speed activities onto the drag strip. Get caught street racing in the Irwindale area and you'll be handed a ticket voucher to come out to the Thursday night drags.
I think it's a great plan; rather than attack young people's inherit need to explore the limits of their cars, the idea is to give them somewhere to go and drive fast. It is a real positive and creative solution. Let's face it; many young people like to drive fast: period…. this program teaches them responsibility and pushes their speed fixation into the direction of motorsports.
A good thing IMO.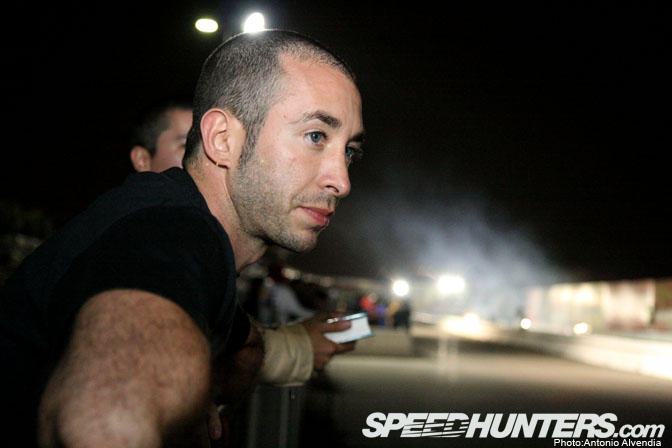 On the Thursday night, before the Formula Drift Irwindale season finale, Antonio and I went down to Irwindale's Thursday night drags with fellow Speedhunter and factory Scion drag/time attack racer Chris Rado. It was kinda fun to see Chris spectate at a drag meeting as he really didn't seem to know what to do with himself! Normally, he is the guy burning out in the staging area, not the one Speedhunting from the sidelines.
In this picture you can tell he is thinking about bringing one of his Scions down to the next meeting…..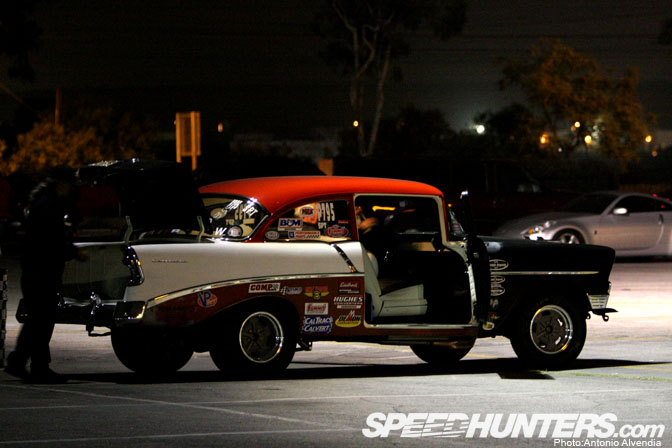 One thing I love about the Irwindale scene is that it has an equal
measure of Japanese, muscle, trucks, motorcycles, classics, street and full
race cars. Doesn't really matter what kind of machine you have, bring it out and
run it down the strip. It's an all inclusive, participatory scene, that in my mind has a lot of parallels to the track day scene that surrounds the Nurburgring Nordeshleife in Germany.
Check this mild gasser style 1956 Chevy. Love the look of the stickered windows.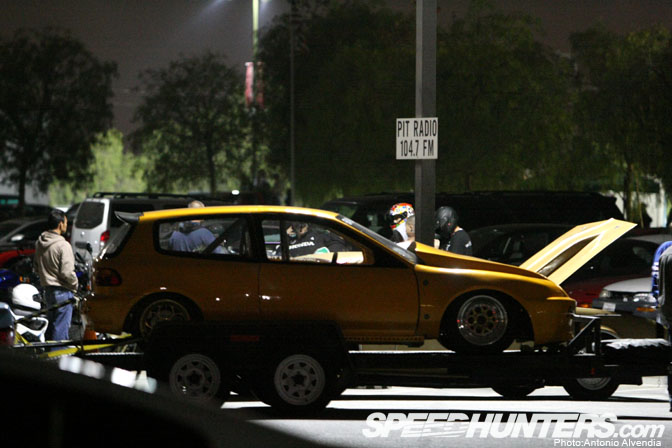 In addition to all the hopped up street cars you'll also see a fair number of full drag cars like this Civic.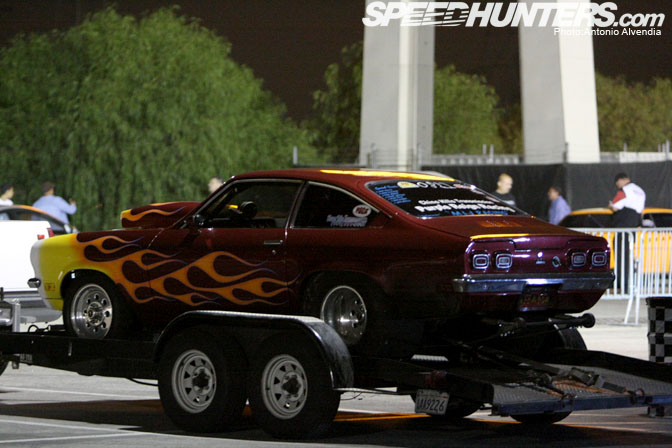 I have a soft spot for drag racing Vegas and Pintos… Perhaps it's because I'm old enough to remember the Pro Stock versions of these cars from the 1970s…. or perhaps it is the irony that Detroit's first foiled attempts at making compact economy cars are for the most part aggressive, powerful drag race cars these days.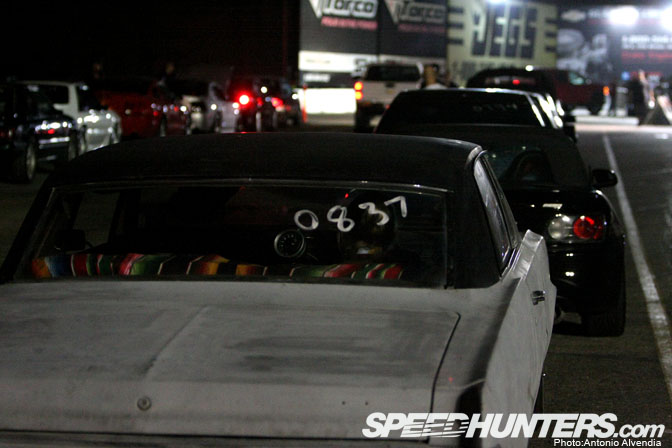 An old ghetto style 1960s Ford Fairlane contrasts the shiny line of Japanese performance machines…. Check the Mexican carpeting covering the rear seat.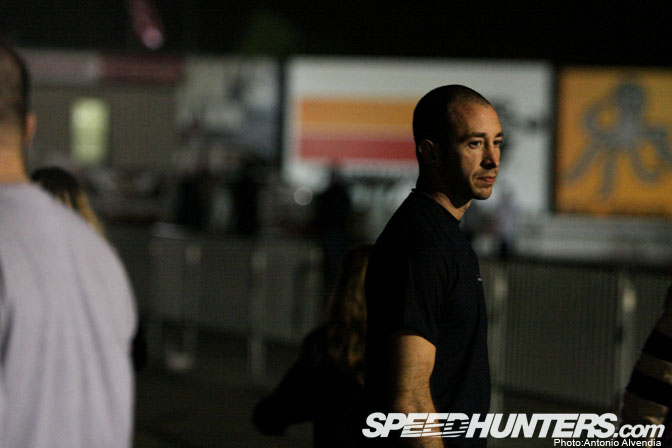 Ahh poor Chris… he was getting a bit twitchy without a car to stage up to the lights… :>…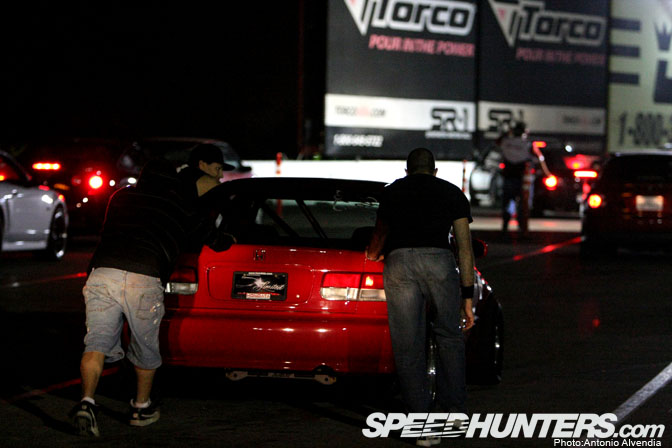 ….so he busied himself by helping the crew of this street/strip Honda Civic push the car down the staging lane. You can see the driver of the car is thinking to himself "is that really Chris Rado pushing my Honda?".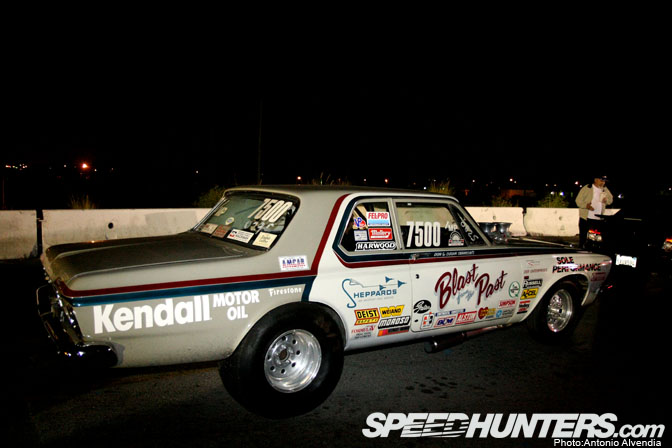 This was my favourite car of the night… a great example of an original factory Super Stock missile: a 1963 Plymouth Belvedere. This car has been continually drag raced for 40 years if you can believe that.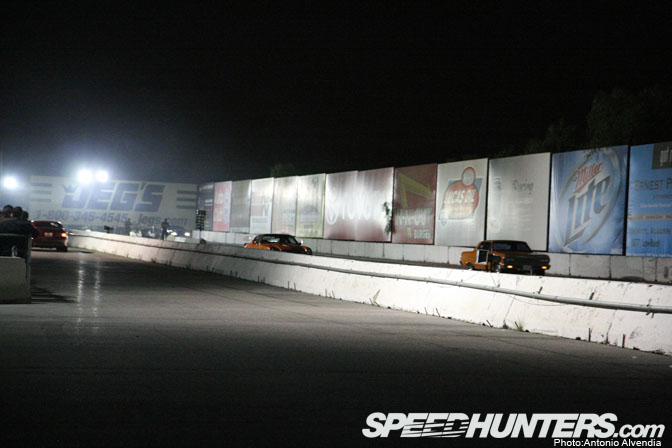 On average the Thursday night drags will get around two to three hundred cars coming out. To me that is quite amazing.
The actual 1/8th mile drag strip isn't anything particularly special, but that is beside the point. What you have here is a thriving drag race scene for any type of street car, truck or bike. It's pure heaven for any car fan.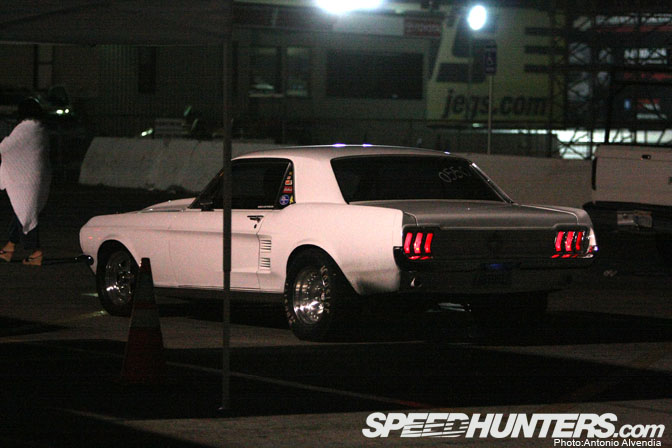 I liked the clean style of this Mustang.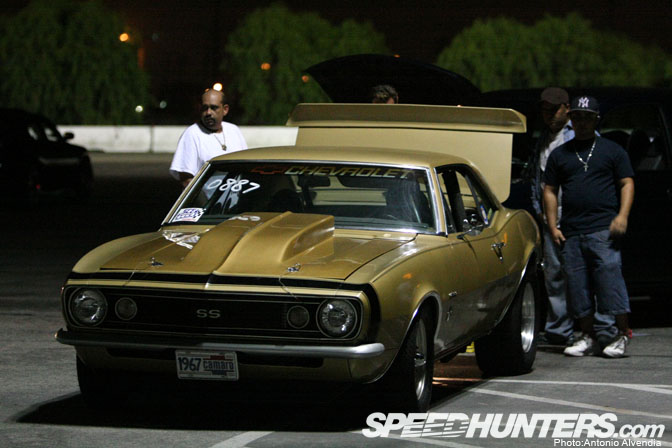 Muscle cars were a-plenty at the Irwindale drags.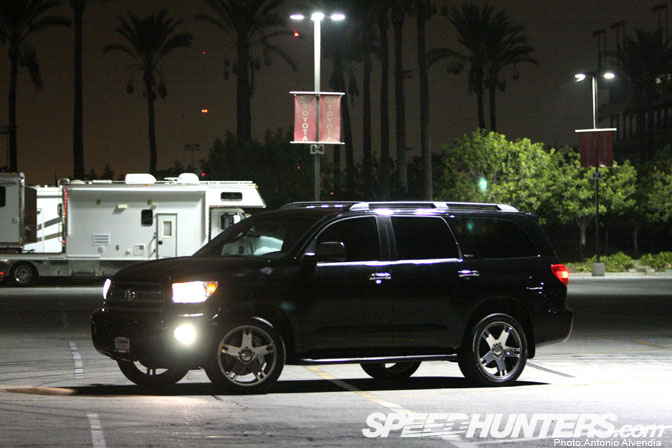 Check out Chris Rado's monster 2008 Toyota Sequoia SUV. This is possibly the largest vehicle I have ever been in….
You can see he's kitted it out with TRD wheels…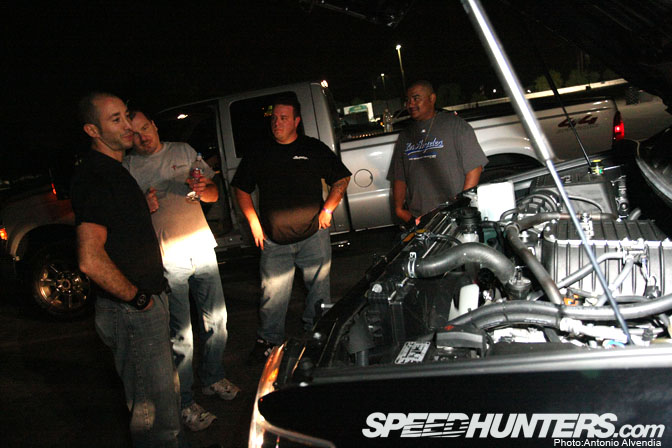 … and a TRD Supercharger/Intercooler setup which boosts the power to an amazing 520 bhp with 550 ft. pounds of torque, from its massive 5.7 liter engine. The new 2009 Scion drift brigade should put this engine into their cars no?
We ran into some of Chris' old school drag race buddies and they seemed quite happy to stand around chatting about his engine setup….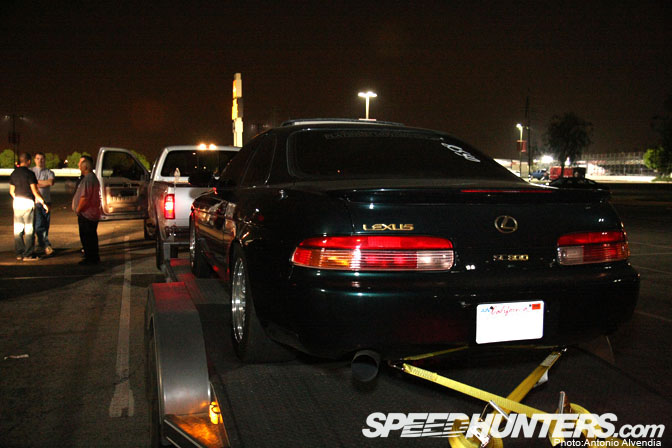 … at which point Antonio and I ducked away to have a look at this drag Lexus SC 300. The exterior looked relatively stock but the entire interior of the car was fully gutted and caged up. Very clean…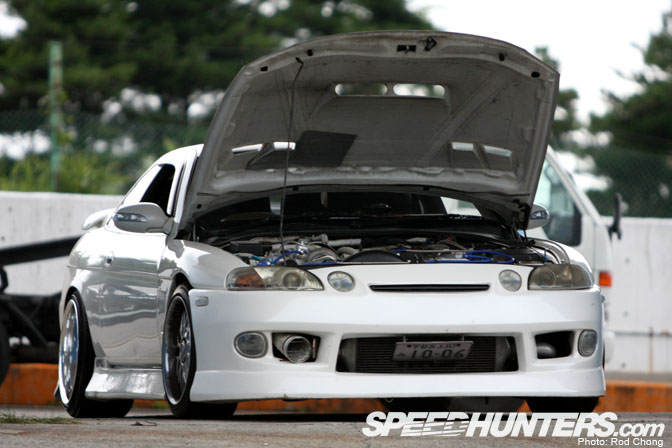 …it is so different from the tuned up drift style Toyota Soarers that I saw at the Ebisu Summer Drift Festival in Japan a few months previously.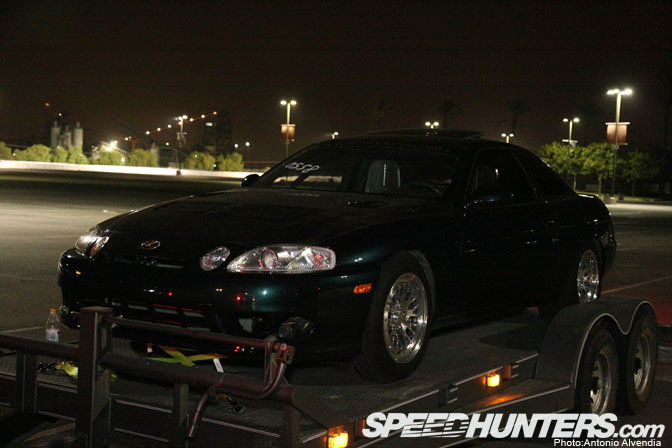 I remarked to Antonio how interesting it was, that two different scenes, in two very different countries, would modify a very similar chassis into completely different directions.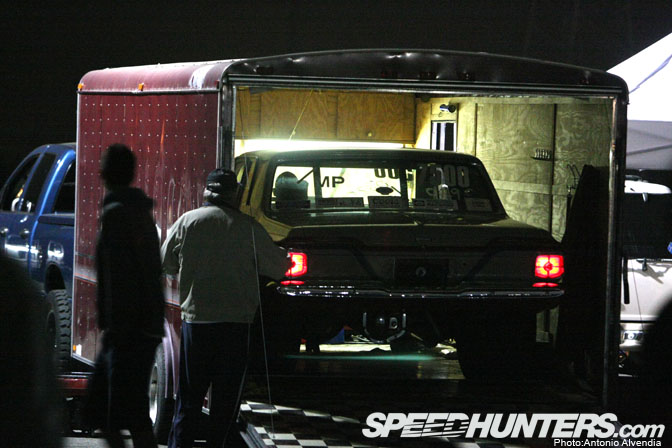 By this time, the cars were all packing up and departing… we also thought it would also be a good idea to clear out and get ready for the next day's drifting action….
If you're ever in the LA area, and want to see a fantastic slice of performance street style cars tearing down the strip, pop over to Irwindale to check out the Thursday night drags. It's American car culture at it's best.
:Rod