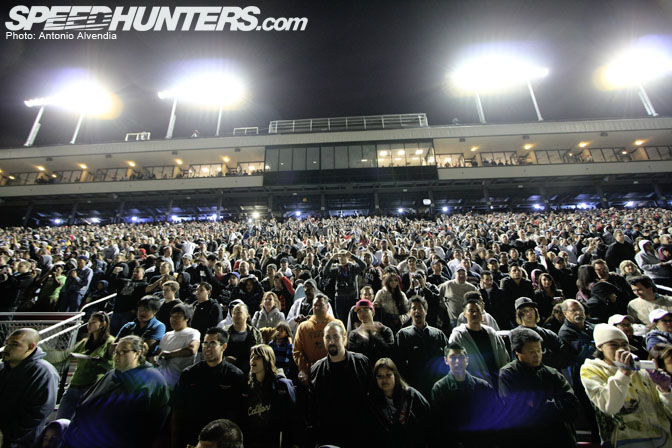 More from Formula D Irwindale… here's a shot of the crowd in the fully packed grandstands at Irwindale. Just look at how many people are in the stands, not to mention the VIP suites above! The Formula D Finale was a big event!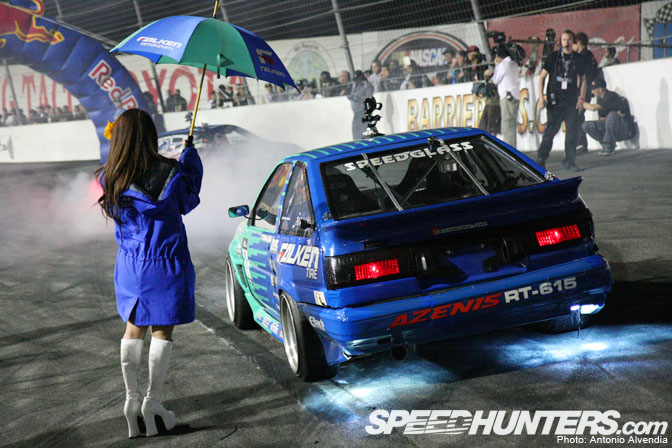 From the grid… Taka Aono prepares to do a burnout before his Top 16 run, as Falken race queen Eri Moriyama holds her teal and blue up in the air proudly… undaunted, she's apparently not afraid to stand next to cars burning out just a couple feet away!
Oh yeah.. just look at the stance on Taka's AE86! NICE! Love the front camber and the stretched tires on his RS Watanabe wheels… awesome.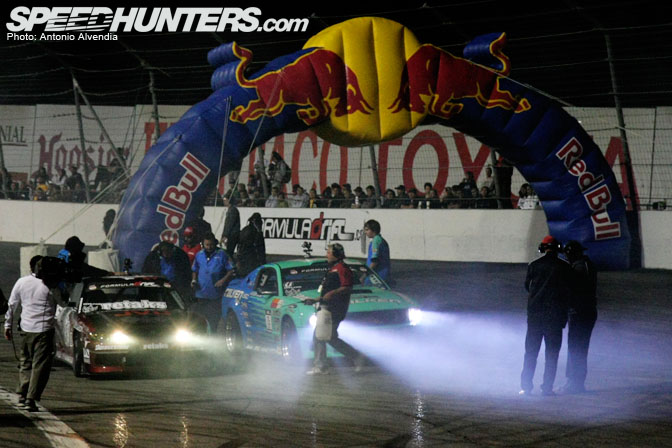 Cutting into the darkness like a fat kid's hot knife slicing through chocolate cake, the headlights from the cars penetrate the darkness on the grid, as Bill Sherman and JR Gittin await the decision of the judges.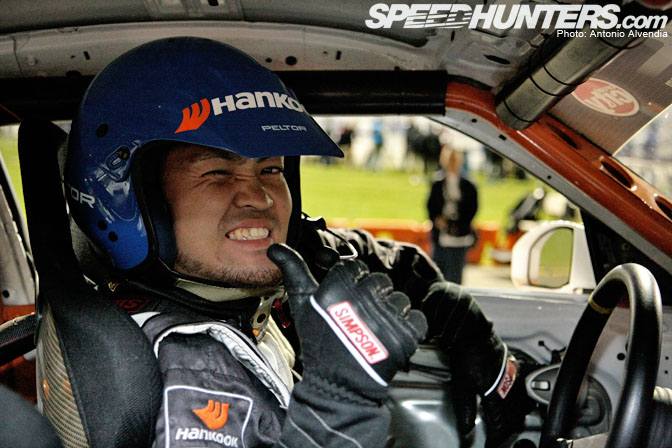 "Drift with a smile!" is something that Kumakubo always tells drifting students that practice at Ebisu Circuit in Japan… and since Robbie Nishida is one of them, you can always see a big smile on his face when he's drifting.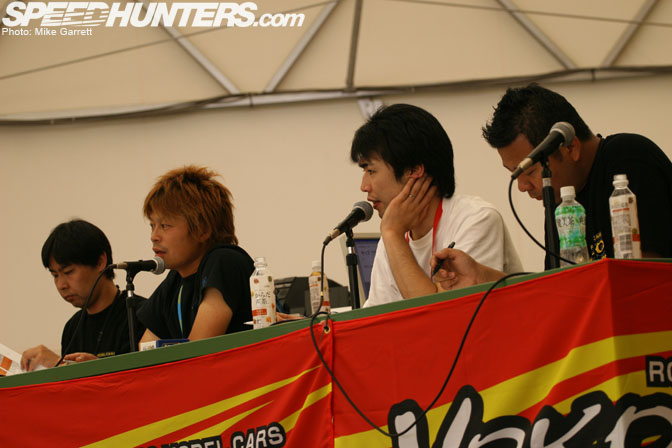 Chris Forsberg and Kevin Wells have achieved amazing success with this convertible 350Z and the small budget they procured from their sponsors… going up against the other big money teams in the Formula D series and giving them a run for their money. I can't wait to see the car with its new graphics for 2009, these two have definitely proven themselves to a a force that other teams should take notice of.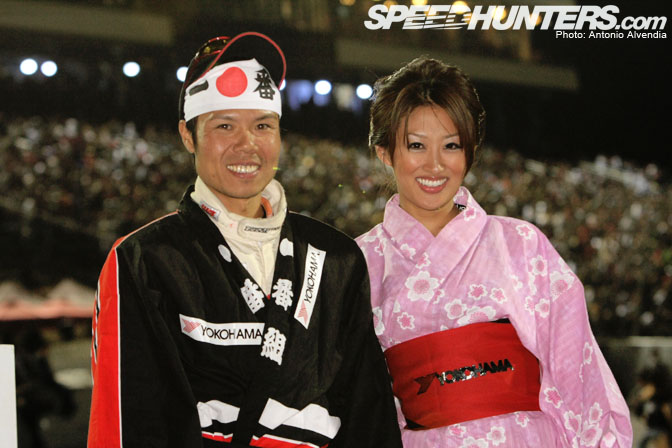 AE86 driver Toshiki Yoshioka always drives at 100%. Unfortunately though, his all-or-nothing style of driving his 86 led him to crash during Formula D practice, and after the crash, his crew couldn't get the car dialed in back to the way it was before. During the Top 16 competition, I spotted Yoshi walking around with a new "friend." I'm not too sure who his new "friend" is, but they were walking around together trackside wearing these traditional kimono-style uniforms during the Top 16 competition.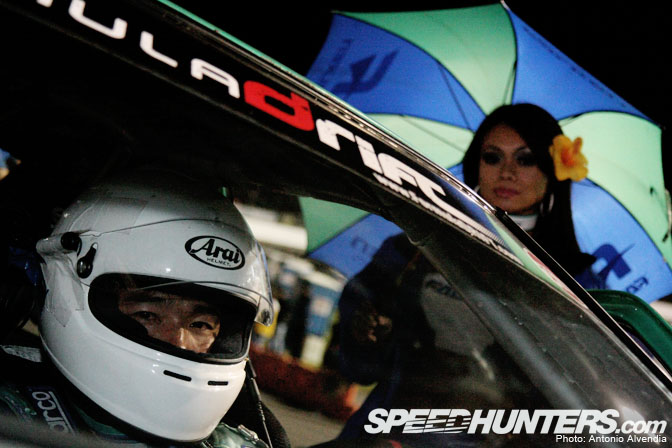 At the start line, Taka Aono was in deep concentration as he prepared to go full throttle into the cold Irwindale banking.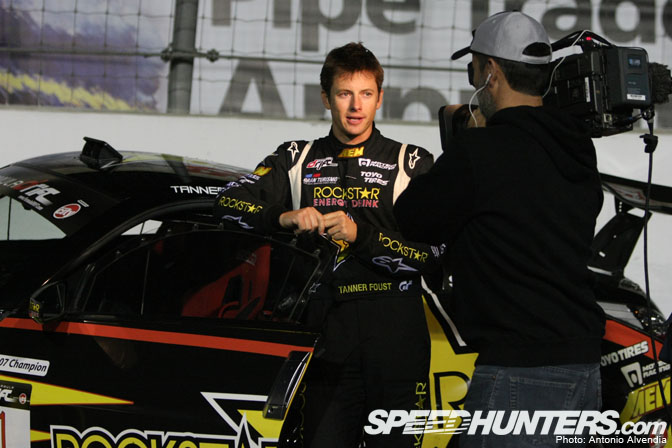 Seriously, there are always cameras pointed towards Tanner Foust, and rightfully so… he just won the Formula D Series Championship. Again.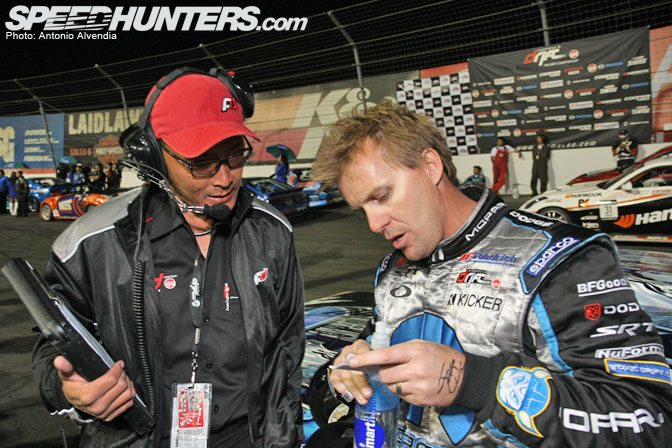 Here's Formula D tech inspector Henry Chung from MDR (in Sacramento CA) and Samuel Hubinette hanging out on the side of the grid, analyzing the run order of the Top 16 battles. While everyone obviously knows Samuel, Henry is a Formula D regular who doesn't often get thrust into the spotlight. For the 2008 FD season, Henry serves as the official Formula Drift tech inspector, but in previous years, he ran the Motorsport Dynamics competition team – with Ross Petty driving Henry's personally owned gold RPS13, which has a RB26DETT in it. Prior to that, he had Conrad Grunewald (in the blue S14), and Hubert Young (in the white S13 coupe) driving for him… in addition to working with Calvin Wan to build Calvin's personally owned white (now teal and blue) FD3S RX7.
Just goes to show, there are tons of people who work behind the scenes in the Formula D Series, and even though not everyone knows them, many of the lesser known people actually have contributed a whole lot to the series. Respect to everyone involved, and everyone pushing American drifting to the next level!
Can't wait to see everyone again at the Red Bull event soon!
-Antonio Alvendia