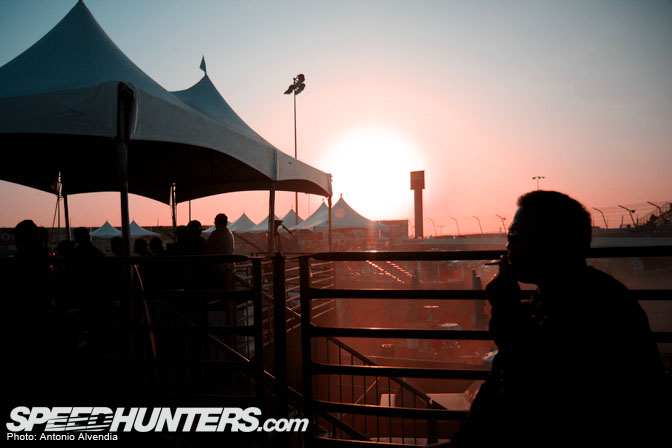 Digging through my photos from the past weekend at Irwindale Speedway, I thought I'd put together another one of my lifestyle galleries, so Speedhunters readers who didn't get a chance to experience the event in person could get a feeling of what it was like to be there. My good friend Andy Sapp from Atlanta GA seems to love these lifestyle galleries, so I figure I'd put together these pics to keep him happy! In case the name Andy Sapp sounds familiar, then you've been paying attention – yes, he was one of the original guys behind the success of the Slide America drifting documentary film, and the driver of an E46 BMW in the Formula D series!
Up above, this was what the scene looked like as the sun set on Irwindale, and the tire smoke wafted in to the spectator areas. The sun backlit the tire smoke as it floated into the VIP suites, giving it an orangy-red hue. This photo was taken from the Belle 1 Communications control center, with good friend Fred from Belle 1 taking in the sights and smoke of the evening… ahh, Irwindale.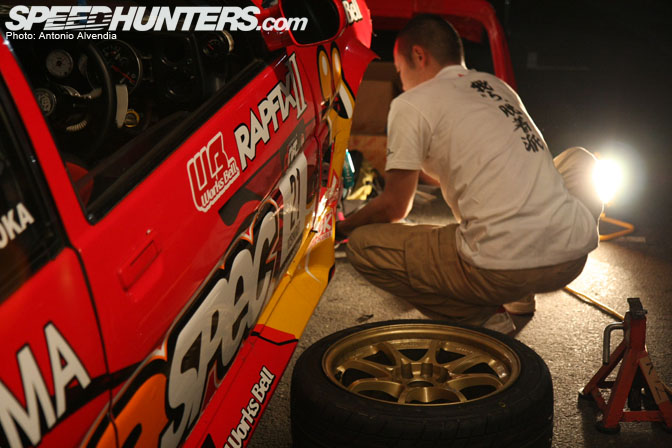 Las Vegas Formula D winner Toshiki Yoshioka is known for always going all out – he drives his car to the absolute limit, every time. Unfortunately, his all-out driving style led him to crash his red AE86 into the wall during practice because of the slippery track conditions as the sun went down. His crew of dedicated technicians from Japan had to work hard to fix the front suspension quickly so he could get back on to the track for practice the next morning.
BTW, keep an eye out for the stylish new Yoshioka version black anodized Works Bell quick release hub, coming out soon! Check back with A-spec Products in a month or so, and tell them Antonio from Speedhunters sent you!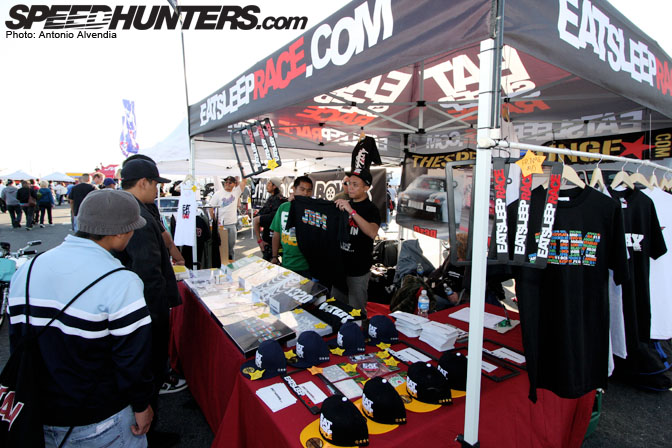 This is how the east coast rocks! Brian and Francis from EatSleepRace.com and TheSpeedLounge.com had one of the most popular vendor booths at Irwindale –  it looked as if they were killing it all day long, as there was always a crowd around their booth whenever I passed by.
Check out EatSleepRace.com to pick up one of their new automotive lifestyle shirts. My current favorites are the "Full Metal Jacket" style army helmet shirt (BLACK!) and the "Fast Life, Fast Cars" shirt, which makes me think of the classic song featuring Kool G Rap & Nas. Oh yeah, also be on the lookout for the ESR/Speedhunters collabo shirt, which will be available on their site very soon!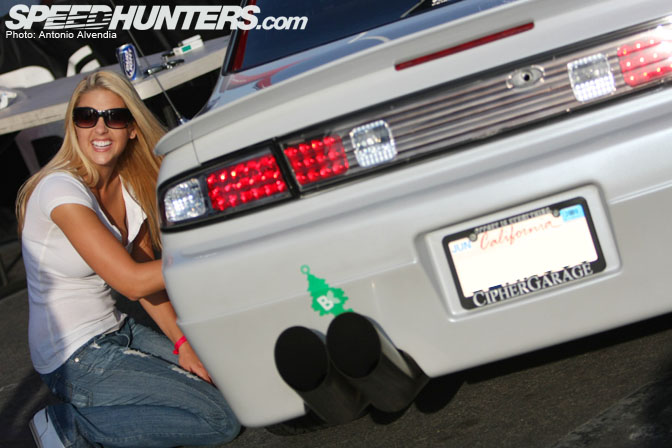 This is Courtney Day. You may recognize her from her previous work as a Falken Tires umbrella girl, or from all her spokesmodeling work with Volcom, Alpine Electronics, or 12341235412657568 other companies in the automotive industry. This is her S14. Don't be fooled – this car was built with her own clean "Instant Gentlewoman" style; this is her street car that she drives on the street… and here she is wiping the brake dust off the fat polished lips of her wheels. Straight legit.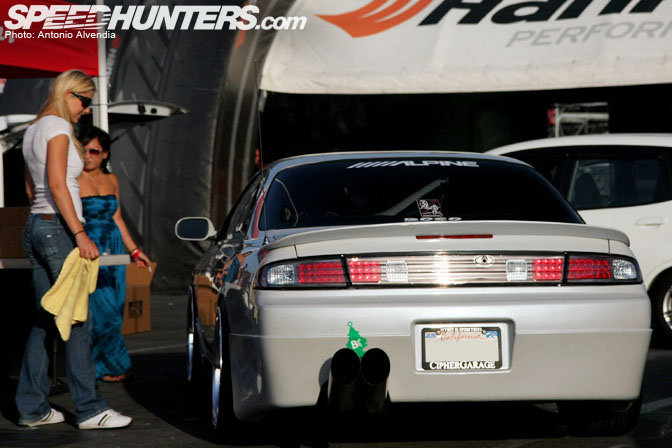 Oh yeah, and by the way, did I mention that Court is all about deep offset wheels? She isn't content with hella flush, she prefers the super gangster status of having the lips stick out. With that crazy exhaust, no doubt!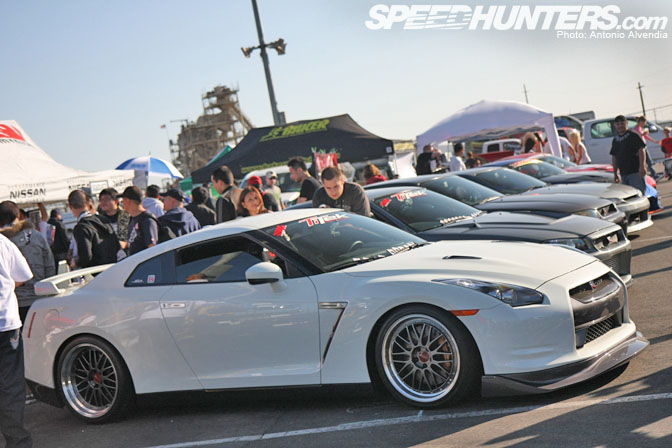 There was an impressive row of Skylines, Zs, and Silvias out in front of one of the Nissan booths. Very nice display! We're only missing an R32 Vspec, and some more S chassis cars…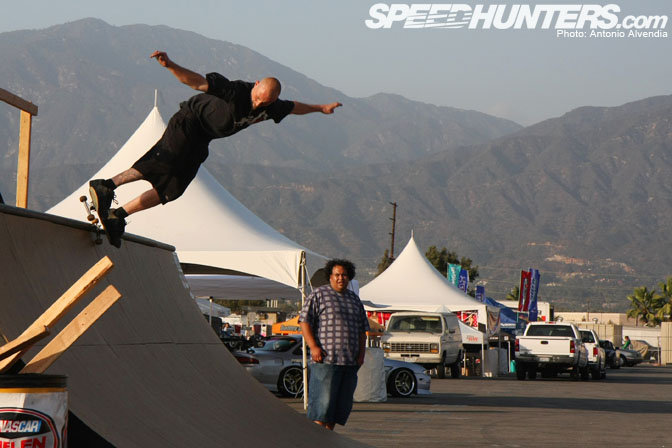 I always like seeing the Retaks booth – they came out to FD Vegas with their halfpipe, and they worked hard on Friday to construct another halfpipe out in the Irwindale pit area. Dope! I commend these guys for their hard work! Here's Ross Petty from Garage Boso in Gardena skating the rail, while our new braddah from Seattle/Oahu watches from the sidelines.
-Antonio Alvendia