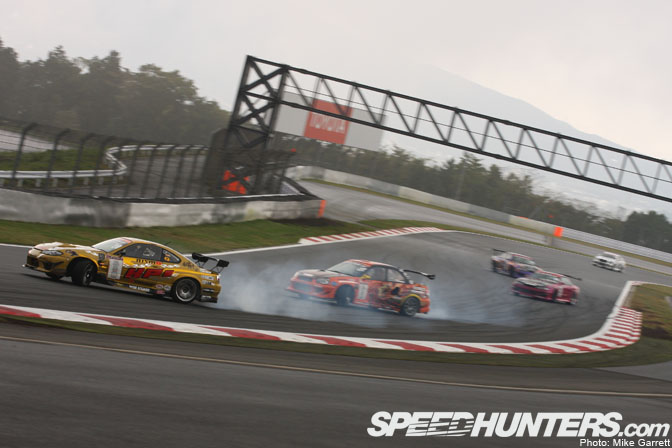 As I'm writing this it's about 7pm here in Gotemba city Japan and I just returned to the hotel from the first half of this weekend's D1GP season finale at Fuji Speedway. This was actually my first trip to Fuji Speedway and it is an amazing circuit. Probably the most scenic I have ever been to, but I'll be talking about that in another post. There was heavy rain during yesterday's practice sessions, but fortunately today was dry.My stomach is growling like crazy, but before we head out and enjoy some yakiniku, I wanted to post up a few quick shots from today's qualifying and practice.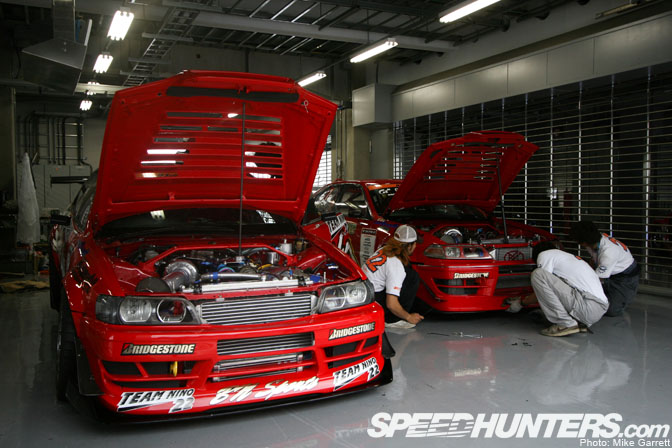 Daigo Saito has a lot on the line as he tries to protect his points lead and take the season title tomorrow. His team brought TWO JZX100's to Fuji. They look pretty similar, but JZX fans will be able to tell you that the car in front is a Chaser and the one in the rear is a Mark II. The Mark II is Daigo's primary machine and I'm assuming they brought the Chaser as backup car in case mechanical trouble comes up. After seeing Saito's driving today, it's quite obvious why he is the top ranked D1 driver right now. Of course his first place standing means he is seeded and did not have to take part in qualifying. Instead, he and the other seeded drivers spent the day practicing for tomorrow's contest.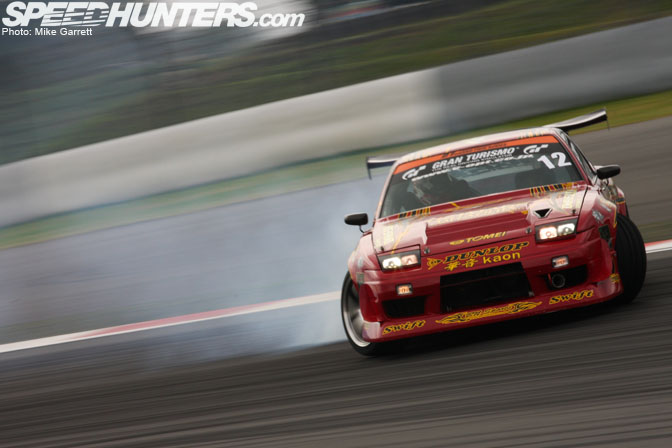 Our man Yoshinori Koguchi came into the event in 12th place which means he wasn't on the seeded list but that's no big deal though because Koguchi put down down a pefect "hyaku-ten" run and easily qualified for Sunday's action. He won this year's earlier match at Fuji so he will definitely be one to watch tomorrow.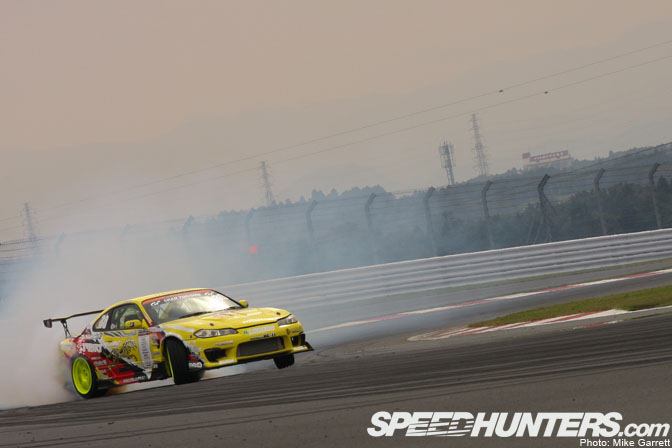 At Fuji the cars enter the course with a TON of speed. Here we see Kazuya Matsukawa's S15 blasting through the 300R corner, the place where Saito and Kawabata hade a major crash in 2007. Matsukawa qualified fourth among the non-seeded drivers.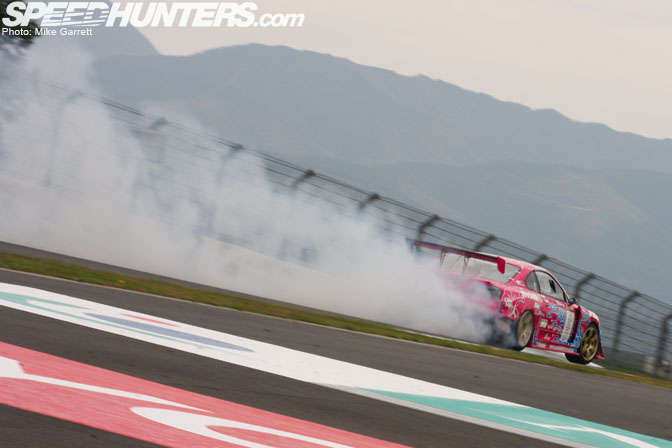 Yashio Factory's Oka-chan qualified fifth among the non-seeded drivers. Here we see him finishing a run through the course during the morning practice session.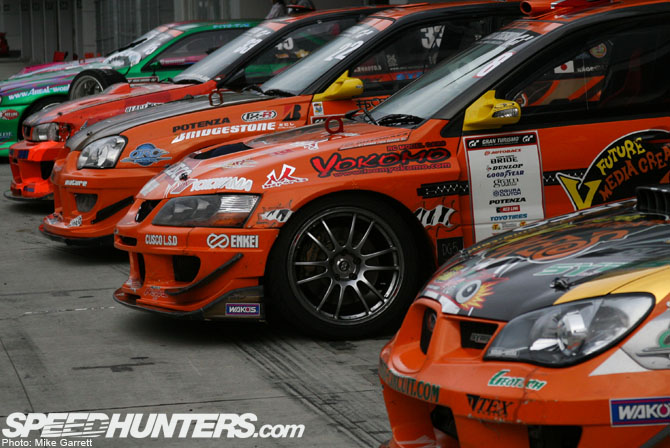 The cars of Team Orange lined up during the popular Pit Walk session. Speedhunter Naoto Suenaga suffered a crash during Friday's practice, and though the car was repaired, it didn't seem to be running its best and he wasn't able to qualify. The other three Team Orange drivers will all be driving in tomorrow's competition.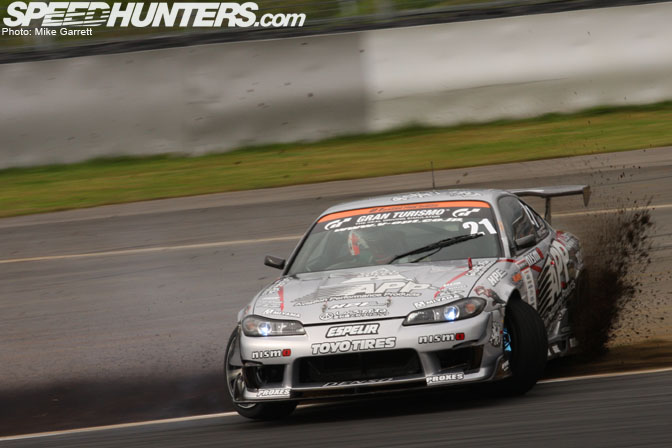 Lastly a slight "mud drop" being performed by Hiashi Oginome in the APP S15.
And now the list of the ten seeded drivers plus the 20 that qualified for tomorrow's competition.
Seeded
1. Daigo Saito JZX100 Mark II
2. Youichi Imamura S15
3. Ken Nomura ER34 Skyline
4. Tsuyoshi Tezuku R32 Skyline
5. Masao Suenaga FD3S
6. Takahiro Ueno JZZ30 Soarer
7. Misato Kawabata RPS13
8. Nobushige Kumakubo CT9A Evo
9. Toshiki Yoshioka Lexus SC430
10. Kazuhiro Tanaka GDB Impreza
Qualified
11. Atsushi Kuroi S13
12. Yoshinori Koguchi RPS13
13. Tatsuya Sakuma S15
14. Kazuya Matsukawa S15
15. Kazuyoshi Okamura S15
16. Tsutomu Fujio FD3S
17. Toru Inose S15
18. Hideo Hiraoka GDB Impreza
19. Takumi Nozawa S14
20. Junkichi Nagasawa S15
21. Masayoshi Tokita GRS180 Crown
22. Masashi Yokoi S14
23. Chikara Mizuhata S15
24. Akinori Utsumi S13
25. Hiroshi Fukuda RPS13
26. Tetsuya Hibino AE86
27. Hisashi Oginome S15
28. Toyohisa Matsuda AE86
29. Kuniaki Takahashi JZX100 Chaser
30. Manabu Fujinaka FD3S
So there you have it. I'm looking forward to another great day tomorrow. Much more to come of course, but now it's time for some food!
-Mike Garrett