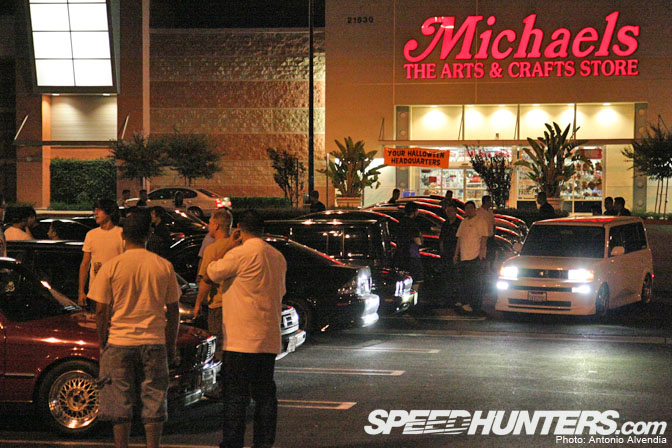 Today was super hectic! I've been working with some members of the Need For Speed marketing team on a special project for the Formula D Finale at Irwindale this weekend, in addition to my normal duties for Speedhunters. After a full day of editing photos and uploading pics at the office, I decided to head out to yet another meet with my good friends Calvin, Chris and Felix.
Since I already showed you some pics from the weekly Tab Tuesday meet at Store 13 in West Covina, I thought I'd also show you another meet; this one happens on Wednesday nights in the city of Walnut (right next to West Covina) at the In-N-Out Burger on Grand Ave and Valley Blvd. I don't think this meet officially has a name, so I couldn't think of what to call it… until a brilliant friend passed by me and just told me to call it Wednesdays in Walnut, since it's fitting. Why the hell not, sounds fine to me! Usually this meet has a lot of Lexus, Scion, and Euro cars, but tonight there were all sorts of cars and owners in attendance. There were even some guys practicing RC car drifting in the parking lot.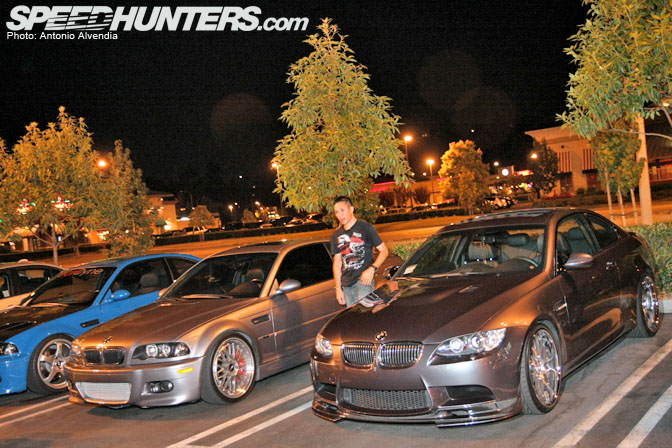 Here's our boy, fellow Speedhunter Calvin Wan, shortly after I picked him up from the airport. He was taking a closer look at the E46 and E90, since he and his wife (wow, I'm still not used to referring to Lea as his wife, instead of girlfriend, haha) recently bought an E46 M3 to play with. You can read about it on his Speedhunters blog post, here.
Anyway, I think these two shining 3s were some of the most tasteful cars at the meet this evening.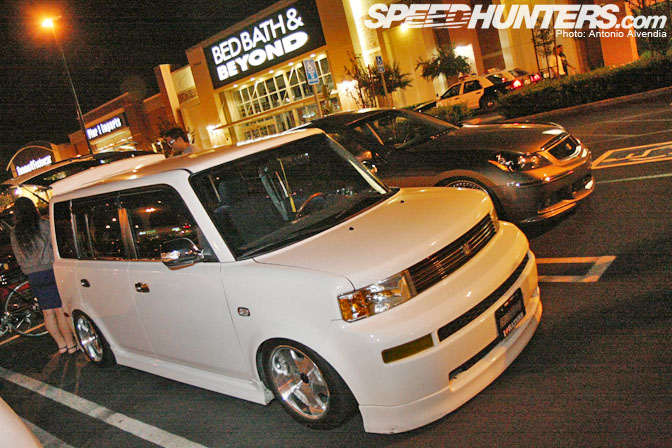 Here's my good friend Karlo's Scion XB. Karlo just got this thing relatively recently, but has been doing all sorts of customizations to his daily driven Scion. Pretty tasteful I think… the wheels look wider in person than they do in my photo – sorry Karlo, it's my wide angle lens distorting your wheels!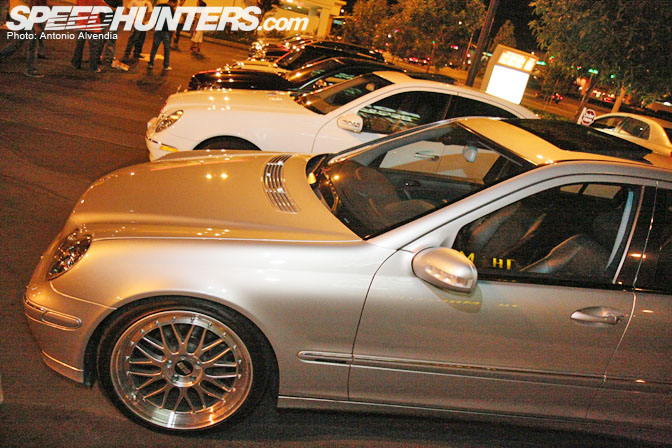 Even though I was admiring the hell out of an AMG C63, I decided to shoot photos of this Benz because it had good fitting BBS wheels on it. Nice work!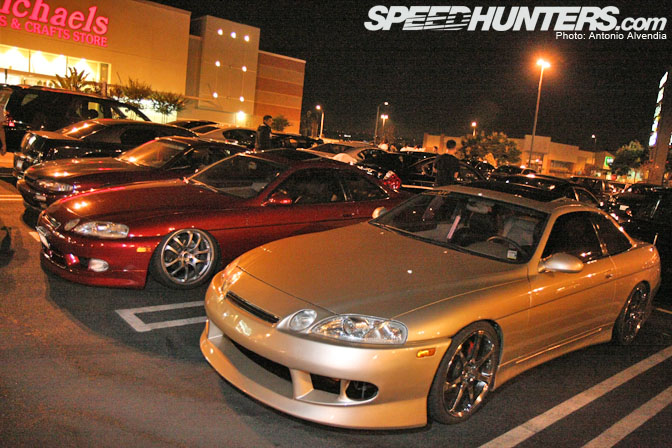 Two JZZ30 Lexus SC400s (or SC300s? I didn't check) rocking mild aero kits stood out from the crowd; I don't see a whole ton of built up SC400s driving around my area. Well, just a few, but I haven't seen these two cars before tonight. Look how low the dark red one is!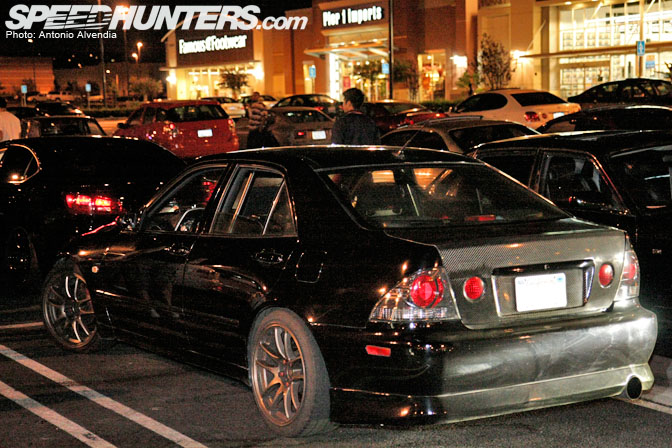 Work CR Kai wheels and a supercharged 2JZ engine make a winning combination for this IS300. I wonder if this is a track car, or just a street car? It looks like a pretty mild street car somewhat, until you notice the big wheels and carbon fiber trimpieces.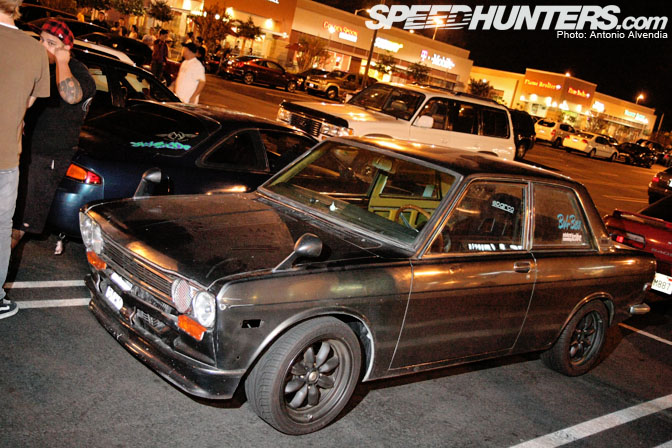 Check out this Datsun 510, which looks to be sporting these budget baller XXR wheels. I think these wheels will be the next popular fad for the inexpensive wheel rockers, because they come in pretty good sizes – 15×8 with 0 offset.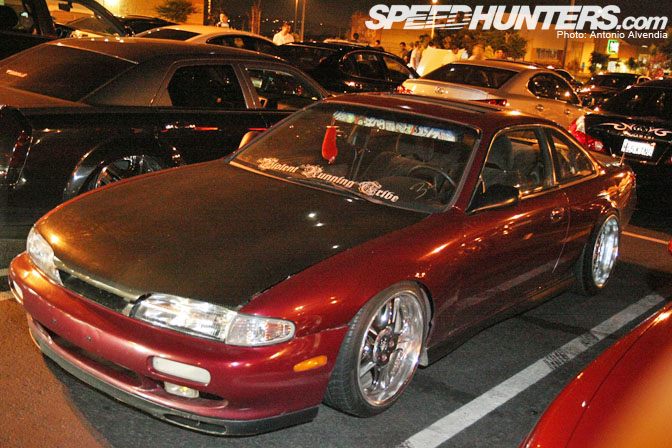 This zenki S14 had nice, aggressive wheel fitment and a nice front chin spoiler! Definitely cool points for street style…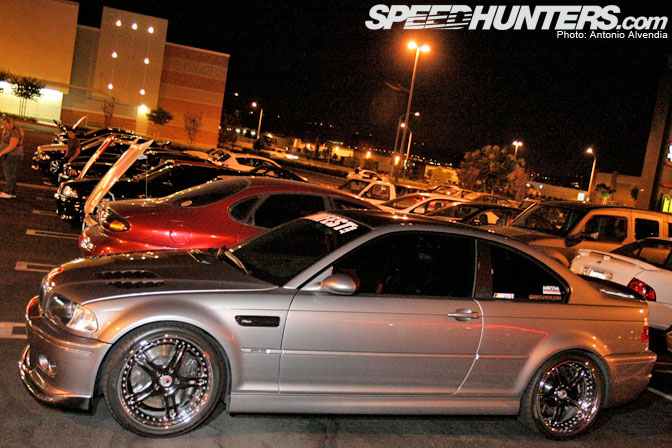 And to top it all off is this E46 M3. There were quite a few M3s and other types of BMW owners hanging around in the parking lot, but I think I'll save the photos of those cars for a future Speedhunters posting! Keep checking back to see which meet we're heading to next! Car meets in the middle of the work week at In N Out… yup, this is definitely a Southern Cali style of car culture.
-Antonio Alvendia
Previously on Speedhunters: Tab Tuesday meets at STORE 13 in West Covina