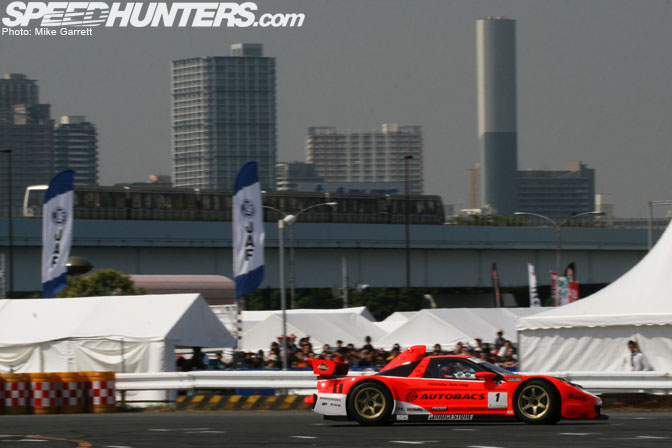 You might have heard people say that Tokyo is one of the most expensive cities in the world. It may well be, but that certainly doesn't mean that you can't find cool stuff for free in Tokyo. For example, how about the chance to see F1 and Super GT race cars performing demo runs in addition to seeing some of the Japan's most historic race cars? That is just the sort of things that visitors to the 2008 Motorsport Japan Festival could see over the weekend. This was the third MSJ event since it was started in 2006, and judging by the number of the people that packed into Odaiba to see it, it has been come quite the popular event in Tokyo.
The Motorsport Japan Festival is just what the name suggests, a celebration of Japan's very vibrant motorsport scene which ranges from student-built formula cars and gymkhana machines to Toyota and Honda's Formula One cars. Speaking of F1, the MSJ Festival also coincides with next weekend's Japan Grand Prix which will be held at Fuji Speedway for the second year in a row. Every Japanese auto maker takes part in the event, bringing out race cars new and old to display for the public. While the majority of those cars are for static display only, the highlight of the event is the makeshift racing course that is set up for demo runs of various race cars. Odaiba is a popular spot for car events in Tokyo, and you will probably recognize this as the same parking lot where the D1GP events are held.
The first thing I noticed at MSJ was the massive number of spectators, and I suppose that is to be expected when you have a FREE motorsports exhibition in one of the world's most populous cities. One of the things I have observed about Japan is the strong connection between auto racing and the general public, and events like this are a big reason for that  connection. There is just something special about watching a young boy begging his mom to buy him a Super GT model car and knowing that the future of car enthusiasm is bright. 
Anyways, now on to some photos from the event-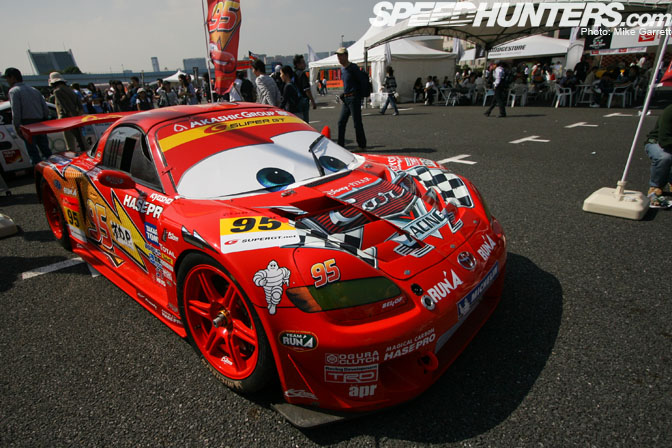 While on the subject of kids, one of the most popular displays had to the the Lightning McQueen MR-S from the GT300 class of Super GT. Kids love the Disney theme and I also happen to think that this one of the coolest looking cars in Super GT. While the event admission may have been free, a look at the crowds gathering at the booths shows that people were dropping plenty of coin buying official race goods and collectables.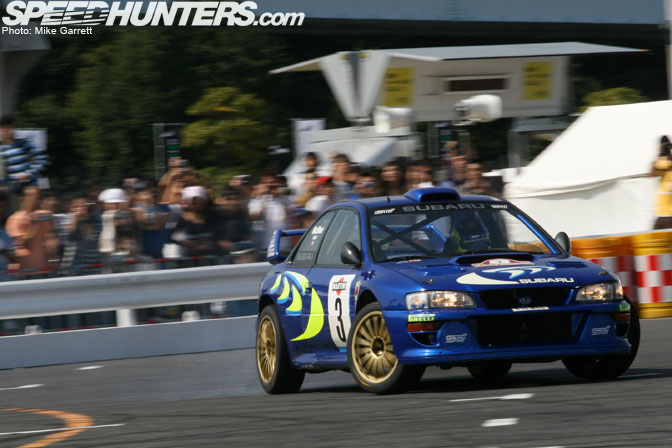 Rally also plays a big part in Japan's love of motorsport, so rally cars were well represented at MSJ. The coolest had to be Subaru Impreza WRC car from 1998. This machine was driven by the late Colin McCrae and is surely one of the most iconic rally cars ever. There was no dirt on the course, but that didn't stop Subaru rally driver Toshihiro Arai from giving the fans a great show with plenty of sliding around on the pavement.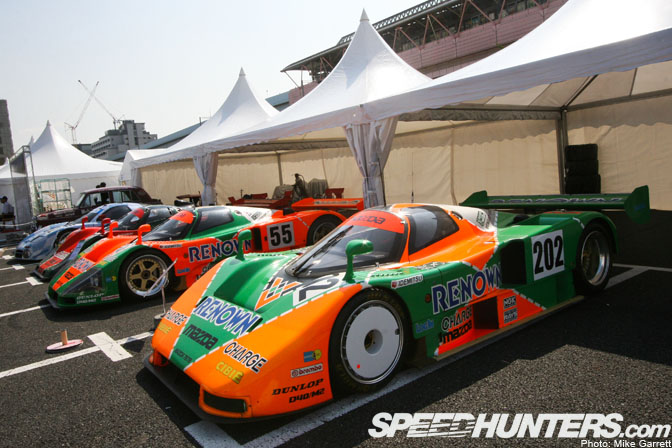 Mazda may not have F1 or rally programs like the other manufacturers, but their motorsport history is just as great. Mazda brought three examples of their famous Group C/Le Mans race cars including a pair of 787B's and the earlier 767B. The #202 car also performed demo runs at the event alongside its newer competition, the Nissan R390GT1.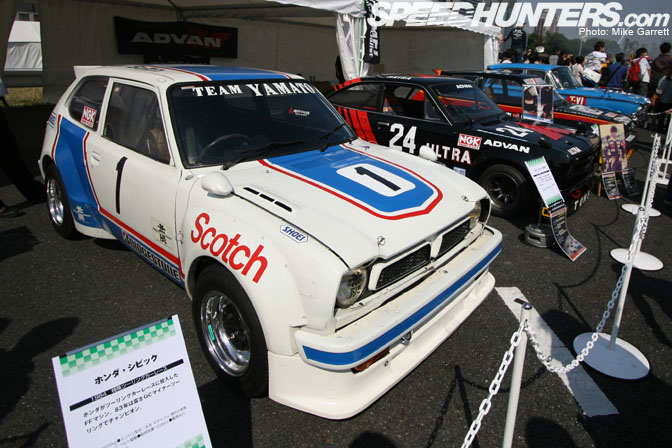 There were plenty of vintage touring cars on display including this Honda Civic, which at first glance might look a little like a Toyota Starlet. This car was very successful in Japanese touring car racing during the late '70s and early '80s. When I was looking at this car I was thinking how cool it would be to build a replica for street use. Maybe be with a B18C5? This car was one of my favorites at the event for sure.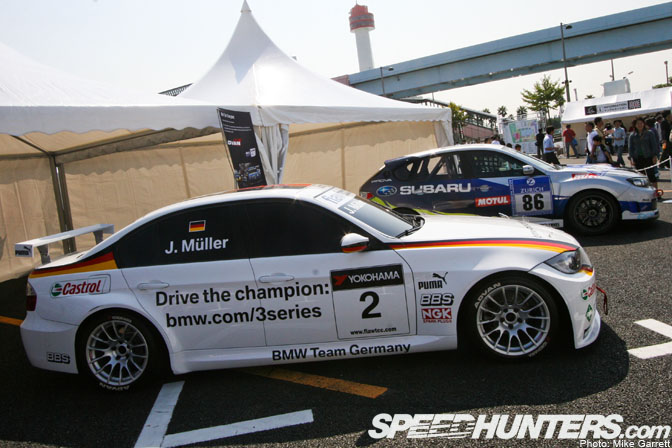 A touring car of a completely different type was this BMW 3-series from the 2007 World Touring Car Championship. Part of this car's purpose at MSJ was to promote the Japan round of the '08 WTCC will be held later on this month at Okayama International Circuit.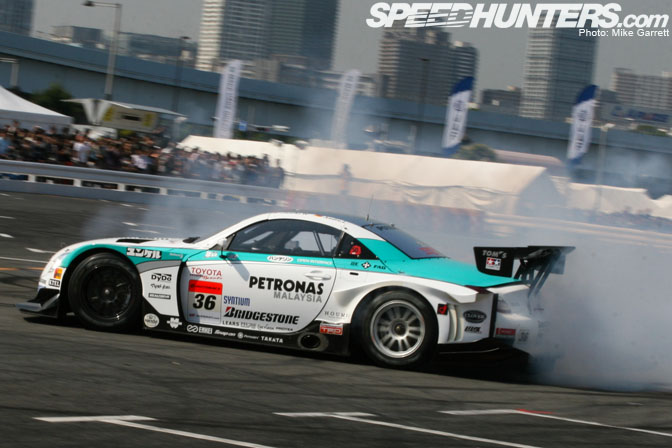 There were a four different Super GT cars selected to perform demo runs at the event, and here we see Juichi Wakisaka performing some donuts in the Petronas Tom's SC430 GT500 car. Obviously the small size of the course didn't allow these cars to show their full potential, but at least the drivers had plenty of time to practice their burnouts and donuts. The fans seemed very excited by these smokey displays of power.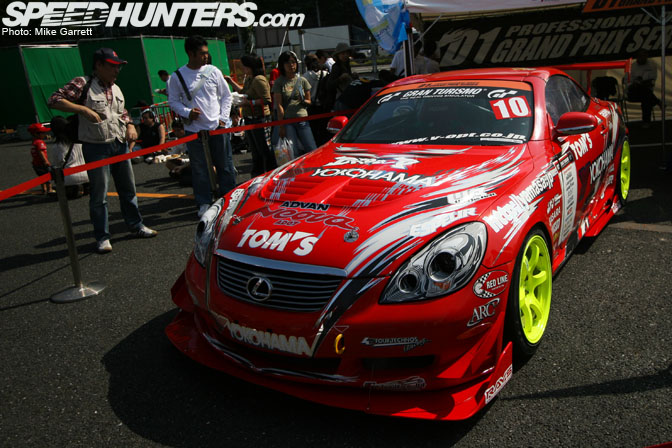 While on the subject of SC430's and smokey displays of power, D1GP had Toshiki Yoshioka's car in its booth and it was quite cooI to see a drift car mixed in with all of the other "traditional" race cars at MSJ. I noticed the car is sporting a lot of changes since the last time I saw it at Tokyo Drift. The new aero and GT wing look great and I'm looking forward to watching this machine in action again later this month at Fuji Speedway during the D1 finale.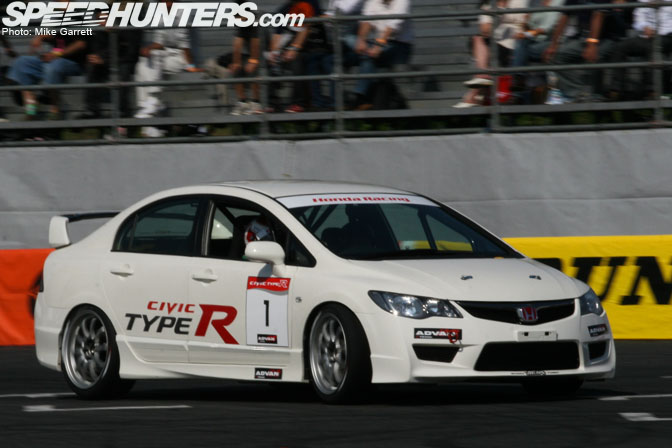 One of the big draws for attendees was the chance to go for ride-alongs in various race cars like this FD2 Civic Type R. This car is part of the Civic Type R one-make race series and it looked to be running quite fast through the makeshift course, which was too tight for a lot of the more powerful cars to effectivley demonstrate all of their potential.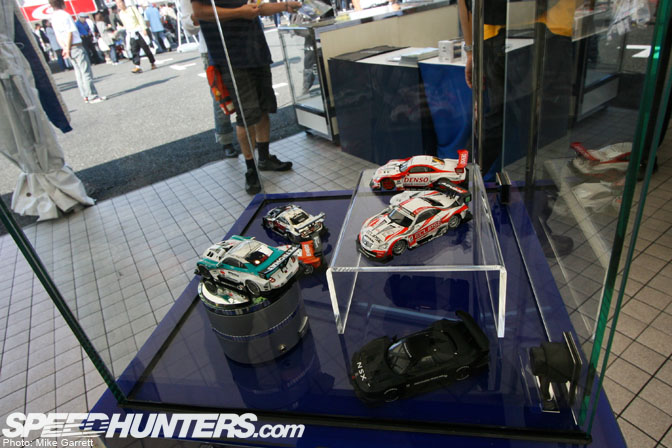 Ebbro had a giant booth at MSJ that was full of their ultra-detailed race car diecasts. So far I have been able to fight off the temptation of begenning a collection of these things, but seeing cool displays like this DOES NOT help me. Man, I love that GT500 NSX test car!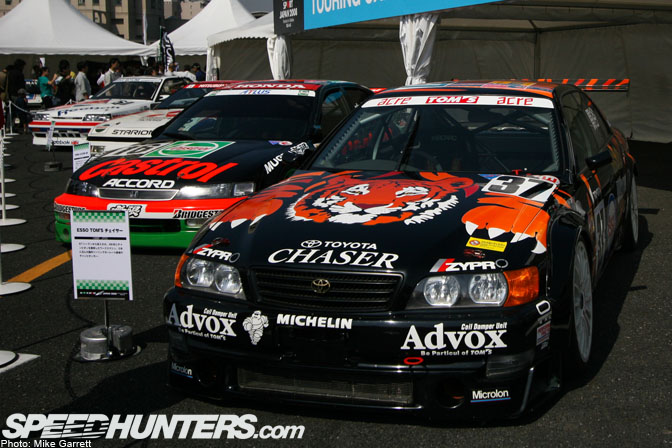 The touring cars were my favorite exhibition by far. Check out the JZX100 Toyota Chaser from the last days of the Japan Touring Car Championship circa 1998. I didn't know that any of these cars still existed and it was quite a treat to see this rare version of the much-loved JZX platform. In the background you can see the Castrol Mugen Accord touring car which normally resides at the Honda Collection Hall at Twin Ring Motegi.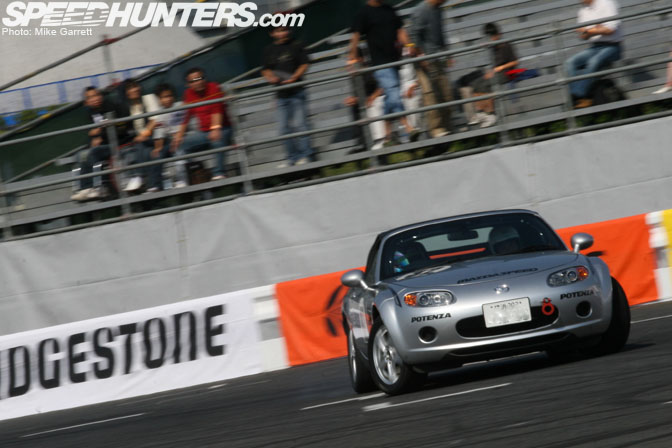 The passenger in this Mazda Roadster NRA from the "Party Race" series was treated to a little sideways action during their ride-along.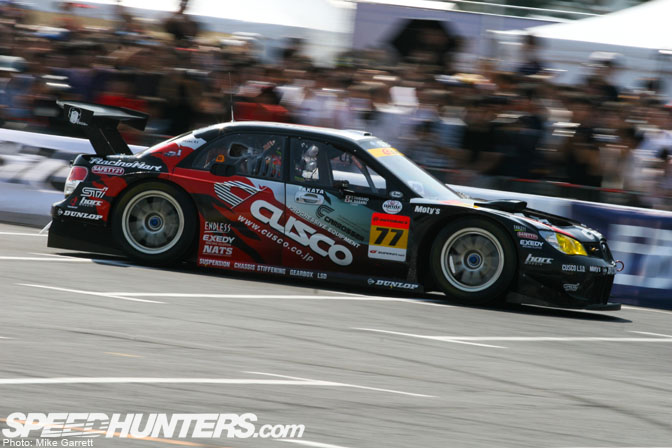 And to finish off this post, a shot of the always-cool Cusco Dunlop Impreza GT300 car speeding by the huge crowd of onlookers during one of its demo runs. I'm guessing it was this car's AWD layout that kept it from sliding around like the other Super GT cars, but it was still awesome to watch nonetheless.
That's it for part one, more on the way soon.
-Mike Garrett