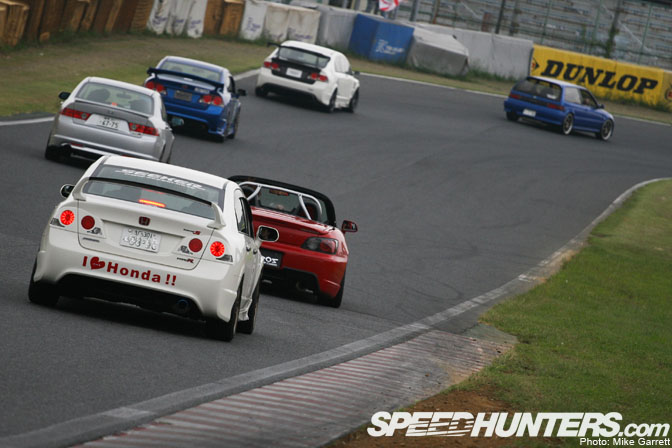 I have been quite busy working on new Speedhunters stories and preparing for my trip to this weekend's Motorsport Japan Festival in Odaiba, but before I move on to that stuff, I wanted to take one last look at last Friday's I Heart Honda!! event at Tsukuba Circuit. Judging by the feedback I have been reading on these posts, it appears that you guys are also down to see more of the hundreds of cool Hondas that converged on Tsukuba for the event.
As seen in the opening photo, there was a special session where the participants joined together with the shop demo and race cars to make parade laps around the course. Obviously, the speeds were low, but the sight of all the Honda cars lined up around the course was really something, and it was a great way to close out the day's festivities.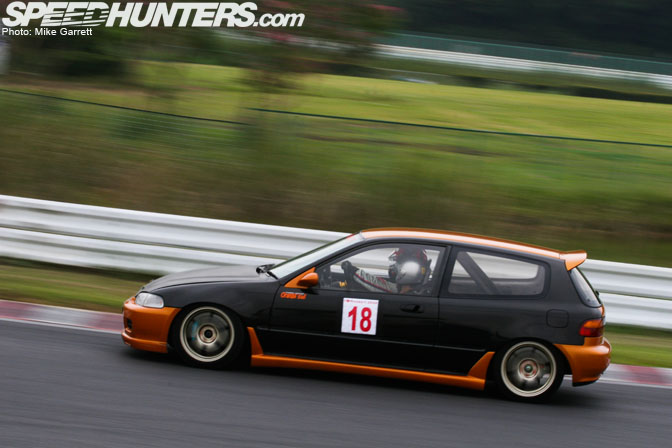 I saw in the comments section that someone wanted to see some EG Civics, so here is a shot of the the EG6 from Tuning Garage Orange Ball speeding into the Dunlop Corner. The black and orange two tone coloring on the car takes some getting used to, but I think it looks pretty cool. There actually weren't too many EG6 demo cars at the event, but the Orange Ball car did a fine job of representing the venerable platform.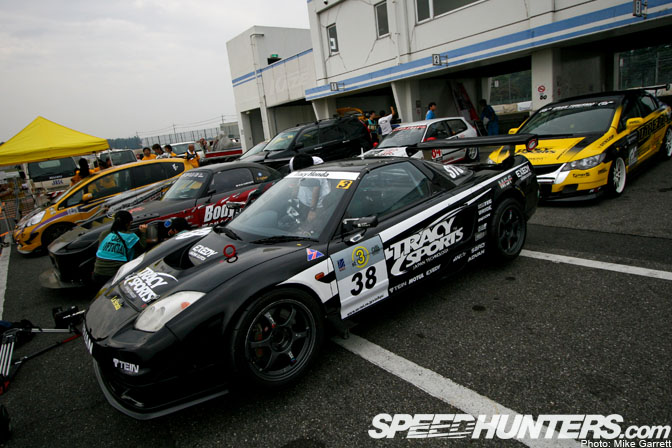 Between the cars from Spoon, Tracy Sports, Route KS, and others, there were more badass tuned NSX's than you could shake a stick at. Sure they are expensive, and sure they are old news compared to latest and greatest Japanese supercars like the new GT-R, but the NSX is STILL the original Japanese exotic car. OK, so maybe the Toyota 2000GT takes that title, but you know what I mean. In the ST3 class of the Super Taikyu series, the Tracy Sports NSX goes head-to-head with a number of Nissan Z's as well as an M3 and RX7.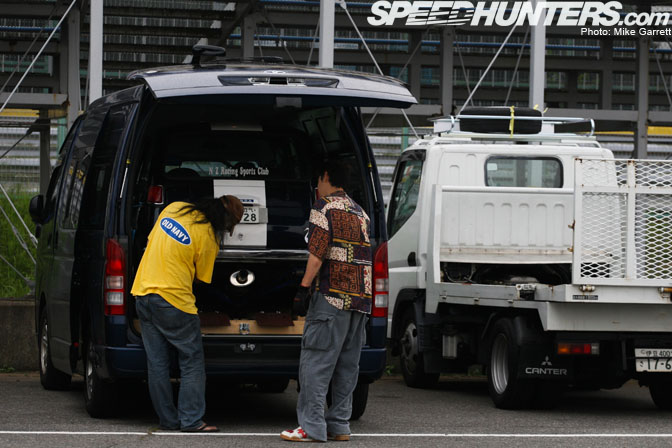 I was walking back to the main paddock when I saw this scene and tripped out. These guys are loading their vintage Honda N360 race car into the BACK of a van. Now it is totally common to see people bring their motorcycles to the track in the back of vans, but this is the first time I have ever seen anyone bring a CAR to the track in one. Racing a tiny car certainly has its advantages!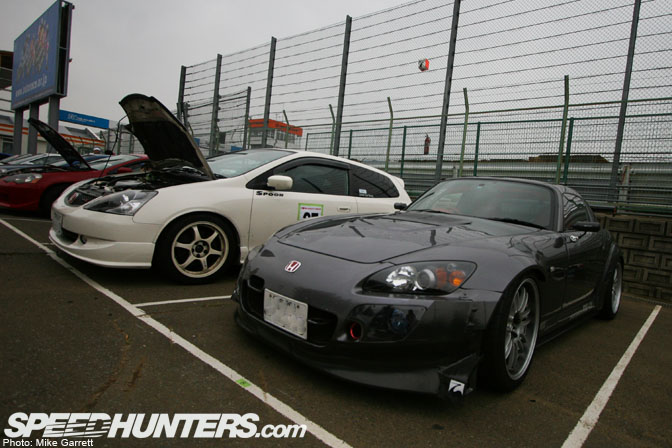 Just another Spoon-equipped S2000 and an EP3 Civic parked outside the front straight. I suppose that this shot is a good representation of the different forms that Honda's enthusiast vehicles have taken over the years. To be honest, I was a never a big fan of the British-built EP3 Civics (except for the shifter placement which I think is cool), but when modified right they do have a lot of appeal.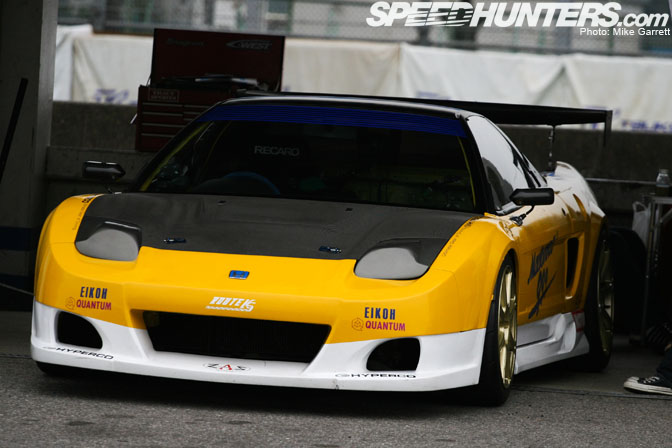 The sexy shape of the Route KS "Madonna" NSX resting in one of the pit bays. This was one of the cars running in the Hot Version East Japan vs. West Japan tuner battle. Other cars included the Top Fuel S2000, Tracy Sports NSX, J's Racing K-series Fit, and another swapped new body style Fit. We weren't allowed to shoot that part of the event or publish the results, so If you want to see it, you'll have to check out the DVD to be released in November.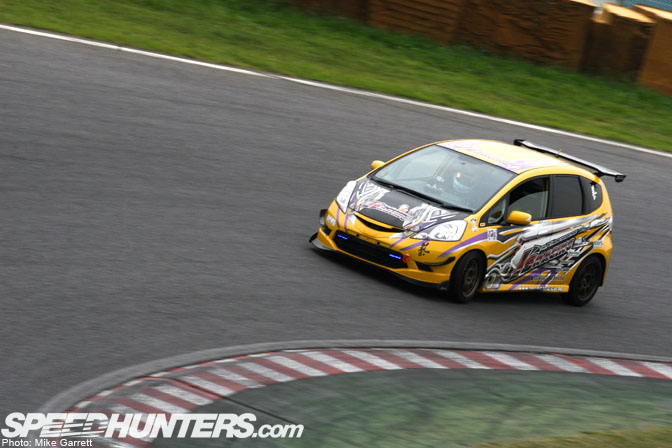 Besides their K-powered time attack beast, J's Racing also brought their recently completed second generation Honda Fit demo car. Although it wasn't anywhere near as fast as the time attack Fit, this one was still laying down some very impressive laps. The Fit is the best selling car in Japan, so it's no surprise that all of the big Honda tuners in Japan are continuing to release loads of new parts for the car.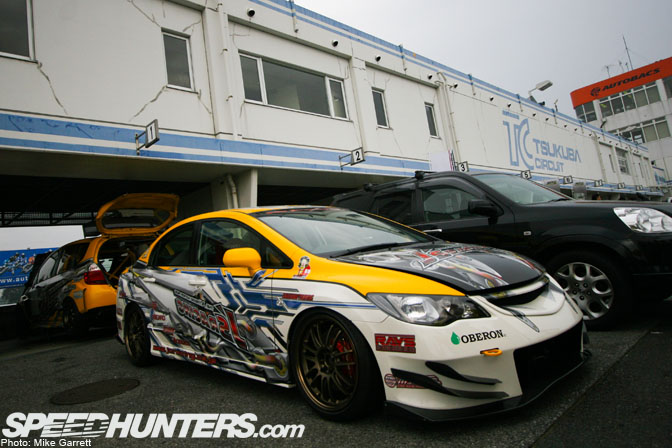 J's also brought their FD2 Civic Type R demo car which competed against the FD2's from Spoon, Honda Twincam, and others. I was hoping they would also bring their new "street spec" S2000, but I guess they decided to leave that one back in Osaka and stick with their FF weapons for this event.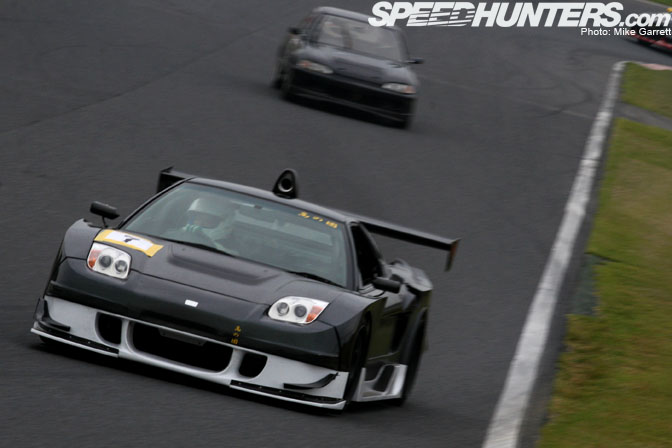 For a moment I thought I was at a Super GT race when I saw this wicked looking NSX with a full Route KS Zero Force wide body conversion. I already posted my own "seven dream cars" in the comment section of Rod's Porsche post, but now I'm thinking maybe I should have added a KS-equipped NSX to my list…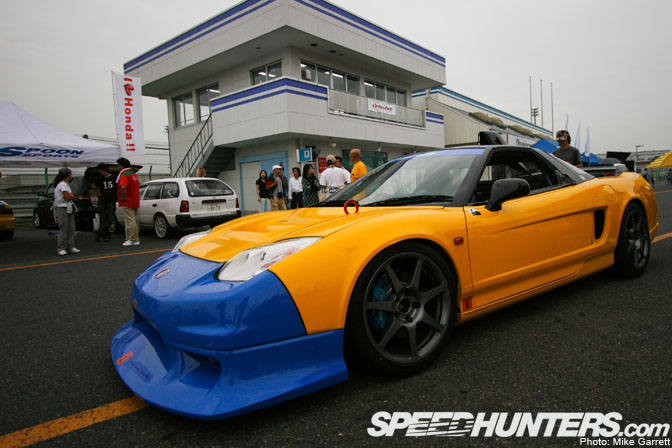 And lastly I wanted to finish with a couple photos of Spoon's new naturally aspirated NSX race car. Unlike the turbocharged Spoon NSX-R GT, this car is a pure racing machine not designed for street use.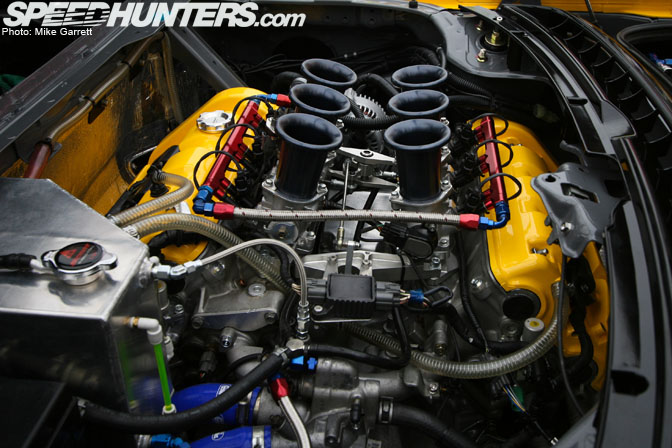 A look into the engine compartment reveals the NA V6 fed by a gleaming set of individual throttles. Turbos are great, but I think an NA build is more in line with the "Spoon tradition" I assume power figures for this set up will be very impressive once everything is dialed in. The way the car was backfiring on downshifts just hinted at the high strung nature of this thing.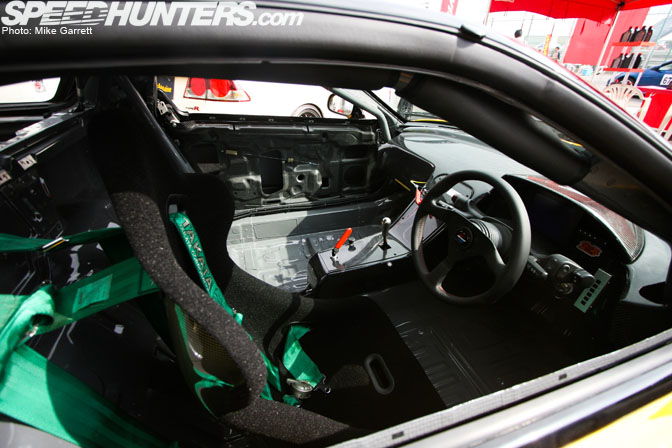 Interior is pure race-spec with tons of carbon fiber,  a cage, a single bucket sea,t and not much else. Check out gauge cluster! I bet that piece alone is worth more than my Fit…
Well, that does it for I Heart Honda!! event coverage. Another event is already being planned for next year, and if you are a Honda freak I'd say you should do everything in your power to be there.
If you missed the earlier posts, check them out here and here.
-Mike Garrett