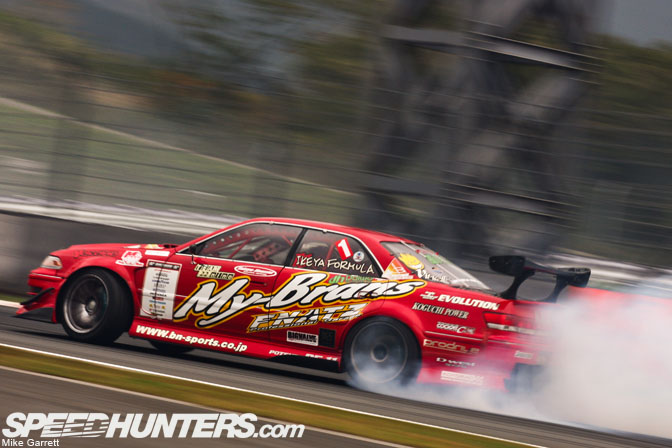 I don't think there's a better way to open my second D1 Fuji story than with a shot of 2008 D1GP Champion Daigo Saito's 800hp JZX100 Mark II. It's no wonder that Daigo won the championship this year after getting the chance to see his driving at Odaiba and Fuji Speedway. He drives aggressively and consistently, entering with maximum angle and letting the 800 horsepower slide the car through corner with gobs tire smoke and a screaming exhaust sound. Daigo actually had a good chance of winning the event and wrapping up a perfect weekend, but his car developed mechanical trouble and he was forced to retire from his semi final match against Masao Suenaga. Fortunately for him, by that point he had already clinched the series title.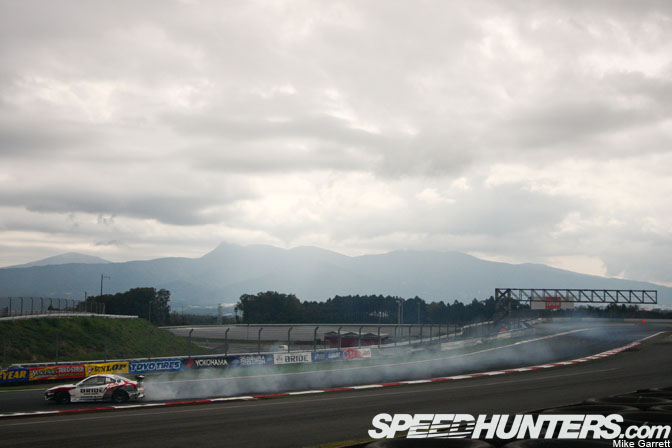 A wide shot showing looking from the judge's stand area towards the 300R entrance to the course during Saturday morning's practice. Quite photogenic Fuji Speedway is….it's just too bad the weather was so dark and ugly this weekend. I'm hoping it will be a little nicer when I go back there for the Nismo Festival at the end of November.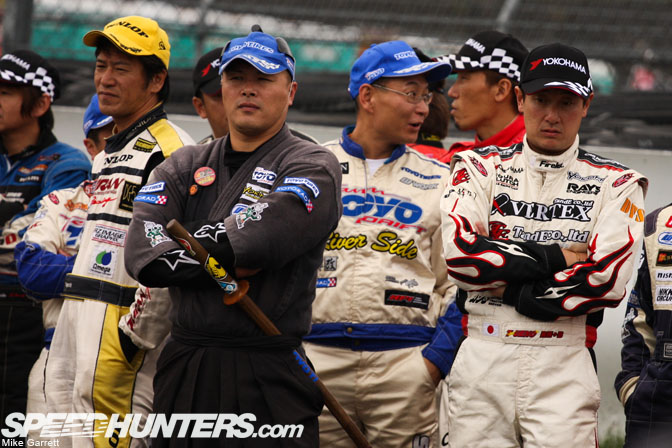 Preparing for driver introductions. After looking at this photo I thought it was kind of cool to look at the image differences between these four. You have Ueno the stylish rich guy, Kuroi the old school Osaka street drifting gangster, Drift Samurai who doesn't need any explanation and Koguchi the "working class hero" of D1. The characterization of the drivers is one of the thing that makes D1 so fun for fans.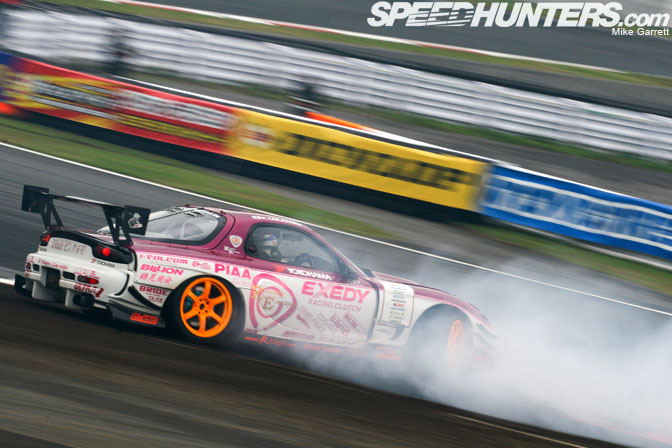 Kenji Takayama's R-Magic FD3S is one the coolest cars in D1, but so far he hasn't been able to match the success he had in his old orange FC3S. A lot of cars went off course during their practice runs, but Fuji has a large run off area which saved a lot of cars from taking damage. On both Saturday and Sunday there wasn't one car that had a serious crash.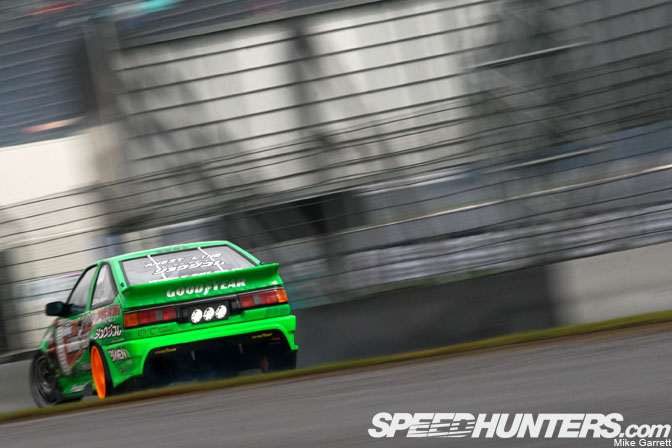 Another one to upset the purists, a turbo rotary-powered AE86. You could tell by the exhaust note that there was something strange about this one. I like the way the contemporary style rear bumper with integrated diffuser look on the AE86. The 86 still has very strong representation in D1 with seven of them on the roster for the Fuji event.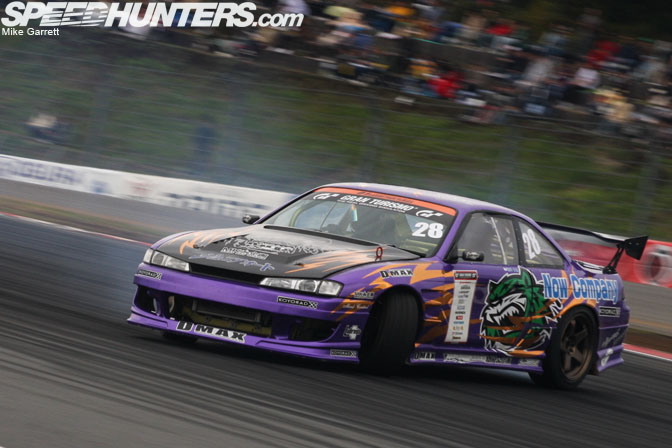 In addition to all of the familiar stars, there have also been some up and coming drivers making a name for themselves in D1 lately. This purple S14 is driven by Masashi Yokoi who has competed in both MSC and D1SL events in the past. He has now moved on to the big show and did quite well at Fuji where he made it all the way to the Best 16 where he was defeated by the ace Saito. You'll probably notice that the style of his car is a lot simpler than most of the current D1 cars.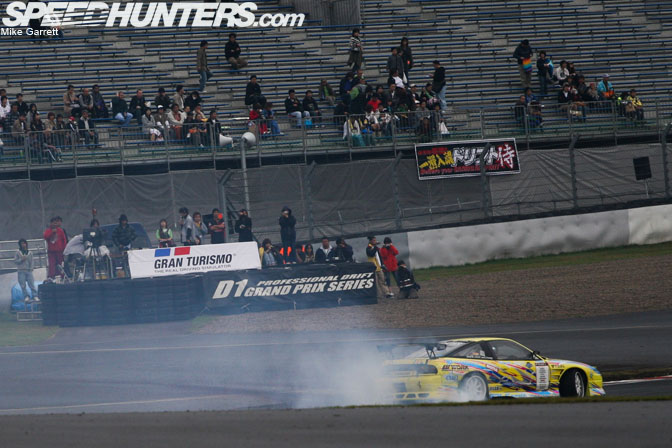 Hiroshi Fukuda slides his 180SX in front of the judging stand on Saturday morning. The event was open to the public on both Saturday and Sunday, but it seemed like there were three times the number spectators on Sunday. For a lot of Japanese people Saturday is still a work or school day so they had to wait until Sunday to get their drifting fix. Those who were able to make it on Saturday found that there were plenty of seats available.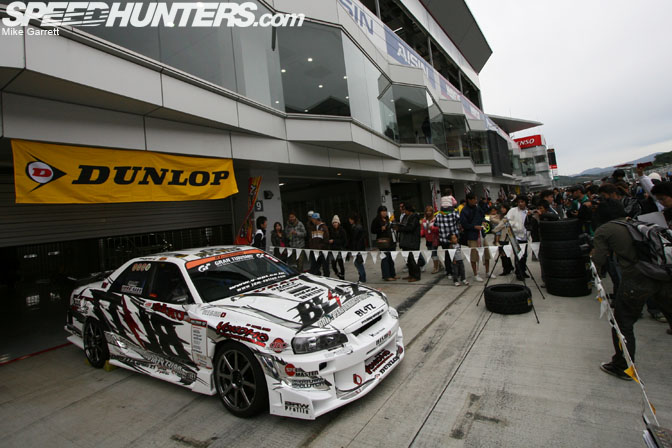 Check out the huge crowd gathered around Nomuken's ER34 during Sunday's pit walk. I don't think there's any argument over who the most popular D1 driver is right now. It seems like every time I see Nomuken's car there are some changes to it. It's now sporting a set of URAS GT fenders in the front and rear. Supposedly he will be switching to an R35 GT-R in the future, but I haven't heard any news about that one for a while. Maybe there will be some word at Auto Salon in January?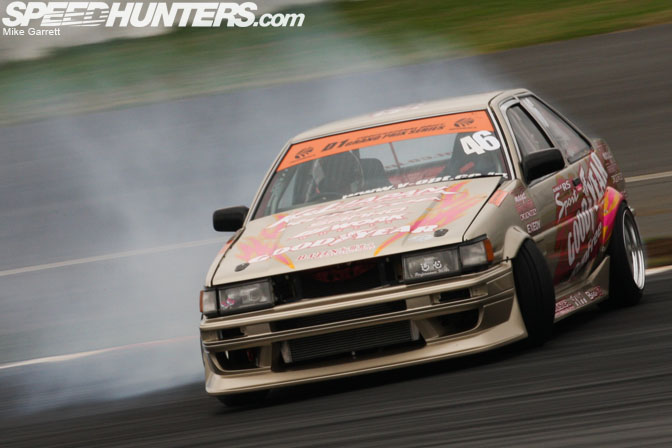 Another driver keeping the AE86 spirit alive in D1 is Toyohisa Matsuda in his turbocharged Levin coupe. He had a strong 99.20 point run on Saturday but even that wasn't enough to earn a spot in the Best 16. This is another one of the more "traditional" cars in D1.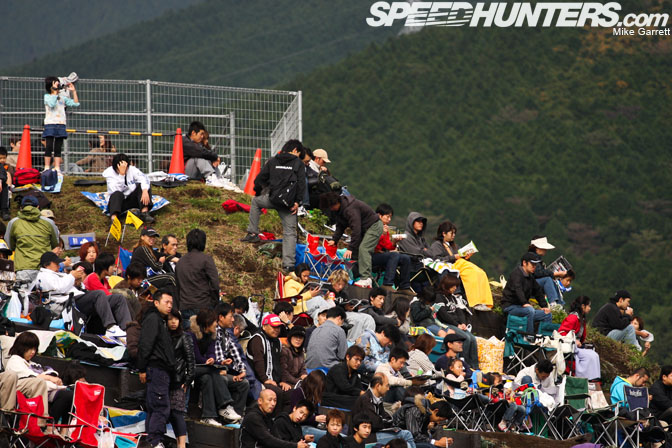 On Sunday ALL of the spectator areas were packed. Most people brought their lawn chairs and picnic blankets and relaxed on the hills overlooking the course. A nice way to spend a Sunday afternoon for sure.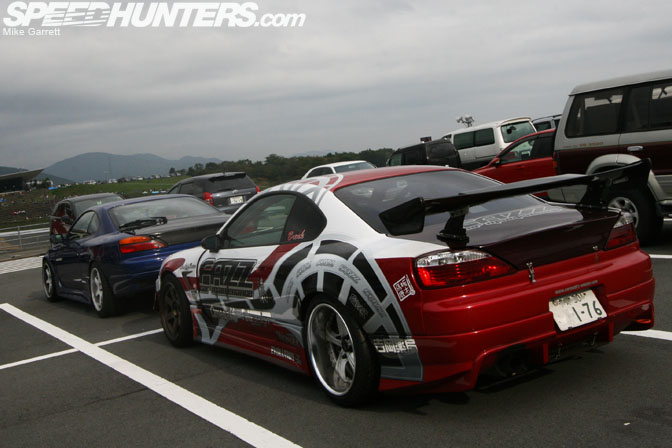 The parking lot at D1 events are a sight in themselves. I think I have seen both of these S15's drifting at Nikko Circuit in the past.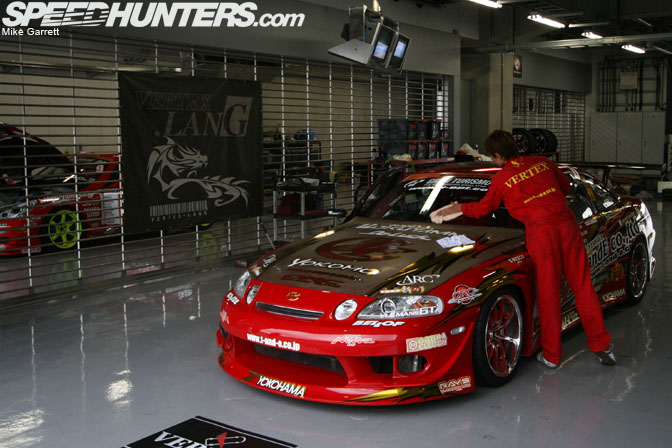 Takahiro Ueno's Soarer is shined up before its last run. Uechin lookin' good til the end!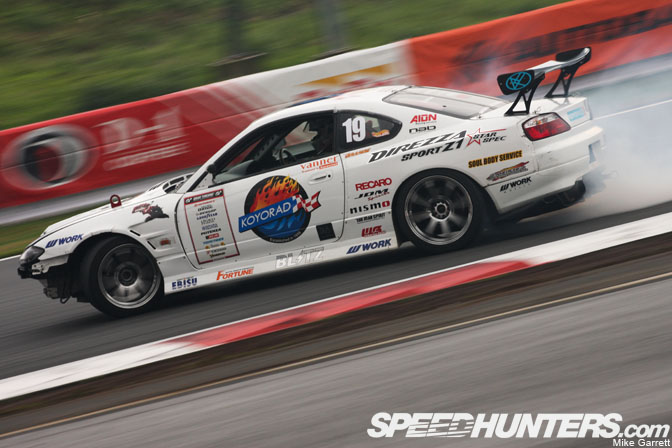 And lastly a shot of Naoki Nakamura's Koyorad S15 Silvia. He is another of D1's rising stars and is well known among hardcore drifting fans for being a member of the BURST drift team. He has competed in MSC in the past and is currently in a battle with Naoto Suenaga for the lead in this year's D1 Street Legal standings. The regular D1 season might be over, but D1SL still has two events left including the season finale at Tsukuba Circuit in December. I'm looking forward to that one for sure!
More D1 Fuji coverage is on the way soon.
-Mike Garrett