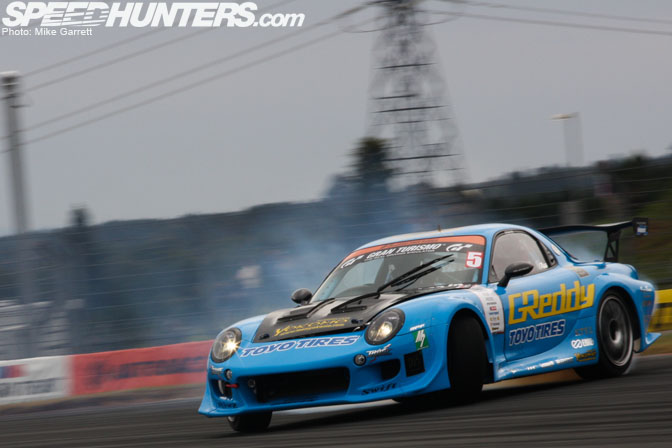 There is nothing quite like a D1GP event in Japan. Sure there are pro drift series around all around the world with some incredible cars and drivers, but there is something special about seeing Japan's best competing in their homeland. Fuji Speedway might not be the most iconic drift course out there, but it is one of the world's top racing racing circuits. Just two weeks ago Hamilton and Massa were screaming around the track in their F1 machines during the Japan Grand Prix, and this weekend the D1 drivers were here to leave their mark (literally)on the same Fuji course.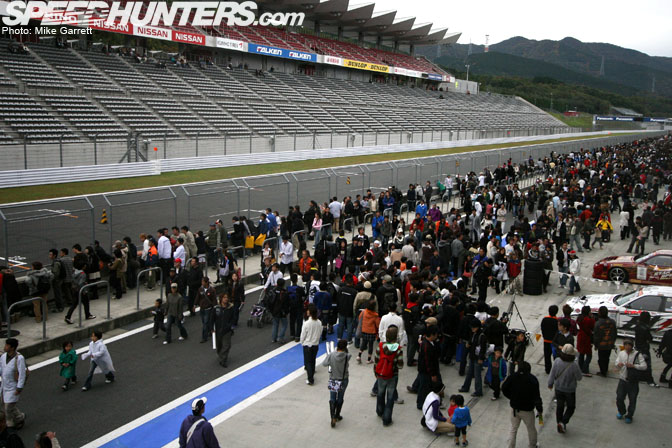 Japanese D1GP events are unlike pro drift events anywhere else in the world. In the US in particular drifting is still a "youth movement" of sorts and the atmosphere is one geared toward a younger demographic. Japanese D1GP events, however, are much more "traditional" in the sense that you will see entire families decked out in Nomuken or Team Orange gear carrying autograph books and sitting on picnic blankets watching the action. I took this shot looking down on the "Pit Walk" from the press center. Just look at all the people gathered around the cars. Japanese people of all ages are nuts about drifting!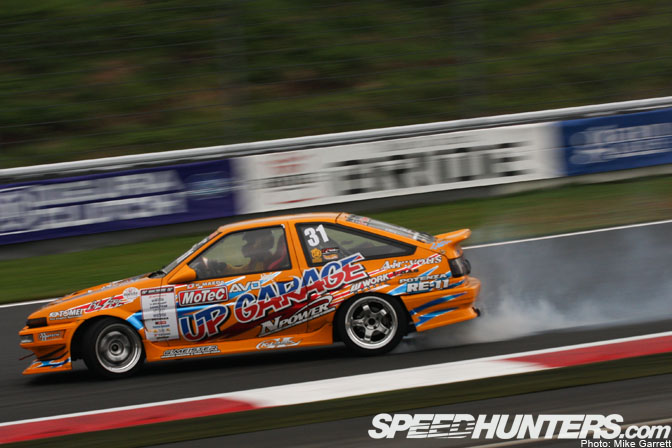 While the majority of attention was focused on the seeded drivers and those fighting for the championship, one of the things I enjoyed about Saturday's practice and qualifying was the chance to see some of the lesser known D1 drivers fighting for a chance at moving into Sunday's competition. Here we see veteran driver Ken Maeda in his Up Garage-sponsored turbo AE86 locking up his rear wheels. I have been impressed with Maeda's driving from watching old Option videos years ago and seeing him drive at the 2004 GT Live event at in Fontana.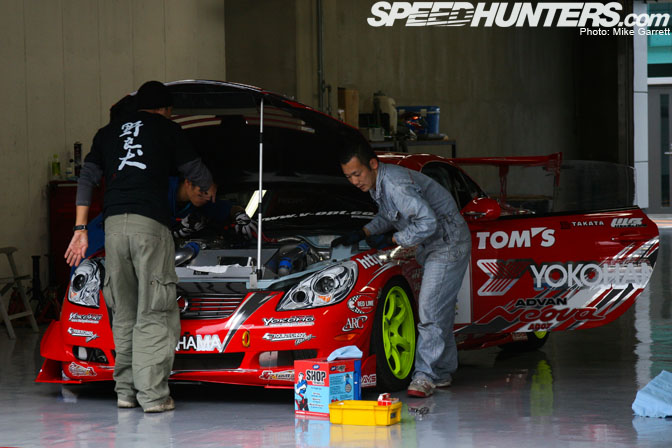 Although there were not really any big crashes, machine trouble reared its ugly head for a number of drivers. Here we see Yoshioka's crew trying to repair his SC430 which was having difficulty all weekend. Unfortunatley, the mechanical problems would force him out of Sunday's competition. Yoshioka is an awesome driver and here's hoping the new car will be fully dialed in for the 2009 D1GP season.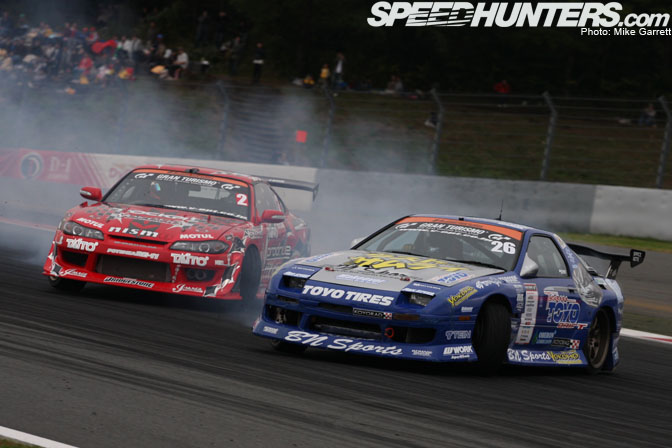 Drift Samurai has been on fire lately. He qualified just outside of the top 20 on Saturday, but a spot opened up following Yoshioka's trouble and he was able to qualify for the tsuiso competition on Sunday. In the Best 16 he was pitted against Youichi Imamura where he put up a good fight but was eventually defeated. You can also see that his FC3S is now painted to blue to match the other Team Toyo cars.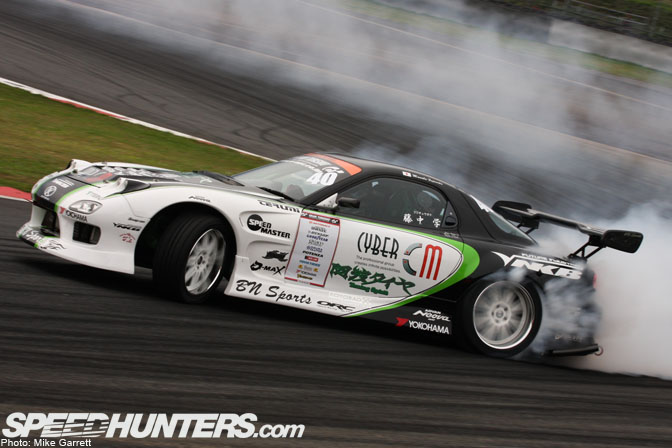 Manabu Fujinaka's FD3S was one of the sweetest sounding cars on the track with it's 650ps turbocharged three-rotor engine. From my vantage point(s) his runs looked awesome, but even with a 99.5 point run he missed the cut off for the Best 16. That just goes to show how high the level of ALL the D1GP drivers is nowadays. Jeroen profiled this car a while back if you want to read more about it.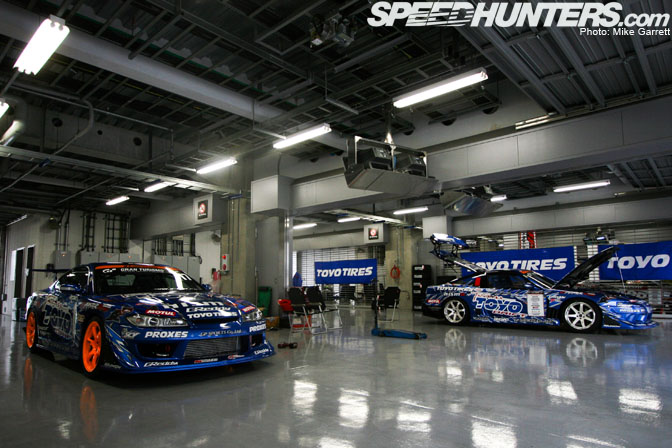 I don't think there is another track on the D1 schedule that gives teams nicer pit boxes than Fuji Speedway. Well lit, spacious, and totally spotless. I guess you would expect all these things from a modern F1-level racing course. The media center at Fuji is also as plush as it gets, but I'll wait to talk about that until my Temple of Speed story about Fuji Speedway a little bit later.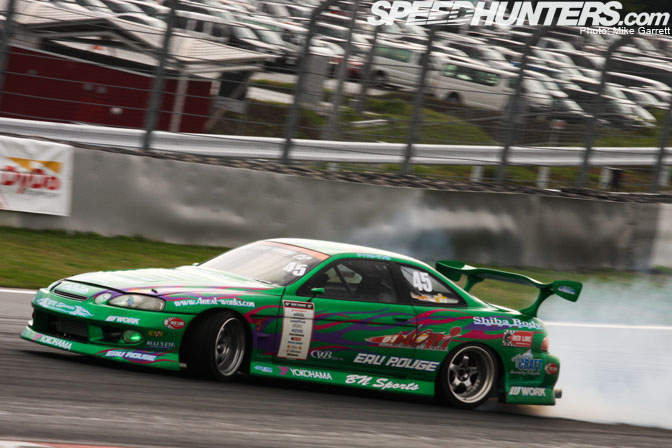 One of the cool things about D1 events in Japan is that they give fans a chance to go for ride-alongs with drivers. Of course there isn't enough time to give rides to everyone so a lottery system is used. The 4 Real Works JZZ30 Soarer was one of the cars selected for the fan ride alongs on Sunday. In my opinion this JZZ30 is one of the coolest looking cars on the current D1 roster. You can't go wrong with BN Sports aero parts!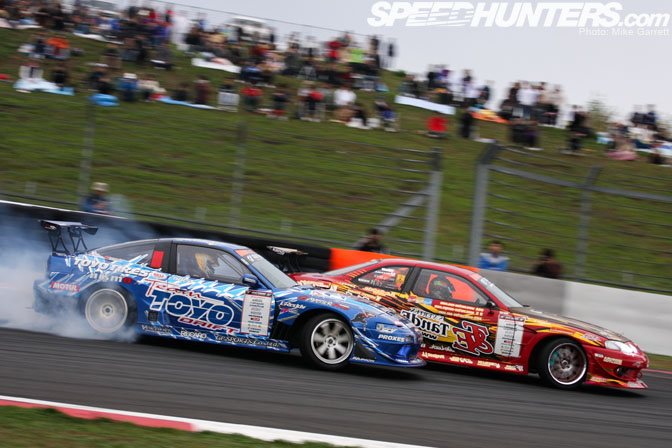 As you know, this D1 round marked the final appearance of Takahiro Ueno's Soarer after eight years of D1 competition. After defeating Nomuken (thus eliminating him from championship contention) in the Best 16, Ueno moved on to the Best 8 for the tough battle against Kawabata's 180SX. In the end Kawabata would advance, but the Soarer exited gracefully to loud applause from Ueno's supporters in the stands.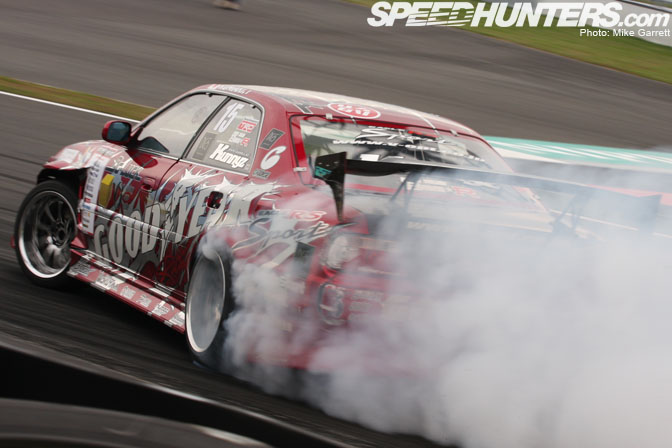 Throughout the weekend I tried to move around the course to experiment with different shooting angles. I am happy with the results, but man it was tiring! The course is so big and the steep hills you have to walk up and down to get to there didn't help either. Here we see Takahashi's JZX100 giving me and my camera a nice coating of shredded Goodyear as he makes his qualifying run on Sunday morning.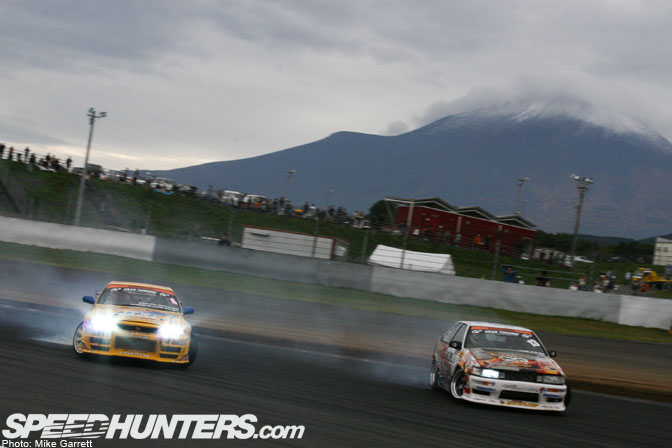 Here's Tsuyoshi Tezuka battling Tetsuya Hibino during the Best 16 with a cloud-covered Mt. Fuji in the background. Tezuka actually had a slight chance of taking the championship with a flawless run at Fuji, but Hibino eliminated him in this early battle. I was hoping for clear skies with a nice view of Fuji-san, but I should know better than to expect pleasant weather by now. I guess I can't complain too much though because it only rained a little bit on the two days I was at the track.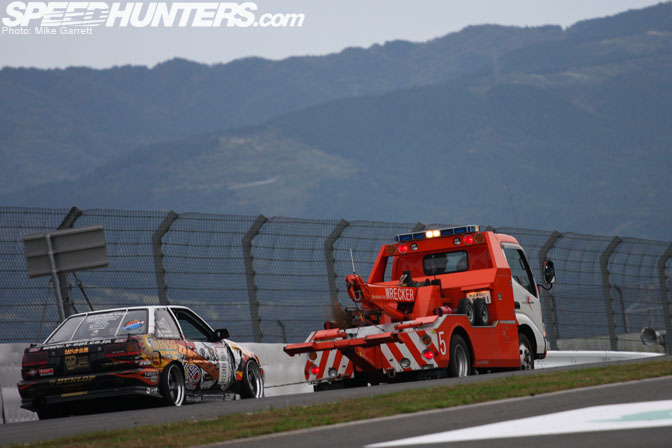 Unfortunatley for Hibino things would go sour in the Best 8 when machine trouble put his car out of commission and allowed his opponent Kumakubo to advance to the semi-final. Perhaps the Toyota gods wanted to punish him for running an SR20 in an AE86? Toyota purists, however, should be happy to know that Hibino still has old naturally aspirated AE86 coupe and it was actually on display in the Koyo booth at D1.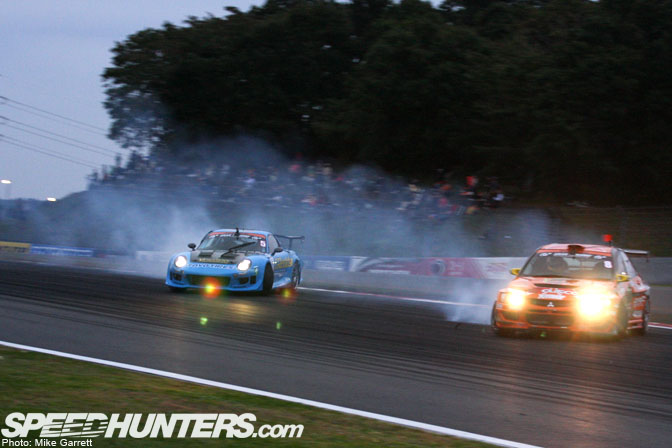 After defeating Kawabata in the semi final, Kumakubo advanced to run against Masao Suenaga in the final tsuiso match of the 2008 D1 season. By this time the cold and cloudy afternoon was already turning into night, but the stands were still packed with fans. Both of their runs were very close, but Suenaga had a slight advantage and came away with his first D1GP win of the year.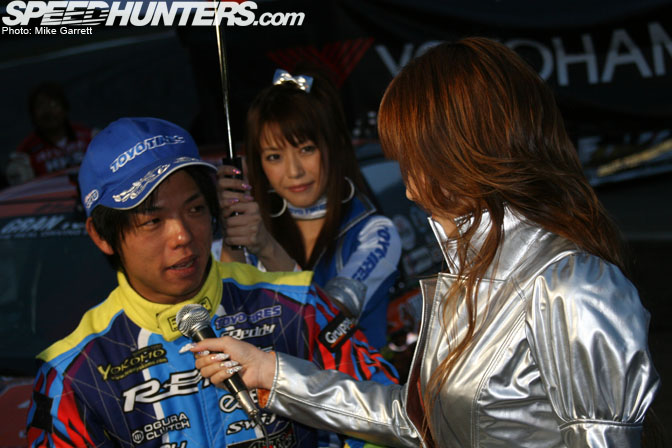 There's Masao, the brother of Speedhunter and Team Orange driver Naoto Suenaga giving his post-victory interview to one of the D-Sign girls. It was a well deserved win for both him and the RE Amemiya D1 team.
That's just part of the action from D1GP Fuji, stay tuned for much more coming soon.
-Mike Garrett