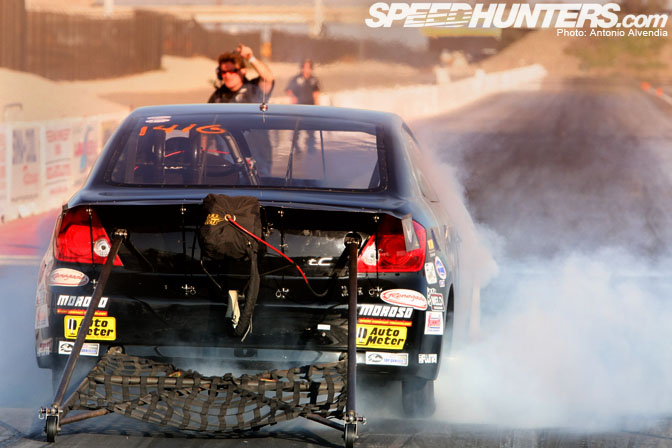 Being a Speedhunter in Southern California, you have to work 7 days a week. Why? You're processing photos, editing, and writing (and sometimes going to special events) from Monday-Friday, but on the weekends, there are ALWAYS different car events to attend! This past weekend in Fontana CA was the Battle of the Imports season finale, at California Speedway.
I was very busy this past weekend doing a photo shoot and a supercar test drive for one of our "Driving Impression" stories, but of course I had to stop by Battle of the Imports to see what was going on! I was looking forward to drag racing my test vehicle and experiencing just how fast it could go down the 1320 in real life, but unfortunately, that wasn't going to happen – since we didn't arrange it ahead of time, we couldn't get a tech card sorted out in time for the run group with open spots. (I just had to do my own "middle of the night" 1320 action when there weren't any cops around, hehe.) I was also looking forward to seeing some of the Pro guys run their cars – guys like Chris Rado, Ed Bergenholtz, Jeremy Lookofsky, etc.
While hanging out at the Battle trailer, I had the chance to hang out with Ron Bergenholtz, who shocked me by telling me that his brother Ed wasn't going to run that weekend. "What??? But it's the last Battle of the year… and it's right here in LA! Why the hell wouldn't he run?!"
With a sigh, the usually upbeat Ron B told me that their mom passed away that week, and they couldn't run because they were focused on all the family stuff going on… and he himself just went to Battle for a little while to break away and clear his mind for a bit. Wow, what horrible news. To me, their situation was a reminder – as we work hard and busy ourselves attending all the races and car events we can, we still need to take time out to spend with our families, because family should come first, before cars or events or whatever. My condolences go out to the Ron and Ed, and the Bergenholtz family for their loss. So sorry to hear that, guys.
Back to the action at Battle, check out our leading photo – that's our fellow Speedhunter Chris Rado, putting down a big horsepower burnout with his "Grim Reaper" Scion TC. Chris is a good example of determination and focus, and whether you're into Pro FWD drag or not, you gotta respect the super fast numbers Chris and the others put down when they blast down the dragstrip!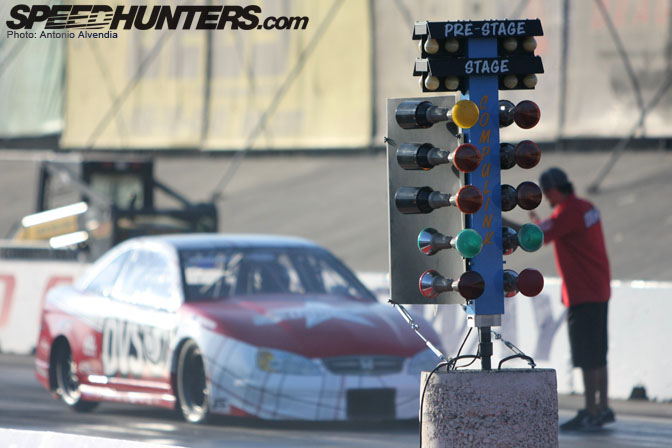 The stage and the launch is what it's all about. I gotta admit, I've tried drag racing on an actual dragstrip only once in my life… and it was a lot harder than I thought it would be! I used to think that drag racing was only about the car, not the driver. I used to think, "man all they gotta do is stomp on the gas, and the car goes in a straight line," but when I tried it myself, I discovered that trying to "deep stage" a car without redlighting (driving forward too much, passing the staging light beam completely), and actually launching a drag car requires a lot more driver skill than I thought.
Anyway, here's Jeremy Lookofsky preparing to stage his Pro Drag car, the DVS Shoes-themed Civic. I think the livery on this car looks cool!
Man, but wouldn't it be funny to have a drag car sponsored by a lower end, less popular line of shoes? What if someone rolled up with a low budget drag car with an old school Fila or Avia or K-Swiss logo on the side… or how about something like Lugz or British Knights, lol… that would be pretty funny!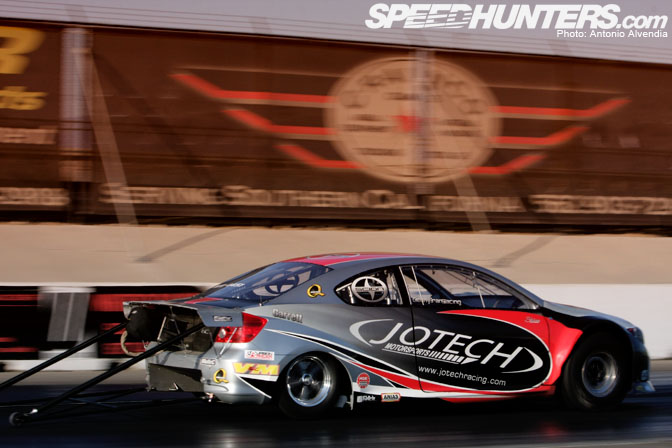 Rado certainly wasn't the only drag Scion driver in attendance – Kenny Tran was laying down some very fast passes with his own Scion TC! These guys are doing some pretty big things with their TCs! Respect!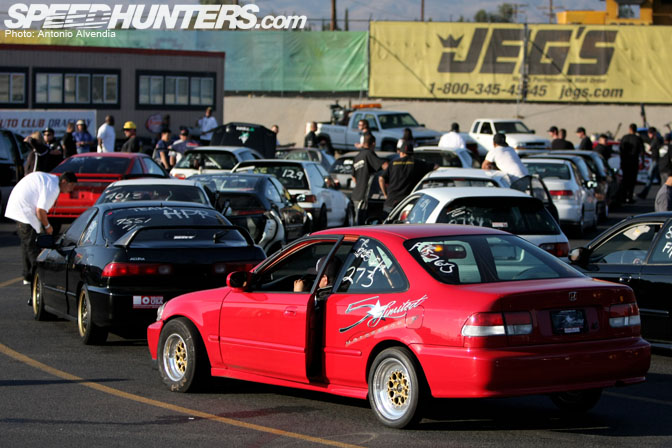 One
of the things I like about Battle of the Imports is seeing all the
different privateer Hondas and Acuras that come out to run. It's fun
seeing the variety, style, and performance of the different cars in
different regions! There were tons of Civics and Integras out at Battle
this weekend, and it was cool to see the contrast between the JDM
styled and full race Hondas that showed up at the track.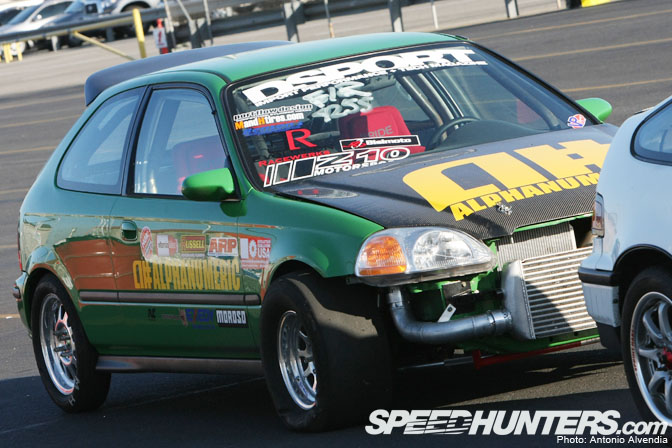 Speaking of Hondas at the track, my good friend Tobin Honda from D-Sport Magazine introduced me to one of his coworkers, Jeren Walker, who was out at Battle doing passes in his green EK Civic. It was cool to see the guys from D-Sport out at the track, taking it back to their roots, drag racing. (Remember, the magazine used to be called Drag Sport, and the founders of the magazine were some of the OG import drag industry guys from when the IGC version of Turbo Magazine and the Petersen or McMullen Argus version of Import Tuner ruled the magazine racks)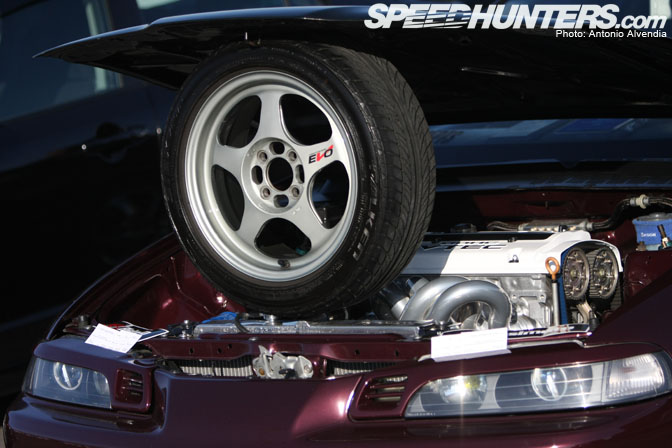 Dang, the owner of this Prelude had a Regamaster Evo wheel with tire as a hood prop! Kinda crazy… I dunno if I'd be down to have a wheel like that (with a Falken Ziex tire) balancing on my radiator cap; that can't be too secure, man. That's a pretty clean looking engine bay though. Check that high rise header.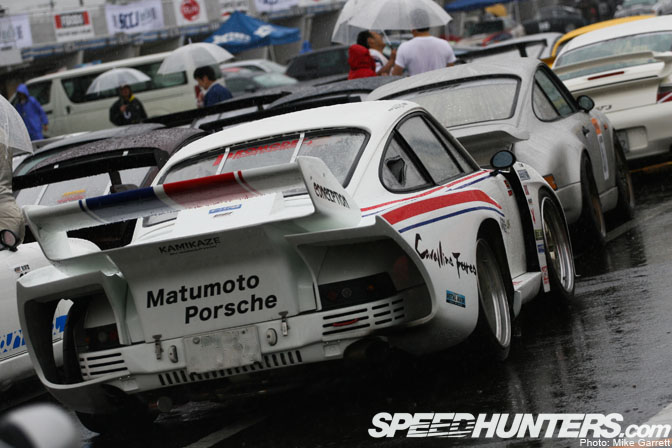 Lots of cars in display… this red Honda Civic Wagovan (dope!) with big foglights on the bumper rolled by just as I snapped this photo of Ferdie Ang's SCP Subaru STi, the white 350Z and Garrie Yeo's orange NSX in the background.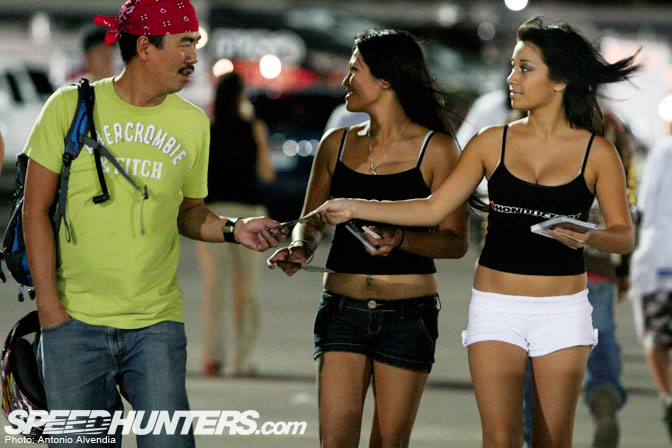 This photo just goes to show that when a female rolls up to the Torco Oils booth, 3 out of 5 guys divert all their attention to the girl. I didn't even notice until later, that the guy standing on the left is my friend, Mike Ribas from Torco – this guy is into Honda drag racing himself! Again, I think it's cool that so many people in the industry make a job out of something they're passionate about.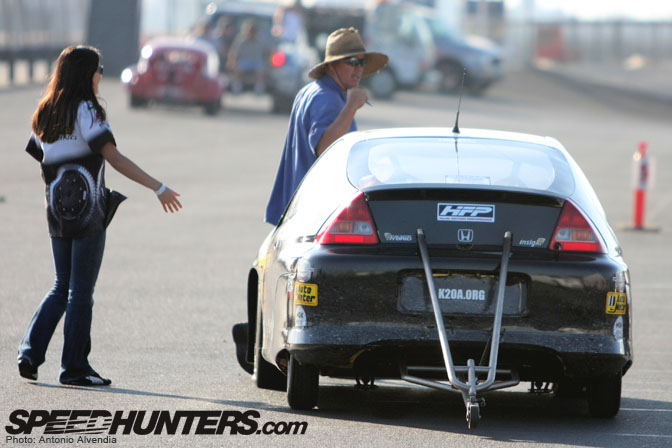 Check out this Honda Insight with wheelie bar! Super cool!!!
Thanks to Mike Choi, Frank Choi, and Raymond Vazquez from Battle for getting me passes to the event!
-Antonio Alvendia