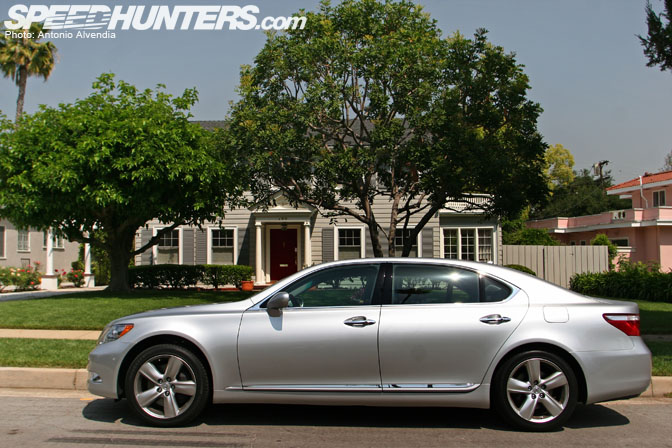 If you've been to a car show in California any time in the past couple years, you'll know that VIP styling is a big trend. Some people just like luxury show cars, but others just like having the big slammed 4-doors to daily drive when their drift cars have progressed and evolved past "street legal" status. Many of my friends actually fit into the latter category; they drive VIP styled Lexus and Infiniti cars on a daily basis because they don't want to constantly deal with the Southern Cali cops hassling them to make sure the exhausts, wheels, and emissions equipment on their AE86s, S13s, MR2s, and Integras aren't modified.
VIP cars don't necessarily need to go fast; they just need to look cool – slammed to the ground with wheels wide enough to touch the fenders. Therefore, it becomes attractive to modify big Lexus and Infiniti sedans. Often times, they just need good stance and possibly aero, but it isn't necessary to put a huge, loud cop magnet exhaust on the car.
This being said, I decided that I should take a look at the new LS460L. The LS series is the flagship of the Lexus brand; it's the highest line of car Lexus makes. Since Lexus LS and GS models seem to be the most popular cars to be built up VIP style right now (actually, even I own a Lexus LS, but it sure isn't a 2008 model!), is it possible that the newest model Lexus LS will become the ultimate VIP car?

When I was driving the 2008 Lexus LS460L (designation for the 4.6 liter, long wheel base version of the LS), I definitely felt
like I was floating on air. I've ridden in many VIP cars, but I've never ever been in a VIP car that felt anywhere close to how luxurious the LS460L feels. Most VIP cars look super cool, but they ride kind of bumpy (due to the low ride height and damper compression obviously). However, the LS460L is nothing like that – obviously the car I tested is bone stock, so it wasn't lowered! In stock format, it is so incredibly smooth,
especially when you're comfortably cruising around on city streets or freeways.
It makes me wonder if there are any low-down suspension options that will retain the smooth ride of the factory Lexus suspension. I mean, the Lexus engineers and planning teams spent a ton of time and money refining the suspension of the car for smooth ride and cornering performance. It makes me wonder if you could achieve that same level of smoothness and performance from a set of Tein or JIC coilovers (for example, because they're popular for VIP car suspension) or Air Runner air suspension. Somehow, I don't think so. (No diss to these aftermarket companies – they make great products! But I'm just saying, I've never seen an aftermarket suspension system that rides like a new OEM Lexus suspension setup. I'd LOVE to get suspension that does, if it exists!)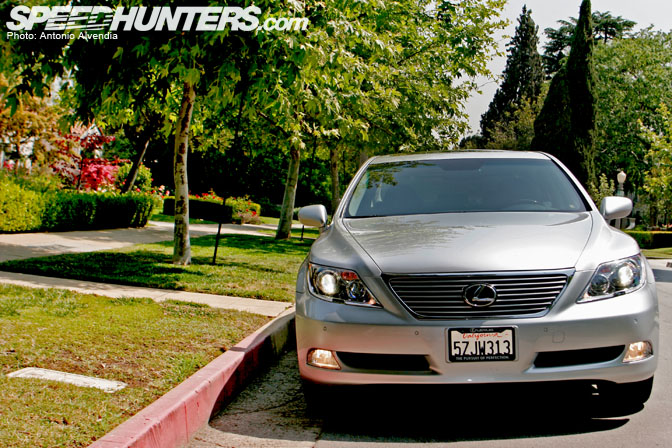 The big L on
the front grill definitely stands for Luxury. I loved driving this car so much.
At night, I really liked how much visibility I had – due to the HID headlights,
which illuminate everything that comes in front of your path! The bright
foglights on the bottom just reinforce the fact, so you can see any type of
road debris on the freeway before you might run it over!
Speaking of freeways,
the LS460L may be a seem like a smooth and refined street cruiser at first, but
when you stomp on the gas, it definitely gets up and GOES – perfect for freeway
onramps, or for accelerating past cars so you can dip into the carpool (HOV, for those not in Cali)
lane! This LS460L has a 4.6 liter engine; it isn't even the biggest displacement
engine available in the LS – there's also a 6.0 liter available in the LS600!
Regardless, this is definitely one of the fastest big sedans I've driven. Not
too common for a VIP car to be this fast!

It has sophisticated
handling when you're negotiating corners; it feels as if it's actually a
smaller car than what it really is. I couldn't believe how good the cornering
was on such a big car! Of course, it was smooth when cruising also. That goes
without saying; it's a Lexus LS.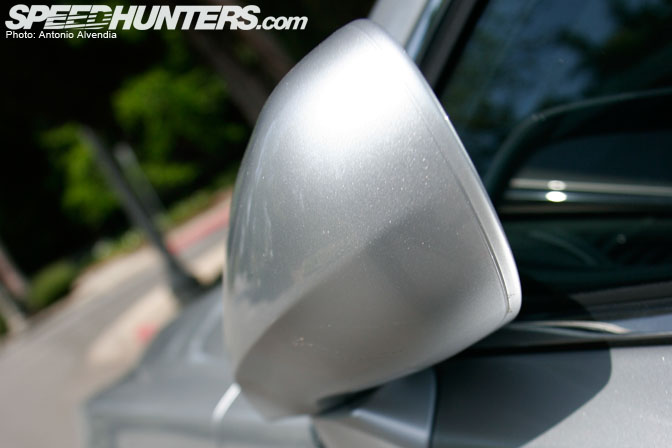 I also like the power folding mirrors, which
also turn themselves down automatically when you're backing up. This is an awesome feature to
prevent you from curbing your wheels! Can't have be VIP when your wheels are all curbed up! Above is a photo of the driver mirror, folded, as seen from the rear of the car.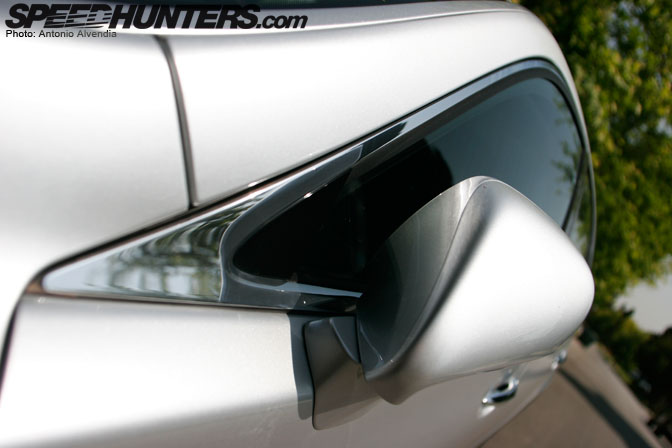 This is what the folded driver side mirror looks like from the front. They fold in real tight, so that you can squeeze your Lex into super tight spaces, like crowded parking lots in Hollywood, or in case you're worried about bumping your mirror into the counter at your favorite fast food drive-thru.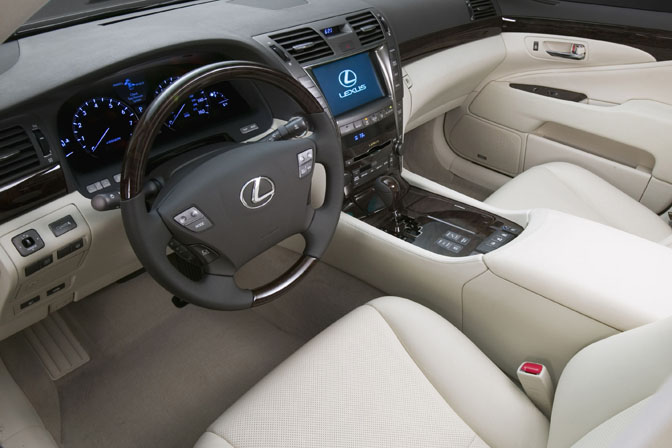 My favorite interior features are the soft Lexus
leather (heated and air conditioned) seats and of course, the high
end Mark Levinson sound system. Forget about aftermarket sound systems – these speakers bump hard when you're trying to let everyone on the block listen to your favorite
music, with little to no distortion/static. Also I can't forget the touch
screen navigation-equipped head unit, which makes life a lot easier when you're
trying to find the address to your next business meeting or that new restaurant
your friends have been talking about nonstop.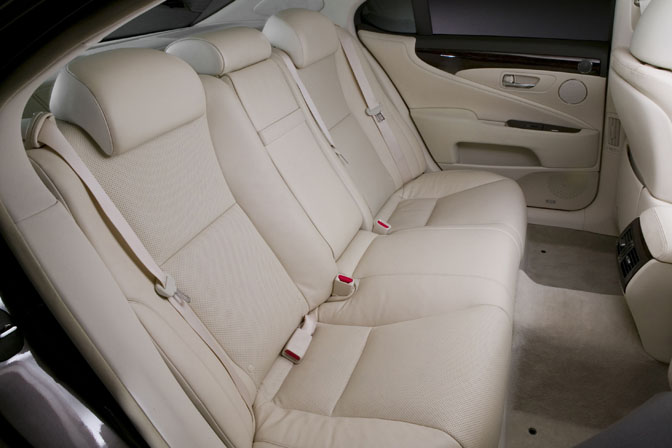 In the back, I love how spacious it is back there; you could really get cozy back there if the time is right! Aside from that, I liked the retractable rear window shade – I found myself playing with it and making it retract and extend constantly! That's much cooler than the curtains you normally see on VIP cars I think!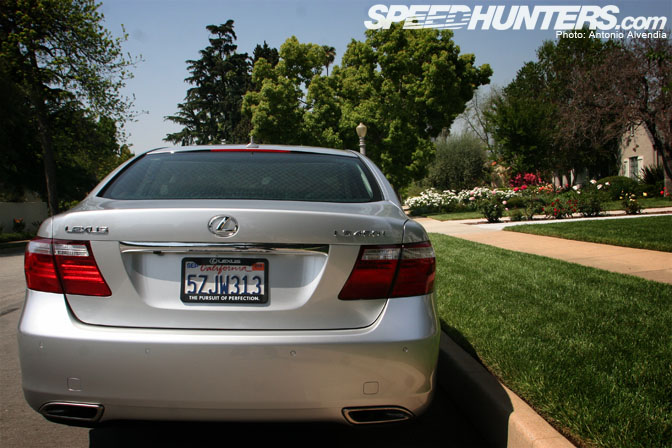 On
the outside, I need to say I'm pretty partial to the rear end; I think it looks
gorgeous. I love the taillights and the distinctively shaped exhaust tips. I think that since rear bumper has holes in it shaped like the OEM exhaust tips, it might be kind of hard to change to a different exhaust style unless you change the rear bumper also. Either way, the wide exhaust tips don't bother me at all; in fact, I like the shape.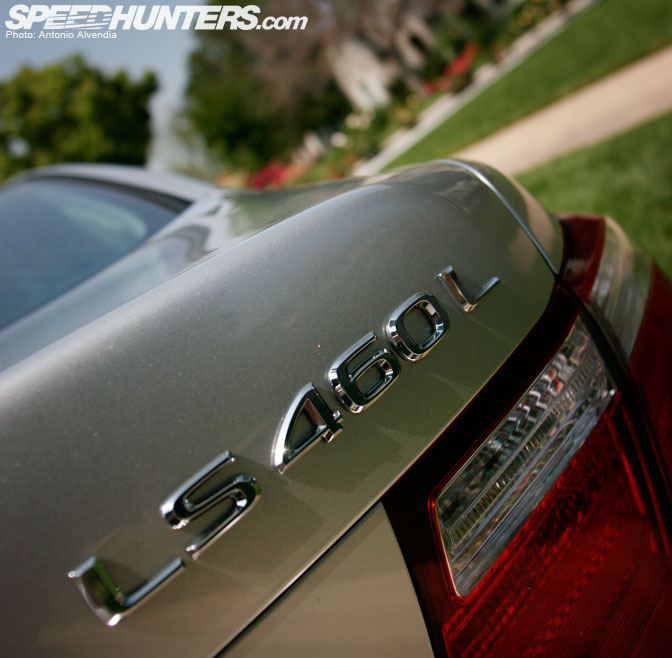 The emblem says it all. Lexus LS 460L. I would love to buy one of these cars… but I find myself faced with a difficult dilemma. Maybe I should ask for feedback from some of you readers… if you had the funds to buy a new LS 460L, would you leave it mostly stock, or do it up VIP style?
I'm still trying to decide for myself…
-Antonio Alvendia