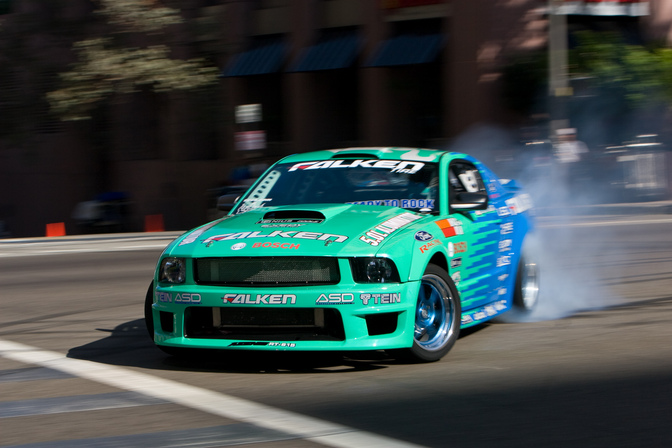 It has been a crazy last couple of months for me; I'm going to refrain from putting everything into this one blog of mine. After all, I don't want to take up the entire Speedhunters site with my blog, now do I? For this blog, I am going to talk about my Bosch Performance Art shoot in which I got the opportunity to drift the Streets of Los Angeles and also my trip to Detroit to the Ford Headquarters, the Woodward Dream Cruise, and the Bill Ford Museum.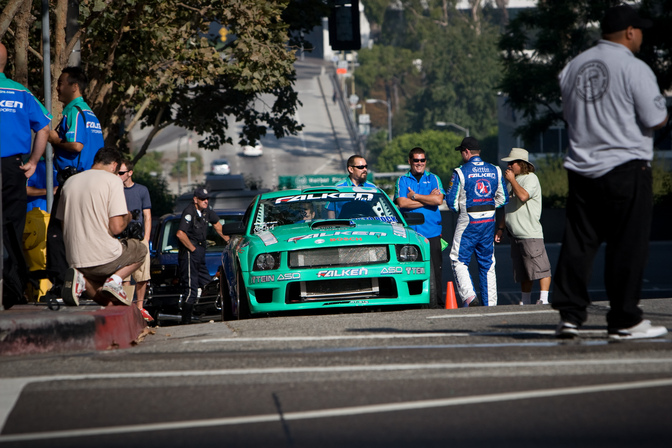 A couple months back, I was on a conference call with the folks at Bosch trying to think of some promotional activities. One idea the guys over at Bosch came up with was basically this: "Only the most powerful spark plugs can create the most powerful art." You're probably very confused as to what this means. I was at first too. Let me elaborate. They had the idea that my Mustang would be my paintbrush, my tires would be my paint, and the asphalt would be my canvas. I loved this idea immediately.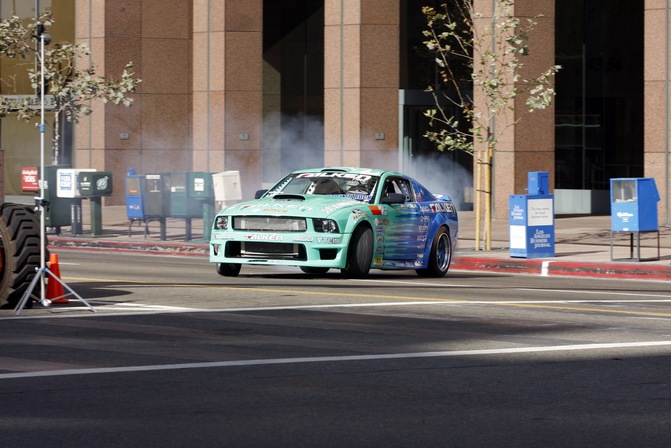 I thought this would most likely take place at a track somewhere, but then I received the news: My canvas would not be a track or a parking lot… it would be the streets of Los Angeles. That's right, Bosch, being the innovators that they are, decided to shut down an intersection in Los Angeles, invite anyone that wanted to come watch, and let me make an abstract artwork.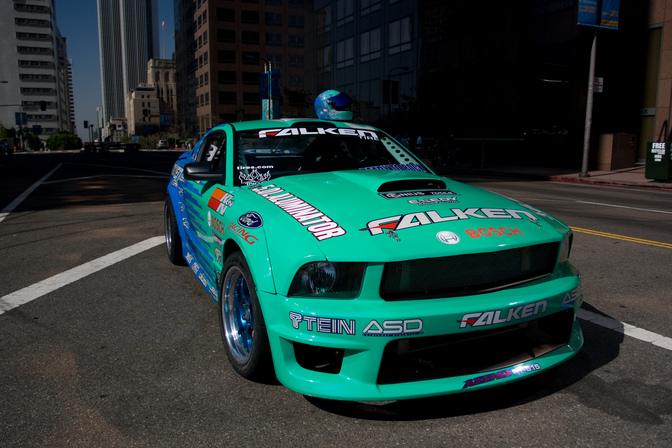 I was kind of blown away that they were going to shut down the streets of LA and let me go out in my 650 hp Mustang and destroy Falken Tires… in the middle of the city… on a Saturday. Prior to the event, I researched performance art a little bit, as well as Jackson Pollack, one of the greatest abstract artists of all time for those of you to whom the name doesn't ring a bell. Jackson Pollack's idea of art was that it should show an event or an experience. I planned to do just that: make a masterpiece that showed an event. The event? My Ford Mustang drifting though the streets burning up Falken tires. Rather than being a competitor for once, I wanted to put myself in an artist's shoes and show my creative side. I wanted people to see the final product and be able to see how fast and precise I was.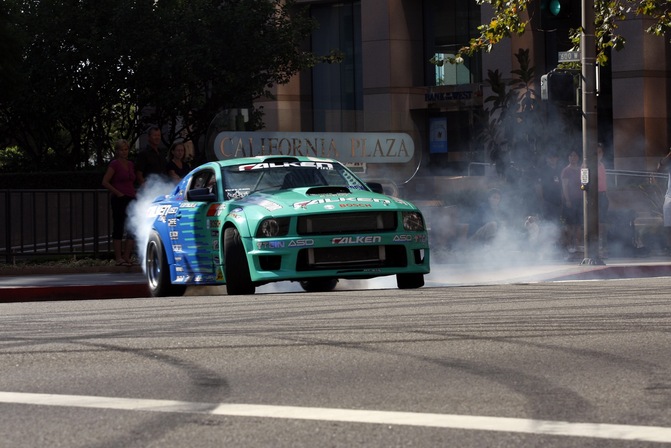 Before creating my artwork, I drew some lines on a satellite picture of the intersection to get some ideas of what exactly I wanted to create. The night before the event, I picked up my sweet Ford Mustang GT that Ford supplied me with for emergency use with and went to the location, 3rd and Grand, and drove around just to scope out my canvas for the next day.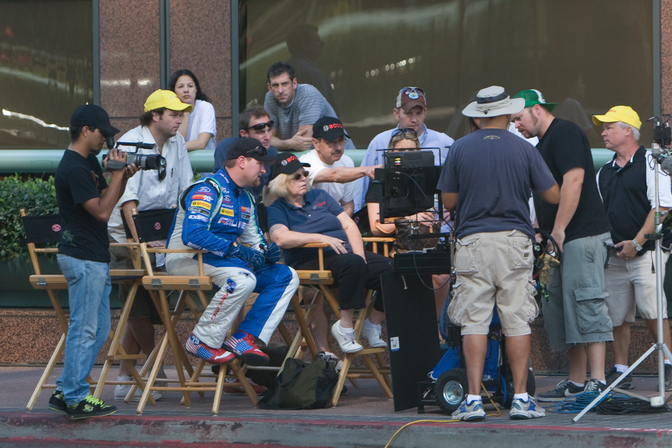 I showed up to the location the next day and there was an incredible production company all set up and ready to go by the name of Tool. They had an 80-foot condor in the middle of the street and there were huge real film production cameras everywhere. It was absolute insanity.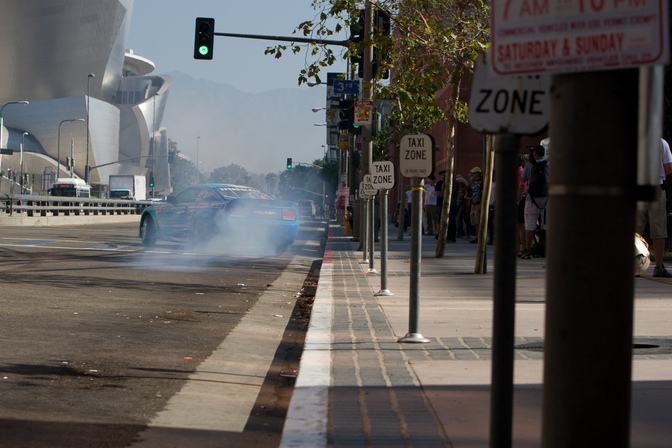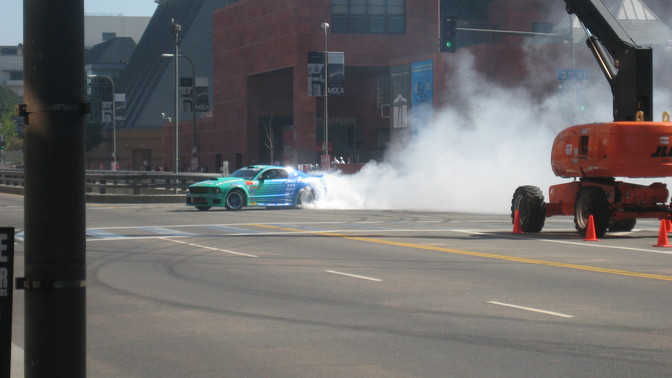 To have the Mustang out there in the middle of this intersection, with police stopping traffic every three minutes for me to drift, was absolutely incredible. Check this out: http://www.youtube.com/watch?v=CjUQDEBMbuA Every time I did a few passes, I would get out of the car, study the canvas, look at the video on the condor, and then I would plan my next move. Eventually I became satisfied with my creation and I looked at the guys from Bosch and from the production crew and I said "That's it, I'm finished!"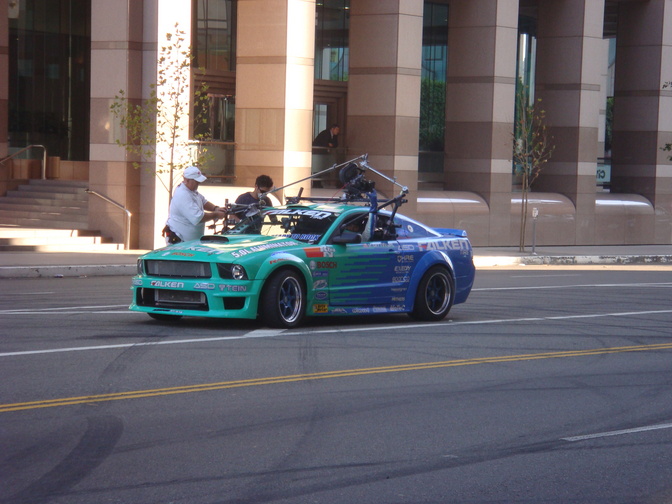 Once the actual artwork was done, they took a birds-eye view picture of it. After that was finished, the production people hooked a huge camera rig onto my car. And I basically went out and got to do some freestyle driving, just to get some good shots. I was just flying down this street, just getting nuts, and it was just so incredible.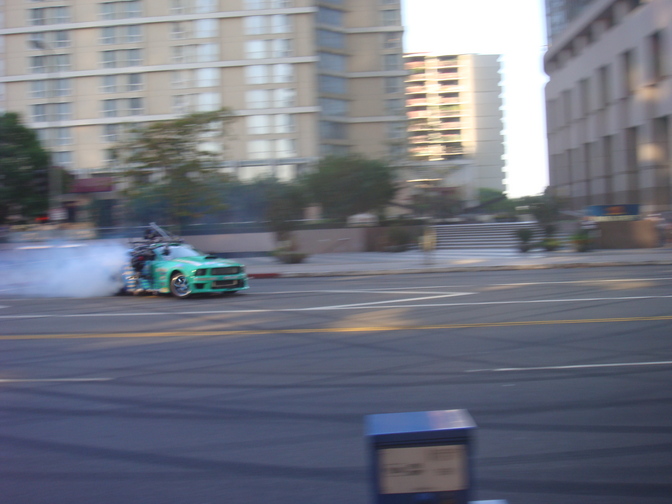 I haven't seen the video or the picture of the final product yet, but I can't wait to see it. Bosch is coming out with a micro-site to showcase this campaign that should be launched in late October called BoschPerformanceArt.com. If any of you are gonna be out at SEMA in November, make sure you stop by the Bosch booth to see some sweet videos and to see first-released actual poster of the artwork.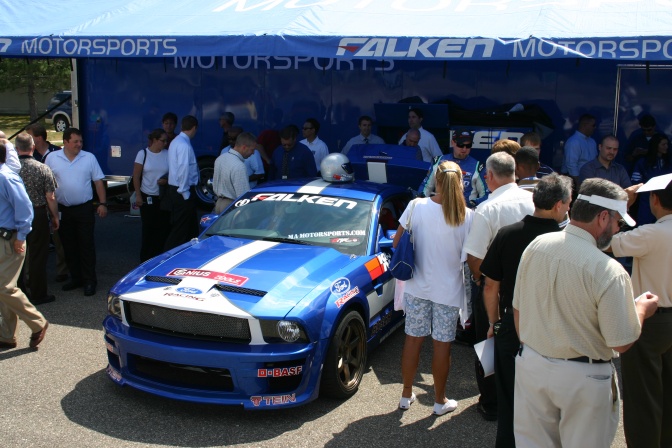 A few months ago I had an idea that I wanted to go to Detroit to the Ford headquarters and host an employee appreciation slash drifting exhibition slash employee ride-along day.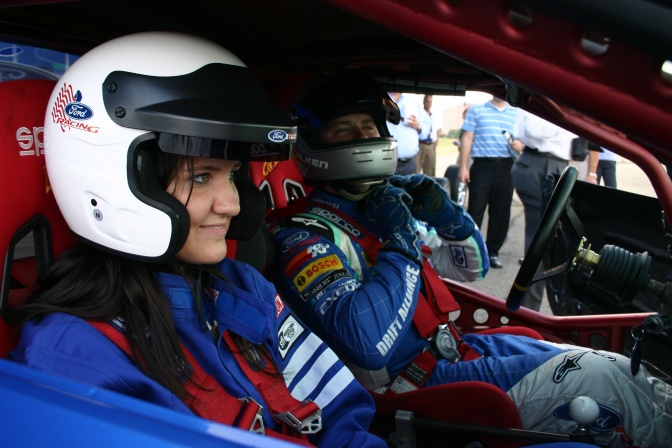 I wanted to show the people in the offices what drifting is all about as it is still a little new to some of the people over at Ford, plus I wanted to put some smiles on peoples' faces after they went for their very first drifting ride-along.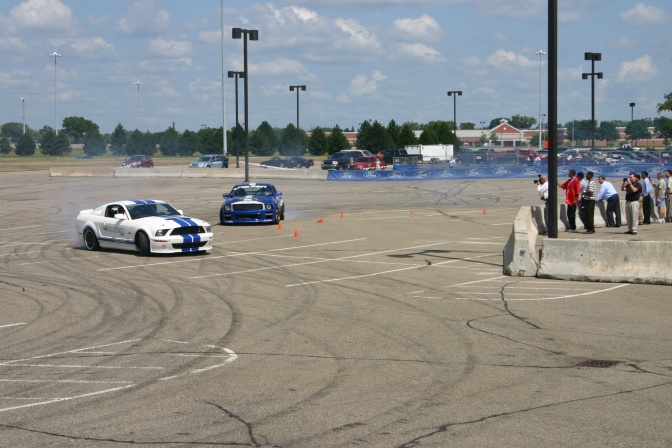 So the guys from Falken Tires and I went to Detroit with my practice Mustang. Ford also graciously lent us a Mustang GT that had the 605 hp Romeo engine in it for my friend Doug Vanderbrink to drive as well, so we could show the people a little bit of tandem action.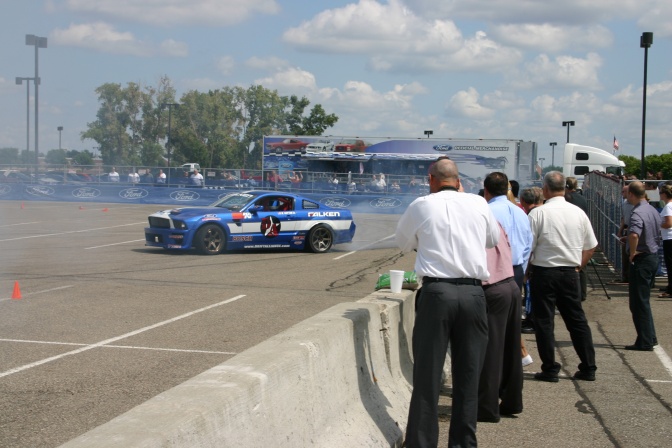 The whole area was K-railed off for us, there was a ton of media, and it was just a really fun day. It was great to give back to this company that has helped me out so much and to be able to reach out to the people who are behind the scenes at Ford.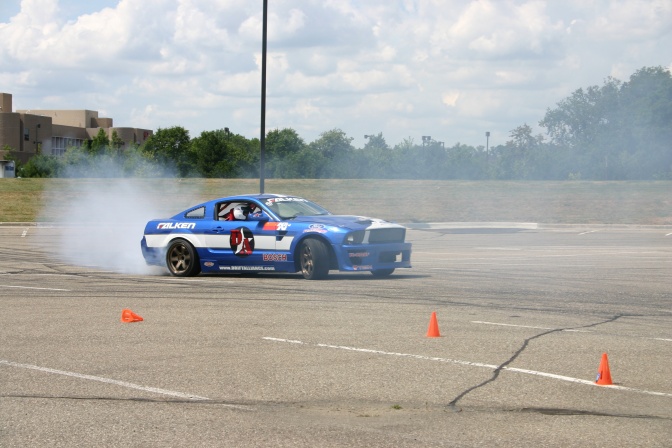 The more people I meet from Ford, the more I learn how genuine passion runs the company, and the more I see how dedicated and passionate the people are about the company, it just makes me so proud to be a part of that family.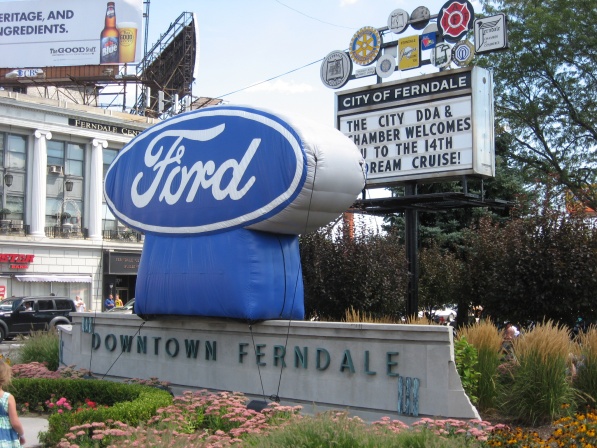 This exhibition was only the kick-off event to the infamous Woodward Dream Cruise, which is the world's largest one-day celebration of classic car and hot rod culture that takes place in the Detroit area every year. It attracts over a million visitors and more than 40,000 cars. This was my first time at this event, so not only was I extremely proud to be at the car Mecca of Detroit, but also to be at Ford's headquarters and to be a part of this huge event.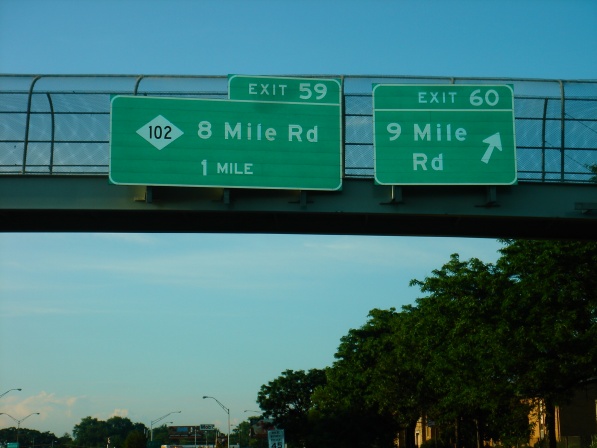 Friday I had a little down-time so I went to a top secret location to check out the 2010 Mustang… Sorry no real pics but you can check these (http://www.muscularmustangs.com/2008/news0200_mustang_spy_shots.php ) But I will say this… It's BAD ASS! They made some amazing body and tasteful interior adjustments. After I got all my belongings back from security, I went to the Bill Ford museum which is something that anyone who ever travels to Detroit should check out. But on the way to the museum, I passed 8 Mile Road, and of course I had to be a tourist and take a picture of it.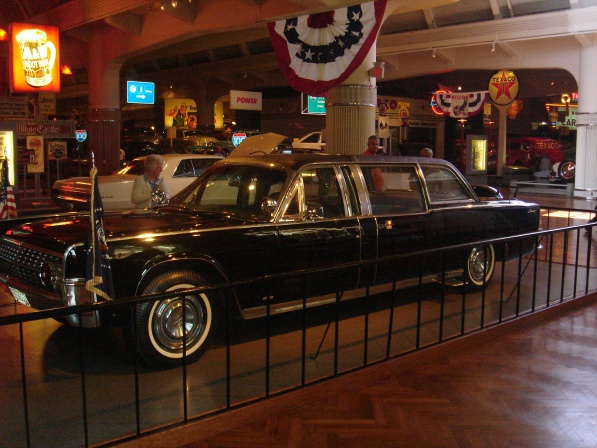 I expected this museum to be all cars; in fact, I expected it to be all Fords. However, I was completely mistaken because it was more of an "American Museum". It had steam engines, trains, popcorn carts, GT40's, and even the car that John F. Kennedy was assassinated in. It had 80's memorabilia, even Guitar Hero. It was basically an American history museum and it was awesome.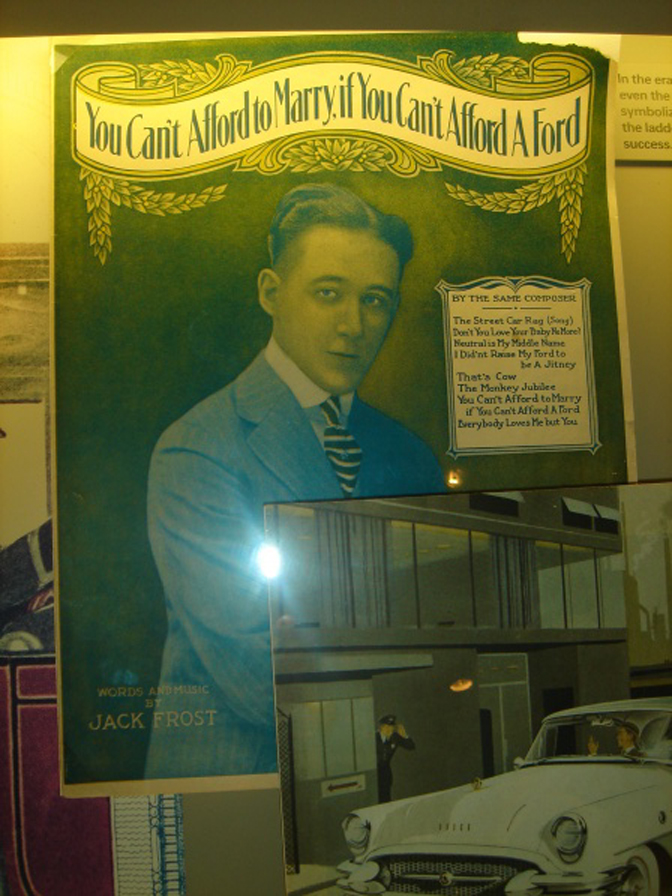 This is one of my favorite pictures; what a great marketing campaign. I read it like: You can't get the girl, if you don't have the Ford. Probably very true back then!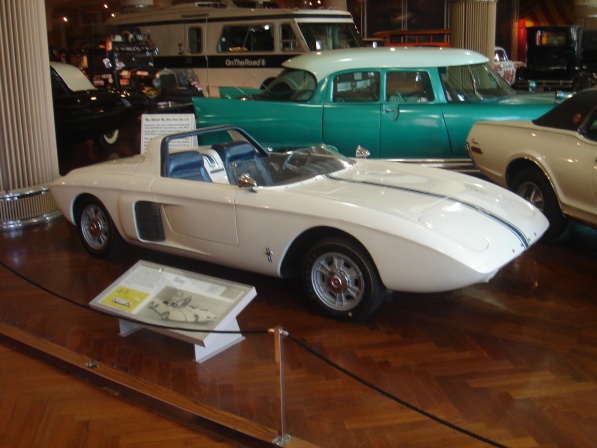 This white Mustang was the first concept Mustang. I am very happy this never made it to production as I probably wouldn't be driving my machine today if it had.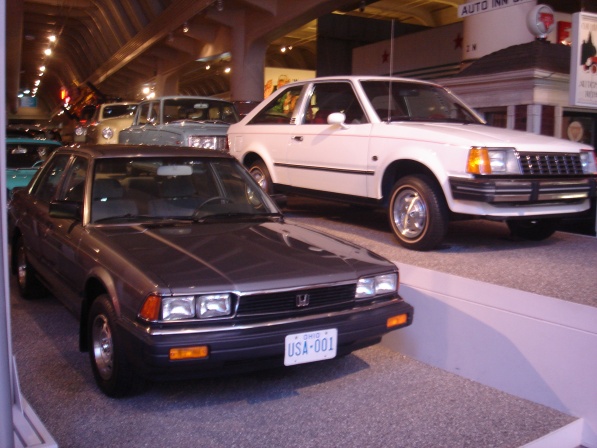 The museum had the first ever Honda Accord sold in the United States. You can see the tag says "USA-001″.  How they tracked this car down and bought it I have no idea.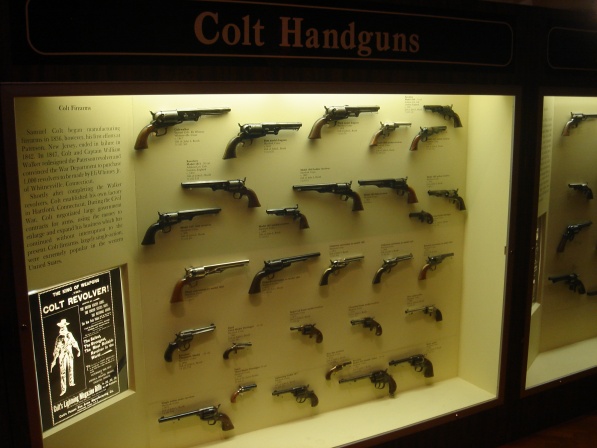 The museum had tons of sweet old hand guns.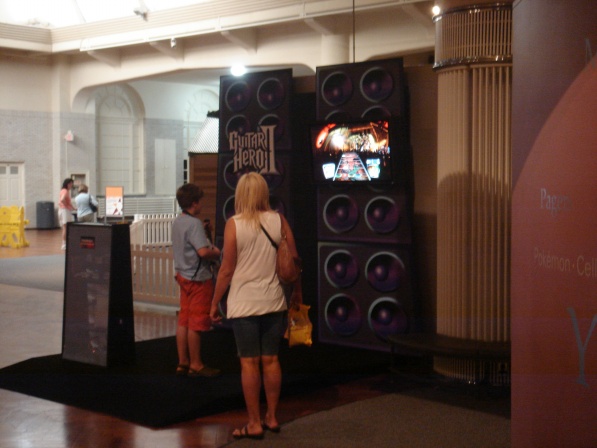 Can't forget Guitar Hero. This game will definitely go down as a huge part of American History for our kids, and our kids' kids, and so on.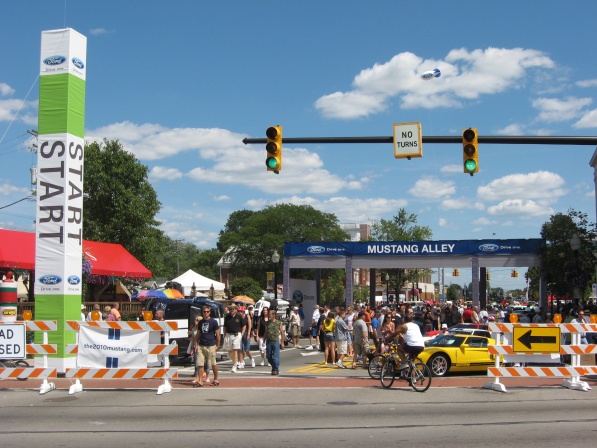 On Saturday, the main day of the cruise, the Falken Tire rig and my practice Mustang GT were stationed in the "Mustang Ally". I thought it was just going to be like a small Mustang car show and I thought it would be cool to meet everyone and to check out the different styles.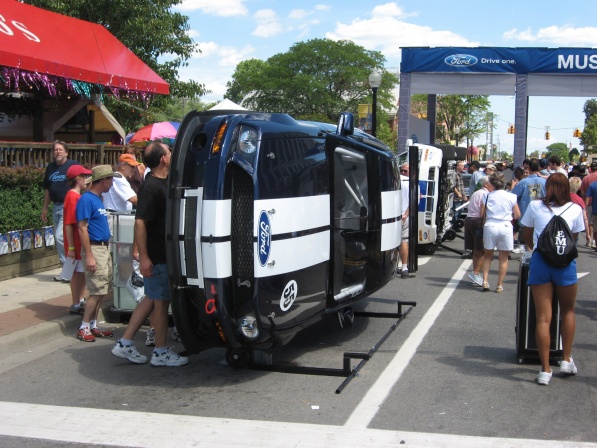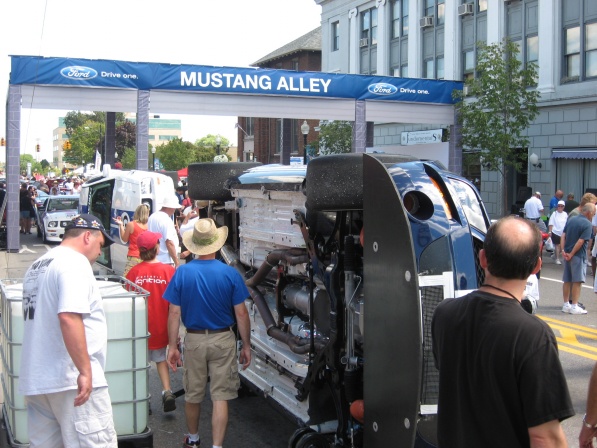 To my surprise, when we showed up, there were hundreds of Mustangs in line waiting to be parked. There were Mustang FR500S's on display and a FR500C racecar on its sides to give you a new perspective on the car. It was just an incredible display.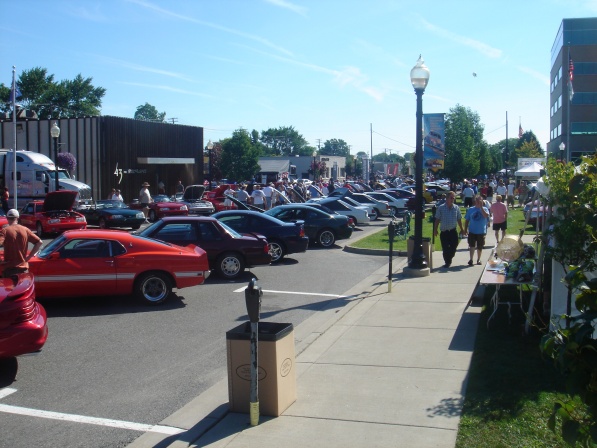 The support for Ford Mustangs was like nothing I had ever seen before with any type of car, and I have been to car shows my entire life. I just hung out all day, signed autographs, and chatted with people.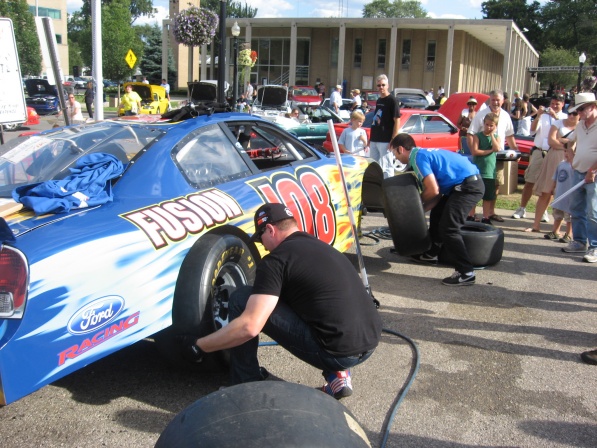 One of the events during the day was a "pit-crew challenge" to see who could change tires the fastest. So I decided to challenge some of my own Falken Tire guys to a battle and I actually ended up beating all of them!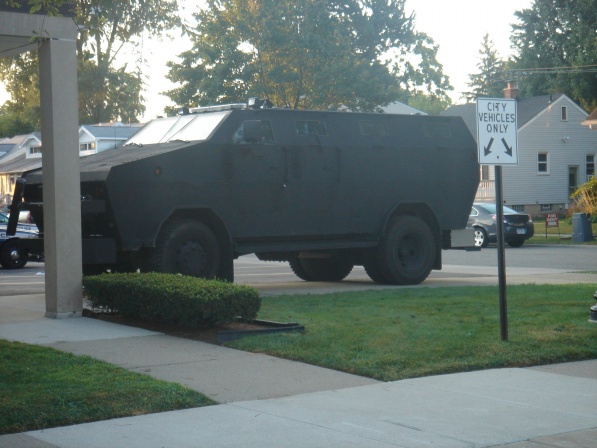 About mid-day I took a ride down the street to check out the rest of the show besides the Mustangs, and I was just blown away by the amount of people there.
There were so many diverse cars there. There was everything from T-buckets to your traditional classic Chevelles and Novas. There was all sorts of hot-rods, American muscle cars, and cars and drivers completely off the wall that had a whole theme to them. In fact, I even saw the Blues Brothers.
This big black truck here is made of like half-inch plate steel and is like $650,000.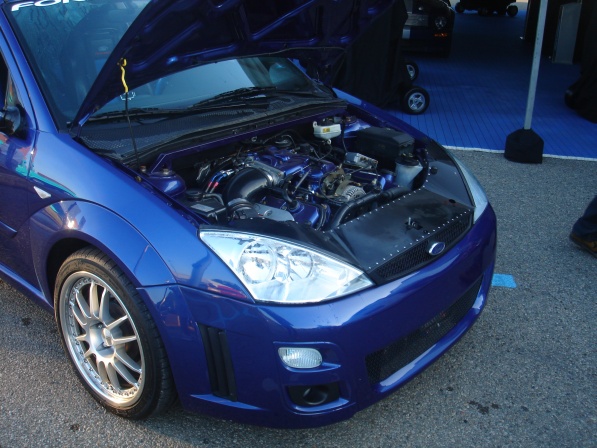 This Ford Focus was a Ford Racing project car. As you can see, the engine in it is a V8. And the Focus has been converted to RWD. Man that little thing scoots, that's for sure.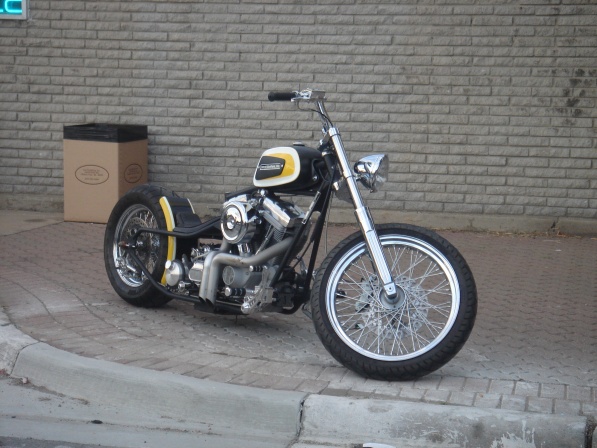 There were also some sweet motorcycles out. They didn't look too comfortable to ride, but they sure were sweet. Anyone know the name of this style?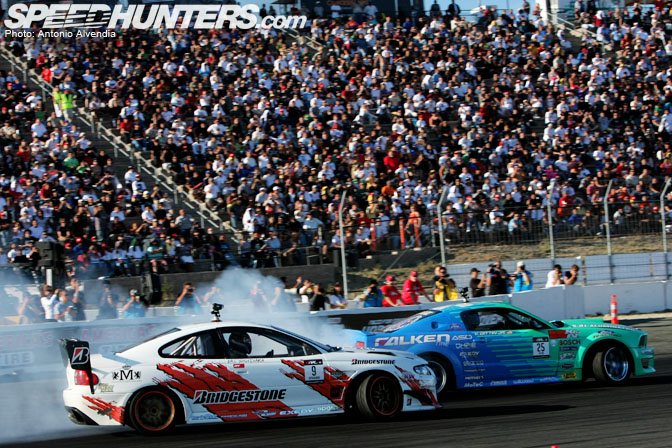 To end this blog of mine, there is something I need to get squared away with Antonio and his recent post about Formula D Sonoma and "brake-checking." This post really kind of blew my mind because Antonio is a guy who has been in this sport forever and has seen a lot. I don't disagree with him that there has definitely been some dirty brake-checking going on in the past. In fact, I was a victim of it at Long Beach this year, and I have seen others be victims of it last year on that first blind turn. There is no question that braking checking is rediculous; if you have to brake-check to win you shouldn't be in Formula D.
But after reading Antonio's blog, he was completely wrong to say that the lead cars were brake-checking in Sonoma. Sonoma's course is just a really bad example of brake-checking because the course has such a fast entry that your car and your initiation techniques determines where your braking point is.
There's about three different braking points at Sonoma that anyone can take and being a following driver you have to understand how that course works, how the dynamics of the cars work, and set yourself up to be prepared for your opponent. And that's all there is to it.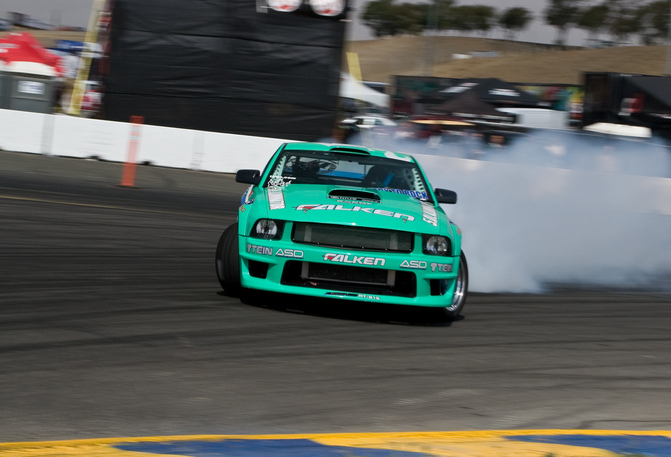 Coming down the entry in Sonoma it is pretty much a flat entry. Most guys were doing a quick e-brake entry and then coming into the first turn pumping the e-brake to keep the car and the momentum going at the angle you need to be at to get set. For me, the hardest braking zone was before the first rear clip. You had to brake real hard in order to make that turn, especially me that has a little more weight than other guys. I had to slow it down quicker. The trick here is to brake hard evenly and not abrubtly to disrupt the car behind you. I'm on the throttle as much as possible. Do to physics – when a car breaks hard in front of me, I hate it, so I am cautious in braking zones for sure when following.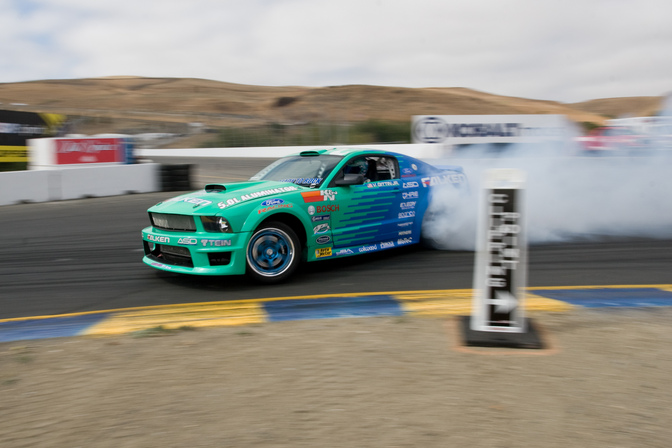 The other place to brake was just prior to the first main clip, just after the main clipping zone. It was a little slower of a way to do it and if you didn't brake right, you would definitely choke up and cause an issue on your opponent. The rest of the course was pretty much full on throttle. This course at Sonoma is just so fast except through the braking zones that I guess in Antonio's defense, I can say I can see how it looks like there is a decent amount of braking going on, but you just have to for this course.
My main reason for saying all this is that I see everyone's comments here on Speedhunters, and I don't think there are that many dirty drivers in our series. I've run with just about every driver in Formula D and the only issue that I've ever had that stands out in my mind is with Hayashida in Long Beach this year which I have already blogged about and I saw Haraguchi do the same thing in Long Beach last year.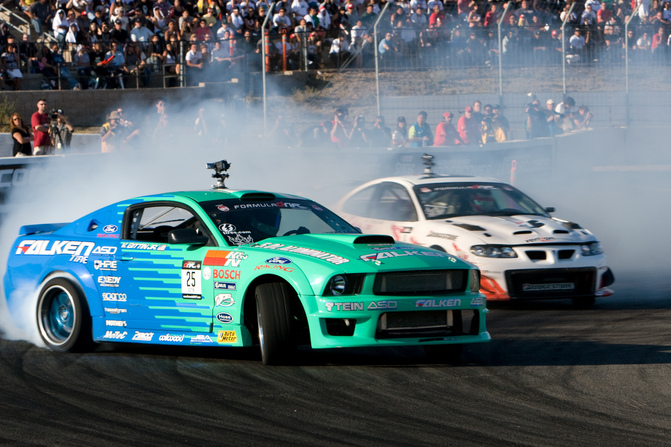 I also see on the site some people comment that "drifting is dead, blah, blah, blah" and the fact of the matter is drifting is PROGRESSING in America and it is getting faster, drivers are getting better, cars are getting better, and sometimes progression equals change from what everyone is used to. I love both American and Japanese styles of drifting. I look forward to Japanese drivers coming to compete in Amica and I look forward to going over to Japan to compete in D1. I just think that as a drifter, it is your job to adjust to whatever is thrown your way. Whether it's a slower lead driver, or the judges changing the course, as a driver you have to be flexible, sure it's annoying and frustrating, but that's the way it is.
If it's an obvious brake-check, those drivers need to get a zero and a bumper in the door, but sometimes it's a little more complicated than that – like a driver who is simply braking to slow his car down or to get set for the proper line. Being someone who is writing online publicly, I think they have a certain responsibility to understand the differences between the two.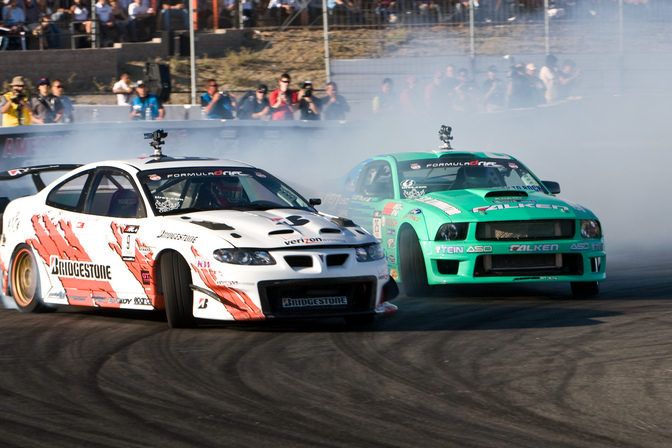 I just wanted to share a view from a driver that understands our sport fully and also the dynamic of that Sonoma course. I don't think it is fair to accuse a series of having a lot of dirty drivers who brake-check, when you don't know the facts first. I've said it before: Any "brake-checkers" should expect a door full of bumper from all real drivers. The Mustang has a nice bash bar under that fiber glass!!!!
Stay tuned for my adventures in dirt track and road racing that I experimented in over the last couple weeks as I have doing some real life SPEEDHUNTING!!!!!
-Vaughn Gittin Jr