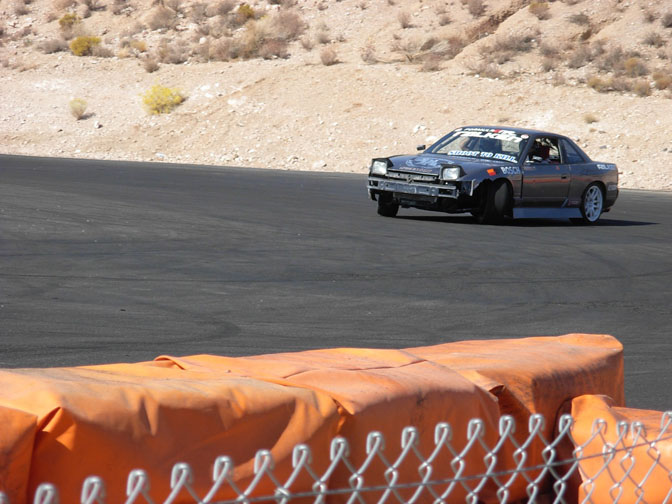 Okay… here comes a big one… blog that is. Prepare yourself, as I am about to touch on some drag racing, time attack, SEMA stuff, and drifting… yes, you read correctly… drifting. Let the Speedhunting begin!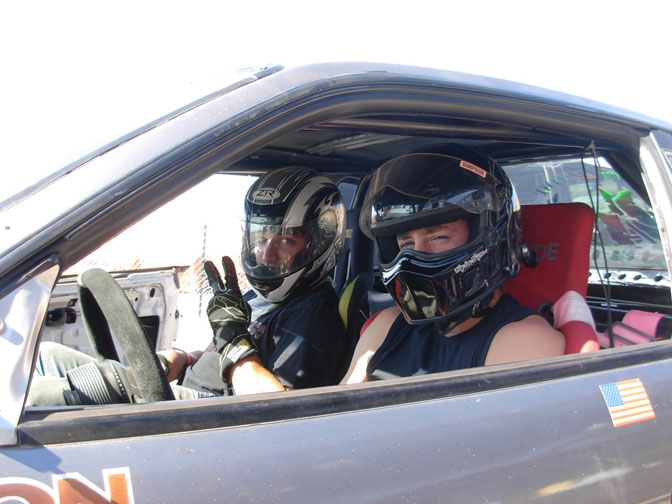 So some have you may or may not have heard through the rumor-mill that I have been out at Willow Springs five days over the past two weeks causing some ruckus with veteran drifter Tony Angelo. Why you ask? Because in 2009, WORLD Racing will be starting their own drift program. That's right folks, no need to check your eyes… drift program. Two weeks ago I started testing with Tony using his Nissan Silvia S13. I have had the best time learning with Tony; he is not only a great dude, but a great teacher as well.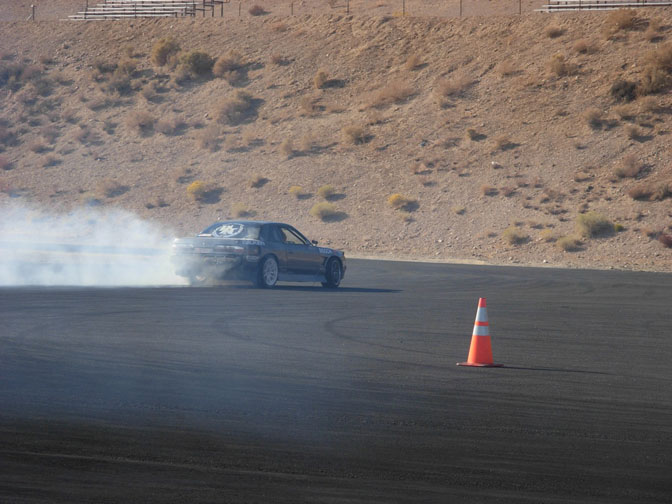 It's definitely been a huge challenge for me. While it's true that a lot of the fundamentals are high-level basic driving skills, it is the timing and execution of these techniques to put the car exactly where you want it that has really been the biggest challenge for me. Sure I've got great car control from drag racing and road racing, and my throttle imputes and braking are very smooth, but with drifting it's a whole different animal as I have been learning. These guys that are on the professional level are just that – TRUE professionals – and for me to compete with the best of the best, it's going to take me quite a bit of practice. But as you all know, I am always up for a new challenge, and what more of a challenge can I face myself with right now in my career than to try to get to the level of these amazing guys and compete with them?
Day one of drift practice was pretty fun. Tony told me to get out there and do some tight donuts around a cone, which was pretty much no problem for me. Then we moved on to wide circles around a big group of cones, which was still pretty easy only because it didn't involve any transitions of the vehicle,then we moved on to figure-eights. Figure-eights became a challenge for me at first because there are a lot of vehicle transitions involved. The perception of where to point the car in order to rotate the car around the cone and start my transition at the right time, how long to let go of the wheel, when to grab hold of the wheel again, were all factors I was battling with to get it down right. Once I got that down pat, Tony wanted me to move on to the next challenge – linking a small course.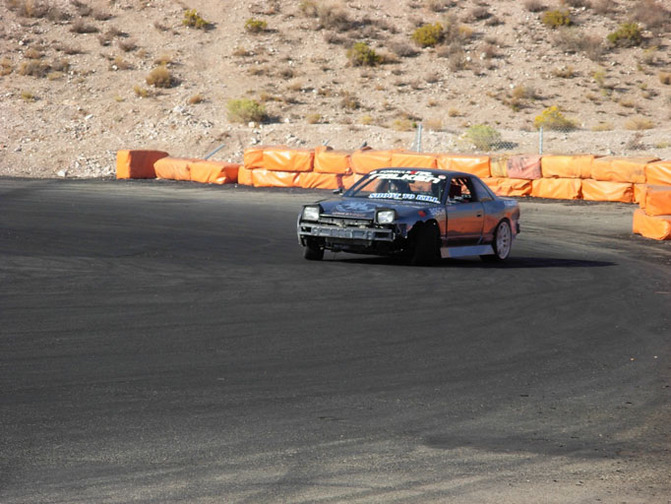 Day two was interesting. I'm not going to lie; this small course was a big challenge for me at first. Especially coming from the last two-and-a-half years of road racing my FWD Scion tC, because one thing I learned from that was you can NEVER EVER let go of the wheel. If you let go of the wheel for one split-second, that car of yours is not going to go where you want it to go. This is completely opposite of drifting a RWD car. When a FWD car goes into a slide, you don't breathe the throttle and counter-steer, because if you do that the car doesn't go where you want it to go. In a FWD car, you point the wheels where you want the car to go, and you mash the throttle down and the car will pull out of the slide and go in the direction you want it to.
In a drift car, this is completely opposite, you need to let go of the wheel, and as a matter of fact, as I learned the hard way, even touching the steering wheel with one light tap before it has unwound to the correct amount, guess what? You're gonna spin and not be successful, which is something I had a real hard time with. Sometimes it would feel like I had it, then my brain and my FWD instincts would kick in and I would give the wheel a little tap, like "Oh I need the car to go over here", and guess what, I would spin.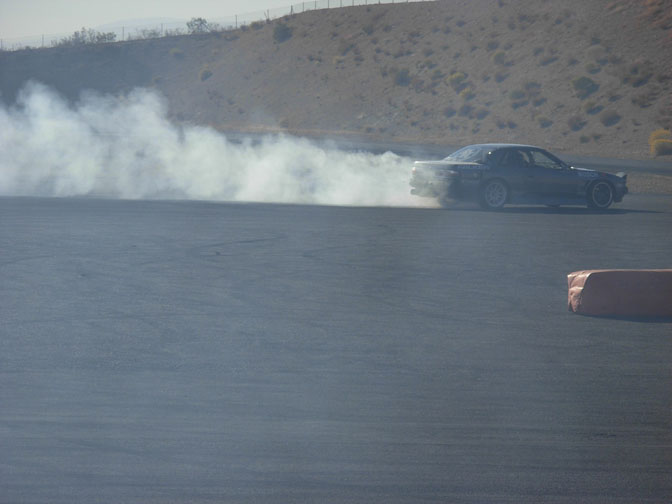 It had finally started to set in that I needed to stop touching the stupid wheel and steer the car with my feet. After Tony beat this through my head of what to and not to do, at the end of the day, some of it actually started to sink in and I started to be able to link the course. Now believe me, this was not without many, many, many trials of me spinning or messing up that I was finally able to link this course. But when I finally did, damn it felt good. Here's a quick video of my practice.
At first Tony was telling me these things and I was like "Oh yeah, I got it…" but you know what… I didn't get it. I'm the type of person who has to do and feel things for myself and that's the only way I was going to get it that day, and the only way I'm going to get it in the future. I still have a really long way to go to get to a competitive level, but the most important thing about my drifting practice with Tony was that I HAD A BLAST!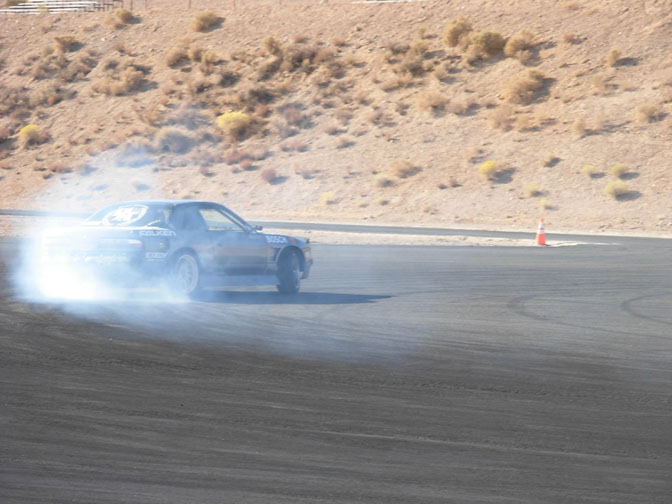 I am going to try – and I do mean "try", because in no means do I think I'm going to be able to get out there after a couple weeks practice and knock 'em dead – to get my FD license this year at the PRO/AM event in Long Beach. I've been in this business of motorsports for 11 years now and if there is one thing I've learned, it's that you've got to pay your dues. If anything comes easy, you're probably not doing it right anyway. I'm going to go out there and give it 100 percent of my effort because it's the only way I know how, and if I fail, then I fail. But if I fail, then I am the only one to blame, because Tony Angelo has been a great teacher, and other friends of mine in this sport, like Vaughn Gittin, are great mentors as well. These are guys that I look up to and anytime I need help and guidance, they are always there for me. So do I think I will eventually be able to make it in drifting? Yes, I do. And that's only because I am not the type of guy who gives up easily. How long it might take? Only time will tell!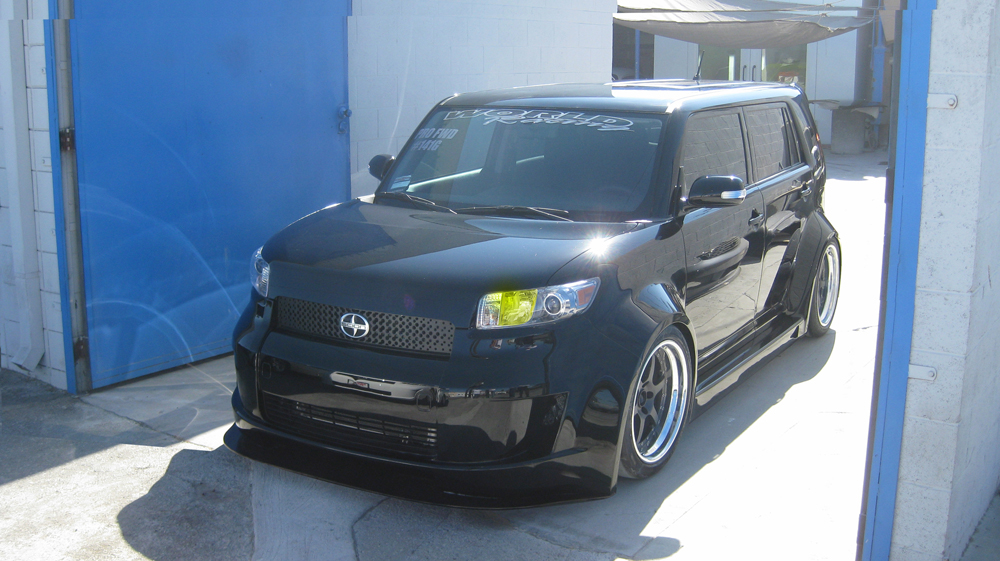 On another note, I am really looking forward to SEMA this year. One of our cars on display is a 2008 Scion xB – a 900 horsepowered wide-body time attack machine. It's a show car, a street car, and lastly, a race car. So not only will this car be at SEMA, but you will be seeing this car at a track near you in the next year.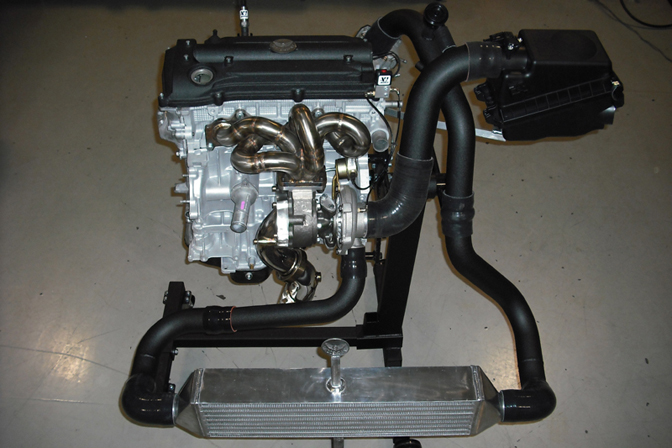 I'm excited to announce that we will be launching our Descendant product line at SEMA which includes performance products like our Scion tC turbo kit, which will also be ready for sale at SEMA.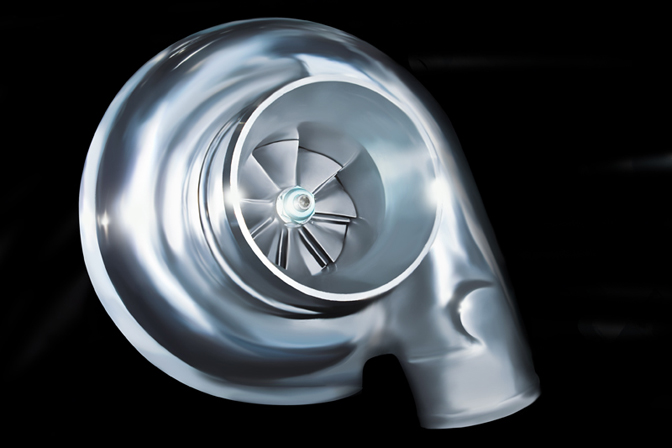 This turbo kit takes a Scion tC from stock 160 hp to roughly 330 hp at 8.5 lbs of boost, which is almost 30 hp higher than our nearest competitor at the same boost levels.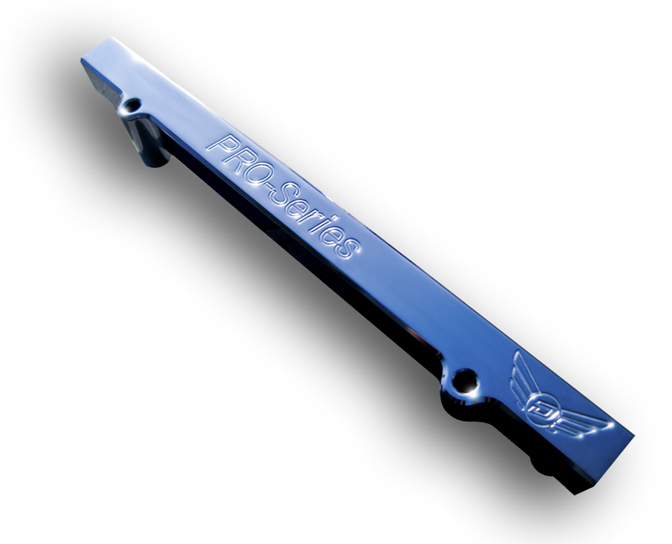 We are also going to be selling a performance fuel rail which is a direct replacement for the stock one. So someone can use it for a bone stock application or they can use the same fuel rail for a 900 hp application. We are also going to have our performance high-flow intake manifold on display and for sale. All our products, besides the turbo kit, fit on a Scion tC as well as the 2008 Scion xB. All our products are high quality that we have used on our on race-cars over the last two years, so I'm very excited for everyone to see our products.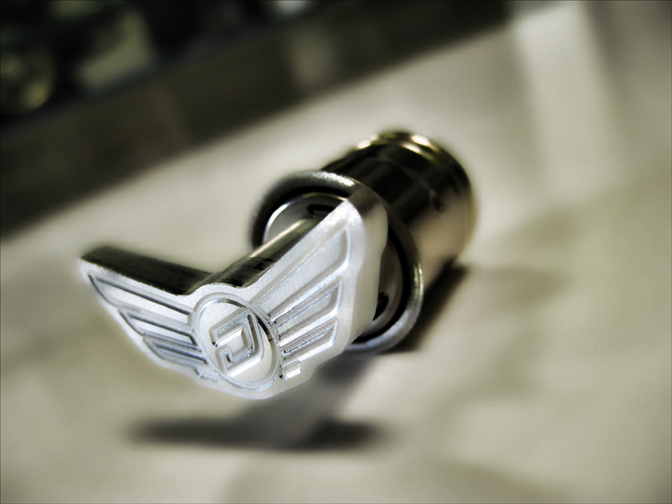 We are also going to be selling some accessories that fit on both tCs and xBs; these are mainly to give the guys who are going to be running the Descendant program the highest quality accessories to match their show, race or even street cars. Above you can see our cigarette lighter.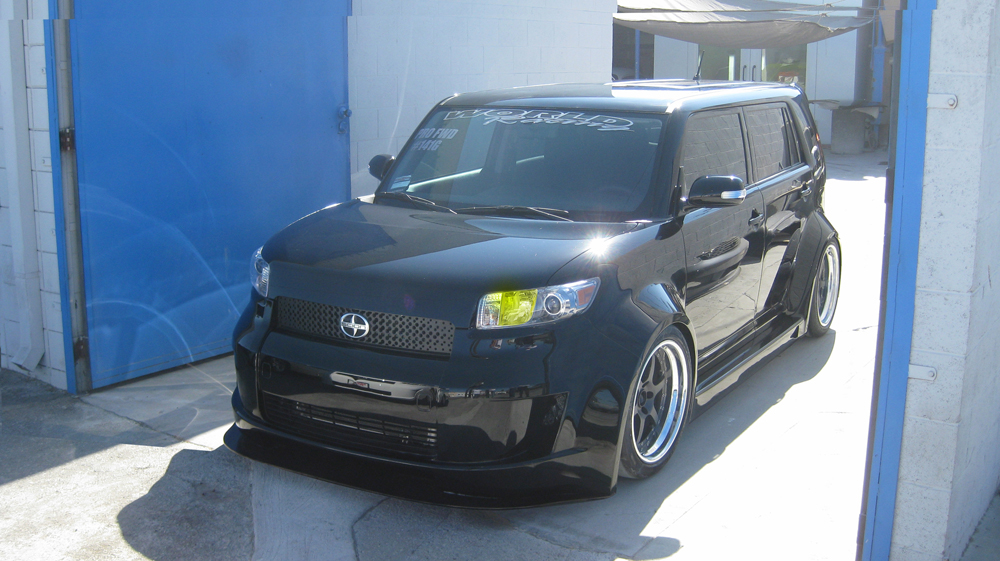 The matching dipstick.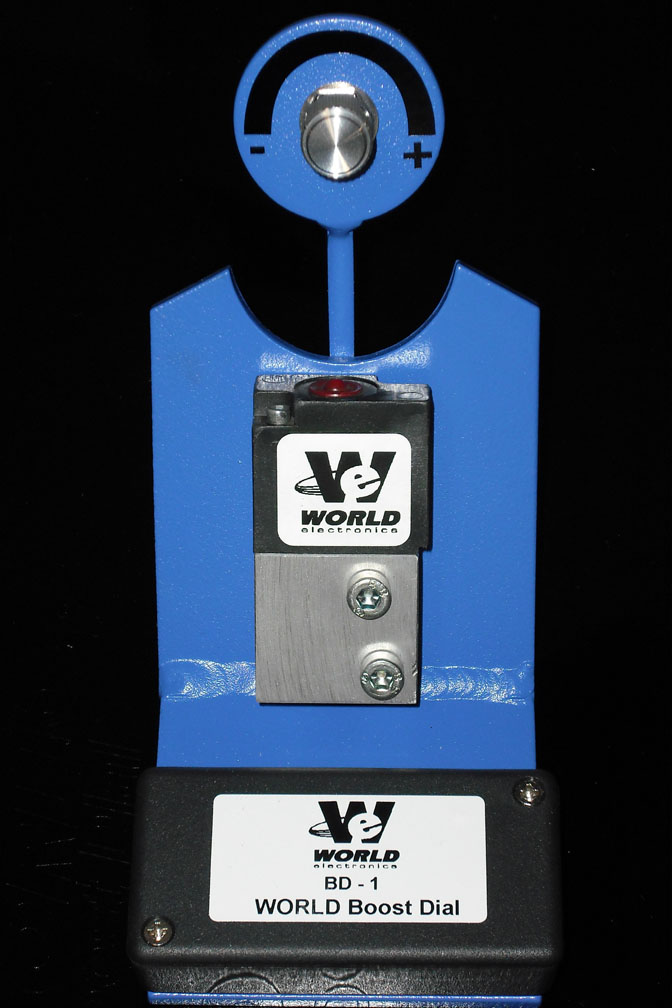 We are also going to be bringing a new boost controller to SEMA called the BD1 (Boost Dial One), which is a simple boost controller similar to the HKS EVC EZ.  It uses a single knob to control the gain of the turbocharger. It's a very simple, inexpensive unit that still comes with very high-quality aerospace solenoids and sensors. The BD1 will be available in December.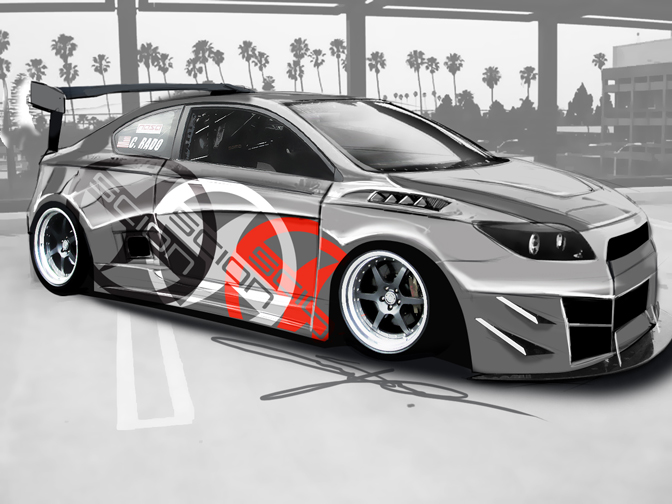 In other exciting news, we have started to build our new time attack car for 2009 and 2010. This is going to be a complete unibody AWD Scion tC – the world's first AWD Scion tC! We will be doing as much as possible to save weight because our current time attack Scion tC is very heavy, and it's only FWD. Now with an AWD drive-train, there is going to be a significant amount more weight. So we are employing all the techniques that we can think of, while keeping the stock unibody as stock as possible.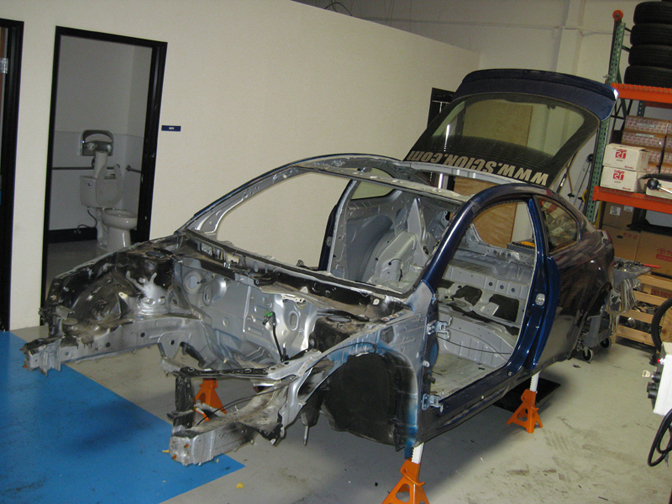 The car is now about 90% stripped. In the next week it's going to the dip stripper where it will be dunked in a nice acid bath to remove as much additional weight as possible. Then when we get it back, it's going to go over to the chassis shop which will be mainly building our suspension geometry and our roll cage. We've already got an a plan for experimental drive-train we want to use from Weismann Engineering.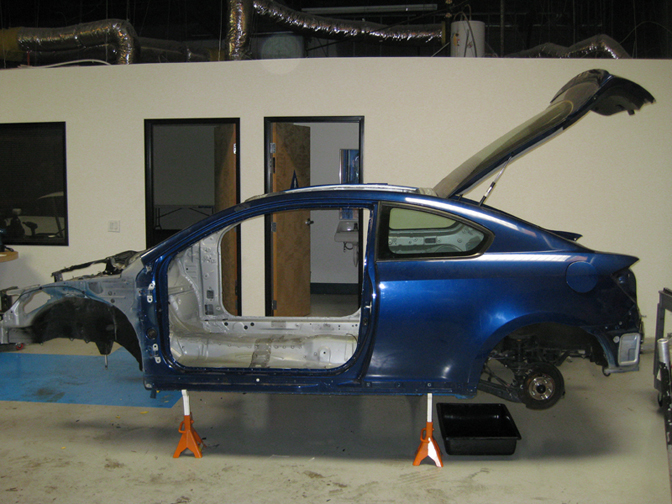 This is based off the AWD platform that this chassis comes with in Japan. It will be sequentially shifted, six-speed, and have the 2.7 liter stroked 2AZFE engine platform that comes out of the Scion tC. The engine is going to remain transversely mounted and retain the original configuration of the car. We plan on debuting this car in June of 2009. It's gonna take a lot of work and a lot of testing to have this car ready, but we are up for the challenge.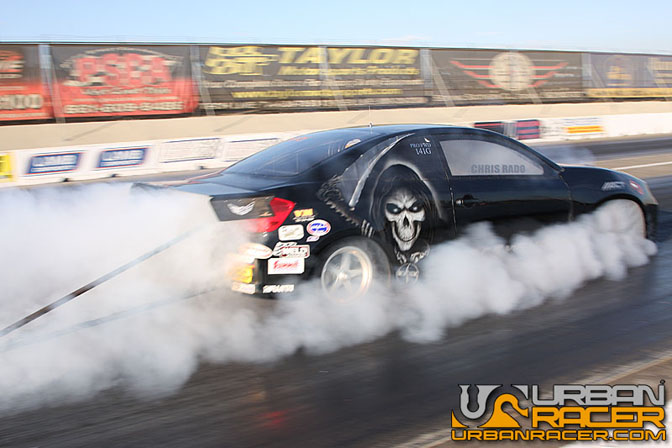 Moving right along, I'm going to get back to my roots with a little bit of drag racing talk. At the last drag race of the season at California Speedway, I was ready to battle it out in the Battle of the Imports and try to maintain a second place championship finish over Marty Ladwig. Ed Bergenholtz had first place already on lock-down with his amount of points, so I just wanted to secure second. We were able to make five passes back-to-back-to-back-to-back which was awesome. This speaks volumes about the quality of our engine program and the crew's efficiency working together to get the car set up and prepared to go down the track. Every time I went down the track, my time got better and better.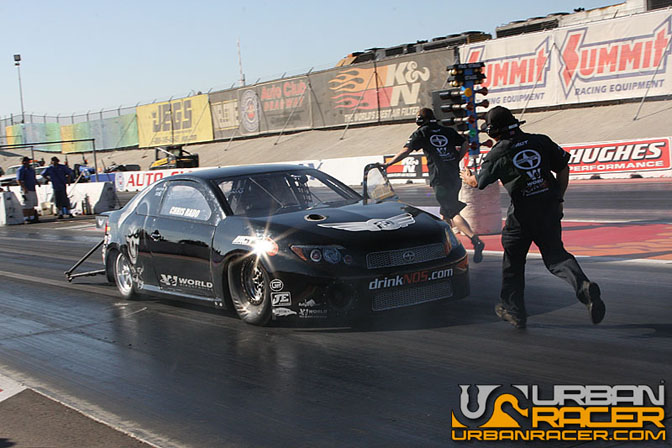 I qualified first in front of Marty, meaning there was no way he could get enough points to secure an overall second place for the season, even if he won this event in California. But I held back my celebration because I still wanted to try to take first at this event!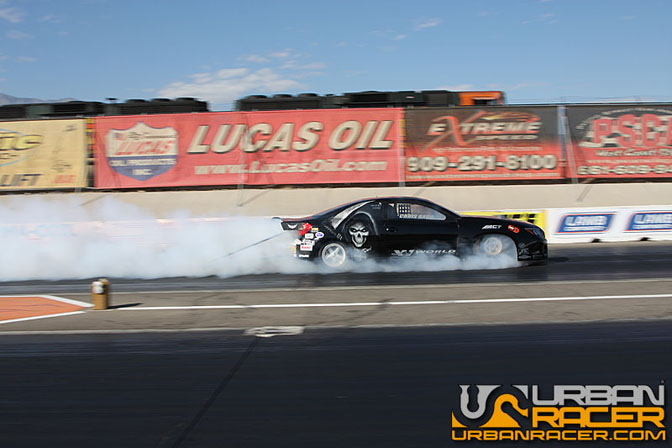 For the final round, Marty and I lined up. I launched first and was ahead of Marty until I reached third gear, where he started to creep up, passing me before the finish line. I had run a 7.49 ET at 195.8 mph – 0.19 seconds behind Marty – which was my absolute best run of the weekend. Considering we blew through the clutch from second gear on almost 25% and still made our quickest pass of the weekend. I was disappointed I didn't win this last event, but was excited to have got second place at the race and second place for the Battle of the Imports Championship.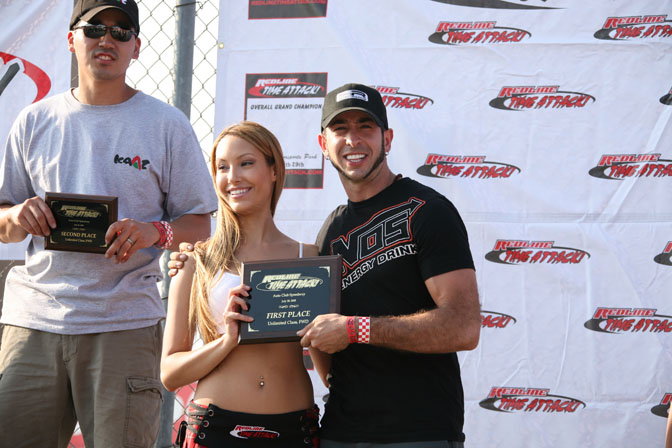 In other awesome news, I just recently found out that I won the Redline Time Attack Championship for the FWD Unlimited class! How cool is that?! From my first place finish at California Speedway, Nashville Motor Speedway, and Summit Point Raceway, the rest of my team and I can proudly say we have won a Championship. Right after SEMA we'll be at Buttonwillow Raceway for the Super Street Super Lap Battle Finale, an event that brings out all the fastest and most exclusive Time Attack cars this country has to offer. Also, I must say we've never had our car working good at Buttonwillow but something tells me we are ready this time. Stay tuned because it should be an exciting two weeks!
-Chris Rado