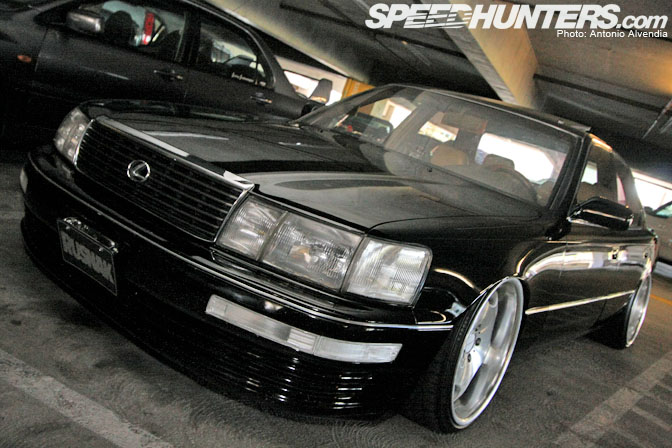 Downtown Long Beach is such a nice place to visit. Occasionally, I have to go there for meetings at the Belle 1 Communications or Formula D offices, or occasional events like Formula D Long Beach or the Spocom show. On the day of the Spocom show, just as I was wondering if I'd have enough time to check out the new arrivals at Proper, I spotted this UCF10 in the parking structure.
I happen to have a black UCF10 in my garage among my old school Toyota collection, so I definitely had to stop and take a photo of this car! This Lexus LS400 looks wayyy better than mine, which is pretty clean, but I just use it for occasional grocery getting/errand duties when I have to drive places that I wouldn't want to take my AE86.
I think the fender work and repaint on this LS400 makes it look a lot cleaner and more aggressive than normal! Most black LS400s have a gray lower half, due to the Lexus two-tone "high end" look. However, the owner of this car had it painted black, to give the car a more monotone look, and pulled the fenders to accept wider wheels.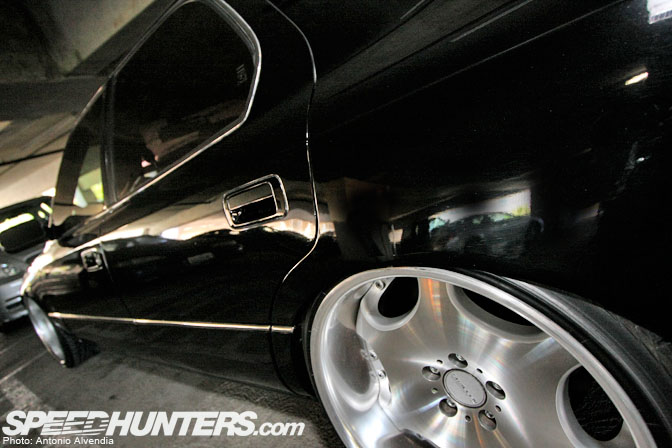 The wider wheels in question are AME Shallen LX, which I'm absolutely in love with. I think these wheels look sooo good, and was planning on getting them for my own LS400 at one point. You can imagine how shocked I was to see this LS400 in the Long Beach Convention Center parking lot; it already had the exact wheels I wanted, and was slammed to the ground without an aftermarket aero kit, only stock bodywork. I LOVE that look; it was exactly what I was planning to do with my own LS400. I think the owner of this car has great style!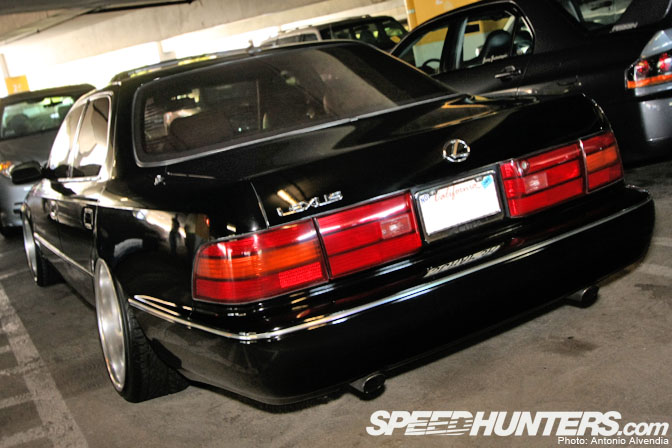 I like the rear camber and subtle stretch on the rear wheels. It's not too crazy; it's just right. The OEM exhaust tips look good on this UCF10 also. This car goes to show that simple is sometimes better!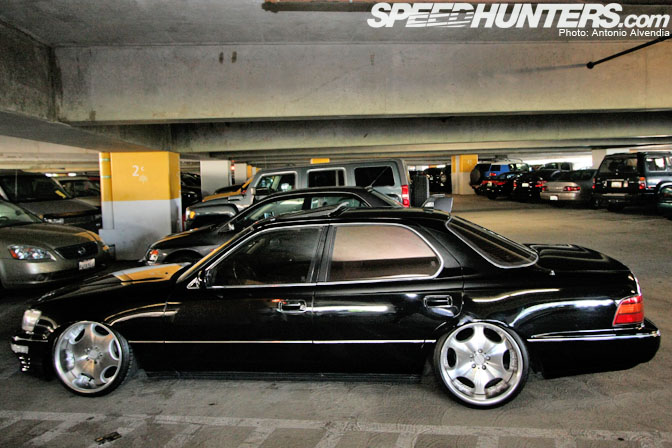 Here's a view from the side. This car must have air suspension in order to have it sit this low! I think this UCF10 looks awesome because of its tasteful modifications and clean, simple style. I dislike cars that are overdone and too showy, I prefer simple, clean cars with aggressive stances and good wheels. This UCF10 fits that category perfectly! Props to the owner of the car for putting together such a simple and well done car.
-Antonio Alvendia