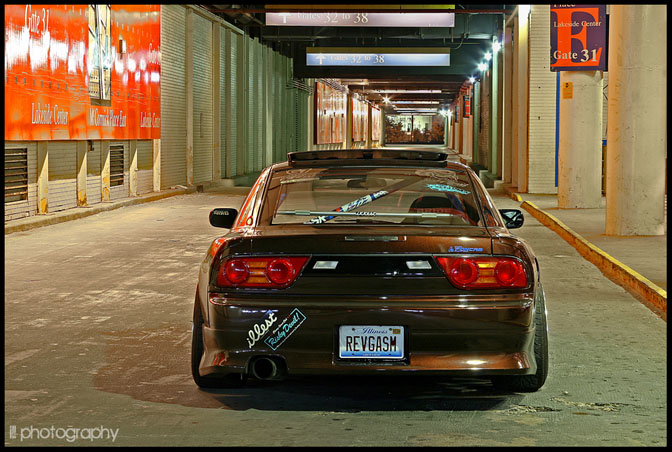 There are certain cars that make an lasting impression, and it's no different with this 180SX. I have seen this car on so many automotive forums from around the world, I knew I had to feature it here on Speedhunters. Last weekend, I had a party at my house with lots of friends, not all of them are into cars, and when I showed them these pictures even they said 'Hell Yeah'. That's the same feeling I got when I first saw this car.
This root beer colored 180SX belongs to Joshua Maghirang, he's a member of a group called Risky Devil. They like to call themselves 'New Age Chicago Street Rodders'. The group was founded in 2001 and their members are located near the heart of Chicago. I really feel that their cars have made an impact on the import scene, at least on the internet. The cars have a strong style, and this is partly to do with the photographer AJ Gillette from Ill Photography. I love his work.
Let's start at the back of this car. Just look at how the wheels sit, they are tucked under Origin 50mm rear fenders. The fenders flow nicely into the Origin rear bumper. The exhaust is an item we would normally see on a Honda, but the Buddy Club Spec II is a very nice welcome after seeing all those extreme "Bosozoku style" exhausts.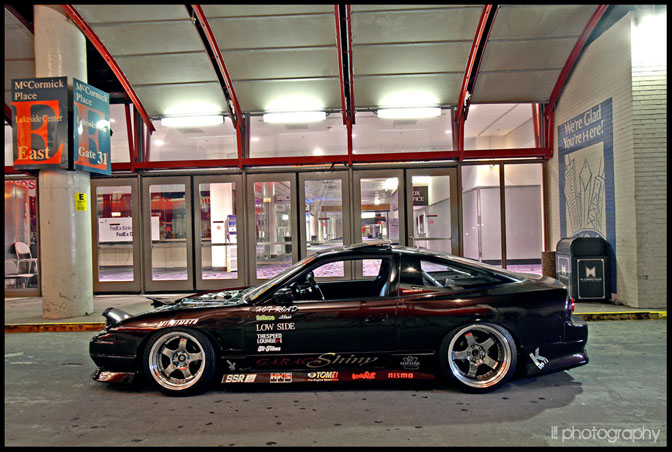 The first time I saw this car it wasn't covered with stickers, I must admit that I needed some time to get used to the 'new' look. At first I really liked the car because it was so clean, now it's still clean but in a different way. I'm not a collector like Antonio but I do like the design of these stickers. What do you guys think of stickers on cars?… I do feel that stickers are an important part of the import car culture….
Wheels are another important part on any car, they can make or break it. Joshua definately made this car with a set of SSR SP1 Professors 17×9.5 in front and 18×10.5. The S chassis experts may have noticed that the wheels are with a 5 lug pattern. The standard 180SX comes with a 4 lug pattern, so Joshua used the Ichiba 5 lug conversion.
The car is lowered via Megan coilovers, but Joshua mentioned he is hoping to swap them for a DG5 suspension system next year. The rest of the suspension parts have all been replaced by stronger or better items. And I mean everything, tension rods, tie rods, bushings,  control arms, you name it.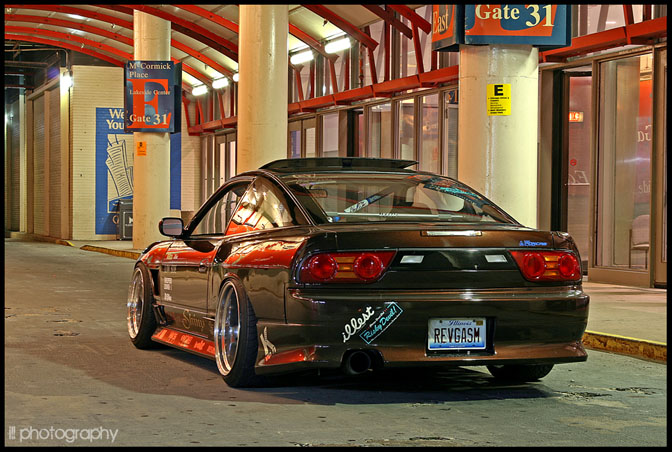 On to the side of the car, we see Version Select 5 side skirts that are mated to a pair of Origin 20mm front fenders to accommodate the larger front wheels. I just love the stance, perfect.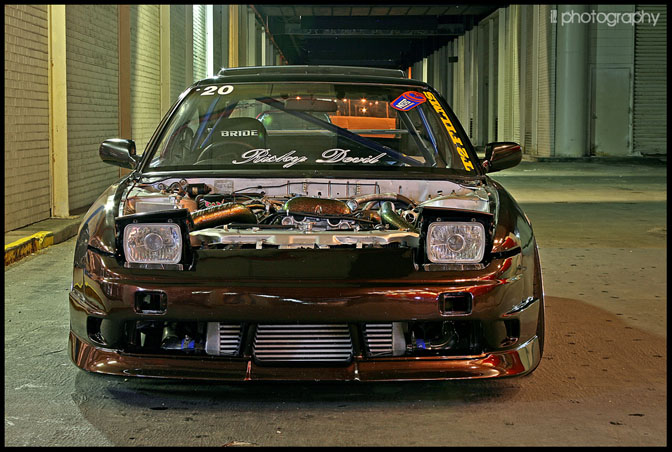 The XS Power intercooler sits nicely behind the Version Select 6 front bumper. You can also clearly see how much wider the front has become thanks to the Origin front fenders. I only wonder how Joshua is going to use his indicator lights, because I don't see any. Maybe you don't need them in Illinois?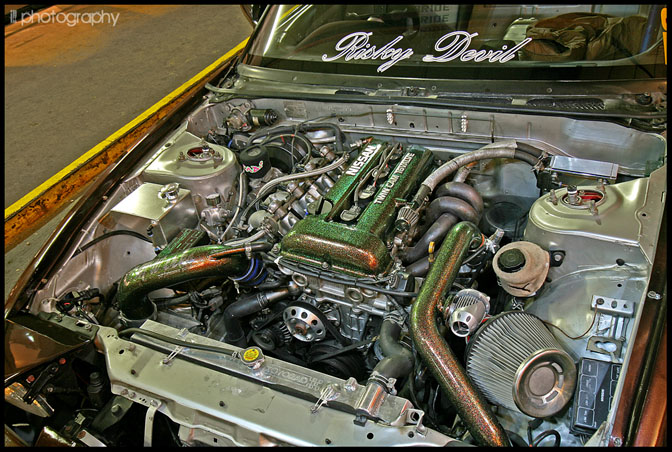 The heart of the car, a blacktop SR20. The engine has been modified with Tomei cams, Nismo 550cc injectors, ARP head studs and a cometic head gasket. The standard turbo has been replaced by a Power Enterprsie 1420 turbo. The boost is controlled by a Turbo XS boost controller from inside the car. On the right you can spot a Greddy oil catch can and for better cooling Joshua uses a Koyorad radiator.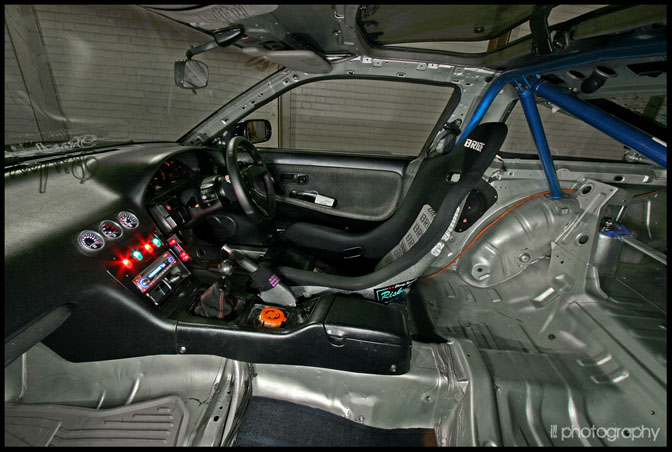 A completely stripped interior enhances the street style look. A Bride bucket seat rest on Bride seat rails to ensure a perfect fit. A passenger seat wasn't deemed necessary, only extra weight right? haha.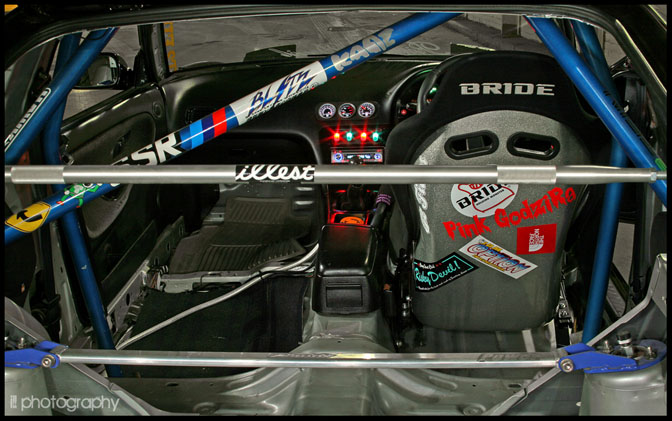 I really like this shot, it shows off even more stickers on the blue anodized Cusco roll cage.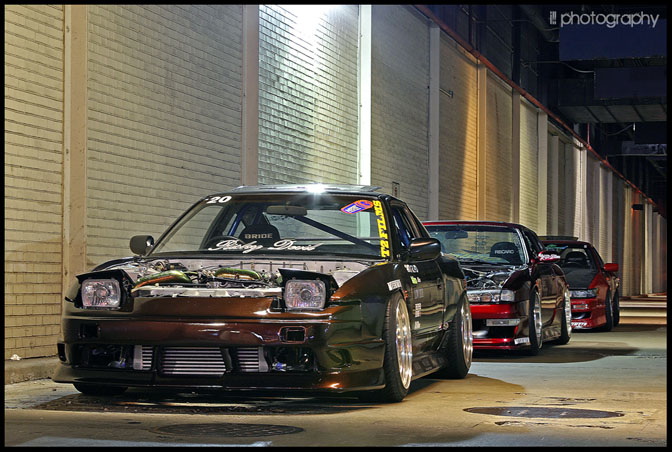 Yep this really is my favorite 180SX, well at least for now because I tend to change my favorite every other month LOL. You can see some of the other Risky Devil members in the back, a very nice S14 and a S13.
I really want to thank David Lee for this opportunity to feature these exclusive pictures and thanks to AJ Gilette for taking them.
-Jeroen Willemsen
Risky Devil, Ill Photography, T2 Films, Touge Factory, Origin Lab