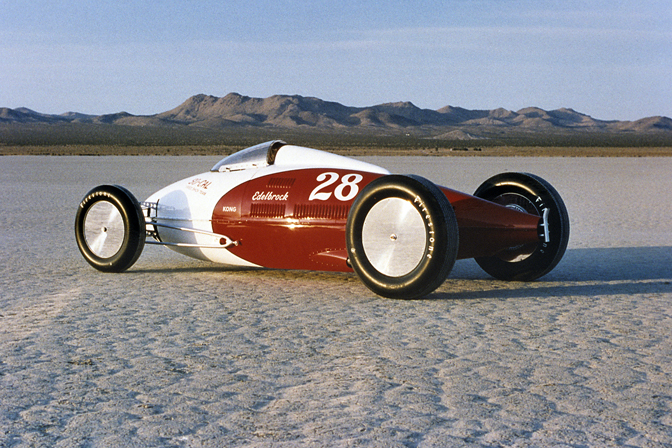 Know your roots.
You could in some way, say that this is an important facet of what Speedhunters is all about. We are interested in, not only the latest and greatest automotive styles, events, releases and projects from about the world, but are also very committed to uncovering and cataloguing the past. To see where car culture is going it certainly helps to know where it's been.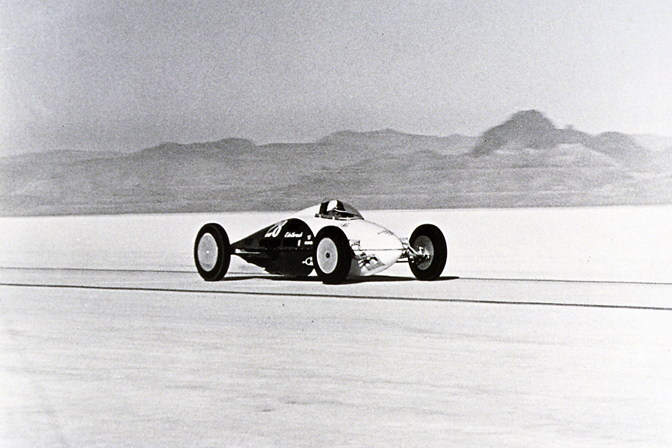 Many people think that the culture of modding cars in Southern California started on
the drag strip, but this in fact, is not the case. Well before people
started running the quarter mile, there was a pretty healthy
scene of people doing top speed runs on the dry lakes of El Mirage and Bonneville. This world was largely formed by a whole group of young men, recently discharged from WWII military service. Many of them had tinkered with modding and rebuilding cars before the war, but it was inside the military they got access to a whole new level of engineering knowledge and know-how.
One of these guys was an LA native named Alex Xydias. On the day of his discharge from the army, on March 3, 1946 he scraped some money together and opened the So-Cal Speed Shop in Burbank California.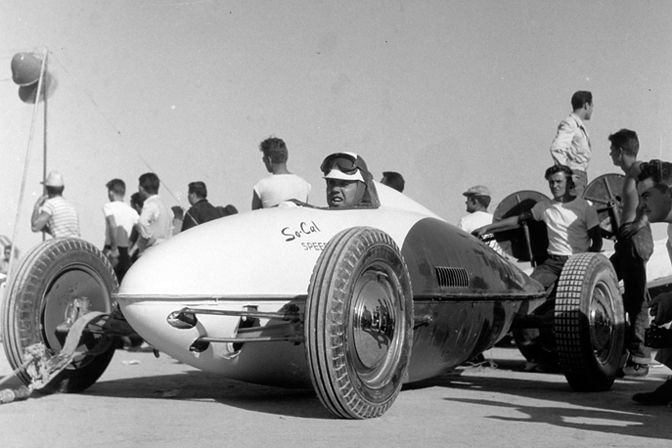 Two years later he had built this crazy contraption: the now infamous So-Cal Bellytanker. Built from a surplus fuel tank, taken from a P-38 fighter airplane; it set several new class streamliner land speed records in 1948. Alex was 26 years old at the time.
The So-Cal Speedshop's follow up cars were the first hot rods to go 160, 170, 180 and 190 mph respectively. In 1950 they built a new streamliner which reached 210 mph. The team were at the top of their game.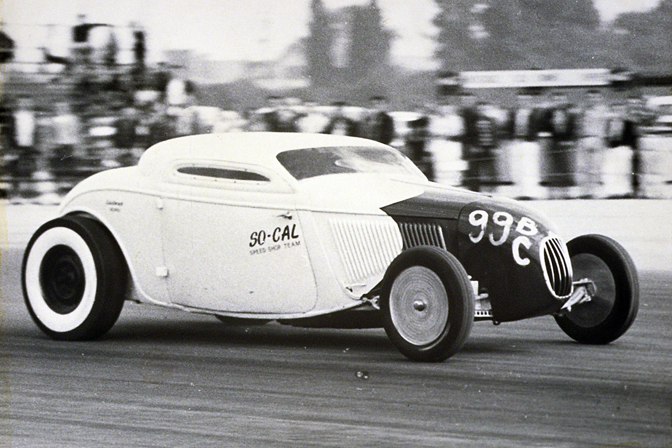 By 1953, Alex started to become interested in a new phenomenon sweeping the Southern California area: drag racing.
Just like drifting is the newest and greatest way for people to size up their automotive skills; in the early 1950s drag racing was the hot new trend. It was making the transition from being an illegal activity for young antisocial males, to the beginnings of a new organized type of motorsport. The So-Cal Speed Shop was there with this coupe called "Double Threat"; a car built for both the dry lakes and the drag strip.
Unfortunately, this exploration into drag racing was short lived. Alex let another driver try the car out on a fateful day in 1954 and the clutch exploded, cutting through the bell housing and rupturing a fuel line. The driver died from his burns a few days later and Alex immediately quit racing altogether. The So-Cal Speed Shop carried on until 1961 when Alex closed the business to pursue a career as an automotive film-maker and car magazine editor/publisher. He also found the time to act as the director for the Petersen Trade Show; an annual event which eventually became the SEMA show we are heading down to next week!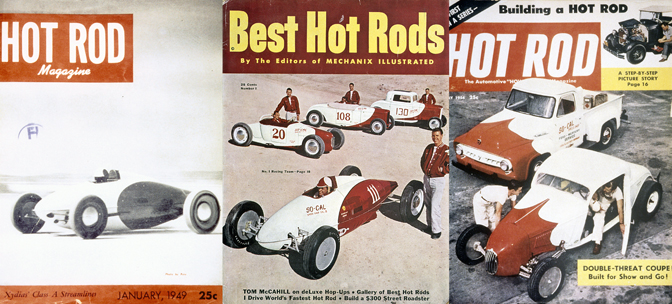 The So-Cal Speed Shop was the first racing team in the hot rodding scene to have full professional style presentation. Even in this age of hyper-branding, their visual imprint is completely distinctive and memorable.
These magazine covers illustrate the importance of the shop in the early, formative days of the hot rod scene. In the center rag "Best Hot Rods", they were voted the number one racing team in America.
The last ever vintage So-Cal Speed Shop cover is on the right, from May 1954.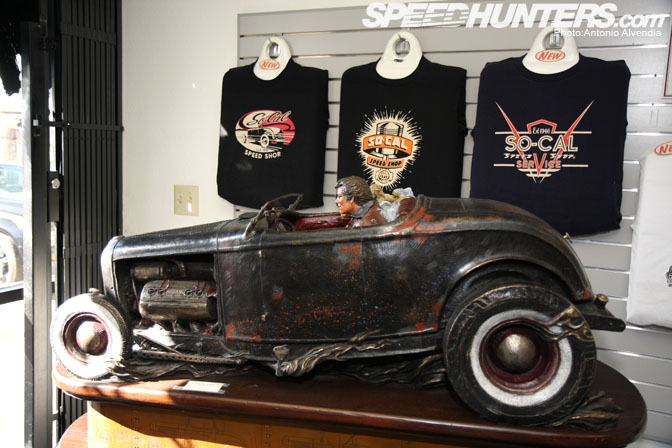 In 1997 Alex was approached by veteran hot rod constructor Pete Chapouris about the potential of rebirthing the SO-CAL name. The two had met a few years earlier when Pete was involved in the restoration of the famous Bellytanker. Alex immediately agreed to the plan and the two teamed up to re-launch the name. What followed was the opening of an incredible 30,000 square foot new SO-CAL Speed Shop (the reborn shop is spelled in ALL CAPS) in Pomona California boasting 30 plus employees and 8 retail stores across the country.
Fellow Speedhunter, Antonio Alvendia and I visited this facility 2 weeks ago to see what one of the world's premier hot rod shops looks like from the inside…..
….Upon entering the shop you are greeted by this amazing all bronze hot rod sculpture made by Steve Wanlass.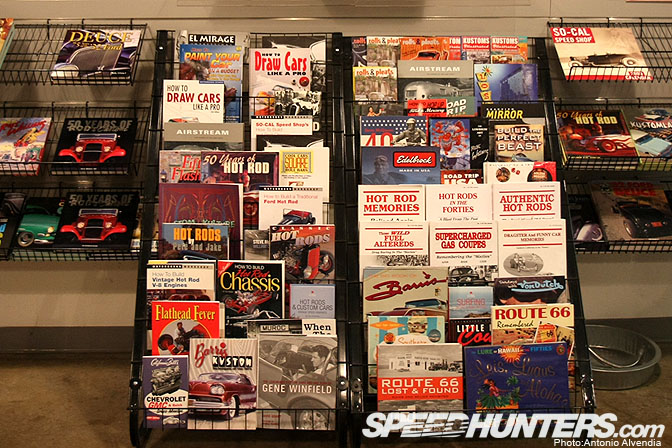 This leads into the main store…. automotive book shops are always very dangerous places for a hardcore automotive history buff like me…. I managed to restrain myself though from doing too much damage to the credit card. Next time though I think the "50 years of Hot Rod" will need to come home with me…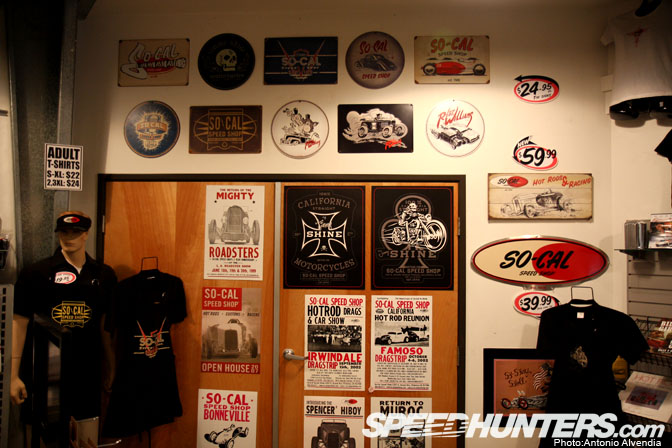 I love the vintage style tin signs and posters. The Belly Tanker sign is now sitting on my desk at work. I plan to get it mounted on a wall in the Need for Speed office.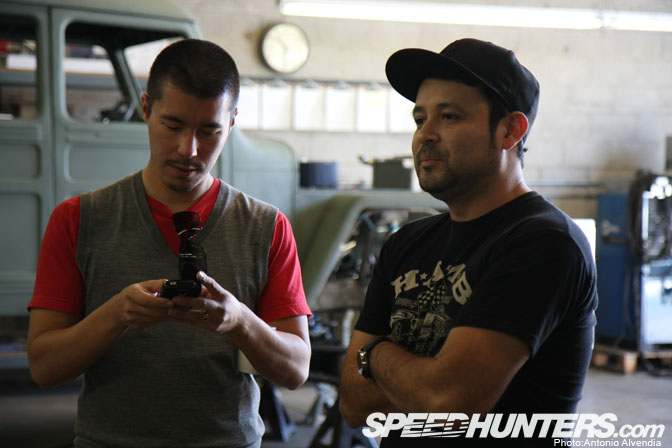 Our host on the day was Christian from the graphics department of the SO-CAL Speedshop who graciously took a few hours to take us around the shop.
It was interesting to see that the majority of the crew working in the shop were young guys, all living the dream. I'm happy to report there is a new generation of people committed to carrying on the traditions of hot rodding!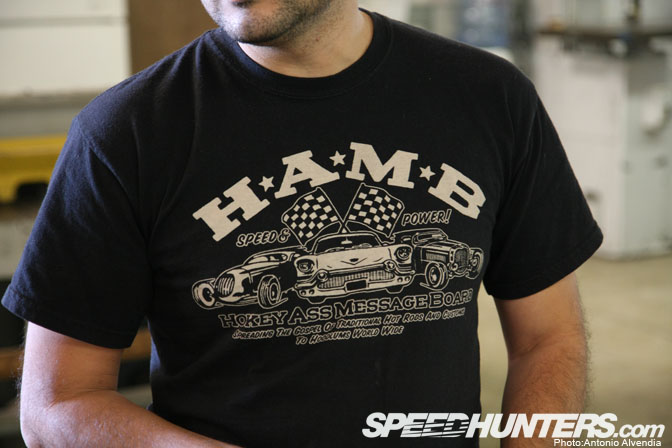 BTW check out his cool HAMB forum t-shirt! Good style m8.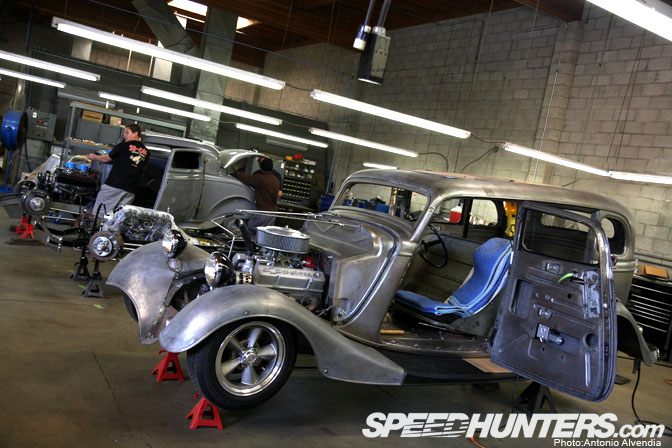 Here is a selection of the in progress builds in but one of the shop areas. There are currently six active projects being worked on by the production teams.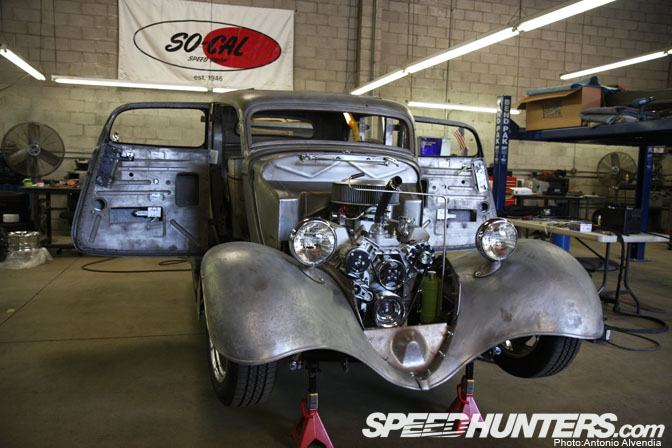 This particular car is a 1933 four door Tudor.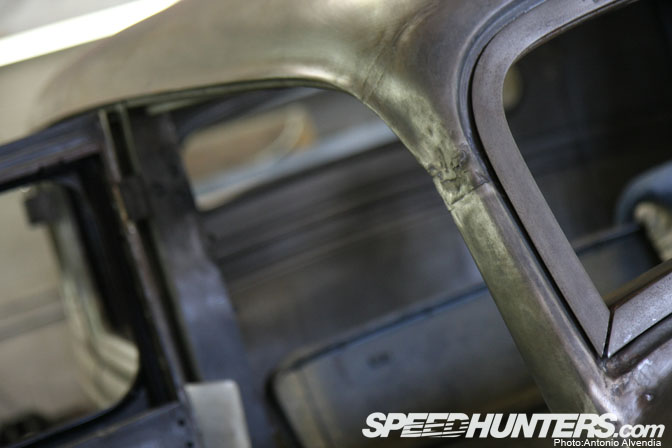 It has a three inch roof chop. You can see by this detail photo there is still plenty of metal-work left to do. Christian explained that it often now makes more sense to buy a reproduction metal body instead of reworking an old original shell. It just takes so much time and money to restore an old body that it often makes sense to start with new metal.
For some though, this is not an option!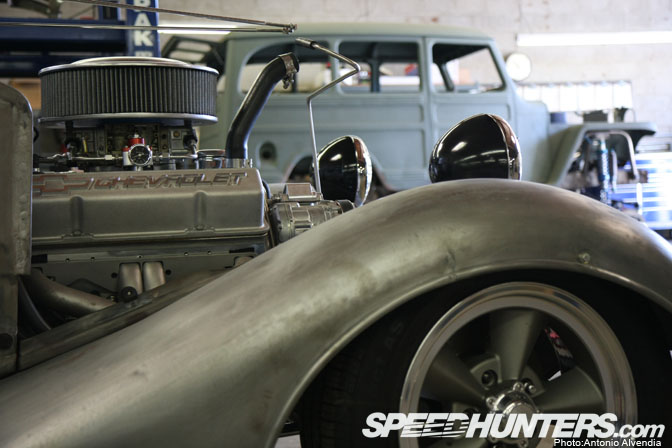 In general it takes at least a year to build up a car and you are talking about a starting figure of at least $100K…. Some builds run into the seven digit mark. Yikes! Oh well.. if you have the money, might as well spend it!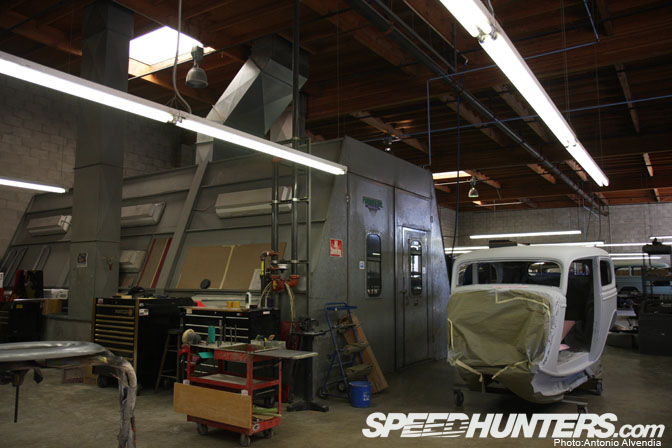 Check out what Antonio called a "baller" paint booth. I assume he means expensive and/or flashy or perhaps high end by this statement.
Still it's a rather impressive setup.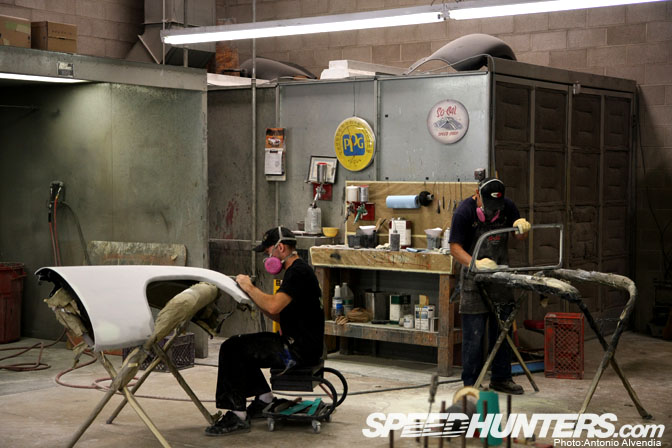 The future hot rod establishment work to perfect these body panels…. It must be a pretty interesting job to work day in and day out on these big budget hot rod builds.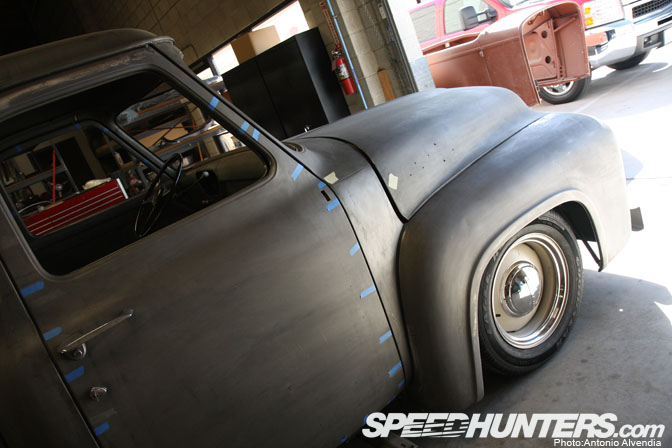 This old Ford pickup caught my eye. The perfection of the metal work is something to behold when a car is unpainted.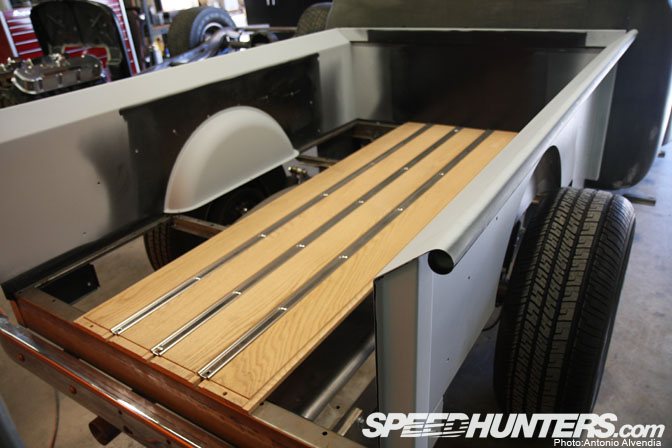 The wood pickup bed looks gorgeous no?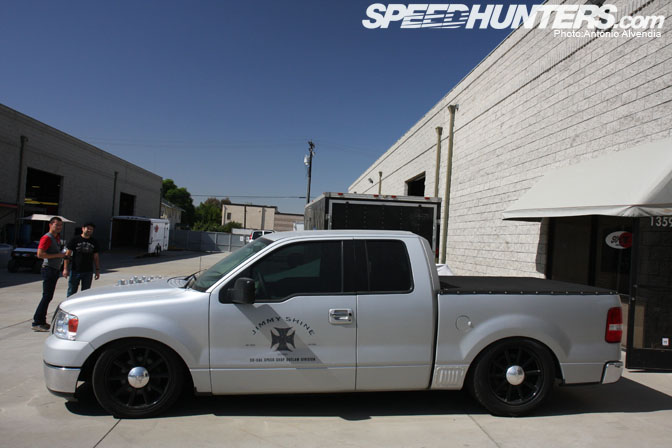 You can see in this picture that the facility is made up of two separate buildings. This Ford pickup is an ex SEMA Jimmy Shine project. More about him in a separate post though…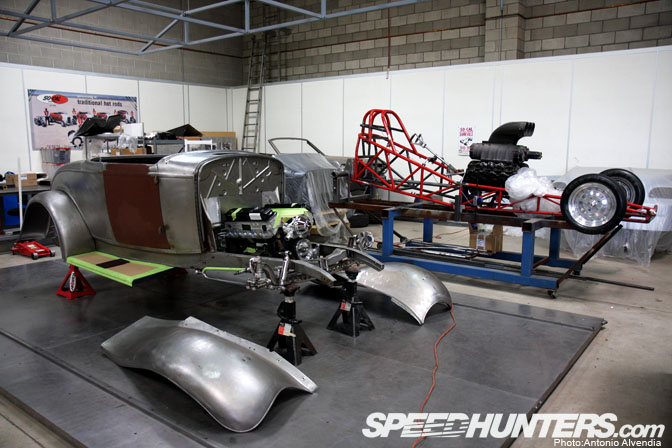 In recent times, SO-CAL Speedshop built a string of factory GM Bonneville land speed cars. They were constructed in this special high end facility. These days though, the space is reserved for mega-budget builds. Perhaps we are looking at a future Ridler Award car right here.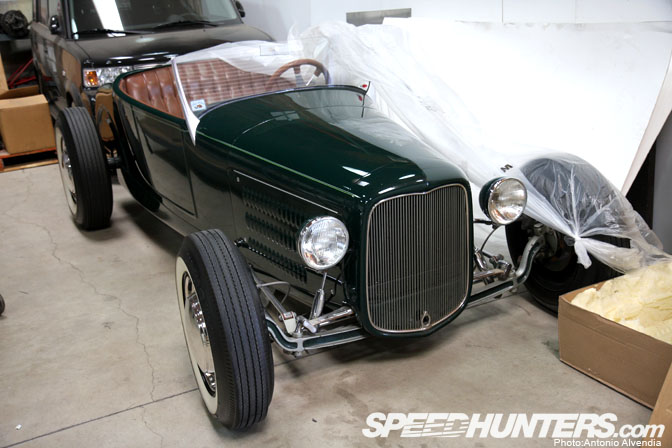 Off to the side was this cute little retro style roadster. Perfect style IMO. I love traditional style rods…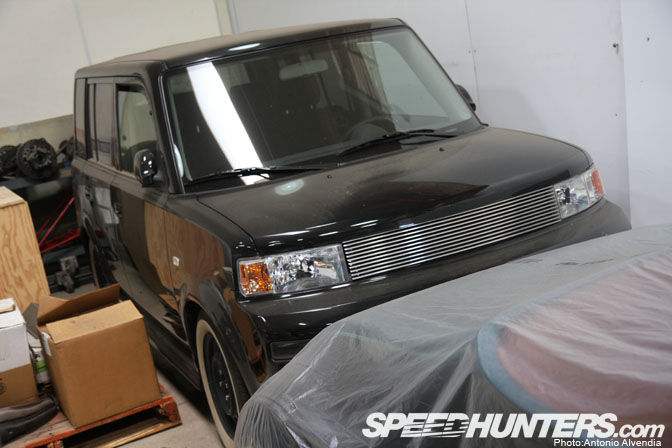 Behind it sits a Scion xB which is the last type of car i would expect to see in the SO-CAL Speedshop! It is one of many in-progress projects that is owned by ZZ Top Guitarist Billy Gibbons. Apparently he quite likes xBs and is planning to have this car done up in a traditional custom style. You can see it already is running steelies, white walls and has a tube grill. Will be interesting to see what becomes of this car.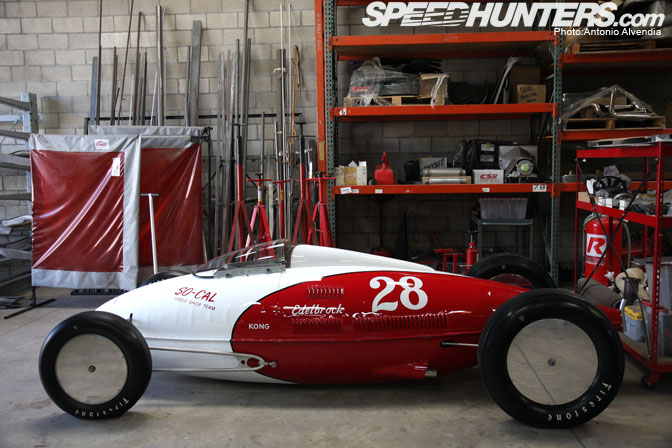 Moving into the next shop we were greeted by this piece of hot rodding history.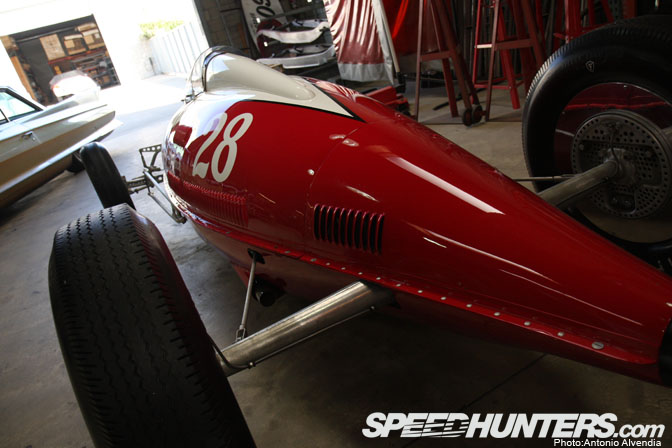 I was very taken with the mechanical purity of the car. It is so simple, so straight forward and so functional…. amazing.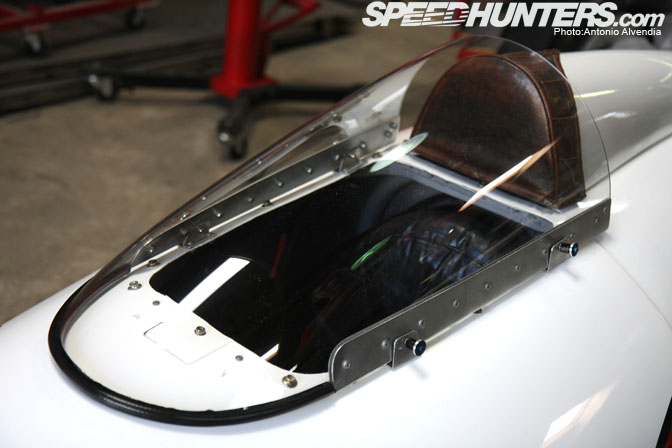 Hard to visualize think that the six foot tall Alex Xydias somehow managed to squeeze into this cockpit. Not sure how he did this!
Would you want to be strapped into a metal tank with a full race engine and fuel cell? I think not!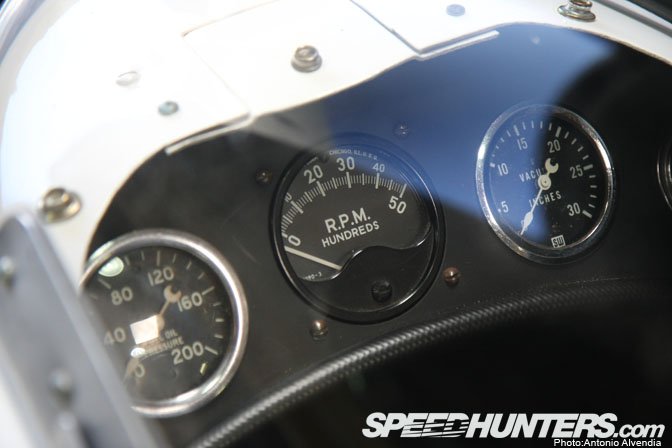 Nice shot of the controls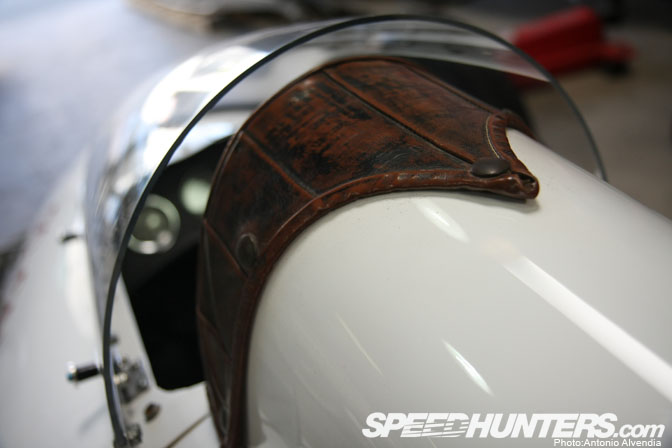 I loved the texture of the leather head rest. This is an all original part and bears the weathering from another time and place.
You know, It's one thing to see a vintage black and white photo of from an old motorsports event but quite something else to come face to face with these retro racing machines. Standing next to it, you can just feel the history embedded in the very core of this car.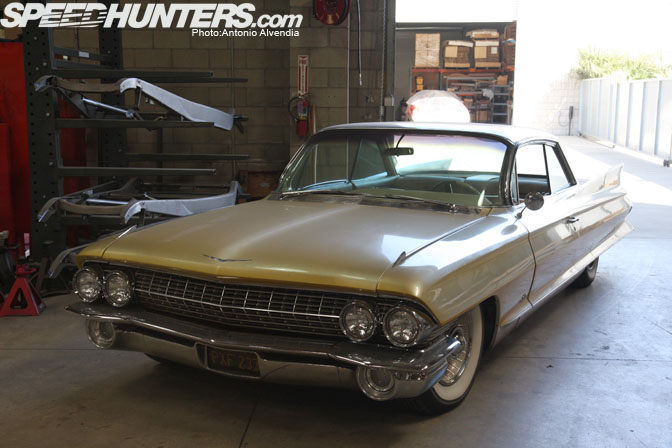 Sitting next to the Bellytanker was this early 60s Cadillac belonging to Billy Gibbons. For those of you who read our story on the Rik Hoving photo archive will now know that it sports a Gene Winfield style faded paint job.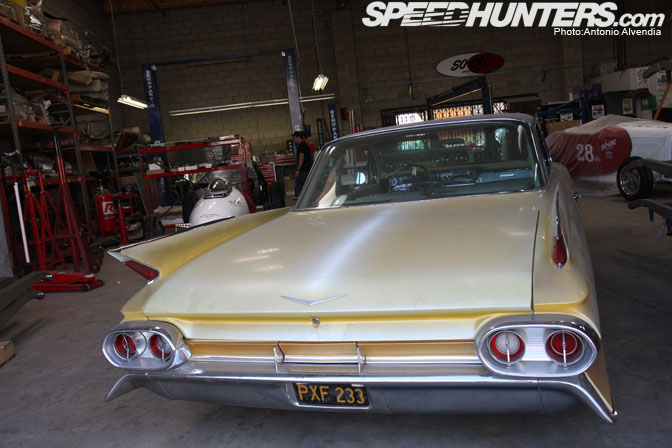 The team though isn't happy with the quality of the paint job and will be looking to redo it.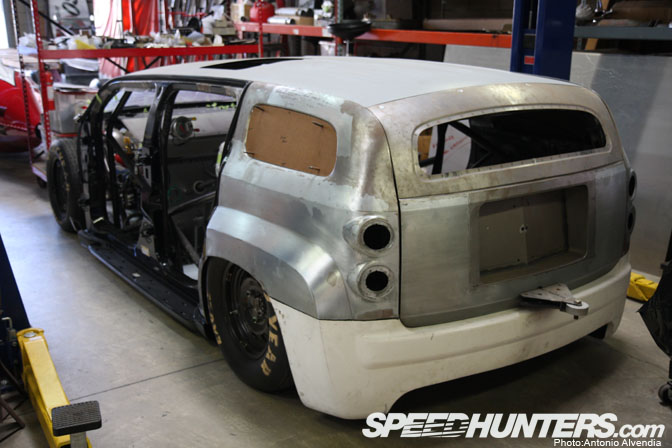 Tucked away in the corner is an HHR land speed car. SO-CAL previously built one of these machines for General Motors around the time of the launch of the HRR.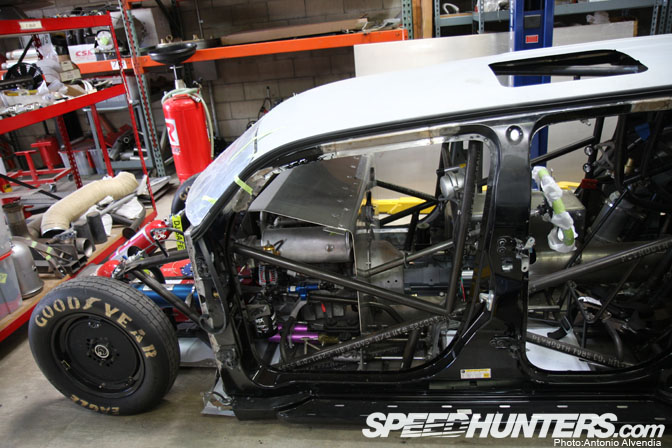 This is a new build though. It features the same type of Ecotec block that powers Rhys Millen's drift Solstice.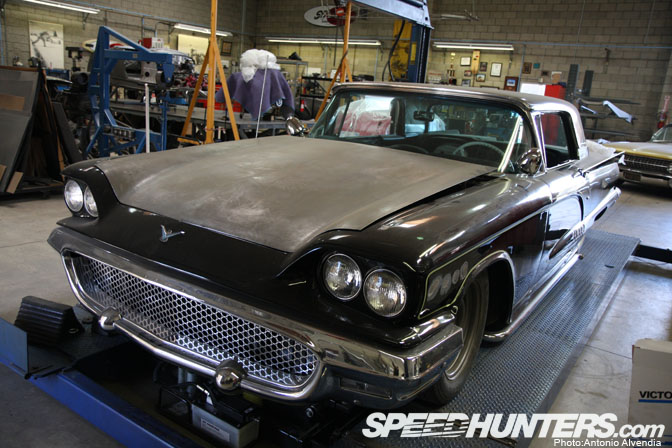 Here's another Billy Gibbons car, this time a 1958 Thunderbird which is being done up in traditional mild custom late 50s style. It will be getting a pretty wild paint job before the project is complete.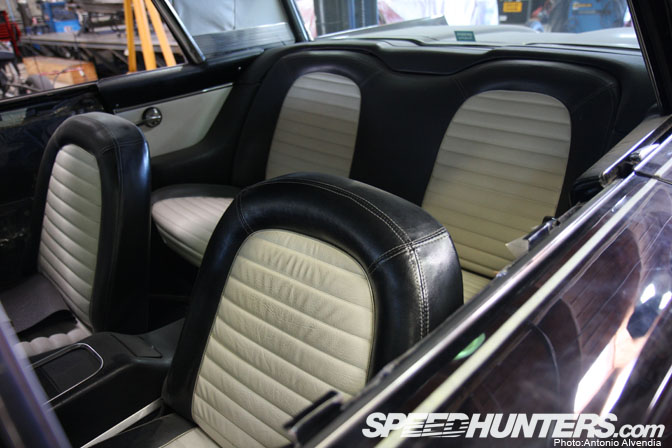 I just love the interiors of 1950s cars.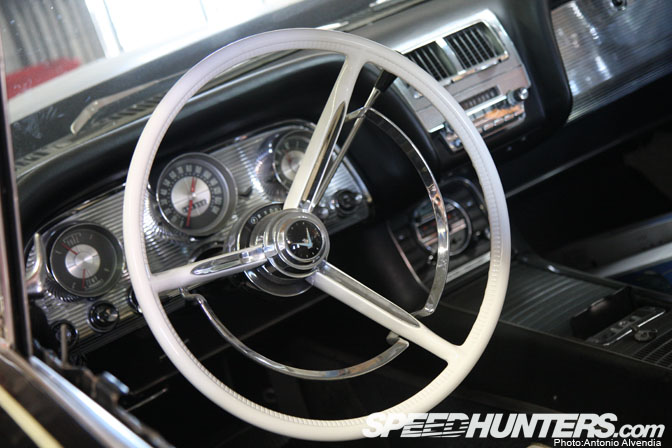 So stunning and so stylish!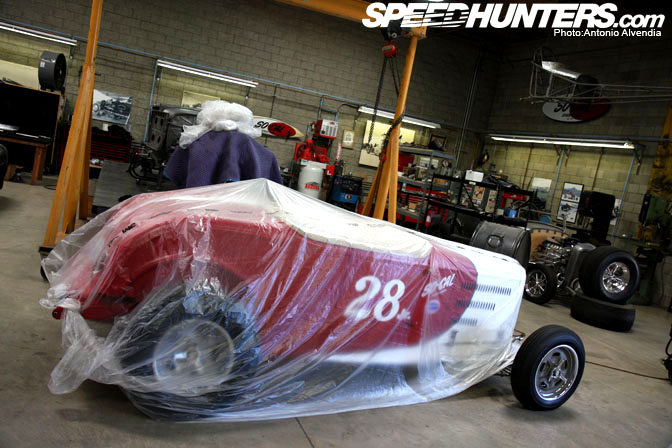 Hot rods galore huh? Amazing to see such a high quality and high profile car shop.
Next up we'll look at our meeting with hot rodding young gun, Jimmy Shine.
Are there any Euro or Japanese focused shops that have such a large and impressive facility?
:Rod