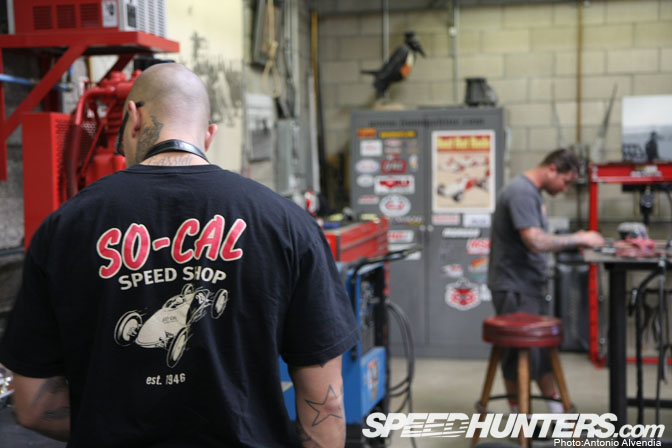 One item that was quite noticeable while touring the SO-CAL Speed Shop was that most of the guys working on the cars looked like they should be on MTV abusing musical instruments. At what point in time did all the new school hot-rodders start to look like rock stars? Somewhere along the line, wrenching on vintage american cars and making regular visits to the tattoo parlor started to go hand-in-hand.
Of these coolguyswhoalsohappentobuildamazingrods, there was one person that stood out from the others: the infamous car builder, Jimmy Shine.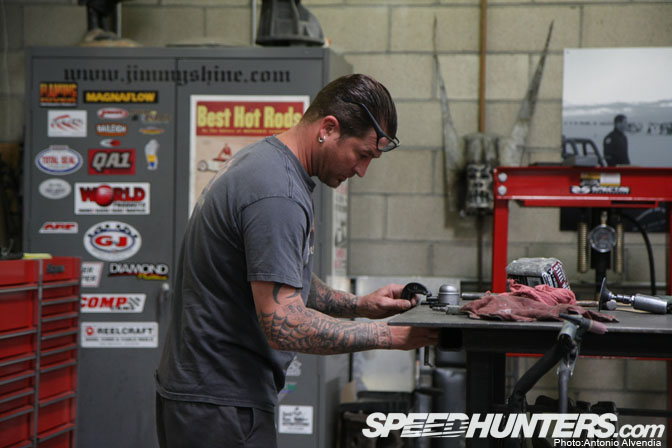 I first became aware of Jimmy Shine a few years ago when he appeared on a Hot Rod Build-off tv show. He was building a new school-old school traditional rod (I am trying not to use the term rat rod) and was up against a guy who was making a billet laden, smoothster style rod; the type that Boyd Coddington and Chip Foose are known for. At the time, I noted his vision, commitment to quasi-traditional style and attention to detail.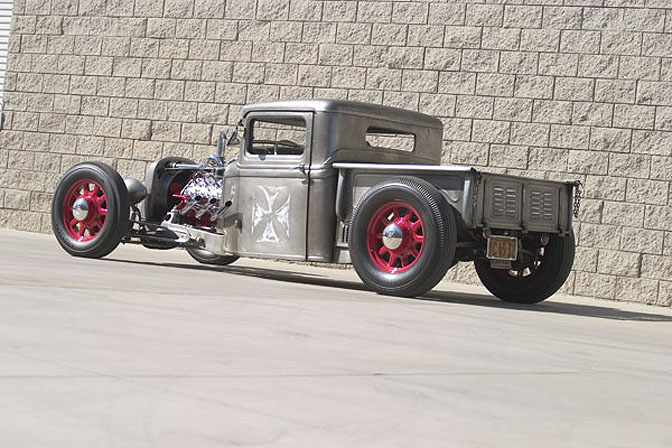 As the whole traditional rod movement has taken hold, and accelerated as the most important hot rod style for this decade, Jimmy Shine is one the names that keeps repeatedly popping up. He doesn't work in this style for fashion reasons, no way….. he IS this style… it is a direct reflection of his point of view.
Pictured above, his 34 Pickup "Bare Nekid", is now considered to be a truly ground braking, style defining hot rod.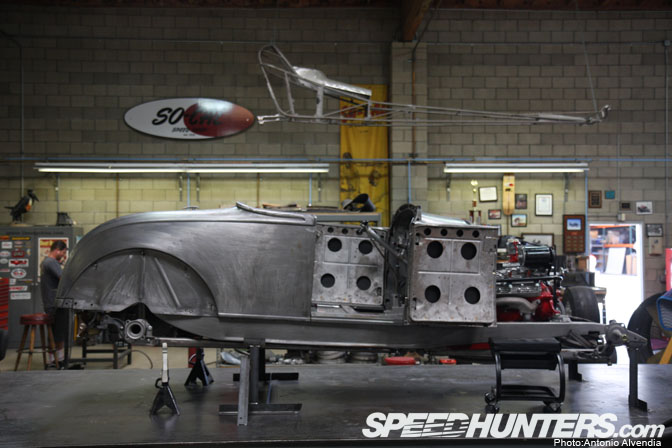 Let's get back to our SO-CAL tour… After drooling over the Billy Gibbons customs and the vintage Bellytanker, Antonio and I wandered over to the other end of the shop to look at Jimmy Shine's new project. The man himself seemed pretty busy working, so we hesitated if we should interrupt his focus to introduce ourselves…..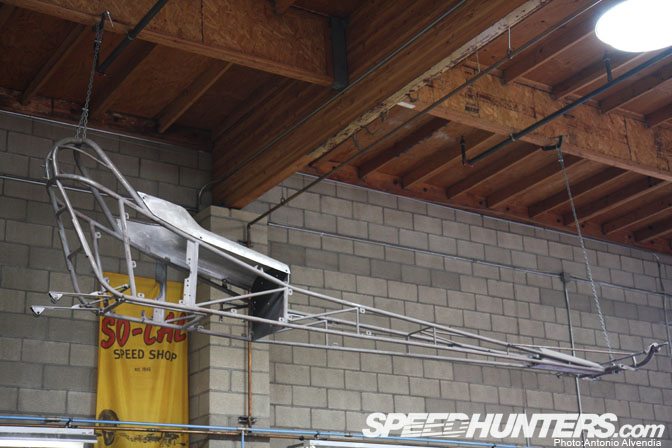 So instead we checked out his work area.
This bare metal front enginem rail chassis hung from the rafters. I wonder what plans are in store for this!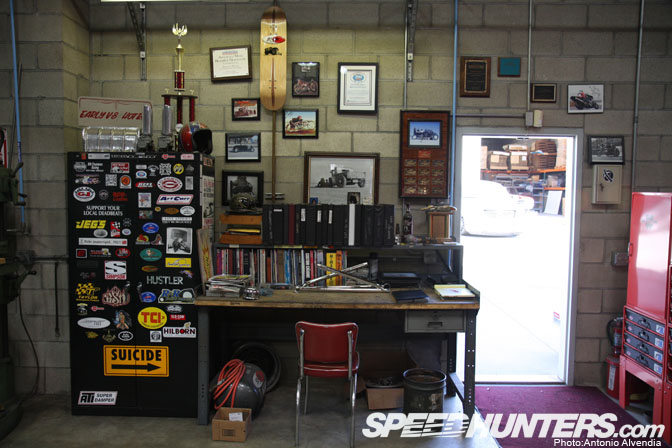 For me, it is always interesting to learn more about a person from the items they choose to display in their personal space…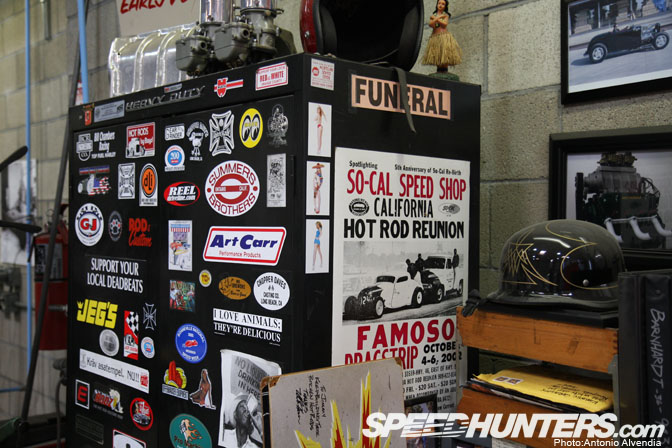 You can tell we are dealing with a hard core Hot Rod aficionado yes?
The pinstriped helmet is tres cool.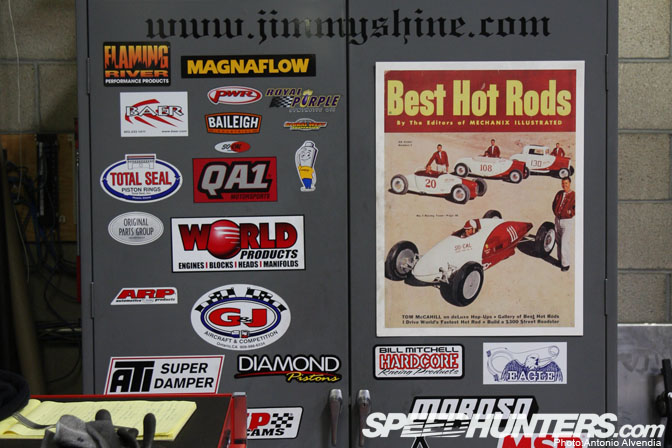 Here is that So-Cal magazine cover from 1952 that we highlighted in part one of our shop tour. It can be bought direct from the SO-CAL Speed Shop online store.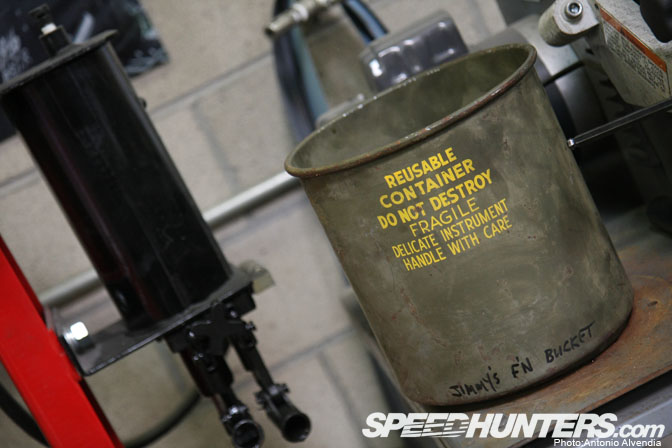 Jimmy's F'N Bucket… hahahaha.
Mister Friendly, Antonio had by this time warmed up to Jimmy….  Looking at this photo I wonder if he's perhaps displeased that we are interrupting….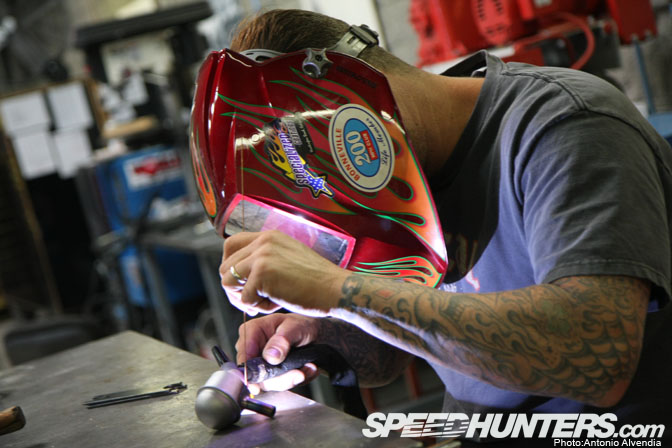 The artist at work….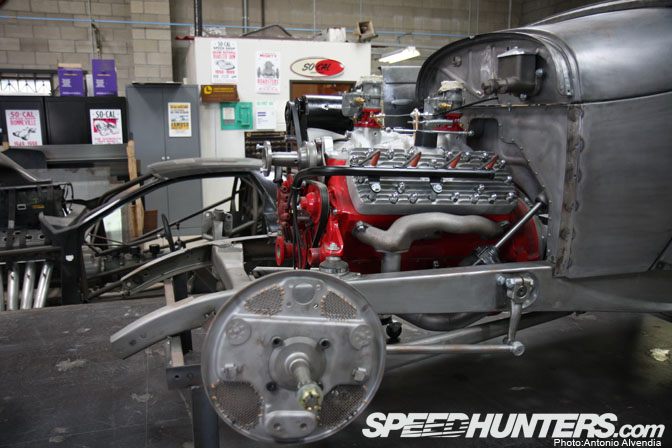 Well, whatever the case, Jimmy eventually game over to us to talk through his project. This particular build is a SO-CAL Speed Shop internal project.
Jimmy explained to me that one his design premises it to try and make all of his cars look like they could have been built by a factory.  If you look at the front of this car, it just about could have rolled off some kind of imaginary Jimmie Shine Autoworks factory in the 1930s. Just maybe.
Notice that he has chosen not to box the frame…. it is one-sided stamped metal.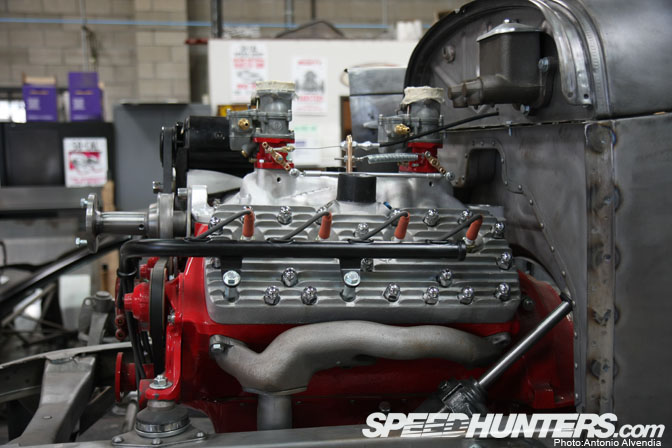 The amount of attention to detail and hand fabrication on this car is breathtaking. Look at the metal spark plug wire enclose. It is hand made, but looks like it could have come from the factory.
The overall theme for this build is "Purity"… that is: Jimmie is attempting to uncover the soul of Hot Rodding with this build. He trying to strip away fashion, trends and fads and get back to the very core of the movement. I think he may just get there…..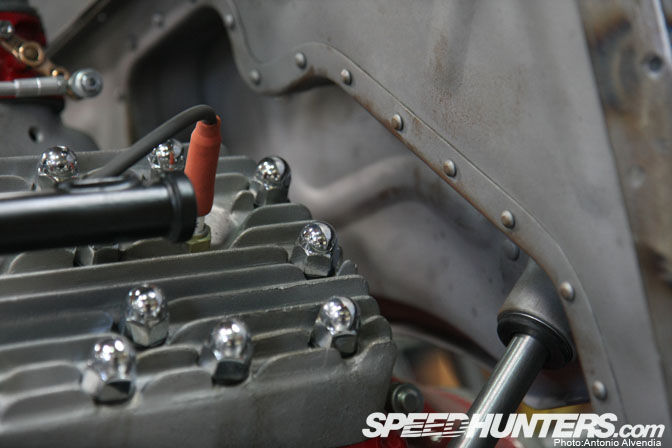 The firewall inset is pretty amazing. As we previously mentioned, many early hot rodders learned their mechanical skills during World War II. Jimmy takes this as inspiration and builds in many design details which are inspired by vintage military vehicles. The rivets on the firewall are an example of this.
Beautiful work.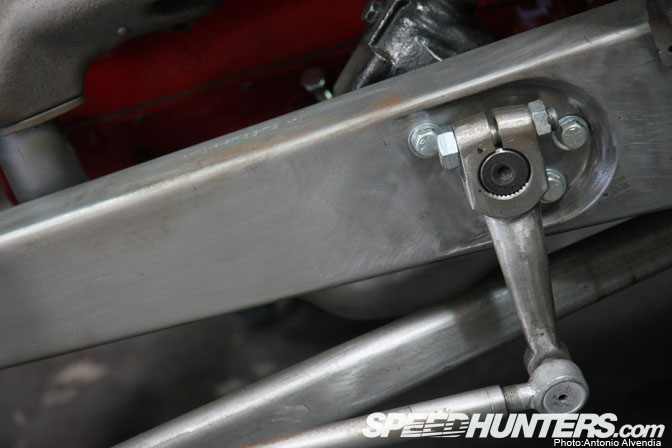 Look at how the mount for the steering arm is inset into the frame rail… stunning.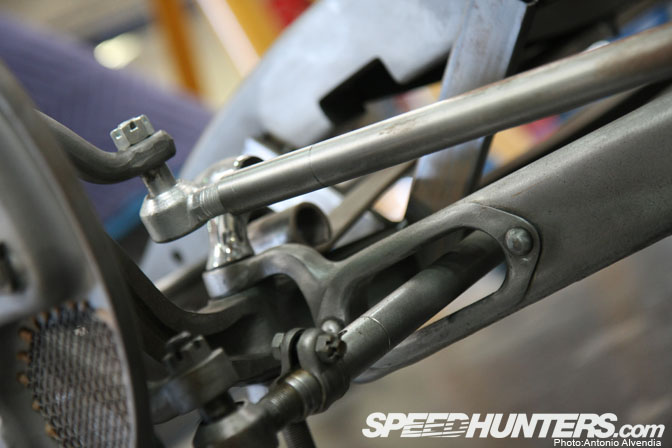 I would like to declare the detail work on the suspension arm to be pure art! The steering rod has been engineered to pass through the suspension arm. Again this all looks period correct in an alternative reality sort of way….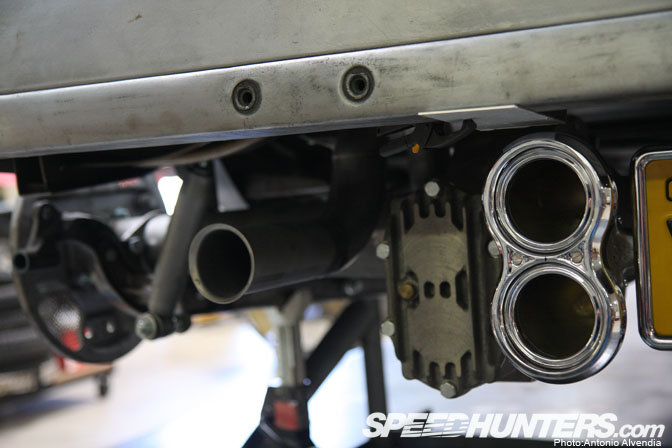 Jimmy also likes to take old automotive parties and rework them to fit into the vision for his builds. For example, the rear tail light surround came from a 1920 Willys but has been heavily modified from the original item.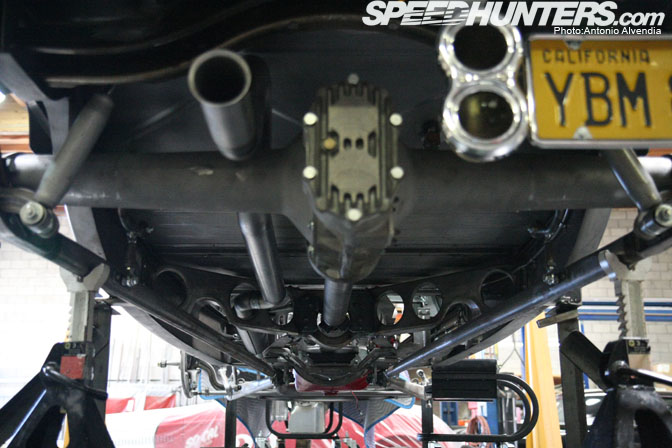 Looking under the car, you can see an amazing amount of fabrication and detail work on the frame cross beam.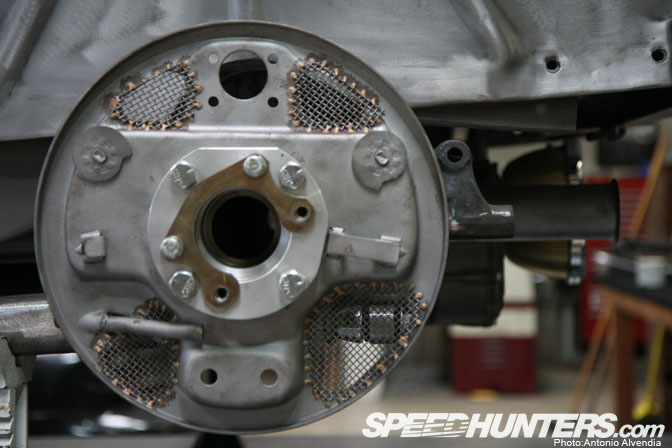 The mesh details on the backing plate for the drum brakes take inspiration from old 1920s/30s European cars. I can imagine this coming from an old Bugatti Grand Prix car.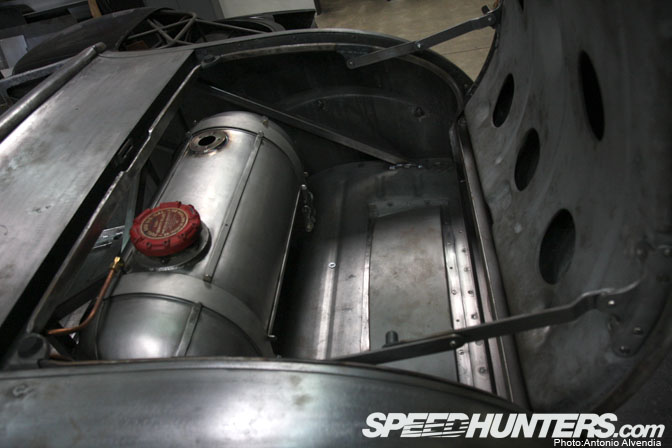 The gas tank has been hand crafted from the remains of an oxygen tank.
Even the hinge supports on the rumble seat have been hand made.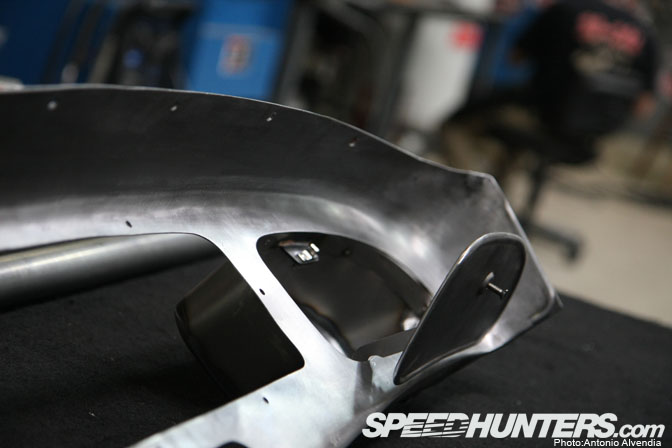 I'm particularly impressed by the the fabration on the all metal glove box. It must be pretty amazing to have the skills to create and hand detail every single item on an entire car from start to finish. Respect.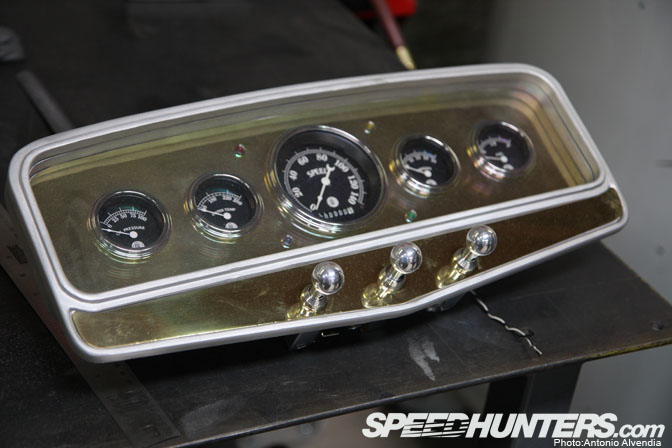 The gauges have been custom made to period speed equipement specifications. Jimmy also explained they would be hand etching the plating with detailed patterns reminiscent of old hand guns from the wild west.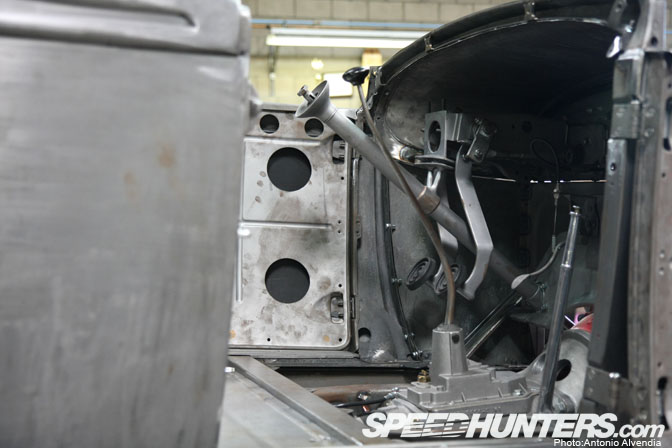 I'm pretty interested to see how this car  is going to turn out. Perhaps we should try and arrange to make a film about this machine when the time is right. What do you say Jimmy?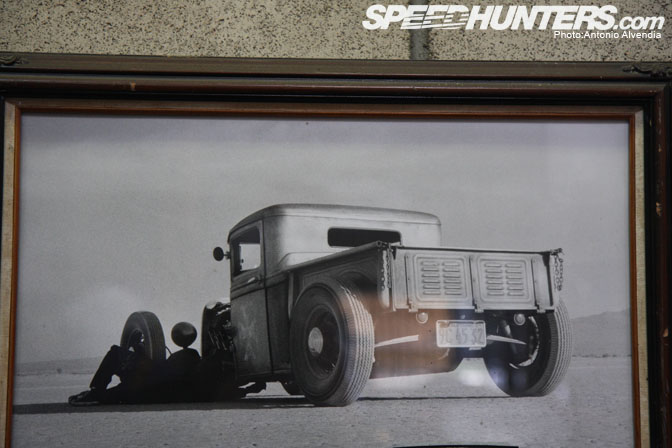 We'll leave this story with a picture of a photo that we saw on the wall of Jimmy's work area at the SO-CAL Speed Shop. It's of his ground breaking 1934 "Bare Nekid" pickup.  I think it pretty well sums up what traditional hot rodding is all about: Oil, Grit, Sun, Salt Flats and Bare Metal… Nice one.
Tx to Christian from the SO-CAL Speed Shop for being such a great host!
:Rod