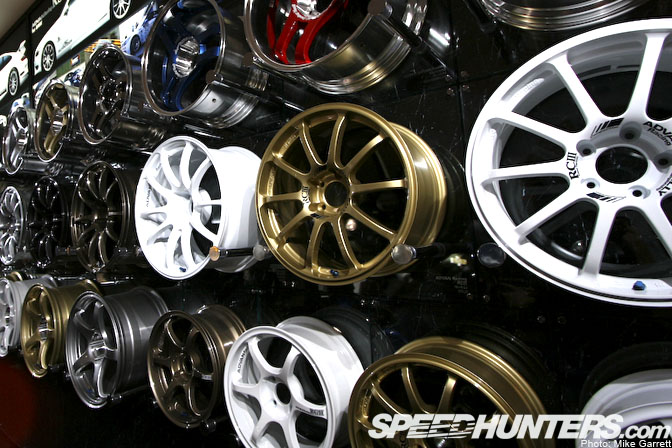 Now it's time to continue our look at iconic Japanese wheels with a venture into the world of one-piece racing wheels. Known for their high quality, light weights, and stylish designs, these wheels can be found all over the world and their styles have been imitated time and time again. Even people who are not into Japanese tuning should be familiar with wheels like the Volk TE37 and Advan RS. Besides being found on tuned Japanese cars worldwide, the quality of these wheels is good enough to be used by owners of high end non-Japanese cars like Porsche 911's and BMW M3's, and even Corvette Z06's.
Now let's take a look at some the popular models. Again, this is not supposed to be an end-all wheel guide, but a simple overview of well known models.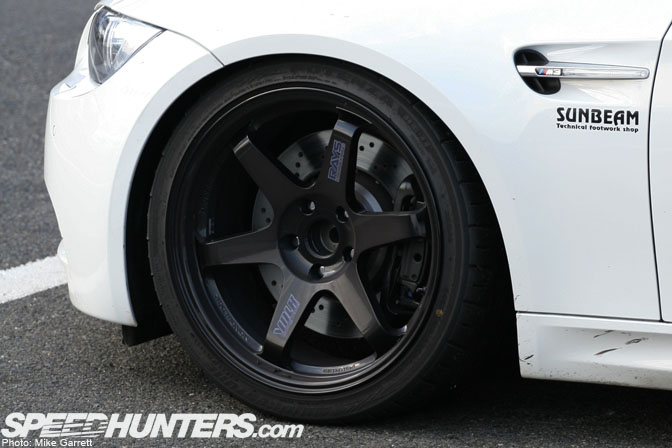 Volk Racing TE37
There is no Japanese racing wheel more iconic and popular than the Ray's Engineering Volk TE37. It is one of the oldest wheels of this type and it's ultra lightweight forged construction and timeless six-spoke design have kept this wheel at the top when it comes to popularity. It looks right at home and car's dating from the '60s all the way to 2008 and it can be found on everything from vintage race cars and drift cars to time attack record breakers. I could write several posts alone just on this one wheel. The TE37 looks particularly great in low offset sizing with the concave or "GT-R face". There are also different variations of the original TE37 design like the "cup" and "gravel" versions.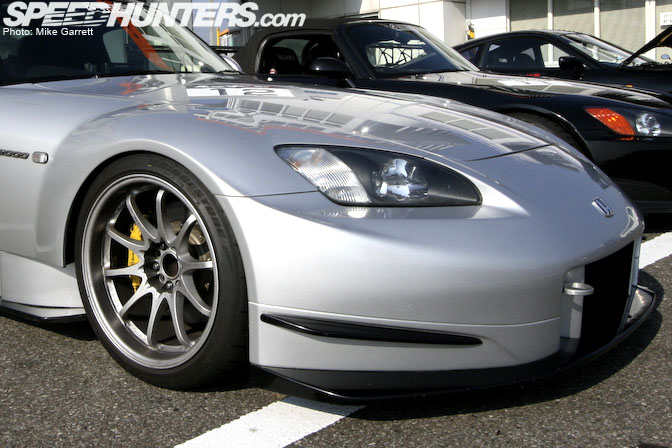 Volk Racing CE28N
Right behind the TE37 in popularity is another Volk Racing wheel, the CE28N. Like the TE37, it comes in tons of different sizes that will fit everything from a Toyota Prius to widebody time attack cars. The Powerhouse Amuse GT1 S2000 seen above is just one of the many cars that the CE28N looks right at home on. Ray's offers the CE28N in a number of different colors, and I don't think there is a single color that doesn't look good on this wheel.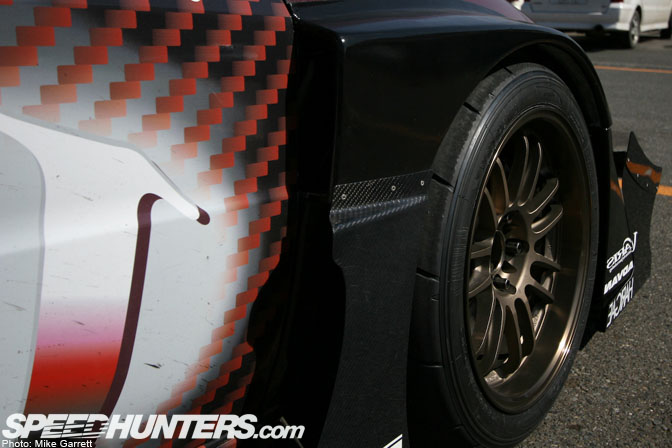 Volk Racing RE30
The RE30 is a more recent addition to the Volk Racing lineup, and since its release a couple years ago, it has become an extremely popular wheel both in Japan and elsewhere. The wheel is seen here on the VARIS Evo5 time attack car. On nearly all of its models, Volk has released special "Time Attack" editions with red wheel lips or other models with machined lips, but personally I think these wheels look better when they are all one color.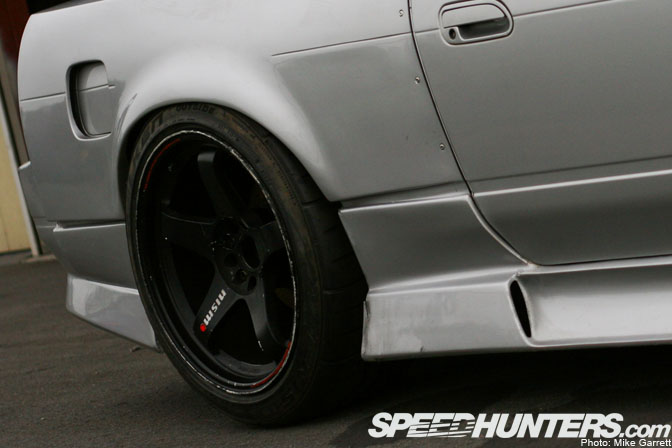 Nismo LMGT4 etc.
Another popular wheel made by Ray's Engineering is sold as the Nismo LMGT4 and can be seen on cars like Yoshinori Koguchi's 180SX and the the Nismo Skyline GT-R Z-Tune. The LMGT4 is quite popular for its aggressive five-spoke design and If I am not mistaken, a similar wheel is/was sold by Mazdaspeed. There have also been other similar wheels sold by companies like URAS and Bee*R.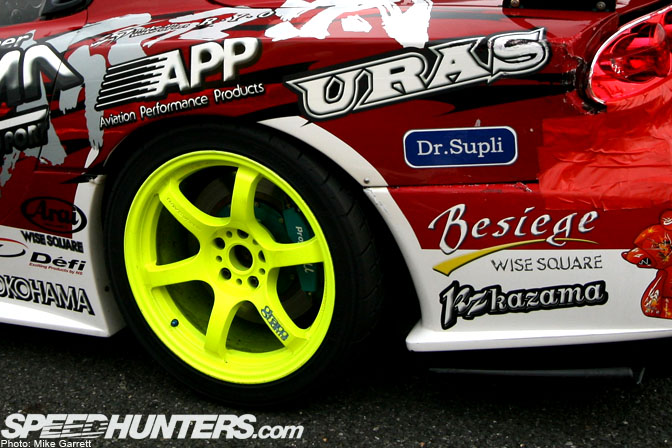 Gram Lights 57 Series
Another popular Ray's Engineering brand is Gram Lights. Gram Lights wheels are generally heavier and cheaper than the Volk wheels, but they still offer high quality construction and good-looking designs. Most recently, the new Gram Lights 57D wheels with their wild colors have become very popular among D1GP teams in Japan. The Gramlights 57 Maximum and 57 Optimise are two of my personal favorites.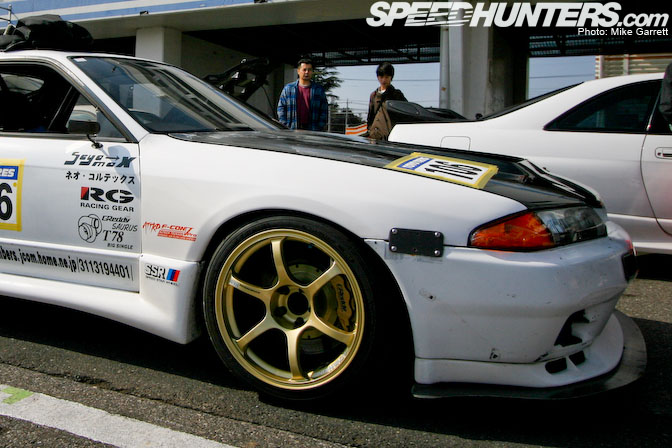 Advan RG & RGII
Yokohama's line of Advan racing wheels are also extremely popular worldwide. The six-spoke Advan RG and it's successor, the RGII are some of the most commonly seen Advan wheels. Like the Volk Racing wheels, they are also forged and are offered in some very aggressive sizes. The wide, low offset GT-R face versions of the RGII like the ones seen on the R32 above look awesome on any kind of car.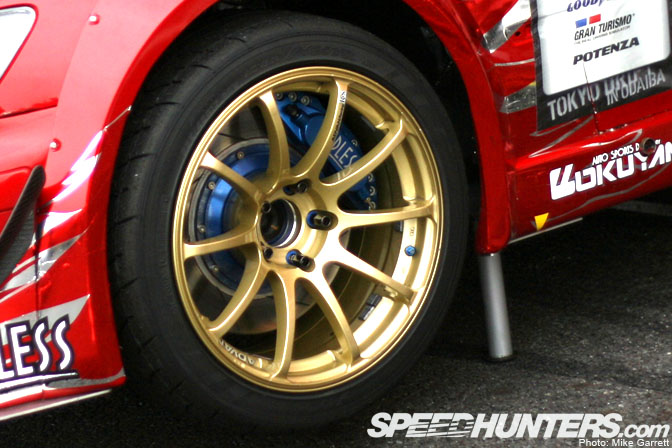 Advan RS
 The Advan RS is another popular part of the Advan wheel line. The RS can be seen on big name cars like the Zero Sports time attack Impreza and Nobu Taniguchi's HKS Altezza drift car. Speaking of HKS, Advan has a tight relationship with them and Advan wheels can be seen on all of the demo and race cars built by HKS. The RS wheel has also become very popular among the BMW crowd in Japan recently.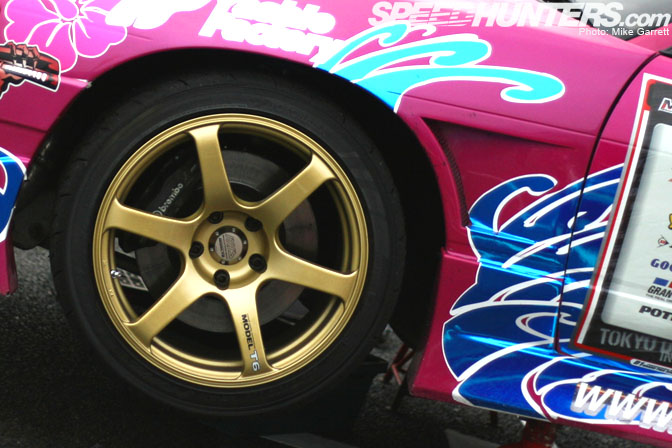 Advan Model T6
The Model T6 is another six-spoke offering from Advan. It's thicker, flatter spoke design distinguishes it from the RG. The Aristo that Manabu Orido drives in Formula D is rocking a set of these wheels in the attractive dark chrome finish. The wheel in this photo is seen on Yashio Factory Oka-chan's D1 S13 Silvia. Yashio Factory also uses Advan wheels on all of its car drift and time attack projects.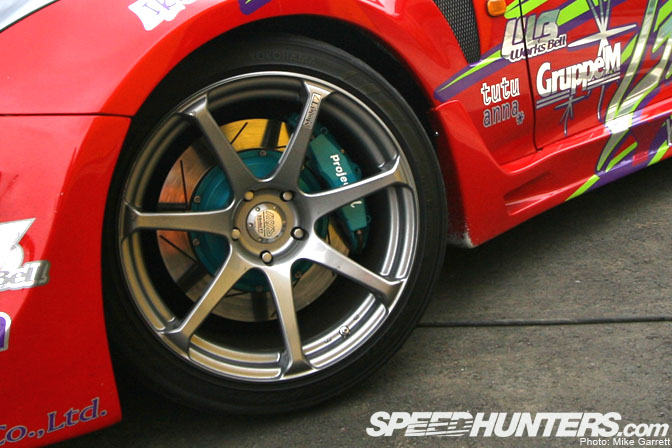 Advan Model T7
The Advan T7 has been around for a long time, and although it is not of my personal favorites, it looks really good in concave offsets. Replicas of this wheel were very popular during the early days of the import movement of the United States, and it seemed like every wheel company out there was selling a copy of this wheel at one point. The car in the photo is the JZA80 Supra MSC/D1SL car with a Celica front end. There are plenty of other great Advan wheels like the TCII and AVS Model 5, but I don't have room here to list all of them.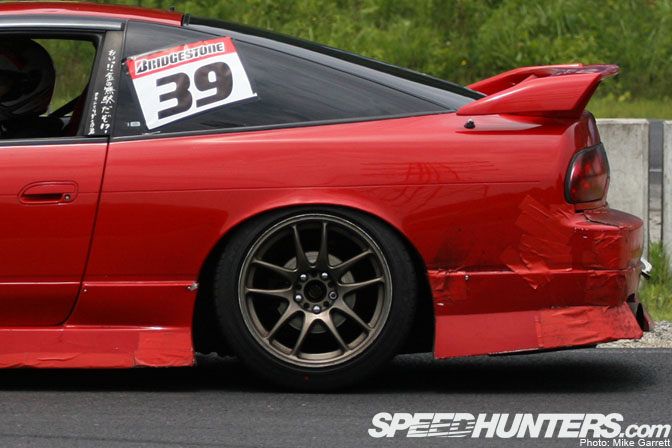 Work Emotion CR Kai
Work offers some very nice one-piece racing wheels in their Emotion line. The original CR Kai model is the original and one of the most popular, particularly on drift cars. What's not to like about them? They are reasonably priced, have high quality construction, and a very attractive split five-spoke design that is available in some super aggressive sizes and offsets. I am huge fan of these wheels in general and especially love them in white.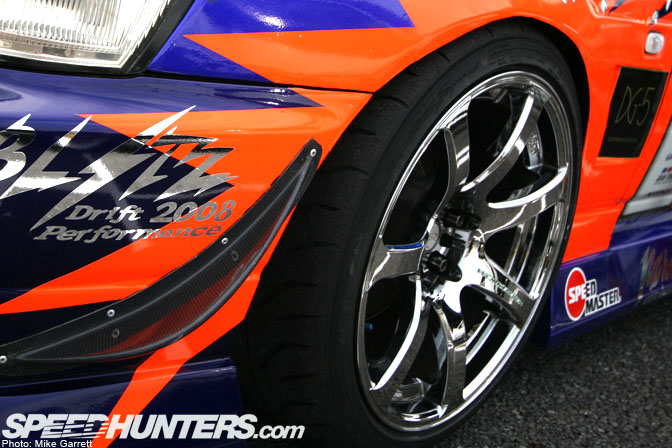 Work Emotion XT7 etc.
Work followed up on the success of the CR Kai with additional Emotion models. These included the XD9, the  XC8, and the seven-spoke XT7 which is seen here on Haruyama's C35 Laurel D1GP car. The low offset XT7 is one of my favorite wheels especially in the chrome-like finish seen above. I guess you could say that it looks a lot like a seven-spoke version of the Advan Model T6.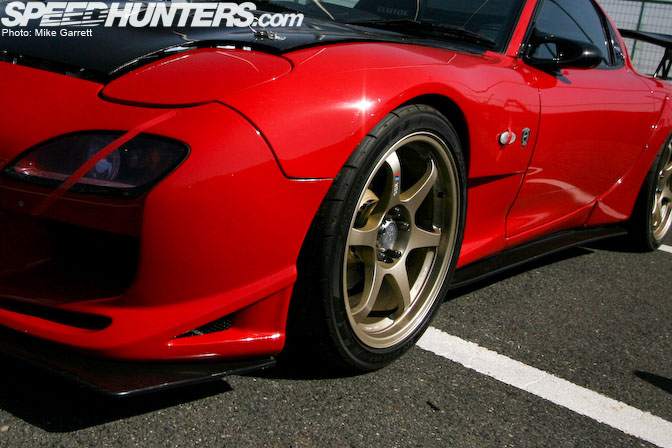 SSR Type C
SSR is a little more well known for their old school wheels and multi-piece designs, but they also have the Type C, which is an ultra-light one-piece forged racing wheel. A silver version with a machined lip is sold in the United States as the SSR Competition. It makes a good alternative to the more commonly seen Volk and Advan wheels. SSR has recently introduced a new wheel called the Type F which uses the same construction of the Type C with a new spoke design.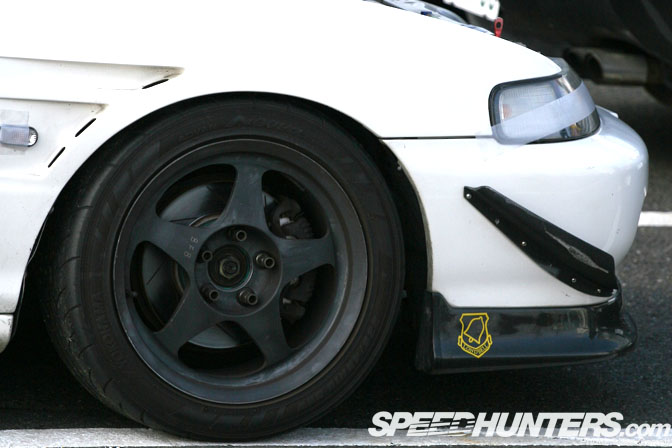 Desmond Regamaster/Spoon SW388
The Russian-made Desmond Regamaster is another popular racing wheel and is known for its simple five-spoke design and lightweight forged construction. A flat black version of this wheel was sold by Spoon Sports in Japan as the SW388 and it is a favorite among Honda enthusiasts worldwide. I have also seen plenty of GT-R's with aggressive sets of white Regamasters and they always look great.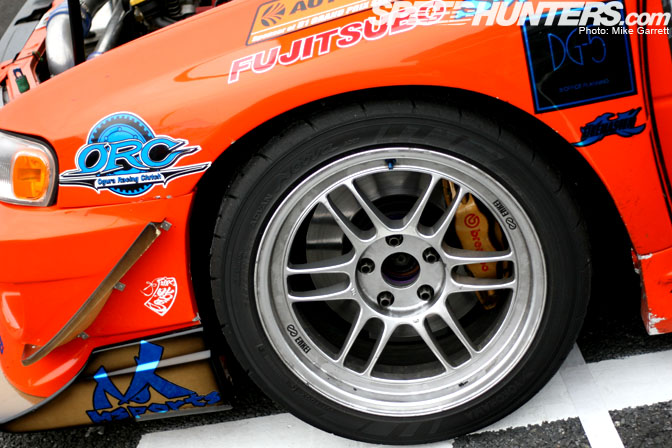 Enkei RPF1
The Enkei RPF1 is an extremely popular wheel thanks to its light weight and affordable price. It's light weight is achieved by a special way of casting. Our own Naoto Suenaga runs these wheels on both his D1 GC8 Impreza (above) and his D1 Street Legal S13 Silvia. All of the wheels in the Enkei "Racing" line offer a lot bang for the buck in both appearance and quality.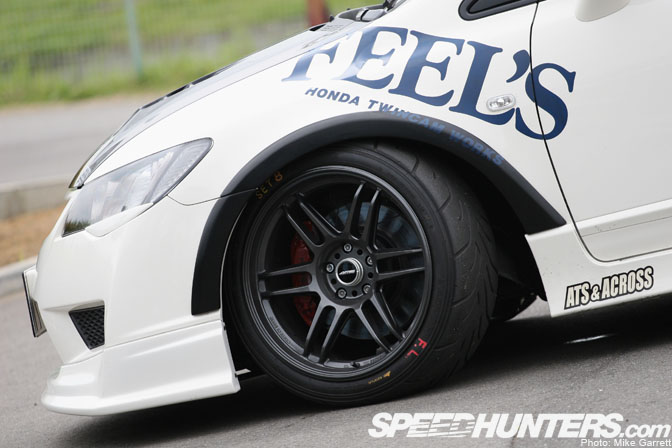 AME TM-02
AME Wheels has been working on hard on developing new racing wheels that share casting technology with Enkei. AME's wheels have been appearing on a lot of big name Japanese demo and time attack cars recently including Pro Stock Racing's Nismo 380RS the Feel's FD2 Civic Type R which I featured a while back, and Garage HRS' latest Evo. Like most of these wheels, the TM-02 looks really cool in concave sizes.
The stuff in this post was probably old knowledge for a lot of you, but we thought it would be good to go over some of the popular Japanese racing wheels for those that might not be familiar. Next time I will finish up with a look at the multi-piece designs.
-Mike Garrett