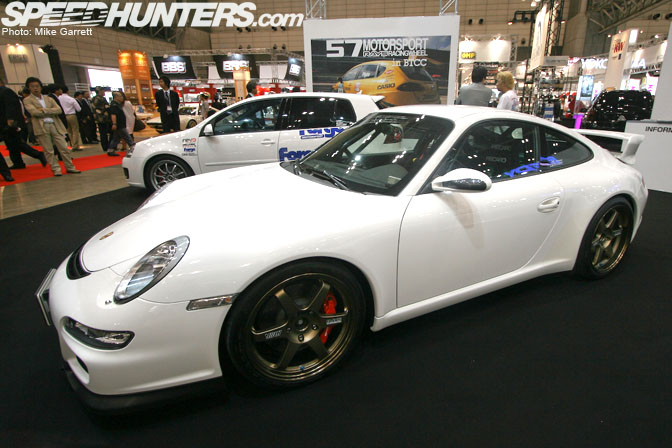 While the most well known part of Japanese car culture is of course the tuning of Japanese domestic cars, anyone who has been following Speedhunters or Auto Otaku knows that that foreign cars also have a huge following in Japan whether they are Italian exotics or American customs. As far as tuning goes, Porsche cars are certainly one of the most popular import platforms in Japan. If you visit a Japanese book store, you will see a number of Porsche-only enthusiast magazines such as the very well done publication called "911 Days". To see how influential Japanese Porsche tuning has been, one just needs to look at some of our features on Rauh Welt which we have been posting this month. In addition to the magical RWB creations, there a lot more to the Porsche scene in Japan and that's what I will be looking at in this post.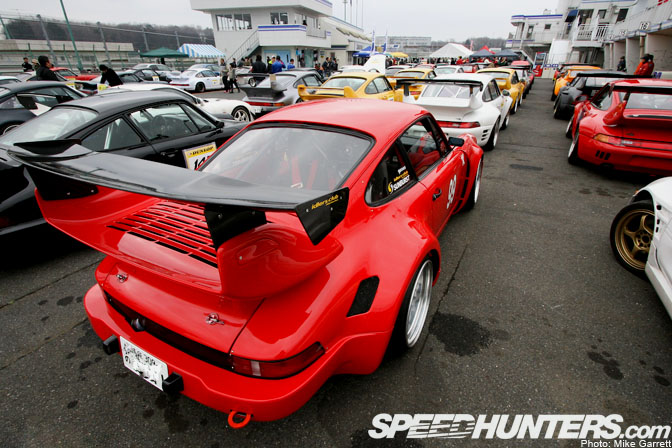 One of the best places to find circuit-tuned Porsches in Japan is at the Idlers Club events which are held at Tsukuba Circuit and Twin Ring Motegi. At an Idlers event the paddock will be filled to the brim with track-going Porsches of all eras and types. In case you missed any of my coverage from last month's Idlers meet at Tsukuba, check out the posts here and here. Just look at the above photo, overload for a Porsche enthusiast or just a fan of cool cars in general.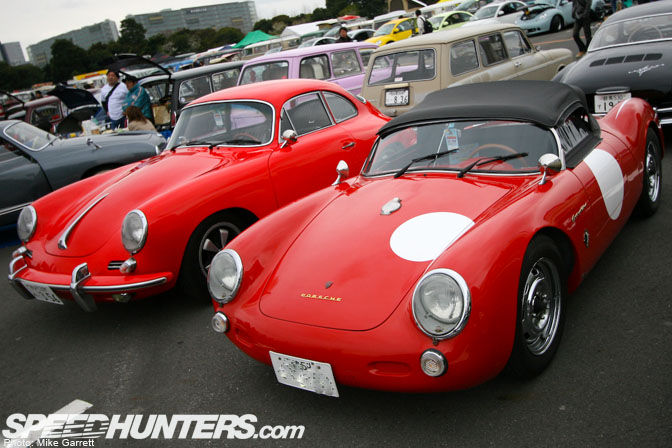 Classic Porsches also get plenty of love in Japan. I spotted these examples sitting alongside their Volkswagen relatives at the Street VW's Jamboree in Tokyo this spring. As I have stated before, I am not a Porsche expert and I am not even sure whether these 550 Spyders and 356's are genuine or not, but really I don't think it really matters as the Porsche influence is there not matter what. How can you not think of James Dean's Little when you see a vintage Porsche Spyder? Even on the trendy streets or Roppongi Hills in Tokyo, cruising around in an early model Porsche will never go out of style.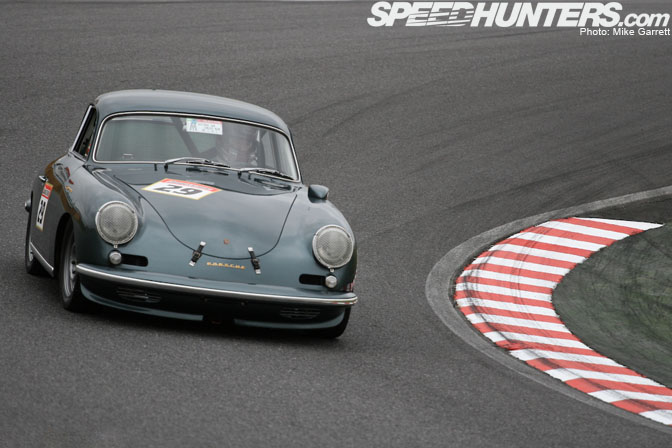 It's not just on the streets where you will find classic Porsches. There also plenty of vintage Porsche racers who run their cars to the circuit often. I spotted this sexy 356 running at the Tsukuba OLD/NOW Car Festival. It looks to be pretty original, and there is no denying the timeless style of the orignal 356 coupe and this particular gray color makes the car look even better.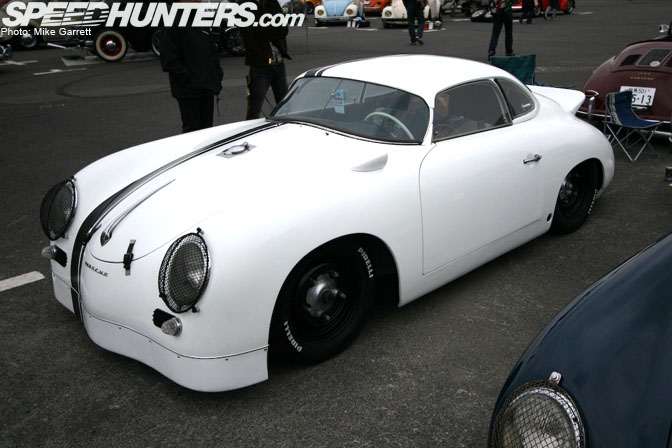 Another 356 example is this low slung race version that I also spotted at the Tokyo VW event. Again, not sure whether this is genuine or if it's a Volkswagen-powered kit, but either way I couldn't stop staring at it. If I stood next to this car I think the roofline might sit beneath my waist! I really love the old school steel wheels and Pirelli white lettered rubber. Also, check out the cool mesh headlight covers.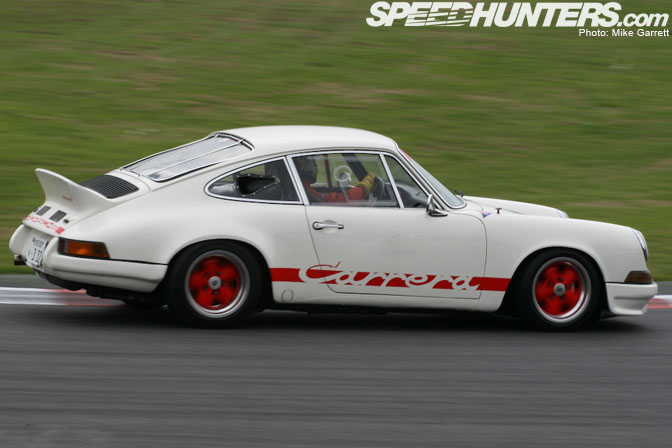 The Porsche Carerra RS is known as an iconic machine around the world, but in Japan this car has a special bond with people because it was featured in the popular "Circuit Wolf" vintage manga series alongside other historic sports cars and exotics. The red and white car seen above is an exact replica of the car seen in the comic. Besides Circuit Wolf, plenty of other Porsches have appeared in Japanese comics over the years and the most well known would have to be the "Black Bird" Porsche from the Wangan Midnight series. Speaking of the Wangan, you can't forget about the infamous Porsche racers that have prowled the Bayshore Route over the past decade or two.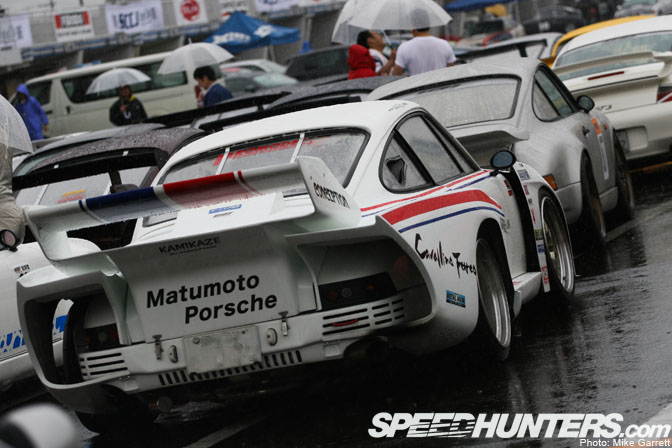 While a lot of Japanese Porsche builders infuse a lot of their own style into their work (Rauh Welt), others approach their cars from a more purist point of view. Here we have a very well done Porsche 935 replica that runs in the Idlers Meeting and other sports car events. I have really been enjoying Rod and John's posts about these legendary Porsche race cars and it is nice to have some historic info on these cars after seeing them race at Tsukuba so much. This car has had engine tuning from Promodet, which is probably the biggest Porsche engine builder in Japan. They do all of the engine building for the RWB cars as well.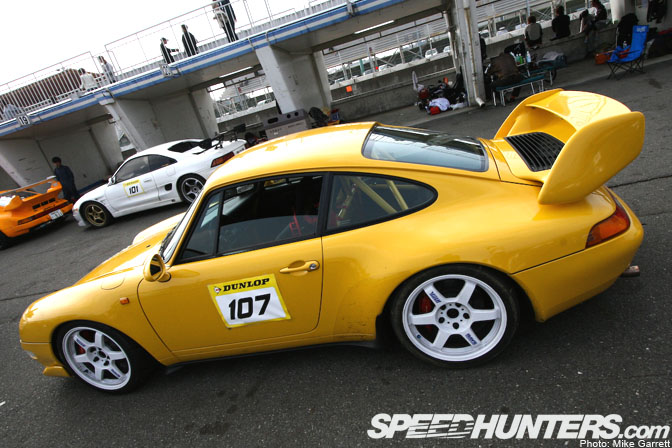 While the RWB-built cars look fantastic with their negative offset Work wheels, you also can't go wrong with the classic combination of a Porsche 911 and Volk TE37's. Hey, it's the ultimate Japanese racing wheel matched to the ultimate German sports car right?. Ray's Engineering even offers a completely separate version of the wheel which carries the not so surprising name of "TE37 for Porsche". Check it out on their website.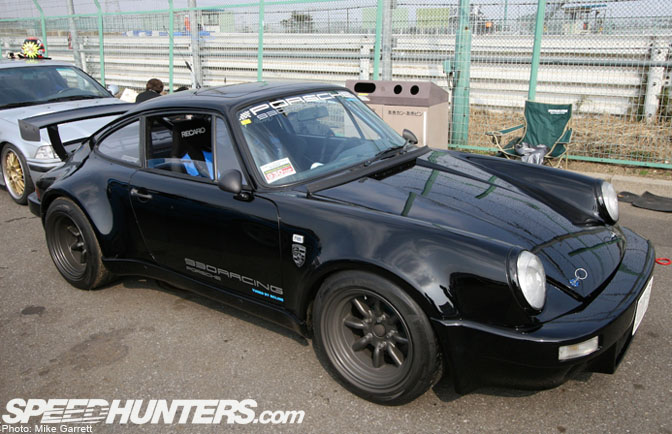 Seeing how the RS Watanabe is another iconic Japanese wheel, I could not make a post about Porsche in Japan without a Watanabe-equipped 911. Not surprisingly, the classic design of the Watanabe is a perfect match to the classic Porsche 930 shape.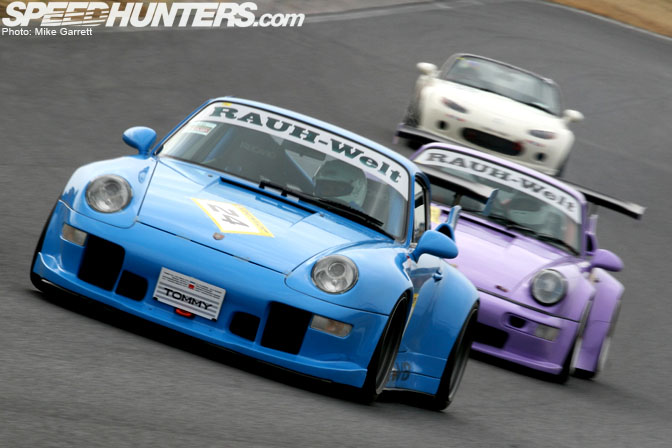 We have had plenty of other Rauh Welt posts recently, but there was no way I could leave RWB out of this one. The blue car is 993 which is known as "Tommy" and it is one of just a handful of post-964 models that have been given the RWB touch. I honestly never get tired of looking at photos of Rauh Welt cars, even if I was the one that took them. Always nice to have something good to dream about at night isn't it?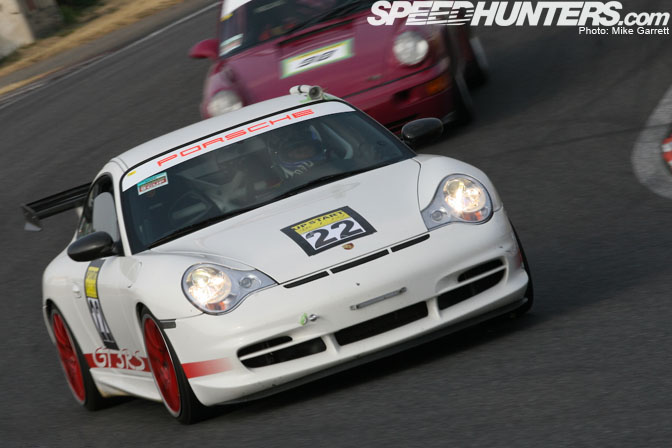 While the 930 and 964 model Porsches are what I see most at circuit events, the later models also have a strong following among racers in Japan. This particular 996 GT3 RS was running in the 911 Cup race at the Idlers Games. While on the subject of the later model cars, Japan also has its own Carrera Cup series which currently runs 997 model GT3's as in the rest world. The Carrera Cup races are held at Japan's large racing circuits alongside events like Super GT and Super Taikyu. A few Porsche GT3's also compete in the ST-1 class of the Super Taikyu.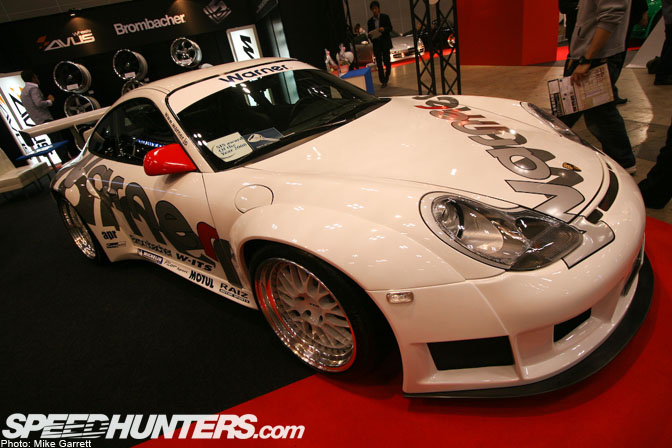 This 996 was on display in the Work Wheels booth at the '08 Tokyo Special Import Car Show. It was built by a Kanagawa-based Porsche specialty shop called Technical Mate. The car is running an RSR aero kit from Technical Mate's "Warner" parts line. The wheels are the same Work Brombachers that were seen on some the Rauh Welt cars that we featured not too long ago.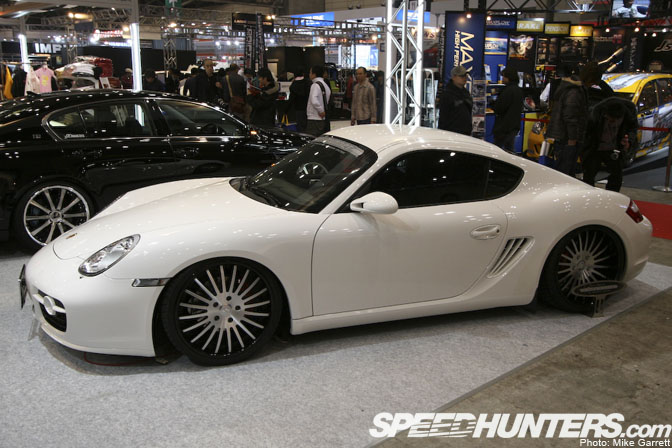 While the vast majority of tuned Porsches in Japan are built with circuit racing or street performance in mind (thankfully), there are a few that cross into the "luxury" side of things. For example we have Porsche Cayman demo car which is equipped with Air Runner suspension. As you have probably noticed, the vast majority of the Porsches covered here are 911 models. Although they pop up occasionally, I have not seen too many tuned Boxsters, Caymans, or front-engine Porsches in Japan.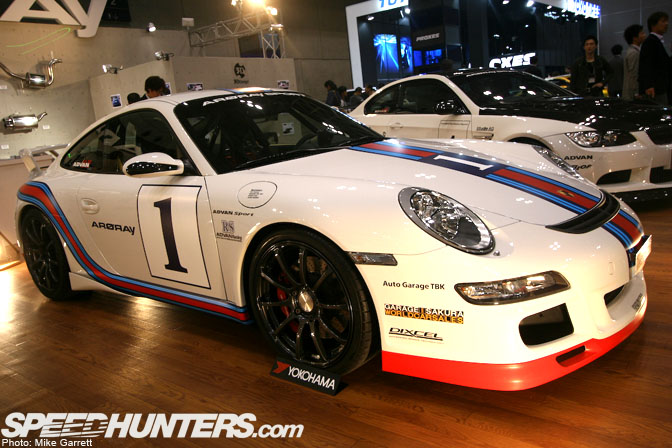 Arqray is another big European car tuner in Japan that manufactures exhaust systems and aero kits for a number of different European makes. At this year's SIS shown they displayed their 997 demo car done in a version of the legendary Porsche Martini racing livery. Again we have the combination of a Porsche with high end Japanese racing wheels, in this case the Advan RS. This car was drawing a ton of attention sitting in Arqray's booth alongside their other European demo cars.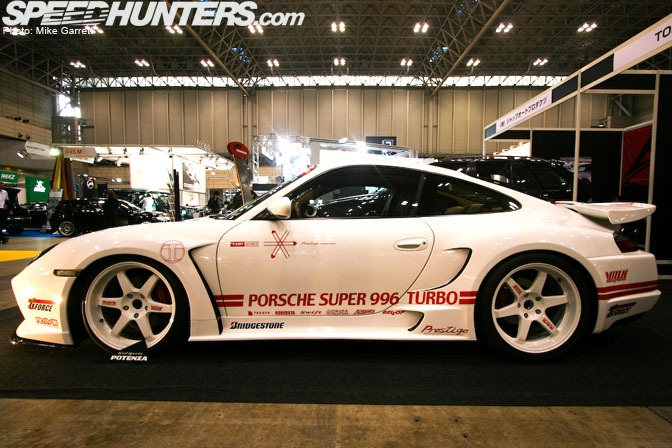 One of the big breakthroughs in the Japanese Porsche world this year was the debut of the 996's that were a collaboration between Top Secret and Gemballa. These cars have seen a lot of coverage from both the traditional Euro car magazines as well as Japanese tuning magazines. Cars like this are perfect examples of what can be done when you combine high end European sports cars with traditional Japanese style tuning. The Top Secret 996 Turbo makes a perfect addition to Smokey Nagata's fleet of other high powered machines. Smokey is not the only big name Japanese tuner to have a thing for Porsches. Amemiya-san also likes Porsches enough to make front end conversions for his beloved rotary-powered Mazdas.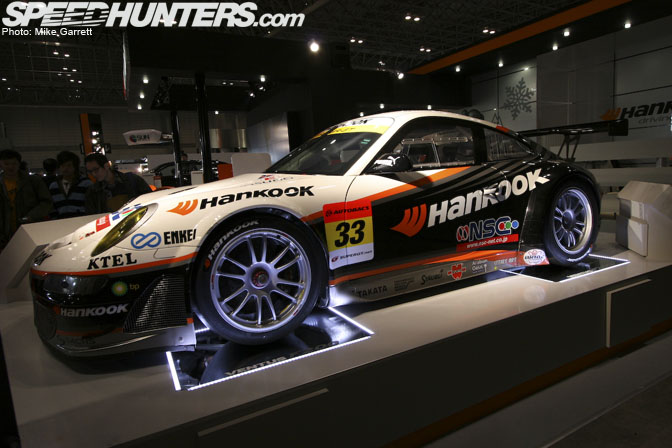 And lastly, we finish with the Hankook Tire Porsche which is one of a few Porsche examples that run in the GT300 class of the Super GT series. From historic car races to the highways of Tokyo to the top racing series in Japan, Porsches are everywhere in the land of the rising sun. Now if we could just see Hankook build a D1GP Porsche drift car for Japan just like the one that they did in the states…
That ought to give a decent overview of Japanese Porsche-mania.
-Mike Garrett