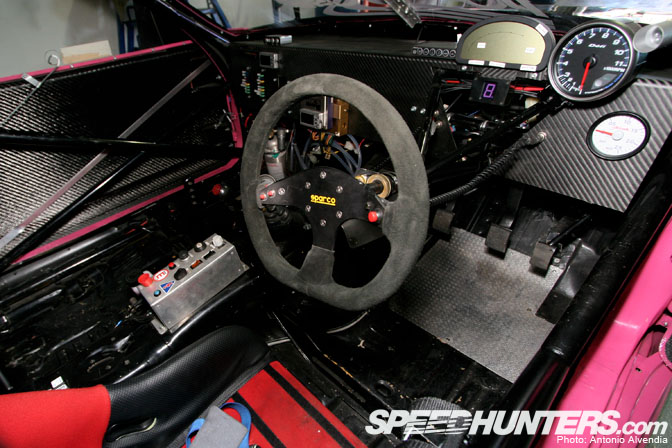 It's not every day you get to see and touch a real Porsche 911 Carrera RS. There are many, many clones out there, but a real production RS is a very rare car. The RS initials stand for Rennsport, which basically means racing sport in German – it was, in essence, a race car, specially produced by Porsche in the early 1970s.
The car I got to photograph and ride in on the Speedhunters trip to Leipzig was a 1973 model – pristine white with green wheels and Carrera stripe going across the sides of the car. I especially liked the color coded stripes on the bumpers – that was pure style. Love it.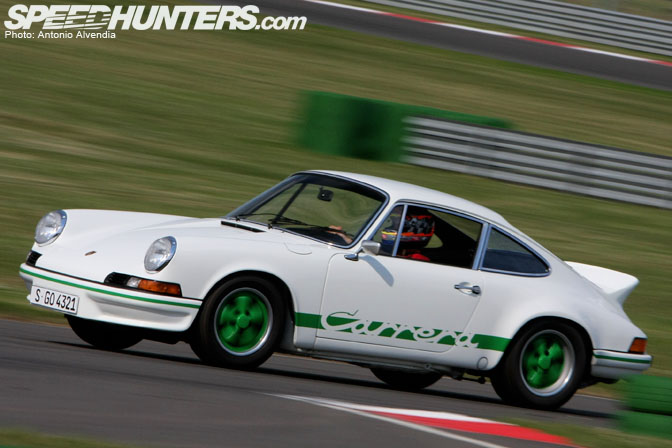 The 1973 911 Carrera RS was a specially built performance car that was produced just to meet homologation rules for the Group 4 GT class that Porsche was racing in. The rules specified that a minimum of 500 Carrera RS models needed to be sold to the public, so Porsche kept the price intentionally low, so they could achieve this sales number very quickly.
I was told by my source at Porsche (after they searched all the books in the Porsche library, including the highly coveted green-colored two-book edition Porsche bible, which was written completely in German) that 1636 units were eventually sold, because the RS was so popular.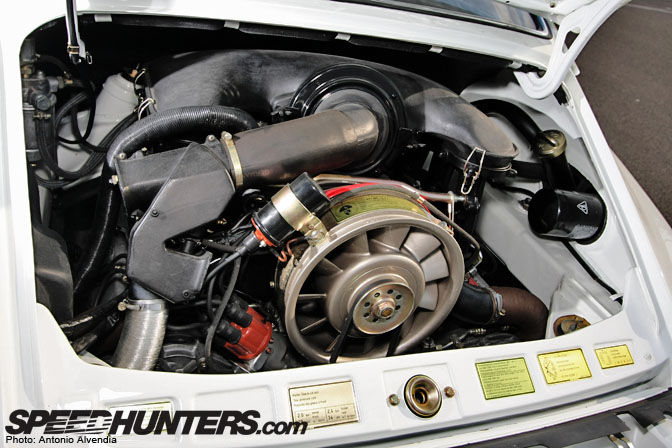 The Carrera RS's engine was one reason for the car's big appeal. It was a specially bored out version of the 911's normal 2.4 liter flat six engine; the RS's engine used bigger bore pistons (standard size was 84mm, compared to the RS's 90mm bore size), which increased the displacement from 2.4 to 2.7 liters. The engine's cylinders were also specially coated with Nikasil, which somehow reduced the friction inside the cylinders.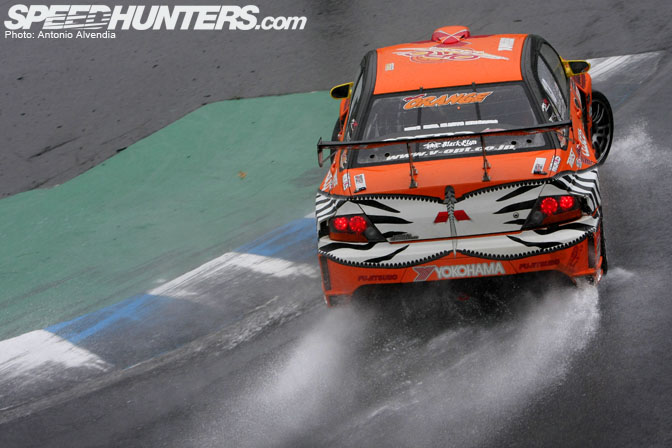 The Carrera RS was also built lighter than the other normal 911s. Porsche lightened the body a lot by using thinner gauge body steel when producing the RS – in fact, the RS model was about 300lbs lighter than a normal Carrera S. The suspension was also tuned for a stiffer, sportier feel by using bigger sway bars, higher pressure Bilstein gas shocks, and "wider wheels." (Even though their idea of wider wheels back then was widening the rear wheels from 5 inches wide to 6 inches wide… not wide at all by today's standards, but apparently it was a big deal back then. Personally, I would have wanted them to stick an 8J wheel on it.)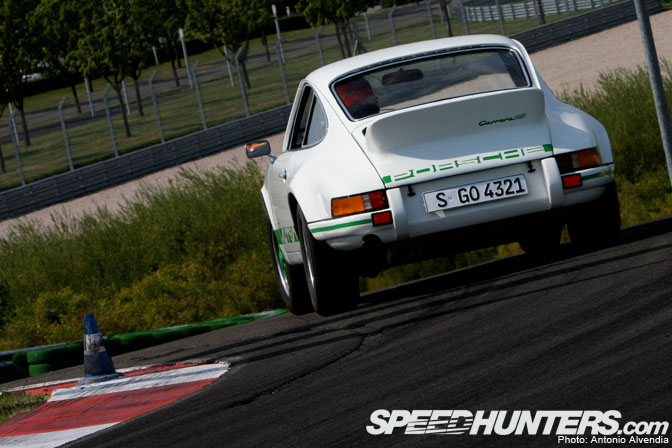 I really liked the RS "ducktail" spoiler, which is molded into the rear engine cover. It reminds me of an AE86 with a TRD rear wing… damn, I guess everything reminds me of AE86s; I must have problems! Anyway, the Porsche RS's rear ducktail increased the downforce on the car quite a bit, so it's not just an aesthetic modification. I was told that the rear fenders were also flared out more than the standard Carrera S fenders to accomodate the "wider" 6 inch wheels, and a small chin spoiler was also added underneath the front bumper.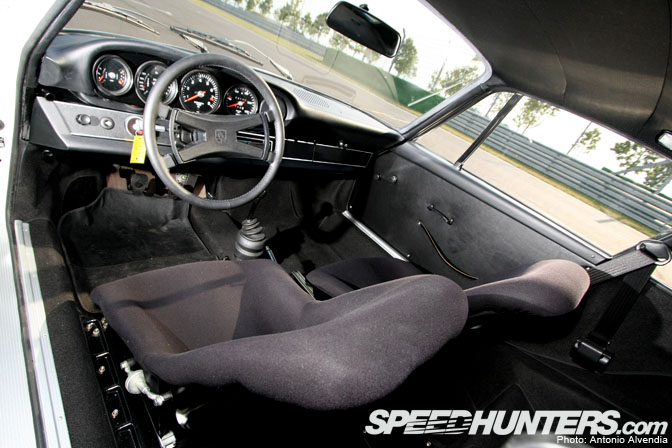 The inside of the RS was very clean and sparse – no frills, just business. It featured old school cloth-covered bucket seats, and very plain looking doorpanels; they looked like flat vinyl, with only leather straps to hold on to when you're shutting the doors. In Leipzig, I saw an OEM 1973 Porsche steering wheel for the first time; all the RS clones I've seen in the USA have Momo Prototipo 350mm steering wheels. (Most of these guys have black Prototipos, as the silver version is apparently a rare commodity, from what I was told. Imagine their surprise when I told them I use a silver 350mm Prototipo on my AE86 as my "everyday beater" wheel, so my vintage TRD and RS Watanabe steering wheels don't get all worn down.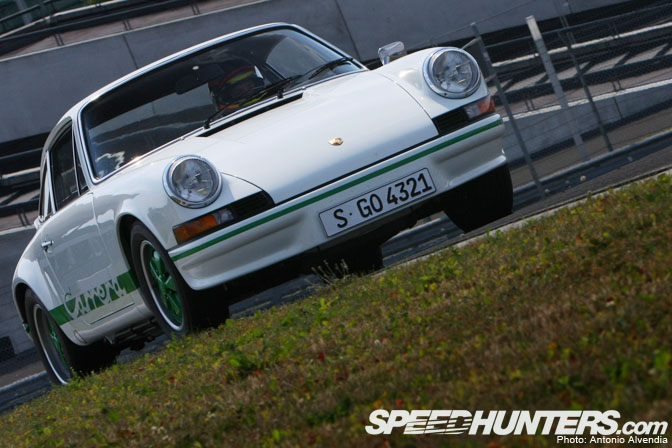 Taking hot laps around Leipzig with Manu, one of Porsche's test drivers, was pretty fun! Honestly, even sitting in an authentic RS is a special experience… but pulling a perfect original 1973 Carrera RS out of the Porsche museum, and then rocking it hard on the race track… that's a whole other thing entirely.
Special thanks go out to everyone at Porsche for inviting us, and everyone else who made this trip so unforgettable. This trip definitely turned this hardcore vintage Toyota collector into a Porsche fan. No doubt.
-Antonio Alvendia
1973 Carrera RS Desktop/Wallpaper