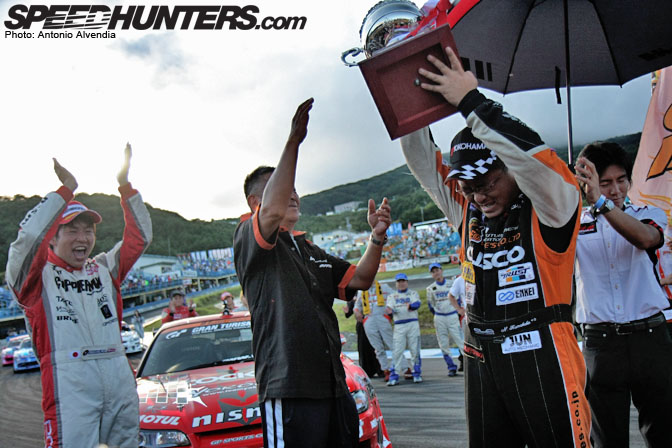 I'm rushing off to the airport right now, I'll regretfully be heading back to the USA later this afternoon. At least it won't be too bad, I just found out that my good friend Toshiki Yoshioka will be going to LA today as well, so I'm going to try to meet up with him at the airport, as well as some former D1 umbrella girl friends of mine, who are heading to LA as well.
However, I didn't want to leave Japan without posting up a short story with photos from this weekend's D1GP event at Ebisu Circuit. As you may have read in previous posts, everyone at the D1 event got worked hard by the weather… we all got soaked from head to toe, everyone is coughing now, and two of my cameras are broken due to all the rain, moisture in the air, not to mention my Dunks are ruined from the "river" that was running down Ebisu's pit lane from all the crazy rain and lightning, or as the Japanese people call it, ame to kaminari. (Hm, that's  odd, I thought AME was a VIP wheels company and Kaminari was an old school aero kit company with questionable style.)
Anyway, the competition at this particular D1GP event was extremely fierce!!! The drivers were having a hard time with all the water on the track, and of course they had to perform at their best because the D1 cameras were constantly following them; they know the most important thing is to put on a great show for the fans! It was hard for the drivers to see in all the rain during qualifying and practice; the cars were hyrdoplaning like crazy, and all their driver suits, cars, and engine bays were getting wet/flooded! Luckily, it began clearing up slightly during the Top 16 tandems, but that means that the track was extra difficult and slippery, because some areas of the track were drying up fast, and had big grip, whereas some areas of the track surface were still WET. Drivers had a hard time figuring it out, especially during the intense, high speed tandem bouts!
At the end of the day, after several hard fought battles, some intimidating trash talking, and an extremely difficult (and close!) tsuisou battle and "One More Time" match against Youichi Imamura… Nobushige Kumakubo once again proved his unmatched skill behind the steering wheel, and showed everyone why he is known by all as the undisputed Tsuisou King (King of Tandem Drifting).
It was a big event for Team Orange – just the day before, our fellow Speedhunter Naoto Suenaga won 1st Place in the pouring rain of Ebisu's D1 Street Legal event. Tanaka made it into the Top 16, but he ended up spinning on his last tandem bout… but team leader Nobushige Kumakubo came through and defeated all his competitors to show everyone, once again, that he is the "King of the Hill" at Ebisu.
It was a very important win for Team Orange, said Kumakubo's legendary car builder Koyama-san, because it was the first time that Kumakubo's Evo 9 ever won a First Place Trophy during a D1GP Competition Round (for points – previously, he won 1st Place in the Evo 9 at Odaiba Tokyo Drift and at Irwindale Speedway, but those were just exhibition matches, which don't really count as much as "Competition Rounds" in the world of D1). Kumakubo won 1st Place previously at Ebisu, Koyama pointed out, but that was when he was driving his 2006 D1 Series Champion Car, the GDB Impreza STi built by Koyama san from JUN Auto Mechanic.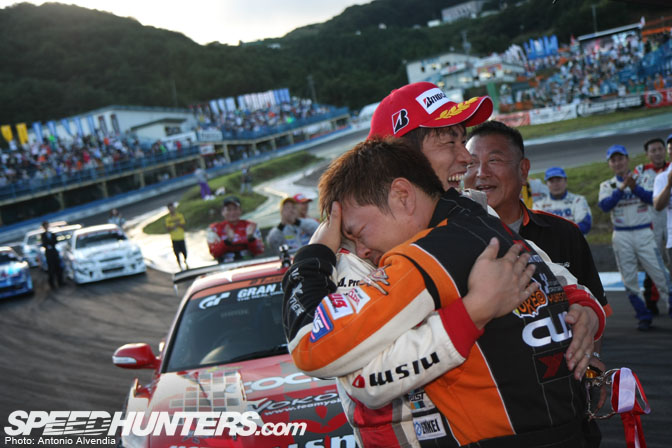 It was cool to see that even though Imamura was battling super hard for the trophy, he still congratulated Kumakubo for the win. It was such a close and hard fought battle, Kumakubo was overcome by tears of joy when he won the battle! All the other D1 drivers began gathering around to clap for Kumakubo, who is well loved among the ranks of his fellow drivers.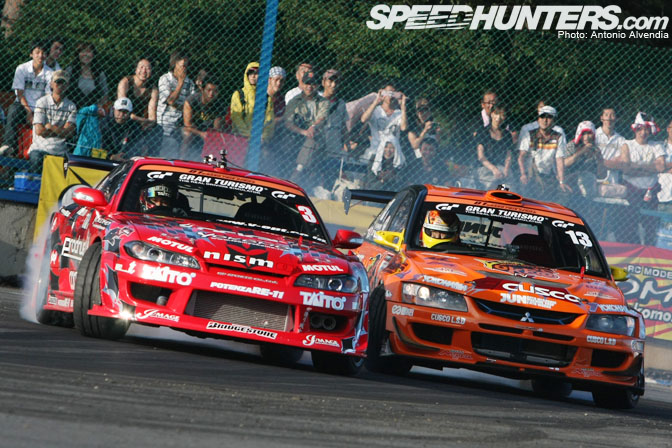 Just look at how close these guys were battling it out!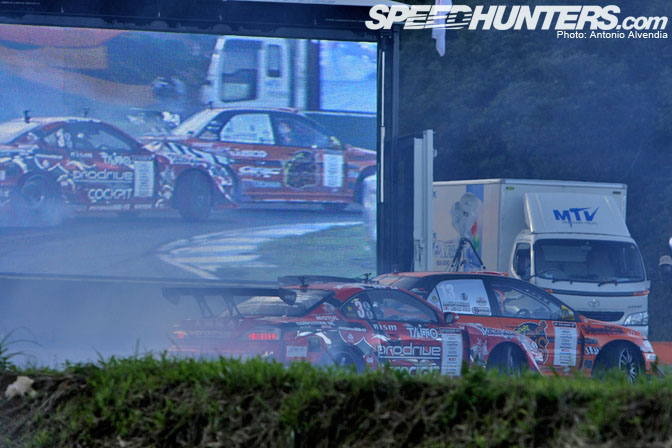 This jumbotron may not be as fancy as a Belle 1 jumbotron, but they're trying! I thought it was cool to see the D1 management putting on such an awesome show in Japan – tons of fans, and a very exciting event!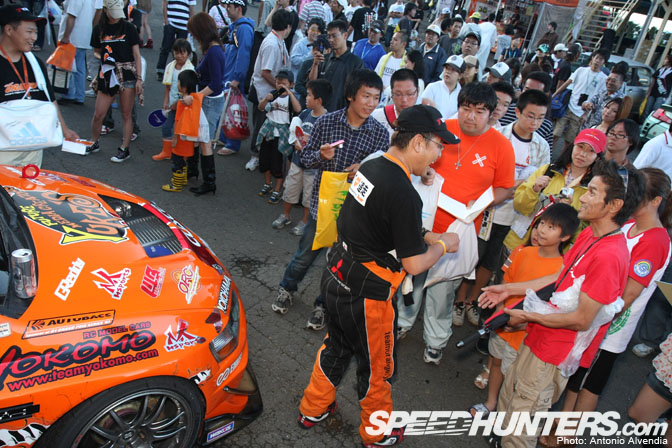 After the event, when Kumakubo finally made it back to the Team Orange pit area, he was swarmed by fans, who were trying to get autographs and photos with Kumakubo.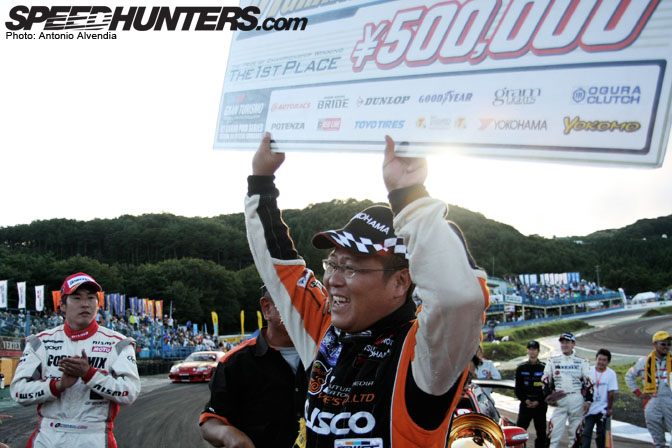 He may have won the equivalent of $5000 USD by winning First Place, but I think Kumakubo must have spent close to that much money on the celebration party on the night of the event! Nomuken, Abe-chan, their Blitz team, Yoshioka, Matsuoka san and the Team Droo-P guys joined Team Orange and the Ebisu crew for a celebration dinner and A LOT of drinks at an izakaya after the event. Needless to say, everyone got smashed pretty hard, so tons of taxis were necessary when we left the place!
Ok I'm gonna be late for the airport, expect more Ebisu Photos, full of awesome ACTION when I get back to LA! Ttyl!
-Antonio Alvendia
Naoto Suenaga Wins 1st Place at D1 Street Legal Ebisu
Ebisu Circuit photos on Speedhunters