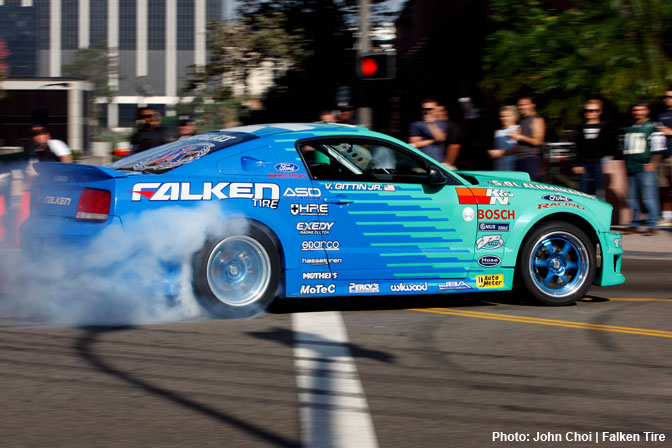 This past weekend when most Southern Californians were making their way towards the beach, I went to Downtown Los Angeles to check out a unique event. The day before, I received separate phone calls from fellow Speedhunters Rod and JR, telling me that JR would be drifting on the streets of Downtown LA; and it would be filmed for a special video by Bosch, one of JR's big sponsors. They said JR would be creating "street art" in Downtown LA, and compared it to the work of abstract artist Jackson Pollack. I'll be very honest with you, maybe I'm too young or not "cultured" enough; I had no idea who Jackson Pollack was… the street artists that I'm familiar with are known as Haze, Krink, Twist, Futura, After, and Dream.
Since I had plans to go out to Falken umbrella girl Eri Moriyama's birthday party in Hollywood the night before, I figured that I should stop by while they were filming JR. After all, it's very rare that you see people drifting legally on the streets of Los Angeles! In fact, I haven't seen this type of thing since I was working as a photographer on the set of the Fast & Furious Tokyo Drift movie a couple years ago, when NBC Universal filmed several Formula D drivers drifting in this same part of downtown! Luckily for me, Joyce from Falken was gracious enough to allow me to stay over at her place after we went to Eri's party, so going to the Bosch film shoot would be a bit easier – the call time for the shoot was pretty early in the morning!
When we got to the event's base camp (area where everyone parks and has breaks, etc), I saw the huge Falken rig parked there, just like you see at the Formula Drift events. I was surprised… this was a pretty big production! There were also a bunch of Falken staffers clad in their signature teal and blue, walking around Downtown LA… this event felt like a cross between a movie set and a Formula D setup day! I stayed out there for a few hours, but unfortunately they were filming mostly interviews and other "pick up shots" during the time I was there, so I'd like to give big thanks to my boy John Choi from Falken Tire Corporation for sending me these cool photos! In case you guys don't know John, he's always shooting trackside photos at drift events in a Falken uniform – Thanks alot for the pics, Choi!!!
Above, check out John's cool photo of JR smoking up his tires through the Downtown LA intersection!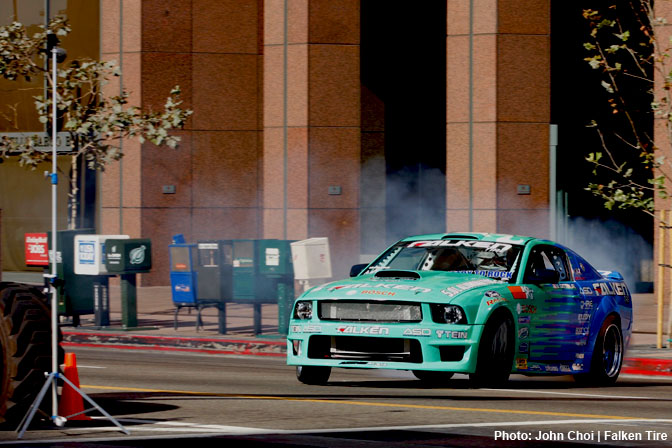 Here's our boy JR again, laying down tracks like a rock star in the studio…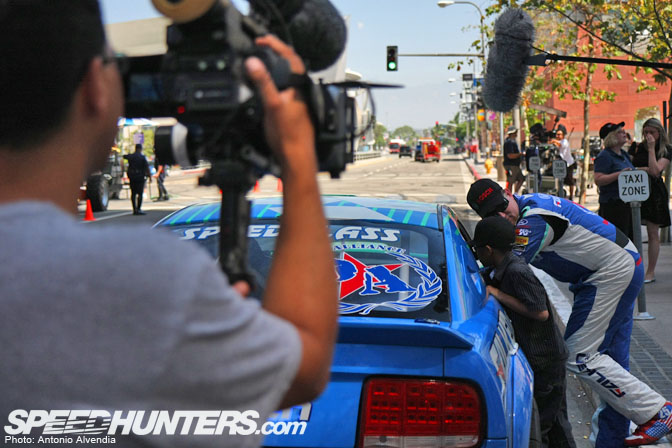 While many of the people walking on the sidewalks during the shoot were background actors or film crew, there were also quite a few civilian spectators walking by as they were going for a Sunday stroll through downtown. I'm sure everyone was wondering why a bright blue Mustang with sponsor logos all over it was sitting on the streets of Downtown LA!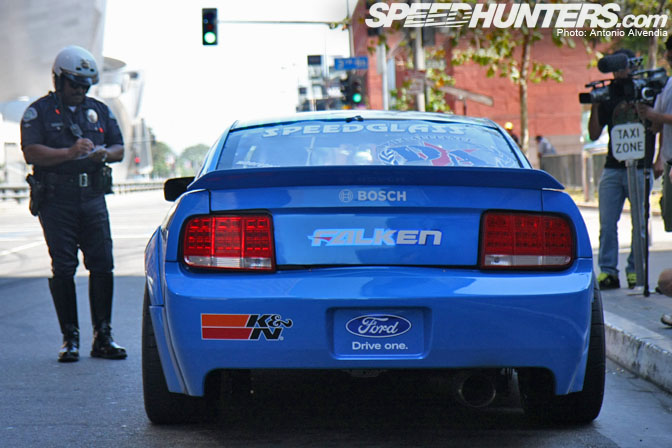 Apparently, this police officer might have been wondering why JR was parked in a Taxi "loading zone" also… when the officer got off his bike to walk up to the Mustang, I was going to call JR to move the car, but thought maybe it would be cool to shoot a photo instead. Apparently a couple of the film guys from Bosch were thinking the same thing, haha!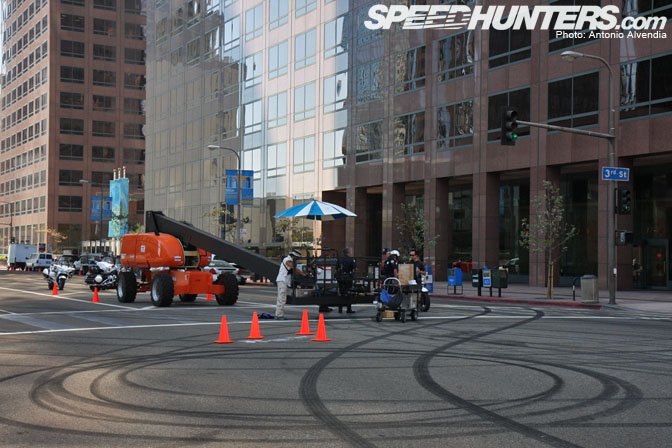 Here's a snapshot of some of the tracks JR left on the intersection of 3rd Street and Grand Ave, in downtown LA. Check it out next time you drive through downtown. Hopefully this won't inspire too many drifters to go street drifting… police officers might not appreciate the beauty of your abstract street art when they pull you over on Southern California mountain roads! Hehe!
-Antonio Alvendia
Check out the official press release from JR, below:
Vaughn Gittin Jr. and
Bosch team-up to create a one-of-kind masterpiece on the streets on L.A.
After being to a couple of Formula Drift events, one starts
to not only appreciate the extreme talent of professional drifters, but also the
artistic aspect of the sport. These amazing drivers can control a car so
precisely, with such thought and expertise, that they can literally paint the
pavement with a smooth, intending swipe.
Professional drifter Vaughn Gittin Jr. set out last Saturday
to prove that not only is he one of the top drifters in the world, but that he
is a seasoned artist as well. His paintbrush: his Bosch-powered Falken Tire
Ford Racing Mustang. His paint: his Falken Azenis RT615s. His canvas: the
intersection of 3rd and Grand in busy downtown Los Angeles. The result: creating Performance
Art, powered by Bosch.
"Normally on
competition weekends I'm all out with my foot to the floor," says Vaughn. "It
was a very fun change of pace to do something creative and out-of the box such
as this."
This display of abstract performance art was part of a new
campaign for Bosch Spark Plugs, one of Vaughn's main supporters. Many have
compared Vaughn's style of art to the likes of abstract artist Jackson Pollack,
whose art was described in a famous
1952 article by Harold Rosenberg as "action painting." Rosenberg wrote that
"what was to go on the canvas was not a picture but an event." This
perfectly describes Vaughn's finished product; viewers can't help but to wonder
what went on during the masterpiece's creation.
"Leave it to
Bosch to be so innovative and put on such a momunmental event in order to share
with everyone within a few blocks, as well as the rest of the world, the
amazing power of their spark plugs," says Vaughn.
The intersection
of 3rd and Grand was not shy of lucky onlookers who got the chance to
see Vaughn and his Ford Mustang drift through the streets, coming within inches
of street signs, light poles, and sidewalks in order to create his work of art.
The traffic was stopped every three minutes for Vaughn to do his thing, so some
lucky L.A commuters even got a chance to sit in the comfort of their
air-conditioned vehicles and have front row seats to this amazing production.
"Some people
might think I just did a bunch of burnouts on the asphalt," says Vaughn. "However,
when I got to the site, I studied the street and visualized some lines I wanted
to take. After every couple of passes, I got out of my Mustang to strategically
choose my next pass."
And strategically
choose his next pass he did, time and time again, until he was satisfied with
the final product and felt comfortable calling it his "masterpiece." 
Stay tuned for the launch of the microsite that will feature
this unique event.  This incredible Bosch
campaign will be sure to keep you entertained.
Look for the final artwork, video, making of video, and one
of a kind promotions on BoschPerformanceArt.com in the near future.