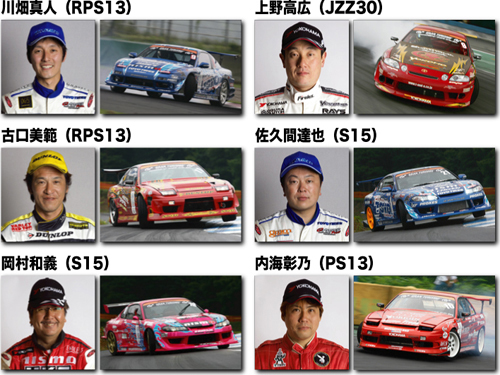 This weekend will be the fifth round of the D1 Street Legal series at Maze Circuit and in addition to the stand-alone D1SL match, there will also be a grip race between a number of D1 drivers in their drift cars. I remember a few years ago Option had a special D1 machine class at their Tsukuba Super Lap contest and it was really fun to watch the D1 cars being used for grip. This time the six drivers will actually be going head-to-head in five lap race around the course at Maze.
Scheduled to compete in the race are-
Masato Kawabata – RPS13 180SX
Takahiro Ueno – JZZ30 Soarer
Yoshinori Koguchi – RPS13 180SX
Tatsuya Sakuma- S15 Silvia
Yashio Factory Oka-chan- S15 Silvia
Akinori Utsumi – PS13 One-via
Should be a pretty fun event. Any bets on who will take it? I'd say that Oka-chan's car would be favorite since he has a lot of experience building and driving time attack cars.
-Mike Garrett