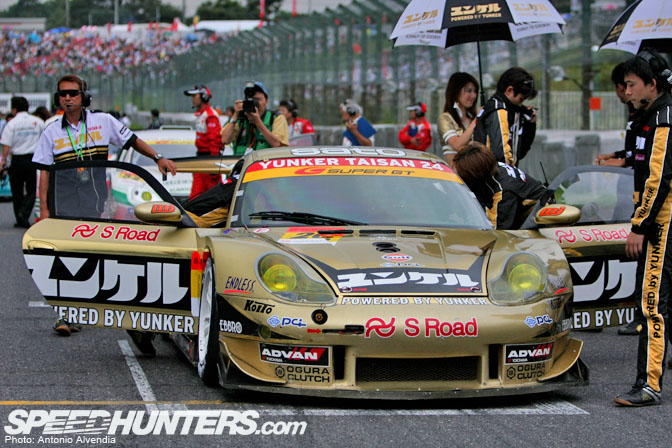 All this week, I've been carefully packing up all my belongings into big boxes because I'm moving at the end of this month. While everybody else on the team is busy Speedhunting, I've been busy house-hunting as well, and let me tell you… Speedhunting is definitely 100x more fun! I can't seem to find a place central to LA that can accomodate the Cipher Garage Collection of cars, good offset wheels, rare steering wheels, horn buttons, transmissions, engine parts, LSDs, die casts, Japanese magazines and books. Maybe I should just throw it all in storage and move to Japan already, this is so frustrating! Since I've been so busy, I could easily just throw some photos up here and call it a day, but for me, it's important that I deliver high quality stories and photos to Speedhunters readers, not just high quantities, right? So while I'm rushing to pack up all these Drift Tengoku and Battle Magazines (and I think I need to get rid of my huge collection of old school Option mags), let me turn my attention back to Speedhunting and drop some knowledge real quick…
For those who don't know about Team Taisan, you might want to pay attention. Team Taisan is a renown racing team that has a rich motorsports history… from Super GT to JGTC, all the way back to Japanese Group A racing in the 1980s. They're currently campaigning this Porsche 996-body RR 2WD in Super GT's GT300 class, with Nobuteru Taniguchi and Shinichi Yamaji as the drivers of the car… but let me run through some of Team Taisan's career achievements before we begin talking about the car itself.
Taisan has a proud record of 17 wins in the GT300 class, and also regularly participates in the LeMans 24hours race. Other famous drivers who have driven for Taisan include Keiichi Tsuchiya (everybody knows Keiichi, the "Drift King," right?) and even Japanese motorsports legend Kunimitsu Takahashi. If you're not familiar with Kunimitsu Takahashi, read about him in my book, Drifting: Sideways from Japan to America. To make a long story short, he is a famous Japanese race car driver from the 1970s and 1980s who drove his cars to the absolute limit of the tires' adhesion, so his car would slide through corners. His super kakkoi driving style impressed a young driver by the name of Keiichi Tsuchiya, who later on began drifting at road race events in his zenki Advan Carrot AE86 Trueno 3-door. So basically, all young JDM fanboys are awestruck by Keiichi, but Kuni-san was Keiichi's idol, and both of these high profile drivers drove for Team Taisan in GT racing!!! Now you understand why the Taisan name is impressive, right? Good!
Back to the GT300 Yunker Taisan Porsche project, this year's team is a collaborative effort of the highly successful Team Taisan and Kazuyuki Nishizawa, a team manager who has a ton of experience in GT competition. All Speedhunters readers must be familiar with Nobuteru Taniguchi already, but in case you don't know the other driver, Shinichi Yamaji, he came from Toyota Team Tom's, and won a GT500 race when he was driving for them.
Big thanks to my friends Nobuteru Taniguchi and Chiba-san (owner of Team Taisan) for giving me access to shoot photos, letting me chill in their pit area when it was raining hard, and for introducing me to the Yunker Taisan girls!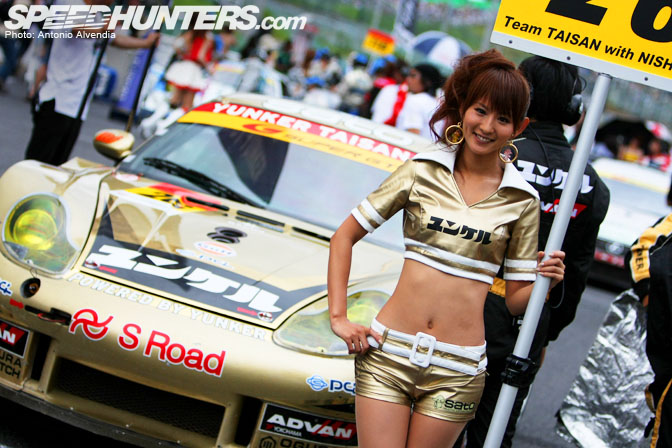 These Yunker Taisan campaign girls on the grid always seem to distract me… I'm diggin the small gold and white outfit that matches the car! If you're a guy, then I know you're diggin it too. I was trying to tell her to move out of the way so I could shoot the car, but then I thought, "Well, okay… maybe just one photo with her in it too. Just to be polite to her, ya know."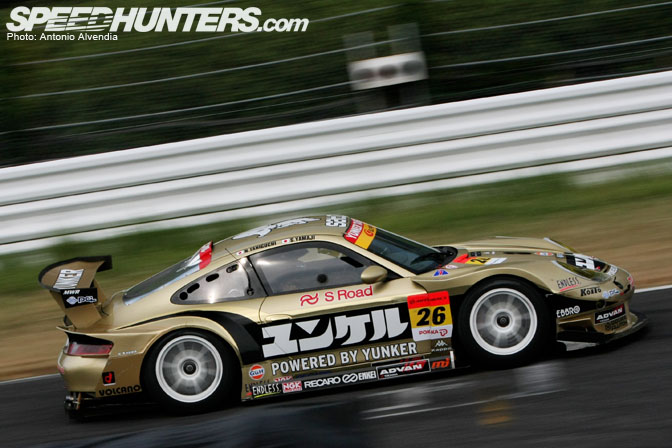 This Porsche 911 started life as a normal 996 GT3RS before it was transformed into the insane gold aero monster you see here (I lovvvve the aero on this GT3RS!!!). It's pretty light too – it only weighs 1140 kilograms, and that's with the heavy rollcage and all the aero and electronics too.
In case you were wondering how much power it has, the 3598cc all motor M96/77 flat-six Porsche engine built by Mid-West Racing makes 350ps at 7600rpm. Remember, the cars in the GT300 class have horsepower restrictions!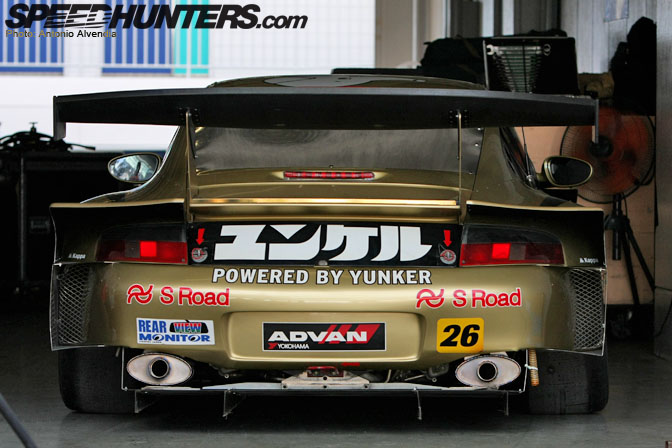 If you look through the grills on the rear wide body fenders, you'll notice the wide Advan race slicks on the Porsche – front and rear are 280-710-18. I don't exactly know what that means, but when I asked for the tire size, that's what they said. Let's just say they're pretty wide and have a pretty low profile.
You can still see the standard Porsche bodywork from underneath the wide GT fenders – those fenders and lower air splitters underneath the exhaust look pretty extreme! I was surprised to see the car running this type of standard looking exhaust (to restrict the power and sound, I'm sure) instead of some crazy titanium canister or something, but since the Taisan team is very exacting when it comes to the specifications of their cars, I'm sure they're running this style of exhaust for a reason.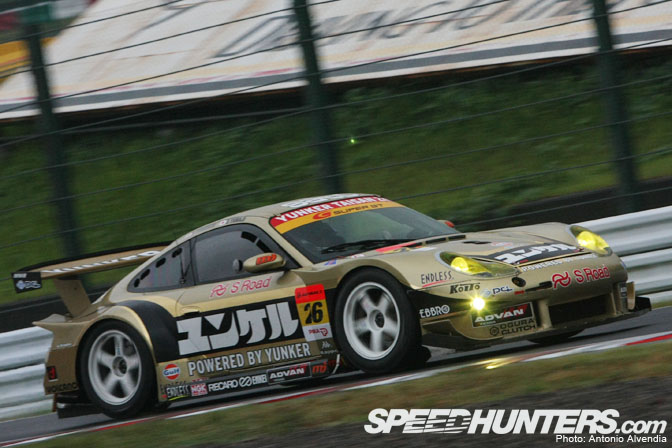 The big 5-spoke wheels you see here are 18×11 Enkei center lug wheels, which fill up the fenders of the car when you look at it from this angle.
By the way, see the "Powered by Yunker" sticker on the side? In case you didn't know what Yunker is, it's a Japanese Energy Drink… but in my opinion, it tastes a lot better than Red Bull, Nos Drink, or Rockstar. I don't even like the way most energy drinks taste, but I like Yunker – it comes in a packet with a nozzle (somewhat similar to Capri Sun drinks in the USA) and has a jello-type drink inside. I love the jello/jelly stuff inside, it's pretty good!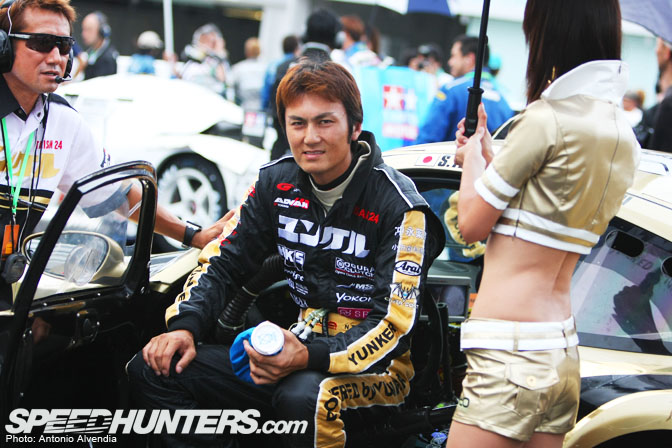 Here's Taniguchi – he just finished drinking a Yunker (seriously, it wasn't for PR or anything) before he strapped into his Porsche. Taniguchi is a celebrity on Japanese drifting videos, and I happen to have a
lot of respect for him. Not only does he get
cool points for having a cool apartment above a Kentucky Fried Chicken
restaurant in Yokohama (I saw him through the window when I was chillin
at Takahiro Ueno's crib), but Taniguchi is a former AE86er (left hand drive silver supercharged AE86 Levin 2 door, if you must know) who focused
his motivation and effort to become who he is today.
Nobuteru Taniguchi was a popular young street drifter from After Fire (his street drifting team from Hiroshima), who rose through the ranks and started becoming popular in Japanese drifting videos and magazines. Even though he was already a popular drifter in the Hiroshima area and in drifting videos, Taniguchi didn't want to stop there – he wanted to race in JGTC (former name of the Super GT Series, before they went worldwide), because in his mind, Japan's topmost racing drivers drove at JGTC/Super GT events, not at drifting competitions.
To achieve this, Taniguchi reminded himself of the popular saying, "location, location, location." If he was going to be discovered as a JGTC driver, he needed to get the hell out of Hiroshima. Therefore, he moved to Yokohama, which is just a short train ride away from Tokyo. He got a job working for D1 driver Takahiro Ueno at Car Make T&E (most of you will recognize their products as the popular and stylish Vertex aero kit series) and Ueno's car shop, Sui-Vax. From there, Taniguchi worked hard, saved his money, and continued his career in drifting at D1 events (2001 D1GP Series Champion) and standard grip racing events, like Super Taikyu (2002 and 2005 Series Champion). After a lot of hard work, he had enough money to try out for a spot in a JGTC team, and entered JGTC in 2002 as a driver of RE Amemiya's GT300 FD3S RX7 (in Japan, it was common for beginning drivers to pay to join JGTC teams as a driver). I suppose the rest is history…
I respect the hell out of Taniguchi; not because of his copied "No One Better" cartoony driver sticker, but because he had the strength, willpower and determination to come from humble beginnings and make himself into something. I really respect people like that; those types of stories really inspire me to work hard for my goals, don't you agree?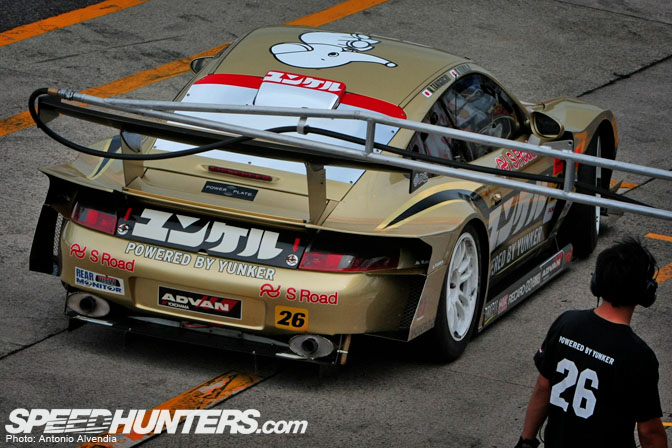 Looking at another photo of the 996 GT3R with its spare wheels, I hope someone inspires them to achieve deeper offset wheels so that the lip can come closer to the fender. But maybe that's just me – I guess not everyone can be Nakai-san. I still think the aero fenders and sideskirts look cool as hell.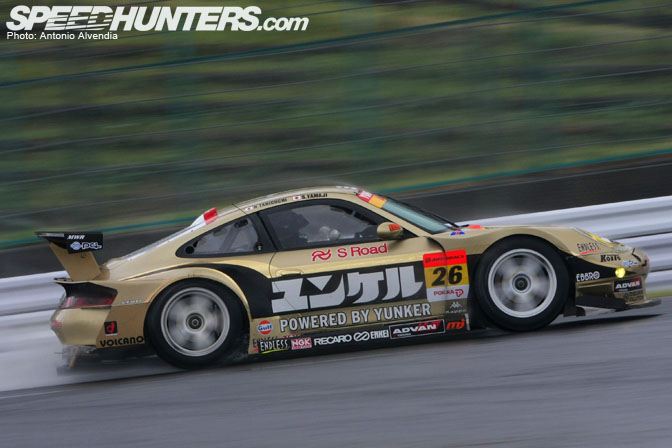 Check out this photo of Taniguchi speeding uphill on Suzuka's back section, as he cuts through the rain and the water vaporizes over his fenders and windshield… Soo cool. And even cooler to see this happening in person as the rain soaked me and my camera gear trackside at Suzuka.
Experiencing Super GT in Japan is definitely an experience I won't soon forget.
-Antonio Alvendia