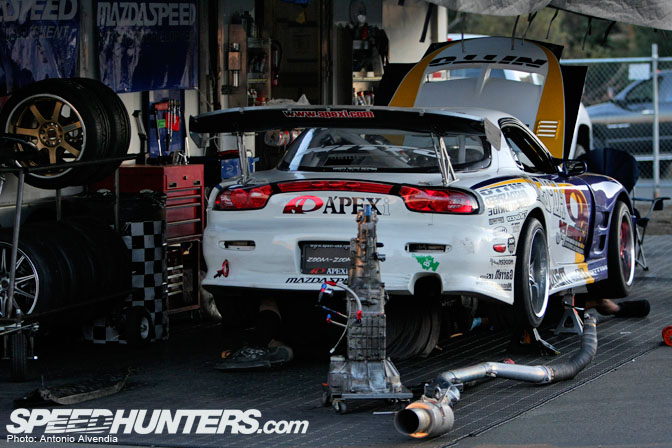 The Apex'i and Bergenholtz Racing crew are super down for the cause. They're down to get down on the ground and work on their cars wherever they need to (they have to, because FD transmissions break more than Rocksteady on linoleum)… they'll do whatever it takes to make sure the car they're campaigning doesn't break by any fault of their own. The Bergenholtz Racing crew is passionate, determined and relentless. Which may be why they were such an unstoppable force in NHRA Sport Compact racing – privateers that showed the big manufacturer backed teams what's up. Yeah, I was at that NHRA Sport Compact banquet. And I remember when they won their much coveted Wally award, Ed Bergenholtz cried.
Hm, I wonder when Formula D will ever get around to making similar awards of their own, like the Wally Parks NHRA award? …but instead of "The Wally" they could call it "The Jim and Ryan" and it could be a bronze statuette of Jimmy Liaw and Ryan Sage standing atop a carved wooden trophy thing. Or, maybe Formula D wouldn't be too interested in having bronze statuettes of two guys on top of a wooden thing. I dunno. Yup, it's 4:40am right now, and yes, I did just think of that. Nevermind. Don't listen to me.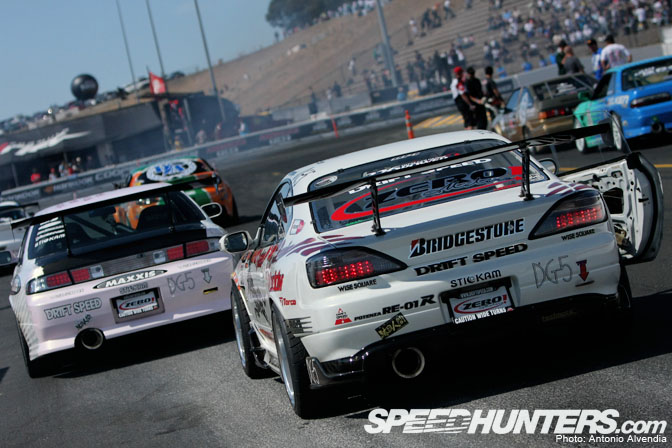 Team Driftspeed after qualifying, rocking S14 and S15 Silvias… balling out of control with the super high end DG5 Suspension. DG5 is the preferred suspension brand of drifters in Japan… just look at the D1GP series, everybody's rocking DG5 suspension! It's top quality, and even looks the part, with the ultra gangster black anodized finish. Some people think DG5 is too expensive… and when they say that, I just tell them, it just depends on what you're down to spend on your car.
Personally, I don't plan on selling my AE86 any time in the next 20 years, so I don't care how much I spend on it. I tend to favor parts that are high quality, exclusive and legit. Needless to say, I love the set of DG5 coilovers on my 86, and I'd love them even more once I can get my 86 legalized to drive on the street again. Sigh, Cali cops harrassing me…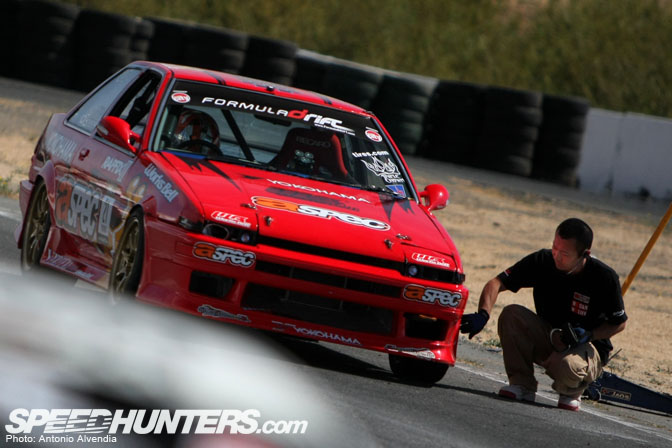 Speaking of AE86s and DG5, Toshiki Yoshioka also prefers to use DG5 suspension on his AE86. I've often said that Yoshioka is the top AE86 driver in the world. Why would I say such a strong statement?! …because there isn't another AE86 driver in the world who can drift at speeds as high as he can, and nobody else has achieved 1st Place podium finishes at both D1GP and at Formula D competition round events! Yoshioka's the man! Keep living the 86 life Yoshi, you're raising the bar for 86 drivers, and also raising the value of red AE86s everywhere! +1 for red AE86s. =)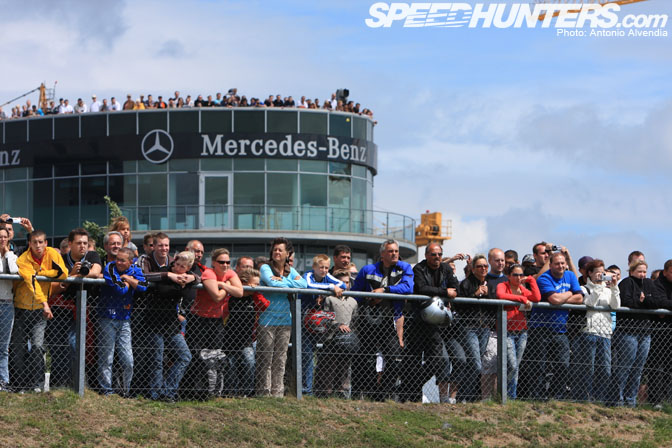 Next, I thought I'd post a series of photos of drivers' faces, as they sit in the car. Notice the difference when you look at the drivers, it's very noticeable… their smiles, their eyes, their posture and attitude are all different.
You might think that a high ranked Japanese driver like Toshiki Yoshioka would be difficult to approach, but that couldn't be further from the truth! Surprisingly, Yoshioka is incredibly humble, friendly, and down to earth! …and he's trying his best to learn more English so he can talk to more drifting fans in the USA. I think his English isn't perfect yet, but his vocab is pretty good! (And pretty funny, because when he's in LA, he always hangs out with 4th generation Japanese thugs from LA and the A-Spec staff, who only speak their own brand of A-spec/SGV slang. Nobody outside of the A-spec building understands what they're talking about.)
Anyway, in case you haven't seen it yet, check out Toshiki Yoshioka's exclusive video interview on Riceboy TV(in English). In this video, he shows everyone his AE86, and explains which special parts on his car allow him to beat his competition when he's in a tandem battle!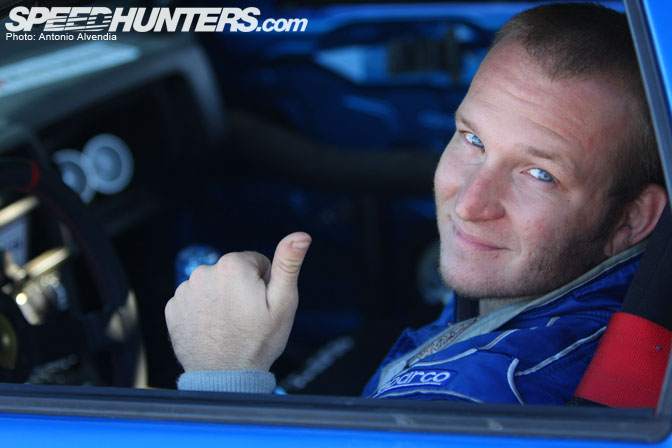 I've been down with FC3S driver Justin Pawlak for a long time… since back when he didn't even have a Formula D license and nobody knew who he was. He used to just rock super aggressive wheels on his FC in the 562 area as a member of the Dori Dori Club, and shredded through tires at JustDrift events. Justin is the man, and I think he has the best looking FC in Formula D, there's no doubt about it.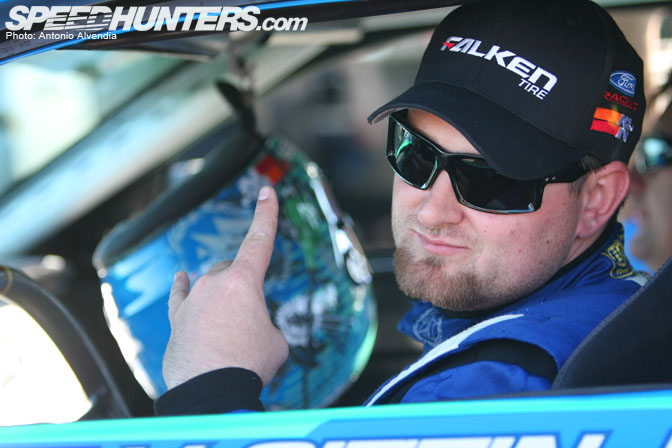 Git it right. It's Gittin, not Gitten. I think it's retarded that Vaughn Gittin Jr is one of the most well known drivers in Formula D, and people are still spelling his name wrong. Come on now, people! I've known JR for a long time too – when I first met JR, we were at Formula D Atlanta, watching Blake Fuller weld up one of the broken axles on his FR-converted Integra. At the time, JR hardly had any sponsors at all, he was brand new to the game – just a kid from Maryland who loved to drive his S13 Silvia.
Even though I wasn't too enthused about the aero kit styling on his S13, I befriended JR anyway, and ended up flying to Washington DC to visit JR at his house, and do an all-night guerrilla photo shoot at a bunch of not-so-legal places, while JR's dad, Vaughn Gittin Sr, waited next to the trailer.
I just realized… that photo shoot was the first magazine feature shoot anyone had ever done on JR's car! Soon after, I put him on his first two magazine covers, and just look at how he rolled with that momentum – nowadays he's on every magazine and drifting video out there, and on top of the world when it comes to sponsors. Things sure have changed since 2004.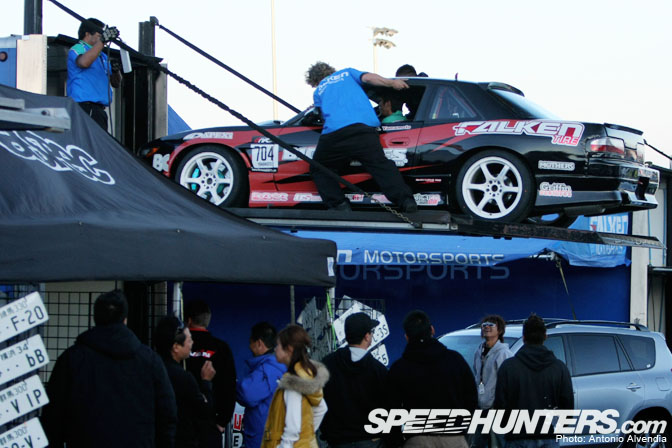 I love watching the Falken team load their cars on the upper level of their super expensive motorsports trailers, and apparently other people do too. Except for our friend Miyashita-san down below at the Aspec booth, who is just concentrating on hollerin! Handle it!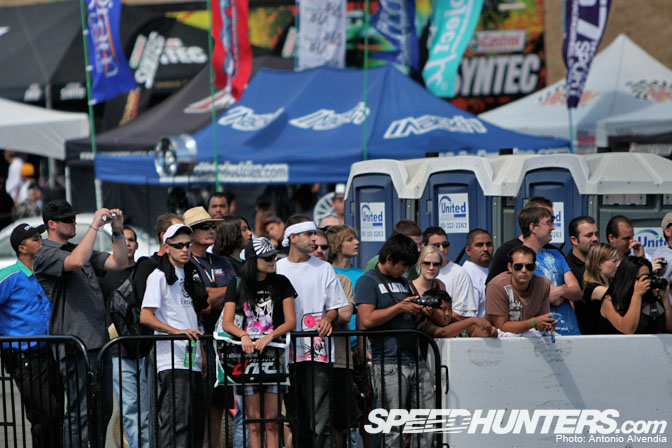 Here's a view of some fans trackside, who got some super lucky "ringside seats" to watch the initiation point at Sonoma up close and personal! See the guy on the right holding his nose? Maybe it's because he got a whiff of the port-a-potty aroma from the vents right there. LOL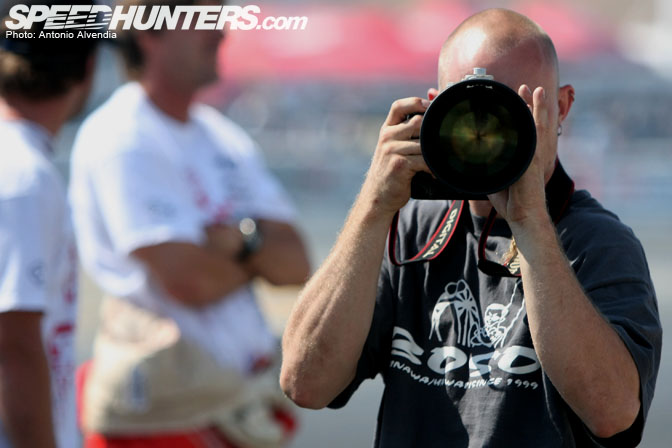 When crazy Okinawan/Hawaiian street drifter Ross Petty (from Garage Boso in Gardena CA) isn't swapping SR engines, making big smoke, shaking voodoo sticks at people, or slamming into his competition at tandem battles, he just might be watching YOU. Look out!
-Antonio Alvendia