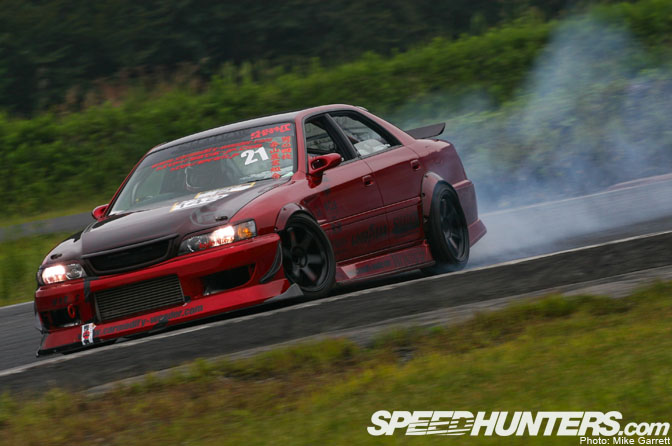 I was just going through some more photos from last weekend's MSC event at Nikko Circuit and realized I have some more cool stuff to post. I can't say enough how fun MSC events are to shoot. The vast number of cool-looking cars and exciting driving provides a wealth of good shooting possibilities, and even though Nikko is a small course, there are still tons of nice angles to be found all over the place. In the shot above we have the Spirant JZX100 Chaser with it's sexy shade of red paint and ZG style overfenders. We talk about JZX's all the time on Speedhunters, but this car is certainly one of the best I have ever seen.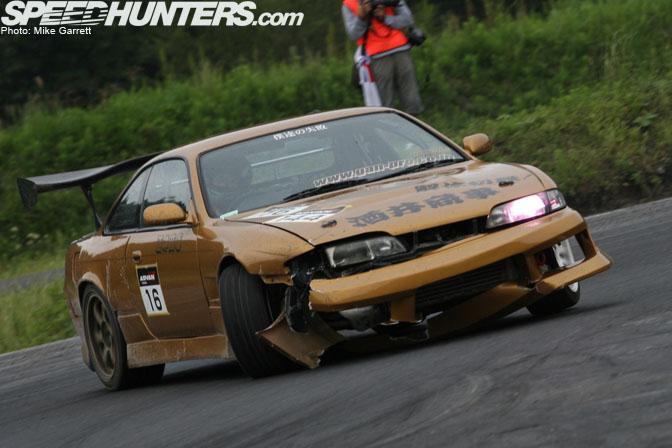 I caught this S14 Silvia suffering from a shredded front bumper during the triple class practice session. I love how completely destroying his front bumper didn't stop him from completing the rest of his run! After this, he took a quick trip into the pits to remove the remains of the bumper and it was back out on the track to practice some more with his teammates.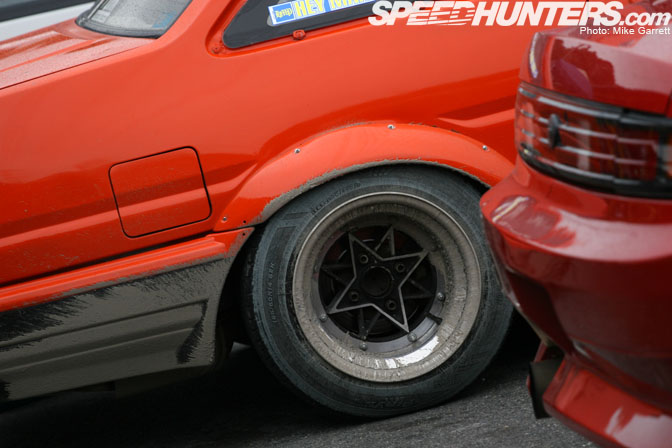 SSR Starsharks covered in dried mud after this orange AE86 dropped the rear wheels off the track. Somehow the dirt actually makes the car look cool…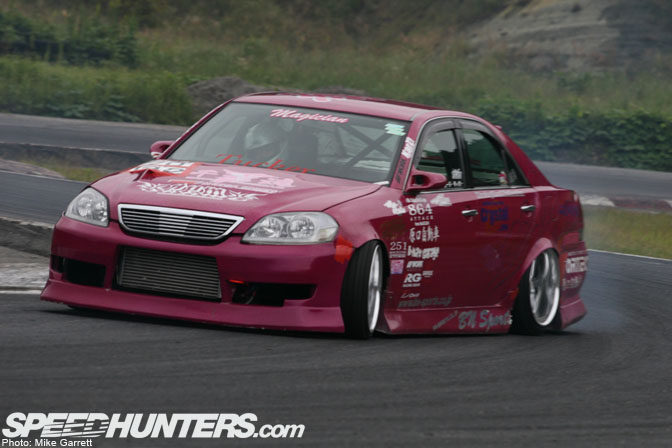 By now you have probably seen a lot of photos of this car on Speedhunters, but the Magician JZX110 Mark II is just too remarkable not to post again. This car writes the book on riding low, I mean we are talking VIP-car air suspension ride height done with coilovers on a drift car! The BN Sports aero looks like its only a couple millimeters above the ground here. The Magician crew surely knows how to put together cool-looking drift cars.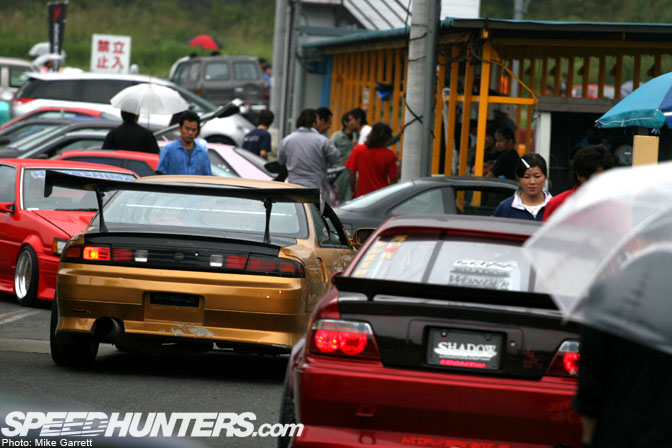 I wrote in the last post about how crowded the paddock area can get at MSC events, and you can get an idea of what I was talking about with this photo.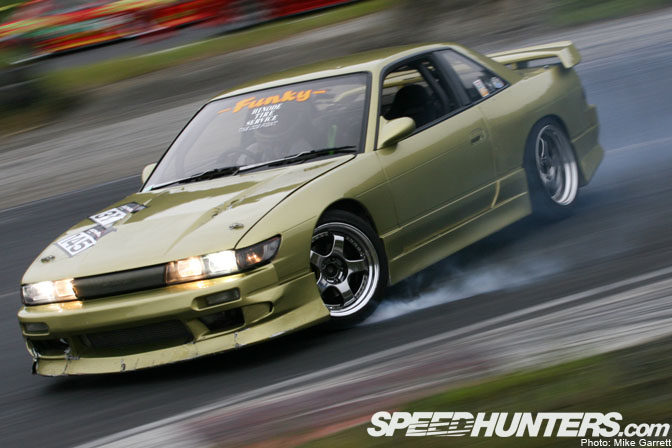 One of Team Funky's S13's locking up the front wheels at the entrance to the "main" corner of the course. This was where the judge's booth was positioned and it was also the site of most of the spins and collisions throughout the day. Unlike many drift courses which start with with fairly high speed corners, after coming off the straight at Nikko, the drivers enter into a fairly tight corner which requires a lot of skill to smoothly transition into.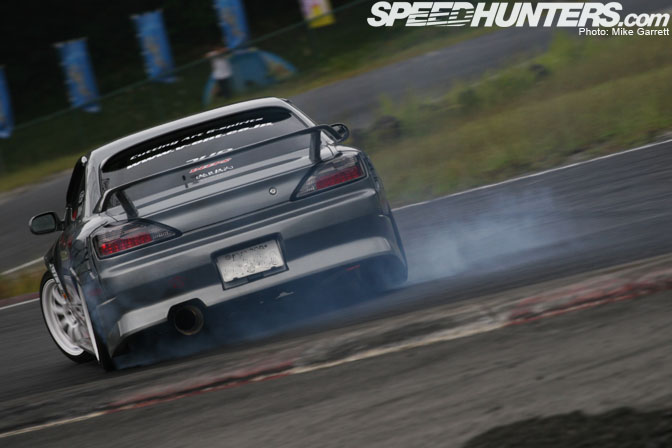 S15's are always outnumbered by S13's and S14's at these sort of events, but there are always at least a few to be seen, such as this well done example. This particular ichi-go is sporting a set of my favorite tailights for the S15. On most cars, the OEM tails work fine, but I think that these are a huge improvement looks-wise over the factory pieces.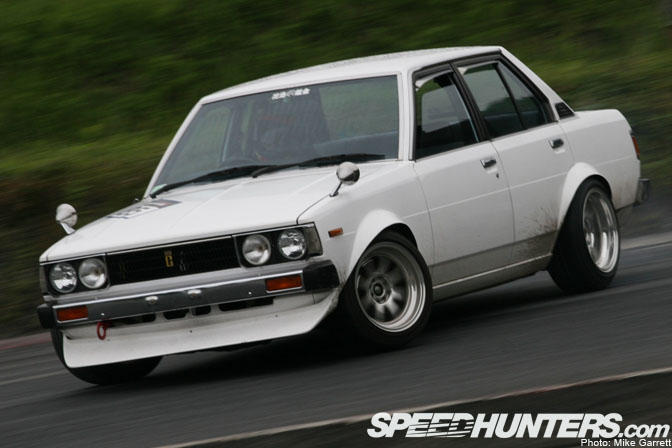 Another shot of the 4AGE-powered 70 Corolla. Kyu-sha dori at it's best.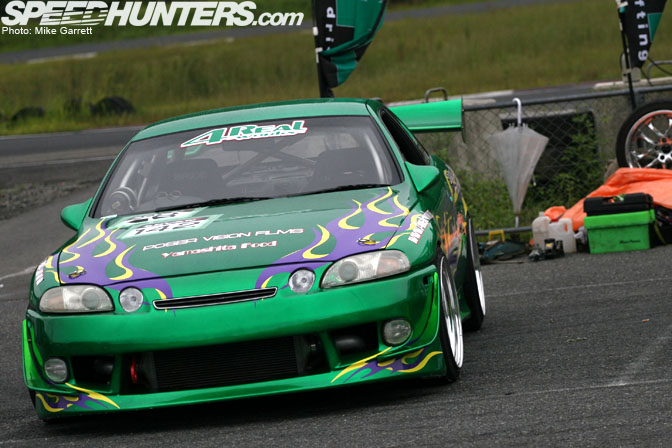 The 4-Real Works Soarer resting in the pits.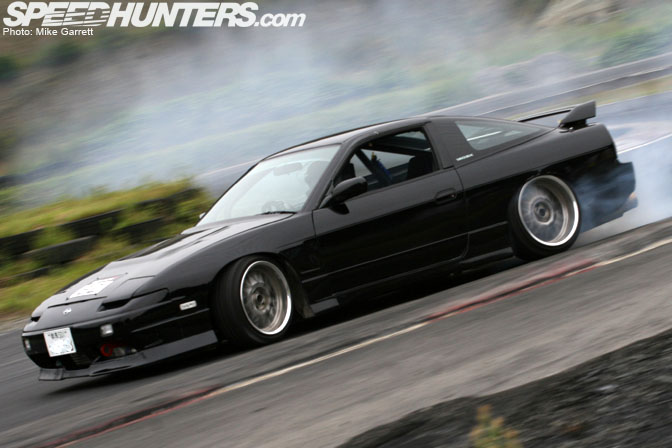 Never underestimate how good a 180 can look with the OEM Type X style aero combined with the right wheels and stance. For some reason I really liked how this shot came out.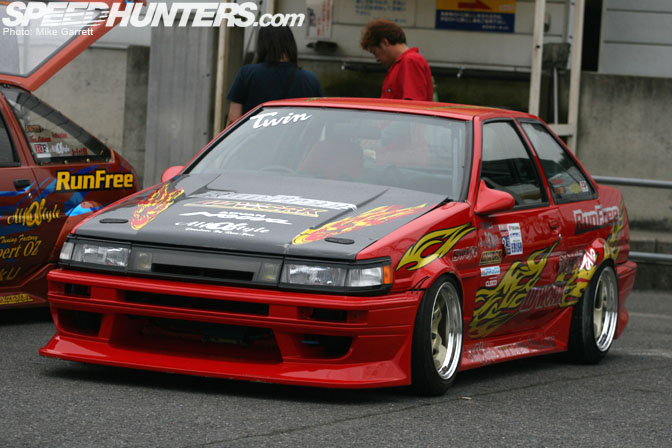 One of the Run Free AE86's that was driving in the event. I was expecting see Koichi Yamashita's JIC RX8, but instead there were two Run Free AE86's in attendance. Like I said earlier, the car roster made the MSC Nikko event a paradise for hachiroku lovers and while 86's are becoming few and far between in pro drifting, there are still tons of them to be found at the grassroots level.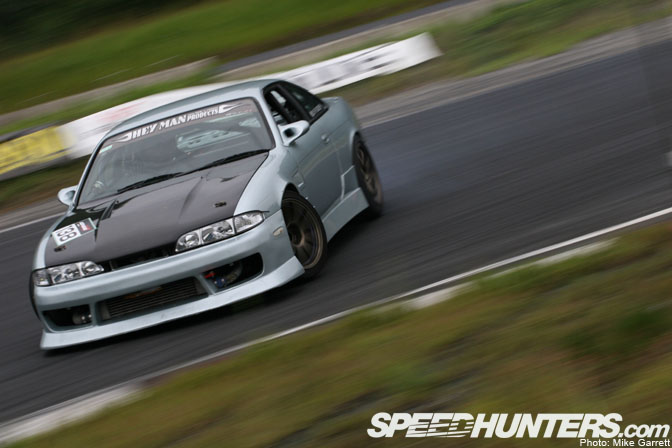 This really clean zenki S14 was another one of the car's repping Hey Man.
Well, that wraps up my MSC Nikko coverage for now. If you missed anything make sure to check the earlier posts below.
-Mike Garrett