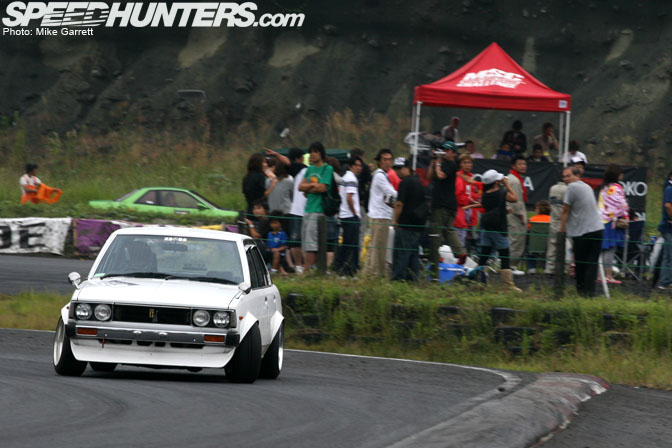 Time for more some more action from last weekend's MSC Challenge event at Nikko Circuit. There is just something about these MSC events that offer the perfect balance of talented drivers and impressive cars without the drawbacks of a "pro" drifting event. MSC events are run on smaller courses meaning there are few grandstands or other amenities seen at the larger circuits. While there are many big sponsors of the series, MSC is still about the drivers first and foremost. I feel that the above photo does a good job of portraying the atmosphere of MSC. Everyone is just chilling in the gravel spectator area taking in the action while standing only about 20 feet from the track. No special VIP tickets here.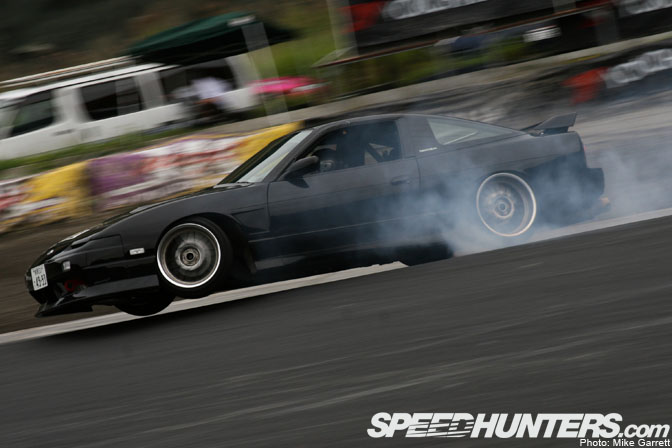 Again, stuff like this is why I am in love Nikko Circuit. All day long the cars will drop their rear wheels down towards the dirt which sends one or both of the front wheels into the air. Just look at that 180 pulling both of them into the sky. It looks like it is doing a mid-drift wheelie! I can't think of too many motorsport events where smoking rear tires and airborne front ends are such a common sight. I love Nikko!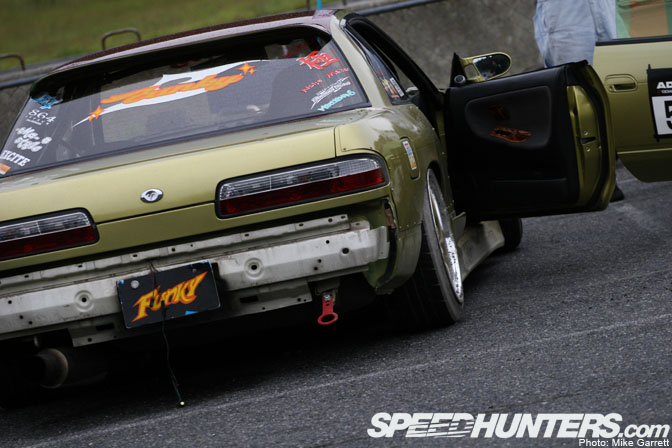 The S13 One-via from Team Funky is showing some of its scars in the paddock and the rear window is loaded up with stickers from other area drift teams. I really liked how Funky's cars were running their own team license plates. If you look at the rear tires on this car you can see that this was one of many cars at MSC Nikko sporting tires that had been caked in dirt and dust.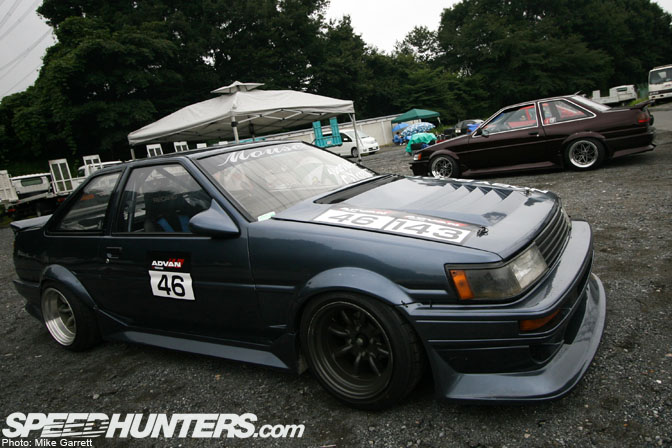 Team Mouse was kicking ass in the triple class with their squad of Levins. Here we have a pair of their machines taking a rest during the afternoon lunch break. During lunchtime everyone left the gallery area and headed over to Nikko's tiny food stand where a huge line of hungry drivers and crew members formed. Luckily I was able to score a delicious order of karaage curry before they sold out.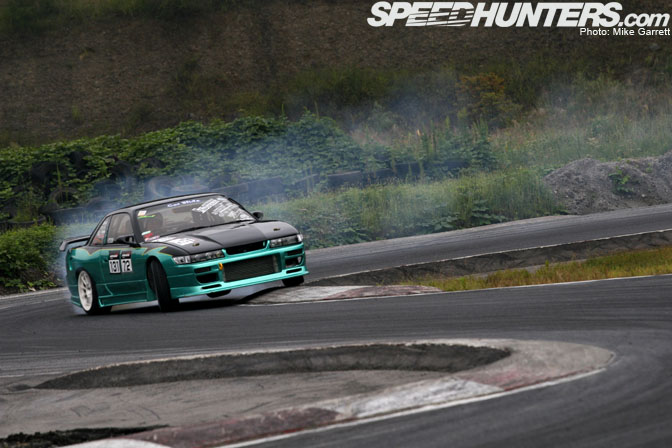 This shot of an S13 Silvia running through the S-section gives a good idea of the bumps and drops at Nikko. Again, if only my camera could produce the sexy slow motion videos like Rod posts…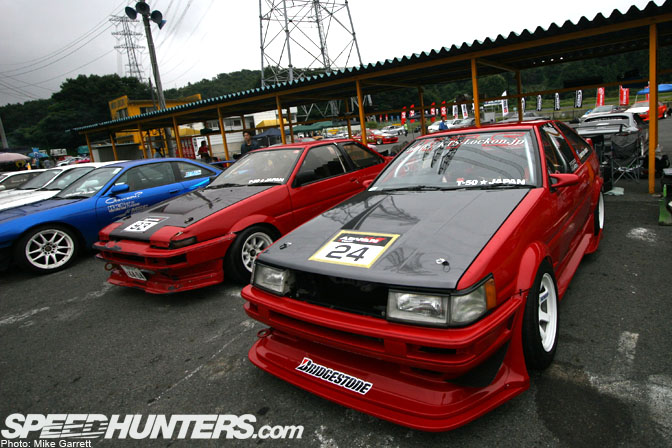 In the pits we have a pair of T50 Japan cars awaiting their next run. Don't you think that AE86 Levins look cool with no front grill? MSC events draw tons of cars which easily overwhelm the paddock areas of the small tracks. Just successfully navigating your car back to its pit after driving can be a big challenge in itself!
This Kunny'z-tuned JZX100 Mark II was laying down some flawless runs during the single run eliminations, maintaining good angle and high speed through the whole course. A lot of the cars would enter the first corner too aggressively and either spin out or slow down too much and screw up their rhythm. I noticed that this was happening to a lot of the AE86 and Silvia drivers particularly when the course was wet. This Mark II was able to make good use of the JZX100's long wheel base maintaining smooth transitions through the corners and keeping the tail out with its big turbo power.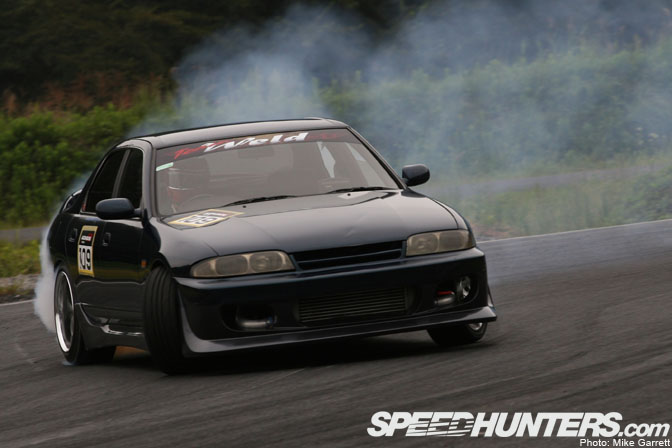 Another driver showing some great skill was the guy in this R33 Skyline four-door. Compared to other sedans, four-door 33's are not seen too often at drift events and it was nice to see this one out there with good style and aggressive driving. Most of the R33 sedans I see are bone stock and look like any other ojisan's sedan with their 15" wheels and stock exteriors, but man they really come alive when done right!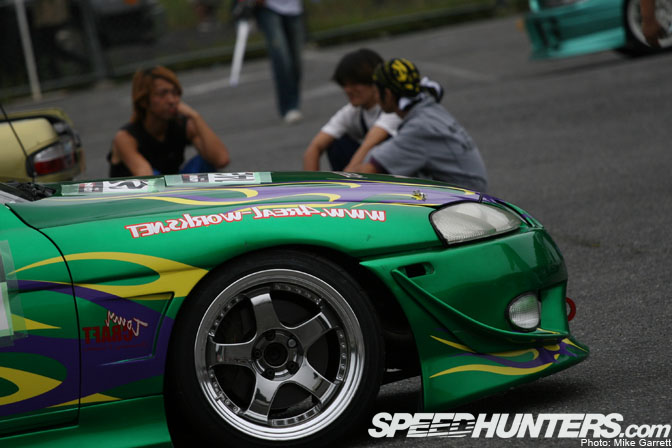 Break time in the paddock with a hardparked 4 Real Works Soarer and the guys from Team Funky chilling in the background.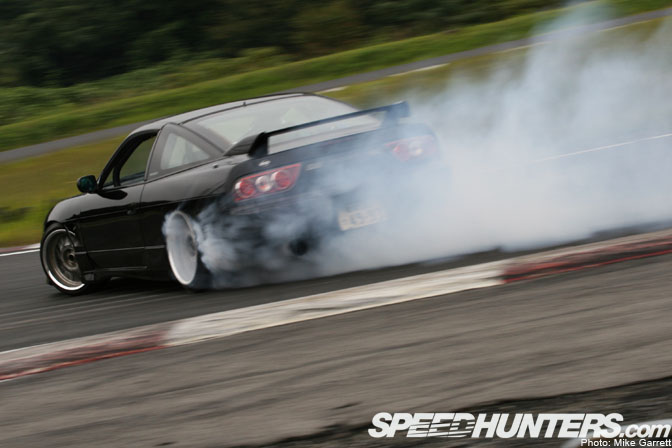 The same wheel-lifting 180SX from earlier is seen again here smoking them up as it heads onto the final section of the course. Well done 180's will never go out of style, and this car has it down with simple body modifications and great stance. Combine all that with some mega-aggressive driving and you have a recipe for perfection.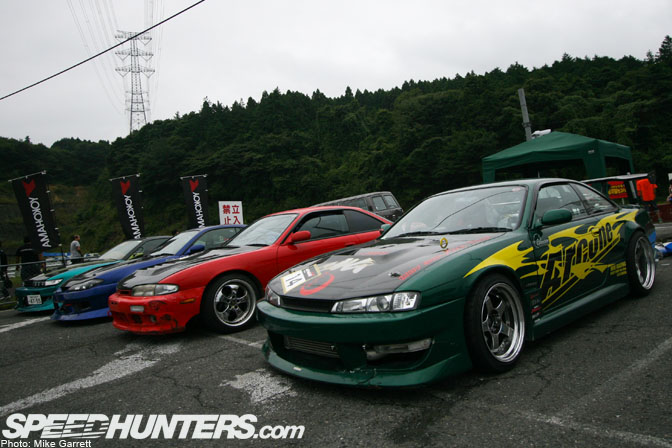 More cars in the paddock. That green S14 is packing some seriously huge wheels in the rear. It's amazing to see crazy wheel sizes that S14 guys are running these days while still maintaining good looks and plenty of function.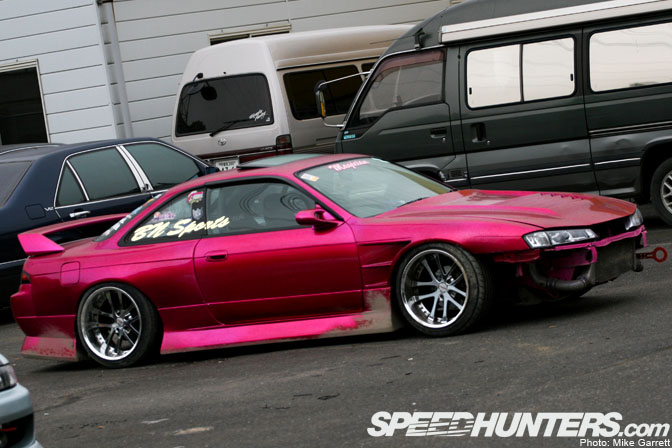 Magician's S14 Silvia also pulls off the huge wheel look perfectly with its giant Weds Kranzes. This is modern drift car style at its best. As you can see, the front bumper was destroyed (ran over) during the "course-out" incident I mentioned in the previous post. I'm sure the car will be fully repaired in no time.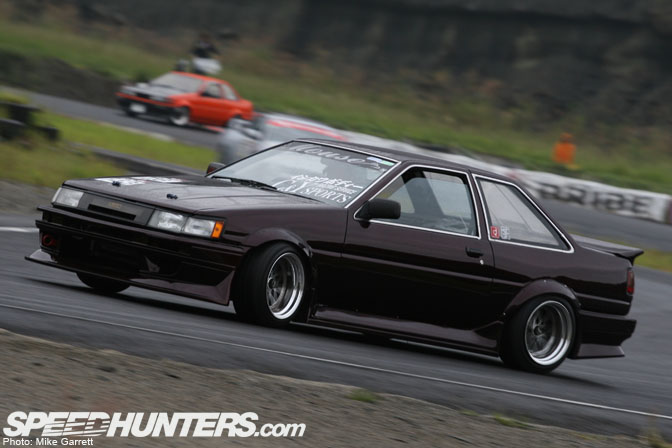 Just some more AE86 goodness from Mouse here.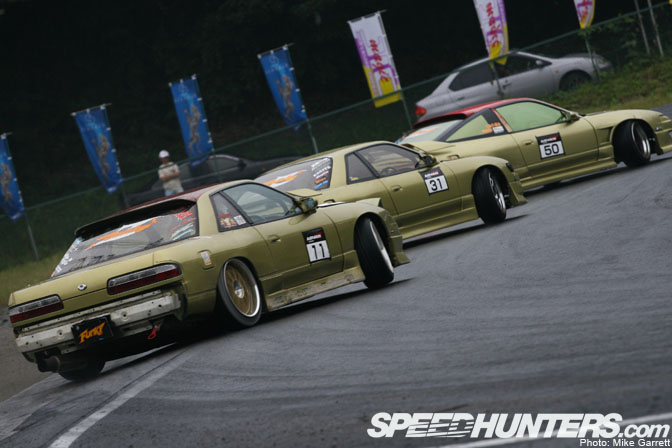 And lastly here is Team Funky's well coordinated team drift during the triple class competition. The rain was falling pretty steadily by this point in the event, but the Funky guys managed to keep their stuff together and come home with the triple class victory. Congrats to team Funky for the awesome performance!
-Mike Garrett