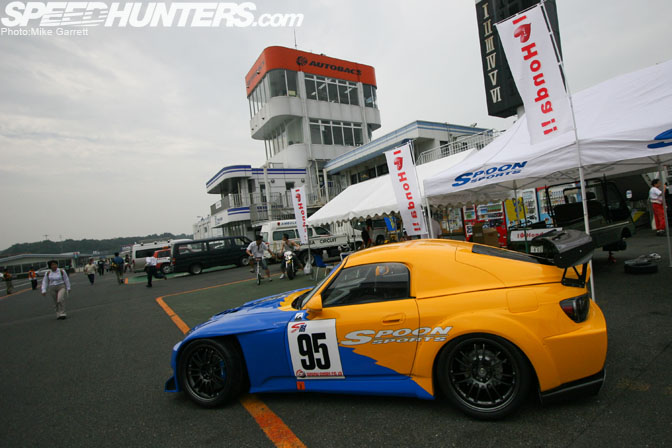 I know this is Porsche month, but after spending last Friday at Tsukuba Circuit for the first ever I Heart Honda!! event, I just can't seem to get the sound of screaming VTEC engines out of my head. What is it about Honda? Japan's automotive scene has no shortage of remarkable machines like high-powered GT-R highway racers, time attack Imprezas, four-door Toyota drift cars, or groundbreaking rotary cars, but there is just something special about Honda's performance cars. You can check out my earlier article about Honda's Collection Hall at Twin Ring Motegi for a little more on Honda's unique history and the brand's lifelong infusion with motorsports around the world.
While Honda's in-house racing programs are nothing short of amazing, the I Heart Honda!! event was not really about Honda's factory racing ventures, but a celebration of Japanese Honda Tuning on a grand scale. If you are familiar with the annual Hyper Meeting and its significance to Evo and Impreza enthusiasts, then you can imagine what this event was like. It is basically the Hyper Meeting for Hondas. I Heart Honda!! was the brainchild of Spoon Sports and its famous founder Tatsuru Ichishima who wanted to have an event dedicated just to the people who enjoy driving and tuning Honda machines of all types.
Japanese tuning shops always seem to have competitive, but friendly relations with each other and just about every major Honda tuner in Japan was present at the event with demo cars, booths, and the Best Motoring/Hot Version film crew was there to shoot features for an upcoming DVD release. In addition there were also special track sessions for classic Hondas and free run groups with over 100 privately and shop-owned Hondas taking to Tsukuba's 20000 course for track time.
I have so much content from this event and it will obviously take multiple posts to cover everything, so let's get started shall we?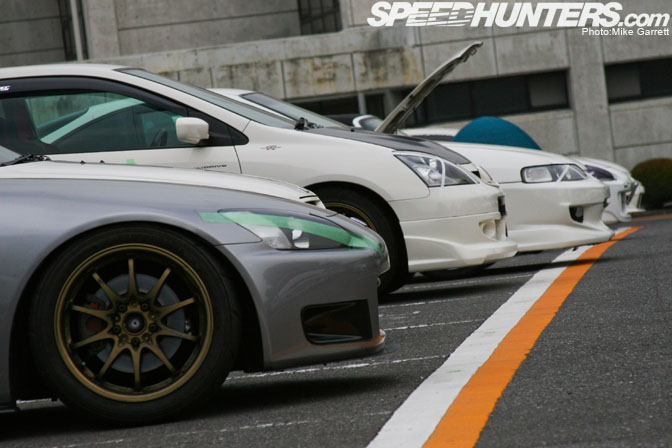 Since the paddock inside the track was occupied with tuner shop booths and race cars, the parking lots on the outside of the track were used as the parking areas for the cars running in the "Spirit" free run sessions. There were too many track-tuned Hondas to count and they ranged from tiny Honda City kei cars to fully tuned GT-style NSX's. As you would expect, the Civic and Integra Type R's along with the always popular S2000 were the most commonly seen vehicles in this area.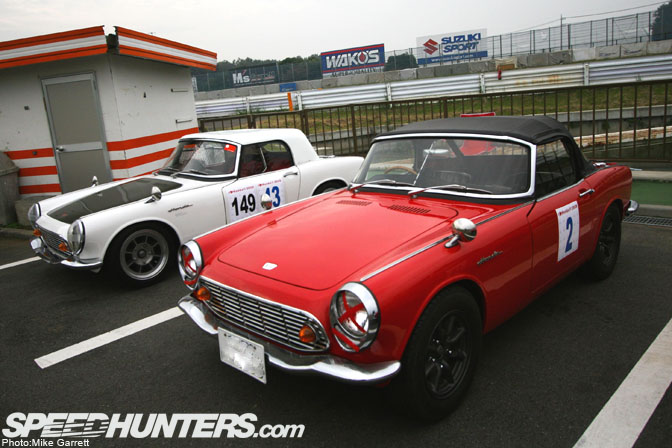 Know where you come from. In addition to all the modern machines, I Heart Honda!! 2008 also had a special class for historic Hondas including N360's and Z's as well as one of the biggest gatherings of S600 and S800 roadsters I have seen anywhere. The number of classics totalled around 40 cars.The red on black roadster with RS Watanabes has such a timeless look and the white car with the hardtop and Hayashi Street wheels is another fine example of the breed. Of course all of these immaculate vintage Hondas would see plenty of track time at the event.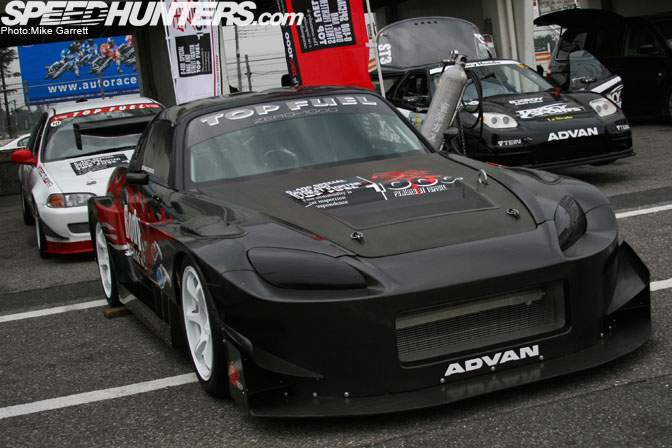 The paddock at I Heart Honda!! was like a who's who list of the biggest Honda tuner and demo cars in Japan. Here we have a pair of cars from Top Fuel including their S2000 Type-RR turbo which is the current FR time attack record holder at Tsukuba Circuit with a 55.350 lap time that was recorded last winter with NOB Taniguchi behind the wheel. Speaking of Taniguchi, he was at the event along with Manabu Orido, Keiichi Tsuchiya, and other pro drivers for the Hot Version battle and film shoot. In the background you can also see Tracy Sports' NSX race car from the Super Taikyu series.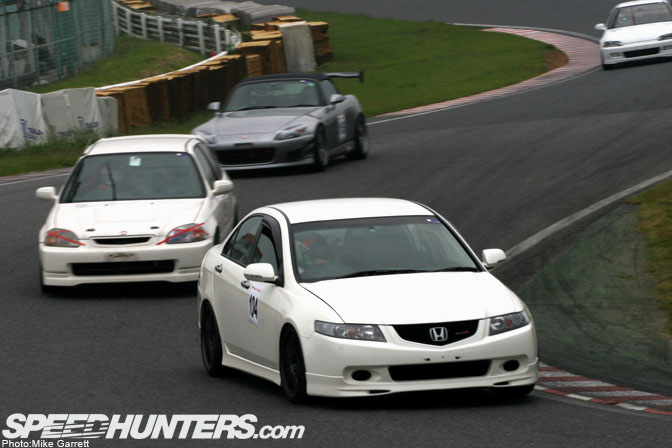 Just a typical scene during the "Spirit" track sessions with a parade of Hondas running through the Tsukuba 2000 course. I was surprised at the amount of the tuned CL7 Accord Euro-R's (sexier version of the Acura TSX) that were driving in this event. I have always liked the CL7's for combining the heart and soul of a Honda's FF performance machines with the practicality and comfort of a mature sport sedan.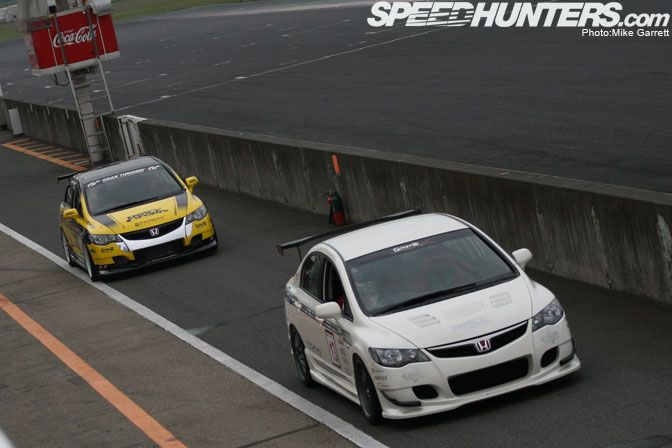 With the introduction of the new FD2 Civic Type R last year, the popularity of Hondas as a tuning platforms in Japan has never been higher. There were several tuned FD2's at the I Heart Honda!! event from shops like Ings+1, Tracy Sports, Spoon, J's Racing, Seeker, Honda Twincam, and more. Here we see the Tracy Sports/Dunlop FD2 along with the Ings+ 1 demo car getting to ready to head out on to the course.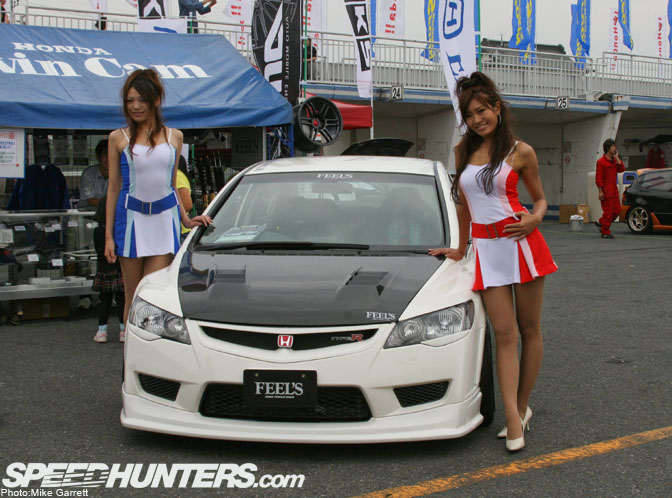 Speaking of tuned FD2's, there's the Feel's Honda Twincam car which I wrote a feature on a few months ago. Since I shot it, the car has had a few extra additions and NO I am not talking about the two campaign gals standing beside it…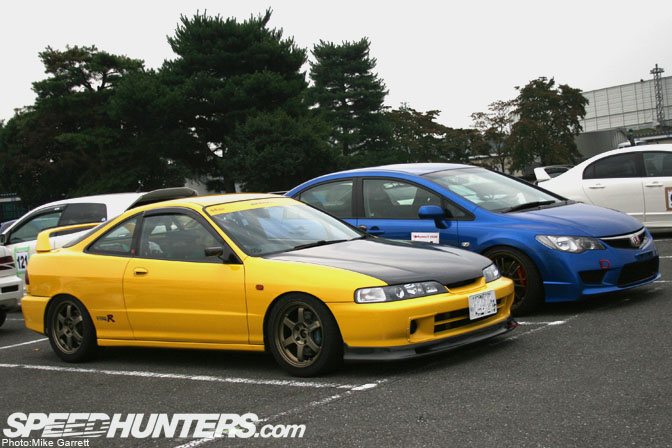 Gathered outside the track we have more Type R's including a Phoenix Yellow DC2 Integra tuned by Seeker and a blue FD2 Civic. A lot has changed in the auto industry since the original DC2 Type R debuted back in the mid '90s, but it is nice to see that Honda is still producing affordable driver-focused specialty machines like the most recent Civic Type R. Now if we could only get Honda to send some FD2's to the states…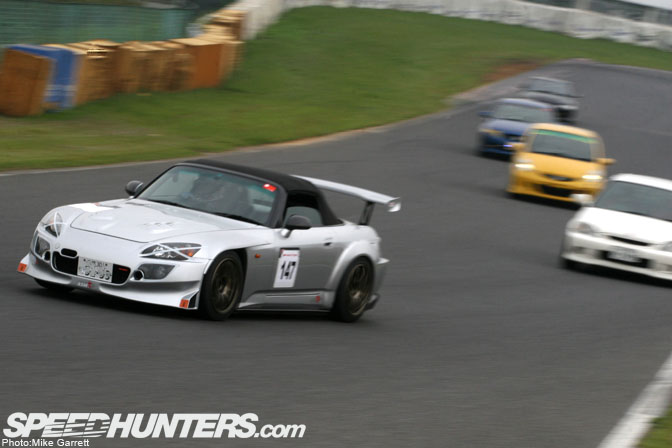 Here we see an S2000 equipped with a whole catalog's worth of Spoon parts running away from some of its front-drive siblings during another one of the open track sessions. The Spoon aero for the S2000 gives the car quite a dramatic change in appearance and even more importantly you can bet that it is 100% functional much like the rest of Spoon's tuning products.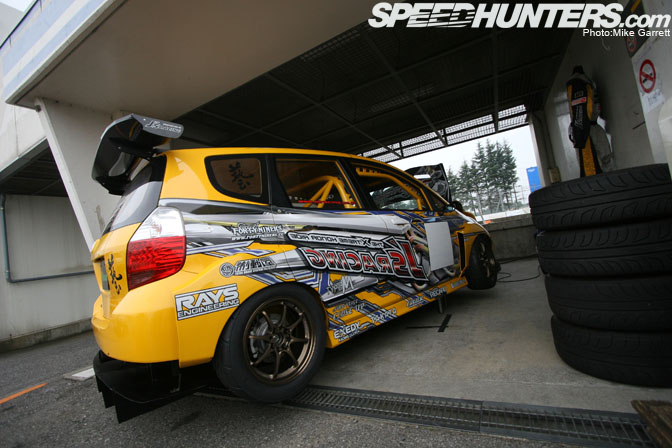 J's Racing came all the way from Osaka with three cars including two Fits and their latest FD2 Civic demo car. The car in this photo is the J's K-series-powered time attack beast that I wrote about here a while back. I'm thinking this is probably the fastest Fit on the planet at this point. This one was one of the cars running in the Hot Version East Japan vs. West Japan tuning car battle which was recorded at the event.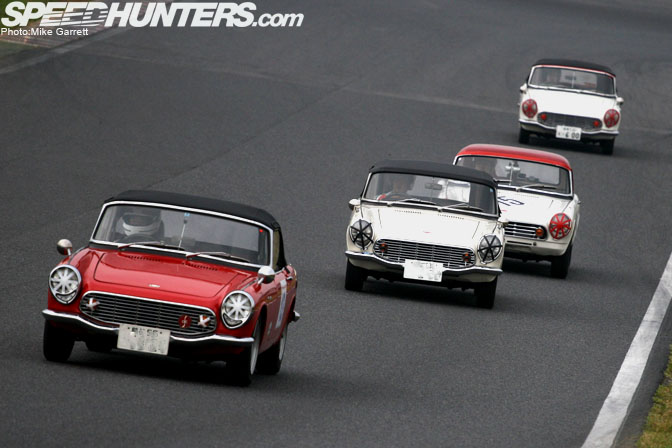 The track fills with nostalgic machines during the Honda classic free run session. I knew that seeing this many vintage S's running at the same time is an opportunity that doesn't come along too often so I made sure to shoot plenty of photos during this time.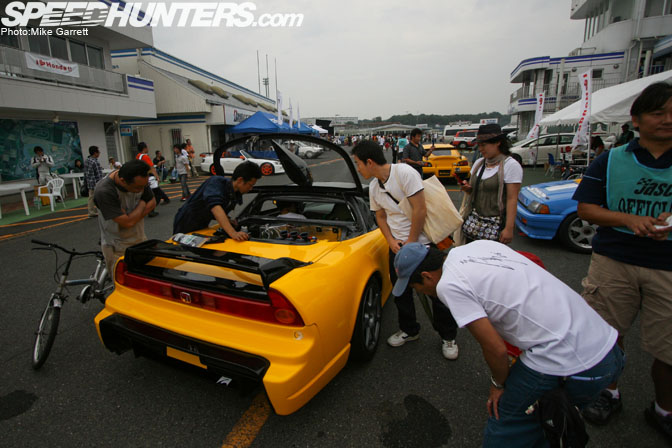 Seeing how Spoon Sports was the main host of the event, they brought a whole handfull of their demo cars to the event, but the "star of the show" had to be Spoon's new NSX-R GT project which is will be running in the November Macau GP race. There were constant crowds around the car all day long, and watching the naturally aspirated beast as it made its shakedown runs around the Tsukuba course was quite the experience. This car sounds unreal!
Anyways, that does it for part one. I'll have more on the new Spoon NSX and other action from I Heat Honda!! '08 in the next post.
-Mike Garrett