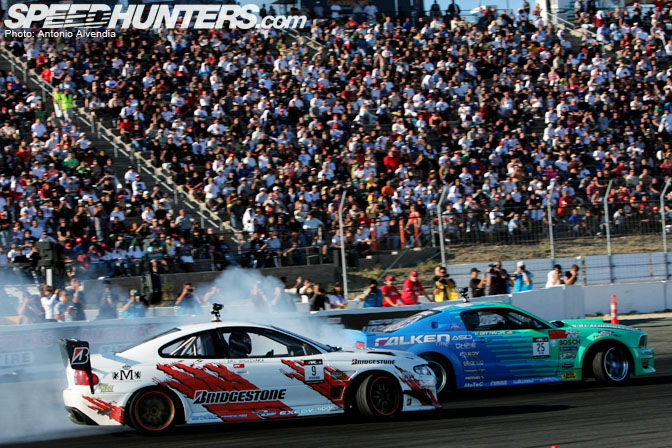 Yeah, that's right, I said it. It had to be said. I wasn't the only one who noticed it… just maybe the only one who outspoken enough to say what's really on my mind. As we watched the tandem battles in the Formula D Top 16 eliminations at Infineon Raceway this past weekend, the lead car brake checking the following car seemed like the new fad in Formula D  – almost everyone was doing it.
If you're not familiar with the term brake checking, it's when the lead car in a tandem drift battle slams hard on its brakes in an attempt to force the chasing driver to either go off their line or lose their drifting momentum by making them suddenly slow down or spin. I guess that's American machismo and the dog-eat-dog cutthroat instincts that seem to be surfacing in the heat of such an intense battle. With the amount of growth and media attention Formula D has been enjoying, the stakes are high, and everybody is under pressure to win. It's just interesting to me though, because I don't really see too many drivers doing that regularly in the D1GP series. Maybe it's an American thing..?
Anyway, I just arrived back in Los Angeles; I drove throughout the night to avoid cops and the heat of the sun on California's Interstate 5. I had a difficult time finding a reliable internet connection while I was in San Francisco, so I decided to speed back home so I could post up these photos in a hurry. I hope you all like the photos!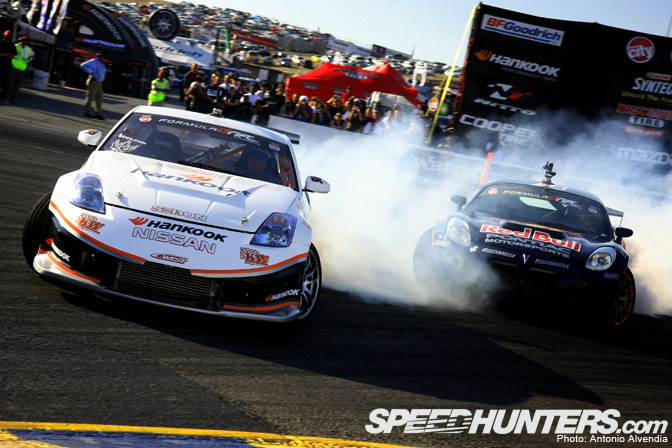 Behind the wheels of his 350Z, Robbie Nishida has really been putting Hankook Tires on the map. With a podium finish at Formula D Seattle, and his lightning fast entry speeds, he really seems to be doing well this year. He made it into the Top 16 at Sonoma, but eventually lost to Rhys Millen after a high speed brake check that sent the rear end of Robbie's 350Z the dirt, with a huge orange pylon attaching itself to the 350Z's C-West rear bumper.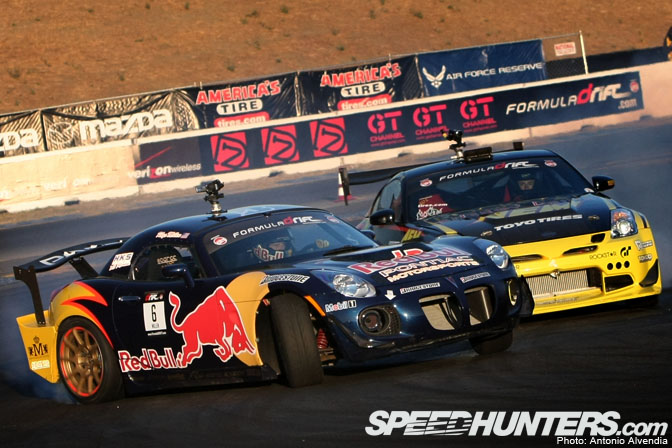 Red Bull vs Rockstar! The tandem battle between Rhys Millen and Tanner Foust was certainly interesting! Everyone knows that Rhys and Tanner are housemates – it must be kind of tough for such good friends to drive into battle against one another when the stakes are so high! These two friends are both considered to be the top in their league, and they know each other's driving styles well. I'm sure it was a hard fought battle of will plus skill! Even though Rhys put up a hard fight, Tanner ended up winning the tandem match and the First Place trophy.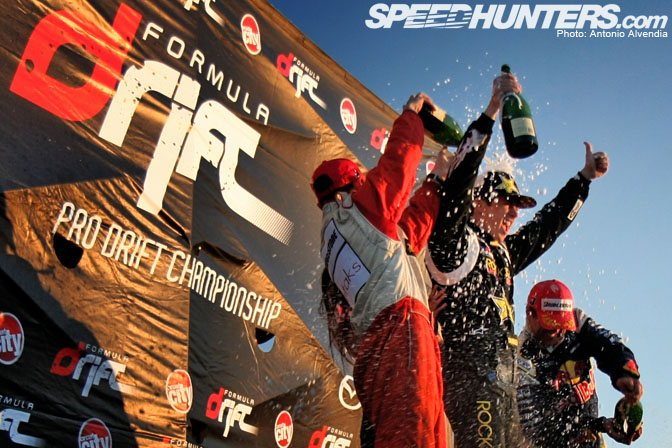 Here's Tanner Foust on the top of the podium, emerging victorious from underneath the tiresmoke and champagne. Spraying champagne all over Tanner were the other podium finishers Rhys Millen and "Hachi Bill" Sherman, who surprised us all by making it to the podium with his S13! Just goes to prove, when there's a will, there's a way… and Bill really wanted that podium finish. Congratulations to all!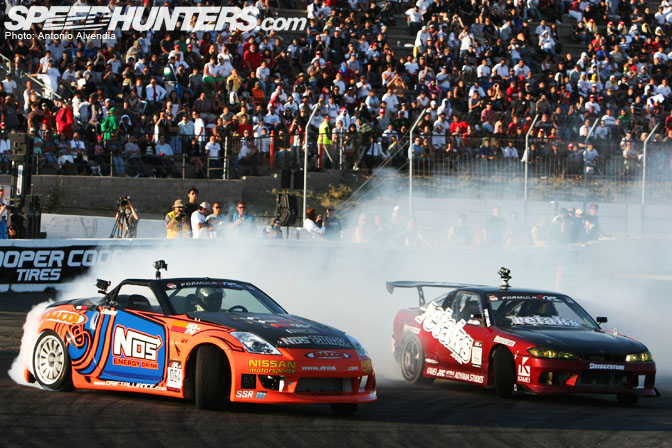 Speaking of Bill Sherman, here's a photo of the very difficult battle he fought against Formula D driving ace Chris Forsberg – not an easy guy to go up against!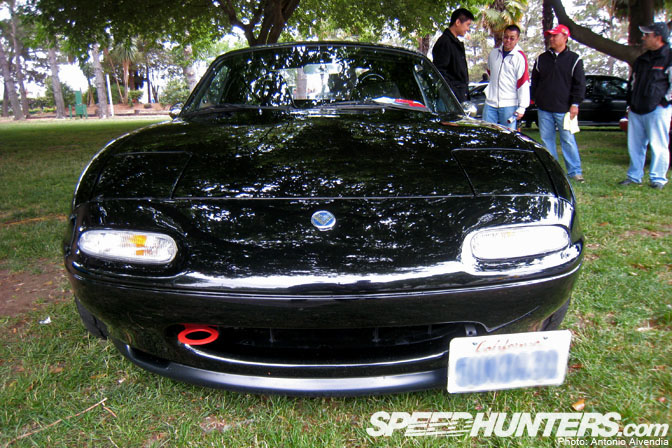 And speaking of brake checking, don't try it on this guy. This is Ross Petty, and Ross is all about fast entry speeds and aggressive tandem driving. If you try to brake check Ross, he actually will slam his car right into yours, as he proved at a Formula D event in the past. hehe… Anyway, check out this high speed sidebrake photo of Ross initiating into the first turn!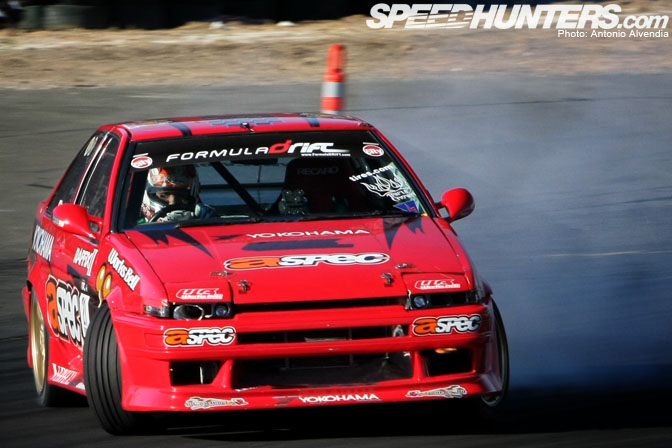 Toshiki Yoshioka, the overall winner of the Formula D Las Vegas event, was back at Formula D in his red AE86 Trueno, with its normally aspirated 4AG 20v engine. Yoshioka pulled off several super fast runs with high entry speeds, but unfortunately it wasn't enough to impress the judges, who did not advance him to the Top 16. Maybe they thought Yoshioka's AE86 didn't have enough smoke? Not sure…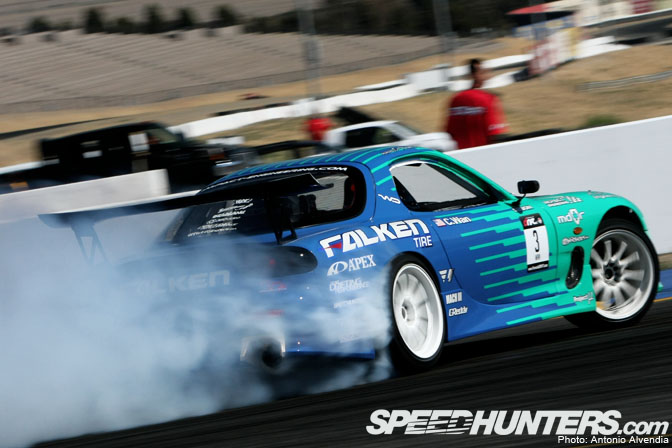 We noticed some changes on fellow Speedhunter Calvin Wan's personally owned FD3S RX7. The FD received a new aero kit – the same Vertex kit that used to be from the Apex'i FD3S when Youichi Imamura was still driving for Apex'i. Calvin told me that it took something like 3 entire days to wrap his newly redone Vertex aero with the Falken colored vinyl! Damn, that sounds like a lot of drama! Must have been super difficult because of all the bends in the body form!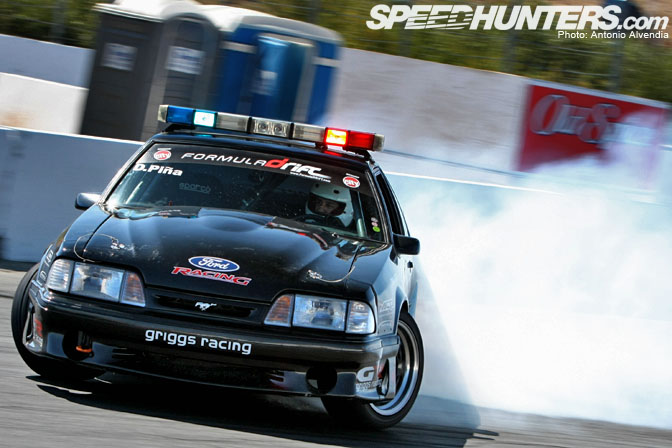 Freshly back from their Formula D Team Drift win at Portland, Team Drifting Performance's Dan Pina had a lot of fun drifting his fox-body Mustang back in his old Bay Area stomping grounds! Dan's police-car styled Mustang is always a hit with the crowds for some reason. However, I don't necessarily smile when I see police-colored cars, especially after the HUGE ticket I received on my way up to Sonoma. Okay, that's it for now, I'm going to look for my NWA Straight Out of Compton CD…
-Antonio Alvendia