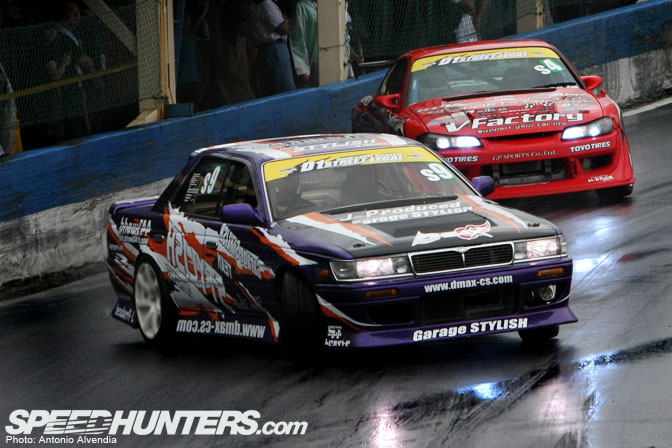 The D1 Street Legal competition at Ebisu Circuit was extremely rough for competitors (and the guys shooting photos trackside!), as the torrential rains coming down presented a bit of a problem… Ebisu's South Course became extremely slippery and difficult to negotiate, but that didn't stop the hardcore drivers from running!
Check out the cool purple Nissan Laurel above… I wish we saw cool 4-door Japanese drift cars like Laurels, Cefiros, Mark IIs and Chasers in the USA! And check out the V-Factory S15 Silvia giving chase close behind it! These cars definitely sounded super cool as they passed the covered pit area!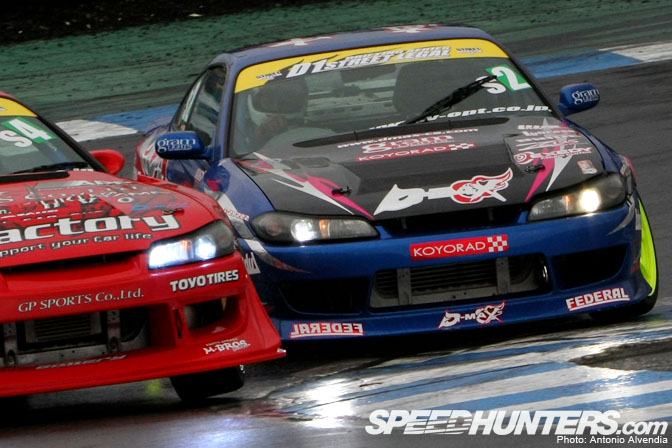 Here's a close-up of Naoki Nakamura's D-Max S15 Silvia, which is equipped with a Koyo Radiator and some ultra-bright fluorescent Gram Lights wheels. Even though I normally focus on the lead car during tsuisou runs, I thought the V-factory S15 didn't have aggressive enough wheels, so why focus on it? If they try a bit more to achieve satisfactory stance, then maybe I'll begin taking photos of the car again.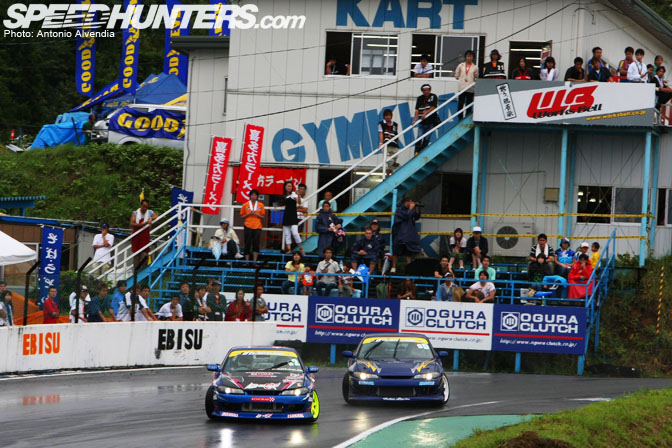 There were so many S15s in the D1SL competition! They looked pretty cool as they slid over the crest, into South Course's main initiation point.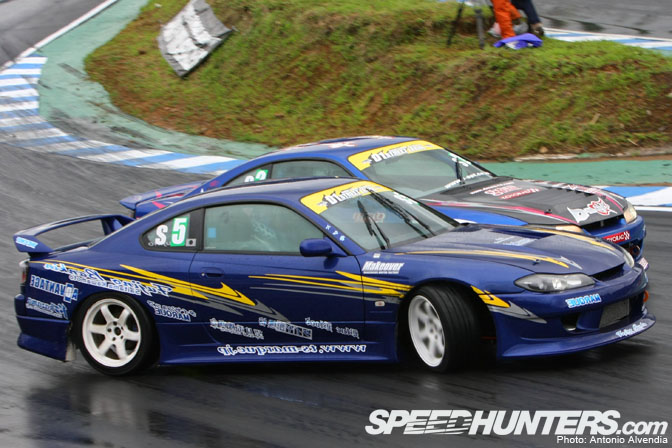 And on the second run, they ran closer and closer…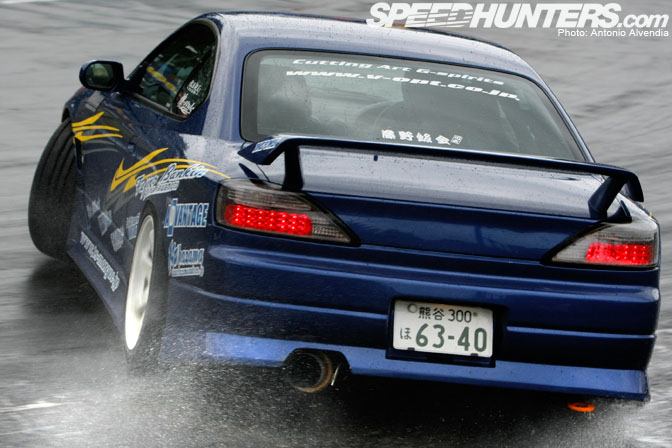 The cars were kicking up water from the race track as they passed, instead of the tire smoke that you normally see at drift events!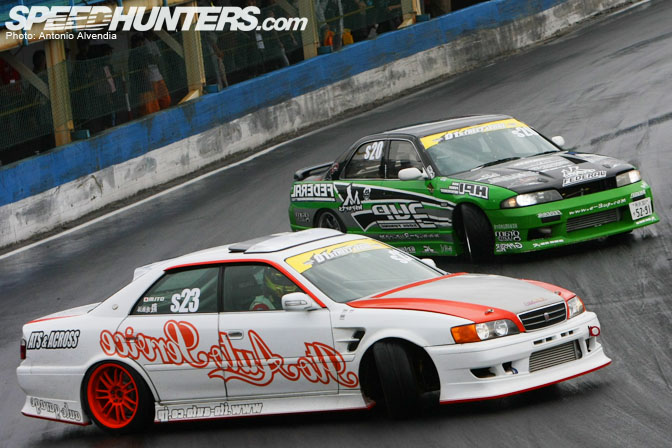 As it side-braked entering into the corner, I thought Ito-san's white Toyota JZX100 looked very interesting with those orange wheels. It's Toyota vs Nissan in this photo, as Ito-san gets chased by Mikami-san in the green R33 Skyline 4-door. Mikami owns a shop called 3-Up… which was named after his own last name. Mi (3) Kami (Up). Japanese people love turning letters into numbers, just for your in4mation.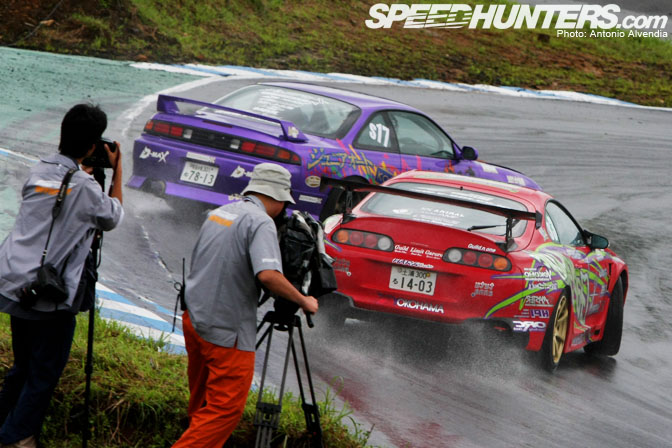 It was cool to see this ZZT231 Celica-faced JZA80 Supra on the track! I thought it looked super cool out there, especially since we can normally see S14s drifting all day every day, in any country we visit.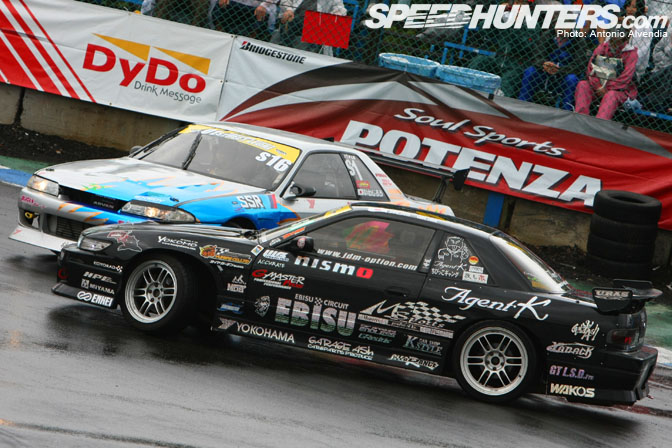 When our boy Naoto Suenaga chased this Skyline down with his S13… the Skyline driver, Honma, got all worried… Naoto was following his Skyline so closely, he got scared and spun out right in front on Naoto! Luckily Naoto has extreme car control, so he was able to lock up his brakes and make his car spin in order to avoid slamming into the Skyline, which lost the round, needless to say!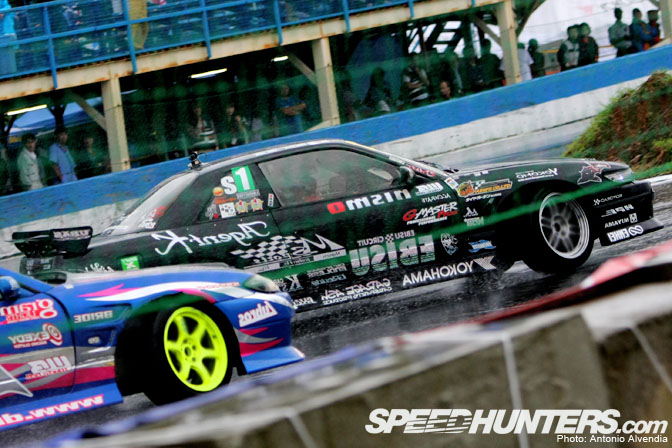 The final tandem battle between Naoto Suenaga and Naoki Nakamura was extremely exciting and close, but in the end, Naoto Suenaga prevailed and took the win because of his legendary Team Orange abilities in tsuisou battling – he can drift super close to his opponent when he's following, and accelerate away from his opponent when he's the leader.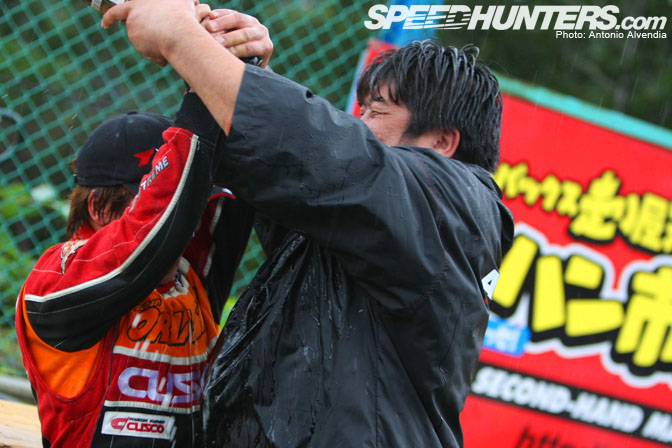 You would think Naoto would thank Team Orange's Number One funnyman, crew chief Mitsuteru Igusa for sitting in the wet grandstands with a radio, sending Naoto info on driving input and course conditions as an on-track spotter… but apparently Naoto thought it would be funny to spray Igusa with his winning champagne bottle while the Video Option cameras rolled. However, the larger, stronger Igusa didn't seem to agree with that plan, and he easily overpowered Naoto, who ended up taking a bath in his own celebratory champagne. Apparently our boy Naoto didn't think that one over too hard. Good job Naoto.
(Igusa, by the way, is also a high level drifter with a D1 competition license)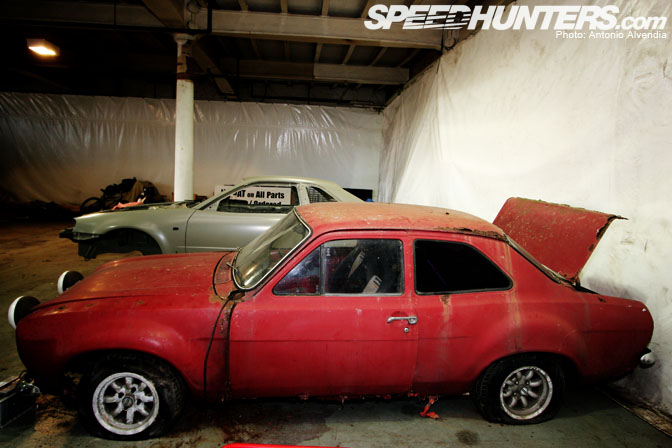 Sitting in their ultra cool Bride adjustable seats above the judging platform, Kumakubo and Nomuken observed the whole Naoto vs Igusa champagne bath… Kumakubo thought it was pretty entertaining, but Nomuken just entertained himself by lighting up a smoke.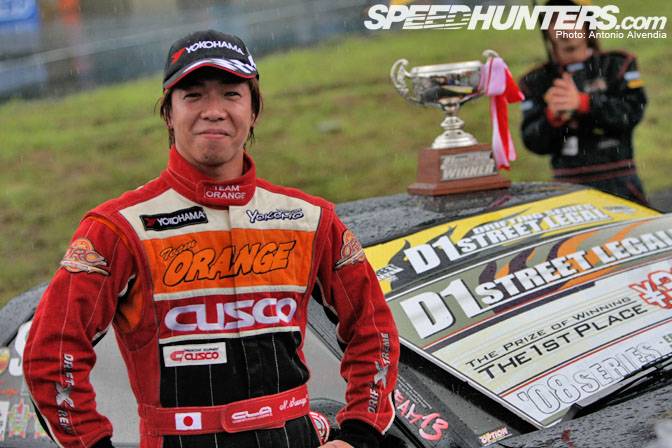 Congratulations to Naoto Suenaga for his First Place win at D1 Street Legal in Ebisu!  
-Antonio Alvendia
Naoto Suenaga Wins 1st Place at D1 Street Legal at Ebisu Circuit